Slate's guide to the most important figures in politics this week.
Welcome to this week's edition of the Surge, the last remaining media product after everyone else in the business got the ommy variant this week.
This week, Senate Democrats hoped to clinch a deal on their Build Back Better legislation to pass it before Christmas. You'll never guess what they failed to do. Elsewhere, we look at all the cheeky Twitter gags happening ahead of the war with Russia, speculate about how Mark Meadows found himself in such a pickle, encourage the president to feed Americans gasoline by beer bong, and look at a (new!) state where Democrats may have biffed redistricting.
First, let's check in with the guy choking off the Democratic agenda for, at least, the remainder of the year.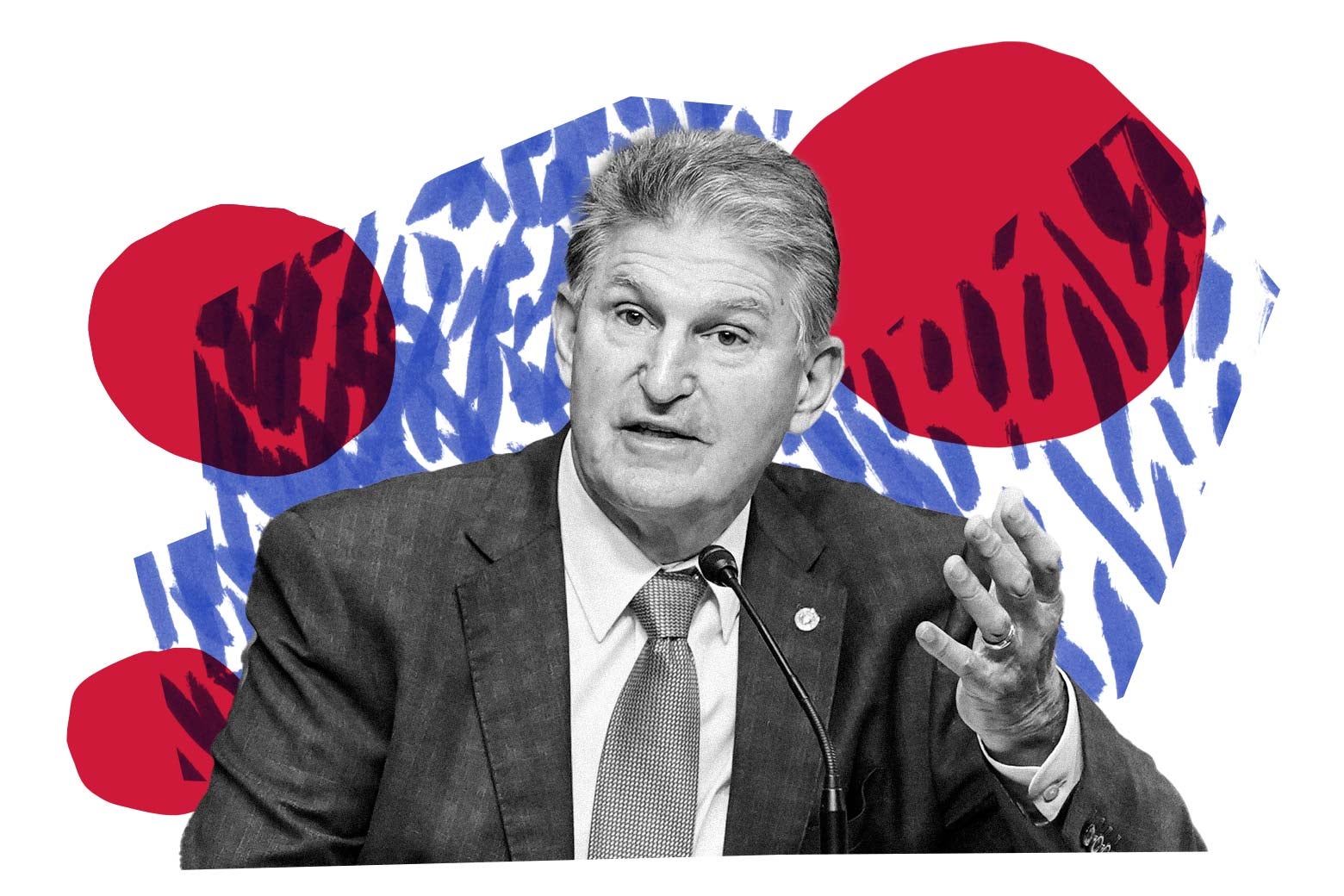 Last Week #2
1. Joe Manchin
A year-end brick wall.
The Democratic agenda stalled out this week for the remainder of the year. Despite Senate Majority Leader Chuck Schumer's repeated exhortations that his party needed to pass the Build Back Better Act before Dec. 31, it's not going to happen. There were a couple of issues. First, there was a problem with the parliamentarian office's ability to make sure the bill was ready for the floor. Second, and we would say more importantly, Democrats do not have 50 votes for it!!! After months of Manchin repeatedly saying he had problems with the fundamental structure of the bill—too many gimmicks used to jam in too many programs—and Democrats, we don't know, hoping he was just kiddin' around, it became clear that Manchin was not just kiddin' around. Neither Schumer, President Joe Biden, nor his fellow Democratic senators, a great number of whom we watched plead with Manchin on the Senate floor this week, were able to shove him in line. This is not the end of the bill. Manchin has still authorized spending $1.75 trillion. But his colleagues are going to have to fill in the blanks with fewer gimmicks, and prioritize fewer programs, leaving various interest groups and constituencies in the lurch. It will be painful. But passing nothing would be pretty painful too!

Last Week #1
2. Mark Meadows
A unified theory for how he arrived at this place.
We've all had those weeks where it seems like we just can't win. Who among us doesn't know what it's like to turn over thousands of pages of text messages to a select congressional committee investigating an attempted coup but still get held in criminal contempt by the House of Representatives? It's like, what's a guy gotta do to get a fair shake around here? Such was life this week for former Trump chief of staff Mark Meadows, whose legal fate now rests with the Department of Justice. Meanwhile, the texts he did turn over to the Jan. 6 select committee have been enough to allow the committee to craft a public narrative. In a few batches this week, the committee released texts Meadows received on and around Jan. 6 from Fox News hosts, Trump's children, members of Congress, and journalists. And now, Donald Trump himself is reportedly livid with Meadows. So what's the overarching theory for how Meadows has managed to piss off everyone while putting himself in legal jeopardy? We're going to take a stab here: Maybe he's just not that bright.

Last Week Unranked
3. Raphael Warnock
The final voting rights push, until the next final voting rights push.
Once Democrats recognized that they wouldn't be able to pass BBB by the end of the year, they made an abrupt public relations shift, saying they would instead spend the remainder of the year focused on voting rights and election reform … before running into that wall, again. Though Democrats have 50 votes for both the Freedom to Vote Act and the John Lewis Voting Rights Advancement Act, they still don't have 50 votes to nuke the filibuster (or to do a filibuster "carve-out" on voting rights specifically) in order to make those other 50 votes enough. Still, Democrats are meeting to see if there's some path to a rules change, or rules reinterpretation, and Manchin is at least entertaining the talks. One senator who's led the charge on this most recent spinning of the wheels is Georgia's Raphael Warnock. He said he agonized over his vote on lifting the debt ceiling, for which a one-time filibuster exception was made, because no such exception could be made for voting rights. He insisted, then, that Democrats devote all of their immediate energies to voting rights while BBB hung in limbo. "We've got to get Medicaid expansion, we've got to get child care, we've got to get relief to farmers," Warnock said this week. "All of those things matter. But the point I'm making in this moment is: We have to have a democratic framework to continue to push for those things." He convinced his fellow Democrats to make another voting rights push, but for now, they're pushing into the same procedural wall.

Last Week Unranked
4. Joe Biden
Feed the American people their gasoline.
Joe Biden remains unpopular. But his approval trajectory does appear to be improving for the first time since this summer. It's not much—in the FiveThirtyEight polling average, his net approval bottomed out at about -10 around Thanksgiving and has rebounded ALL THE WAY to -7 now. What may have changed here? Surge colleague Jordan Weissmann posited a cheeky theory showing the close correlation between prices at the pump and presidential approval. And surely enough, Biden's modest bump in approval has coincided almost exactly with a downtick in gas prices. People want to be awash in gasoline, nothing more, nothing less. It is in the administration's direct political interest to deliver gas to the American people this Christmas, Santa style, by dropping plastic garbage bags full of that sweet, sweet unleaded down the chimneys of America's active fireplaces. Well, the plan can be tinkered with.

Last Week Unranked
5. Dina Titus
A redistricting story.
The new congressional maps are rolling in, and let's take a look at a risky one that Nevada Democrats, who control both the Legislature and governorship, have passed. The state's existing map has one safe Republican seat, one safe Democratic seat, and two swing districts (both currently held by Democrats). The new map attempts to unpack the safe Democratic seat in Las Vegas—held by Rep. Dina Titus—to shore up the two adjacent swing districts. But in doing so, state Dems have really created three swing districts, potentially allowing Republicans to sweep the state in a GOP wave year like, oh, say, 2022. Titus unloaded on the Legislature this week at an AFL-CIO town hall, saying she "totally got fucked" in the redistricting. She said the weakening of her district "would have been worth it" if state Dems unpacked it to create two safe Democratic seats and a swing, but, she added, "no, no, we have to have three that are very likely going down." She really let it rip, and we encourage you to read this full article. "Republicans are going to turn out, and they are excited," she said, looking at the 2022 atmosphere. "Democrats are kind of 'meh, I have to pay more gas prices.' Hispanics aren't going to want to turn out if we don't get something for immigration. I mean, why would they?" Lovin' the confidence from Team Blue.

Last Week Unranked
6. Ruben Gallego
Odds on whether the Russians get him?
The current Russian troop escalation on the Ukrainian border hasn't escalated into an all-out war yet. But it has escalated into a feud between Russian TV hosts and an Arizona Democratic congressman. Rep. Ruben Gallego said in an interview from Ukraine, where he was on a congressional trip, that Ukraine should be provided with more advanced weapons that "will actually put a toll on the Russian troop movements and, you know, unfortunately that means we have to kill some Russians." In response, a Russian politician repeatedly said on live TV that it might be a good idea to kidnap Gallego. "This is how we should be dealing with these bastards. We can grab him out of Ukraine and there's nothing they could do, with our capabilities," Duma member Aleksei Zhuravlyov said, among other things. Gallego responded on Twitter with a "Fuck around and find out" message, and then Alaska Rep. Don Young, who likes to threaten people with his switchblade, made a jokey threat to stab any Russians who messed with Gallego. It's good that everyone's having such a nice time, on the eve of the war with Russia.

Last Week #3
7. Mitch McConnell
Oh so now you like the Jan. 6 committee??
You may recall earlier this year when the Senate minority leader spent some political capital successfully killing legislation to set up a bipartisan, independent commission to investigate Jan. 6. He argued that the legislation would have tilted the commission too far in the balance of Democrats. House Democrats responded by setting up their own Jan. 6 select committee, which now has its mitts all over juicy texts from Mark Meadows and who knows what else. It was interesting, then, to hear McConnell this week tip his cap to the work of the select committee, composed of seven House Democrats and the two overtly anti-Trump House Republicans. "I think the fact-finding is interesting. We're all going to be watching it," McConnell told Kentucky's Spectrum News this week. "It was a horrendous event, and I think what they're seeking to find out is something the public needs to know." This followed up on remarks he made at his weekly Tuesday press conference, when he said that "we're all watching, as you are, what is unfolding on the House side, and it will be interesting to reveal all the participants involved." Maybe Trump called McConnell a "broken old crow" too many times this week for him to resist.