Slate's guide to the most important figures in politics this week.
Welcome to this week's edition of the Surge, a proper politics newsletter, not some blues cover political newsletter.
Aside from a brief Tuesday vote, Congress was out this week, giving Democrats a few spare minutes to freak out about the Virginia governor's race. A prominent House Democrat is retiring, but why haven't more of them? Mitch McConnell tattles to the president; we make yet another Paul McCartney reference in considering Kyrsten Sinema (sorry, Paul); and the media has a new shiny object to chase in Oregon.
Let's begin with the Virginia situation.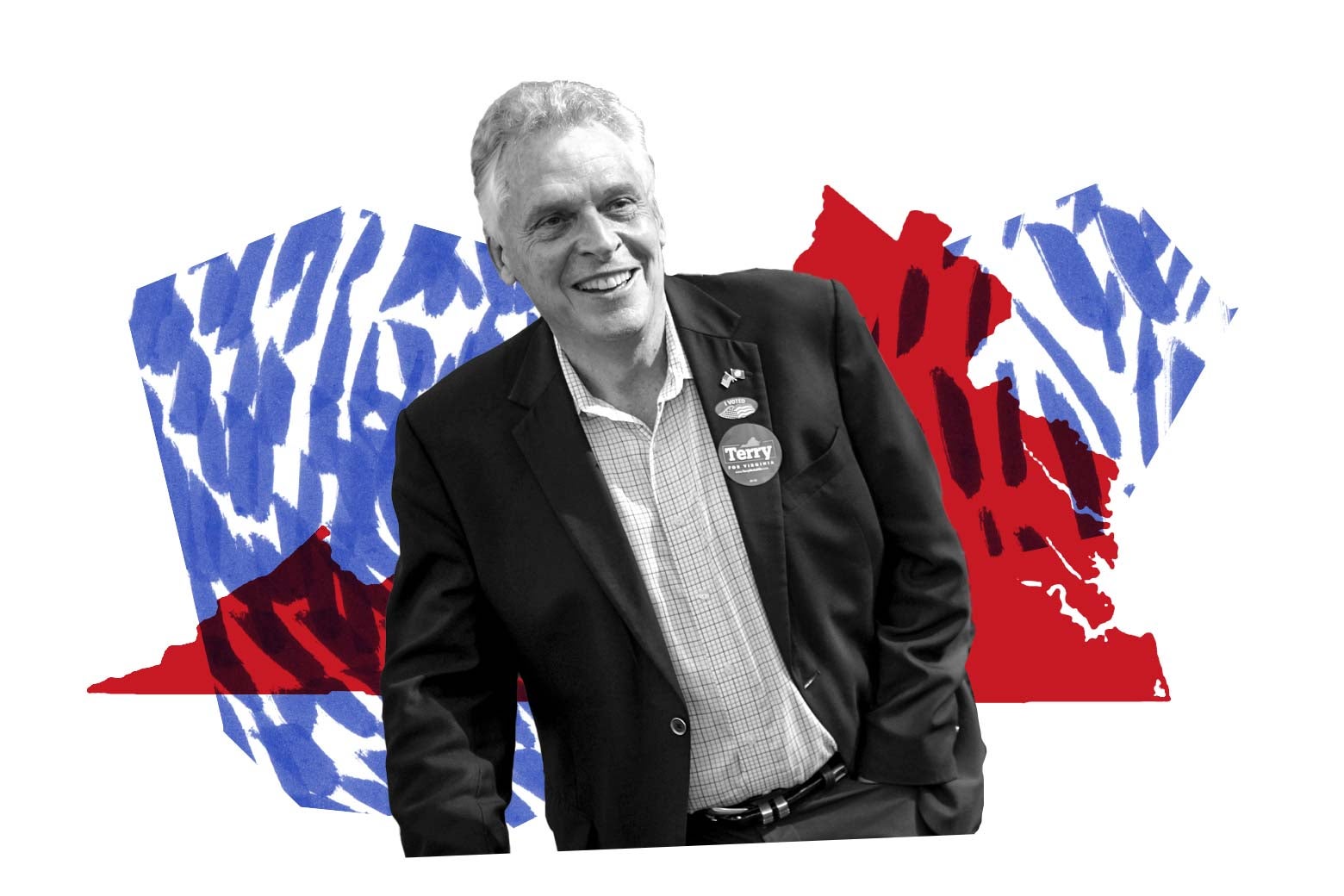 Last Week #7
1. Terry McAuliffe
No worries, pal, it's just the whole Democratic agenda resting on your shoulders.
Joe Biden's underwater approval ratings aren't cause for complete 2022 midterm spiral just yet. Some of the factors driving him down—the spread of the delta variant, the ugly Afghanistan withdrawal, and messy Dem-on-Dem infighting in the Capitol—could dissipate into the rearview. But Biden's unpopularity is definitely a problem for the one Democrat in a prominent, competitive election right now, Virginia gubernatorial candidate Terry McAuliffe. The polls remain close. Democrats are panicking (if you can believe it!) about depleted enthusiasm on their side, while Republicans can barely contain their glee at the possibility of retaking a state in which they haven't held any power for a decade. How panicky are Democrats? "Drag poor Barack Obama off the golf course to stump" levels of panic. Why do national Democrats place such importance on this race, aside from the fact that a lot of them live in Northern Virginia? Well, for one thing, it's the only very competitive statewide race this fall, so bored campaign freaks like to place the entire future of the country on its outcome. If McAuliffe wins by 1 point, the takeaway will be that Democrats are in great shape heading into the midterms, that their agenda is clearly beloved, and they must press forth. If the Republican, Glenn Youngkin, wins by 1 point, then the takeaway will be that Democrats are in for a landslide midterm wipeout, their agenda rejected, their stupid faces looking stupid, and President Biden finished forever. You will see vulnerable Democrats on the Hill have panic attacks about passing a multitrillion-dollar reconciliation bill, which will cause some problems. So yeah, send a charter for Obama.

Last Week Unranked
2. Glenn Youngkin
As for another former president …
Youngkin is trying to balance two objectives: peeling off some moderates who defected to Democrats under Donald Trump, while also keeping energized a party base that's interested in such activities as attempted coups on behalf of Trump. Ideally, for Youngkin, the Trumpers would just keep their mouths shut for a few more weeks while he seeks to persuade moderates that he's just your friendly neighborhood private-equity dad. Unfortunately for him, a defining trait of the MAGA Republican base, acting on cue from their leader, is never shutting up. Consider Wednesday night's festivities. Former Trump adviser, then enemy, and now … friend? … Steve Bannon held a Richmond rally on Youngkin's behalf. What was this event like? It was like this: It kicked off with the Pledge of Allegiance to an American flag that the emcee said was present "at the peaceful rally with Donald J. Trump on Jan. 6." Then Trump himself phoned in, delivering Youngkin another great bear hug before going off about how the 2020 election was stolen. McAuliffe's whole strategy is to tie Youngkin as closely as he can to Trump. It's a lot easier when Trump and friends are doing the tying themselves.

Last Week #1
3. Mitch McConnell
Mr. President, I must report that Chuck Schumer was mean to me.
Last week, we wrote about how Senate Republicans swore they would not support the next debt ceiling extension, and risk global financial calamity, because Senate Majority Leader Chuck Schumer was mean to them in a floor speech. He used mean adjectives and called them mean names, so the economy's gotta go. Very well. McConnell could have kept this a Senate thing. Instead, he tattled to the teacher, writing a letter to President Joe Biden snitching on Schumer. "Remarkably, even as Republicans saved Americans from his crisis"—this is how McConnell describes putting up 11 procedural votes to break a Republican filibuster, so that 50 Democrats alone could vote to raise the debt ceiling—"Senator Schumer kept compounding his failures," he wrote. "Last night, in a bizarre spectacle, Senator Schumer exploded in a rant that was so partisan, angry, and corrosive that even Democratic Senators were visibly embarrassed by him and for him. This tantrum encapsulated and escalated a pattern of angry incompetence from Senator Schumer." The speech, Mr. President, gravely upset Republican feelings, so much so that several junior senators had to call their mothers to pick them up. Never again.

Last Week #3
4. Kyrsten Sinema
The new top Democratic villain.
No dyad is stable. John Lennon was the Beatles' de facto leader until Paul McCartney "nicked" control around 1967. Venus Williams was all the rage until 2002, when younger sister Serena won three consecutive grand slams. It's just the way things go! And so it is with Sinemanchin, the defining partnership of our times. Democrats have spent all year getting worked up mostly at West Virginia Sen. Joe Manchin as the primary obstacle to their agenda. But it seems, in just the past couple of weeks, as if Arizona Sen. Kyrsten Sinema is taking over. That stems from the way the two centrists are approaching the Build Back Better Act. Both have big problems with it, but at least Manchin is relatively open with his Senate colleagues about what he can and can't live with. Sinema won't tell her colleagues anything. "I'm not going to share with you or with Schumer or with Pelosi," she told one Democratic senator, according to a Politico report this week. "I have already told the White House what I am willing to do and what I'm not willing to do." Reader, telling your co-workers to pound sand is simply not a good way to build camaraderie with them. And not telling your Democratic constituents back home where you stand is not a good way to build camaraderie with them. All of this, however, is a phenomenal way to get the upper hand in a competitive rivalry with Manchin. Congratulations to Sinema!

Last Week Unranked
5. John Yarmuth
A bad sign for House Dems in case you hadn't seen enough bad signs.
Kentucky Rep. John Yarmuth, chairman of the House Budget Committee, is a titan of a legislator and a supreme American statesman according to the Surge's one criterion for determining that: He dishes with reporters in the hallway. Or at least he did, because he announced this week that he'll retire after eight terms in Congress. He's 73 and wants to spend more time with his family. Oh sure. But what's the real reason? Well, oftentimes committee chairs pack it up when they've already made their mark, as Yarmuth has with this reconciliation bill … and when they're reasonably certain they're not going to be committee chairs after the next election. Watching who retires is a useful clue in the mystery over who's favored to take control of the House in the next midterms. But did you really need another clue? Republicans need to pick up just a handful of seats. They have the upper hand in gerrymandering. Democrats are facing typical in-party structural headwinds. This is not a difficult riddle! If anything, it's surprising that more senior House Democrats haven't announced their retirements yet.

Last Week Unranked
6. Dave McKinley and Alex Mooney
The first redistricting matchup between incumbents?
One of the side delights of redistricting cycles is when a state loses a district, and two incumbents from the same party are forced to vie for a newly combined district. Who can forget the famous "Berman-Sherman" showdown of 2012? (OK, fine, a full 100 percent of you can.) This redistricting cycle's first intra-party incumbent primary may be in West Virginia, where GOP Reps. Dave McKinley and Alex Mooney's districts have been merged in the state's new map. As of this writing, McKinley hasn't announced whether he'll run or retire. But Mooney has said he'll run, and his statement is indicative of how ugly a primary this could be. McKinley, on Jan. 6, voted to certify the presidential election results in Arizona and Pennsylvania, while Mooney did not. "Our nation now more than ever needs fighters who will stand toe to toe with the radical left who are attempting to turn America into a socialist nation," Mooney said. "As a proud member of the freedom caucus, unwavering supporter of President Trump and the son of Cuban refugee, I will not back down in this fight for the future of America." Given the certification vote, we have a pretty good idea of whom Trump would endorse. Maybe McKinley, like Yarmuth, decides it's time to spend more time with his family.

Last Week Unranked
7. Nicholas Kristof
Here comes your leading 2022 distraction.
The longtime New York Times reporter and columnist quit the paper this week to explore a bid for Oregon governor. On the merits, this is something you should be able to ignore entirely. There are real politicians running in Oregon's Democratic primary, including the House speaker and state treasurer. But fellas, the Surge's dear industry, eyes firmly affixed to its navel, will not allow you to ignore Kristof's maybe bid. A member of our trade, from the New York Times op-ed page no less, is running for a political office! This is enough to earn the Oregon Democratic gubernatorial primary a billion times more national coverage than it deserves. Every outlet will prioritize resources to send teams—TEAMS—of reporters to follow Nick Kristof as he meets with small businessmen in Bend or holds a roundtable with the president of antifa in Portland. Lest there was any lingering doubt, Donald Trump would absolutely get away with shooting someone on Fifth Avenue during the 2022 campaign season, because no one would know it happened, because every reporter in the country would be in Oregon watching Kristof clumsily lick an ice cream cone, writing the same trite anecdotal lede in their heads. Unless David Brooks primaries Ron DeSantis (do it, Dave), we have our official 2022 time suck.