Slate's guide to the most important figures in politics this week.
Welcome to this week's edition of the Surge, your weekly politics newsletter available exclusively on the metaverse. We're the gnarly red robot hangin' out in space with Mark Zuckerberg!
Election Day is Tuesday, and all eyes are on the Virginia gubernatorial race, where a sentient fleece vest hopes to upset a sentient fundraising link. In Washington, meanwhile, Democrats reached a "framework" on their scaled-down Build Back Better bill, and progressives aren't even complaining about it too much! Maybe if they did complain, it would be easier for Sinemanchin to endorse it. Meanwhile, the legend of Sen. Richard Burr's questionable stock trades expands, and Democrats send their favorite House Republican out to pasture.
But first, have a nice, calm weekend, because this could be the last before a year of full-on, hysterical Democratic panic about the midterms.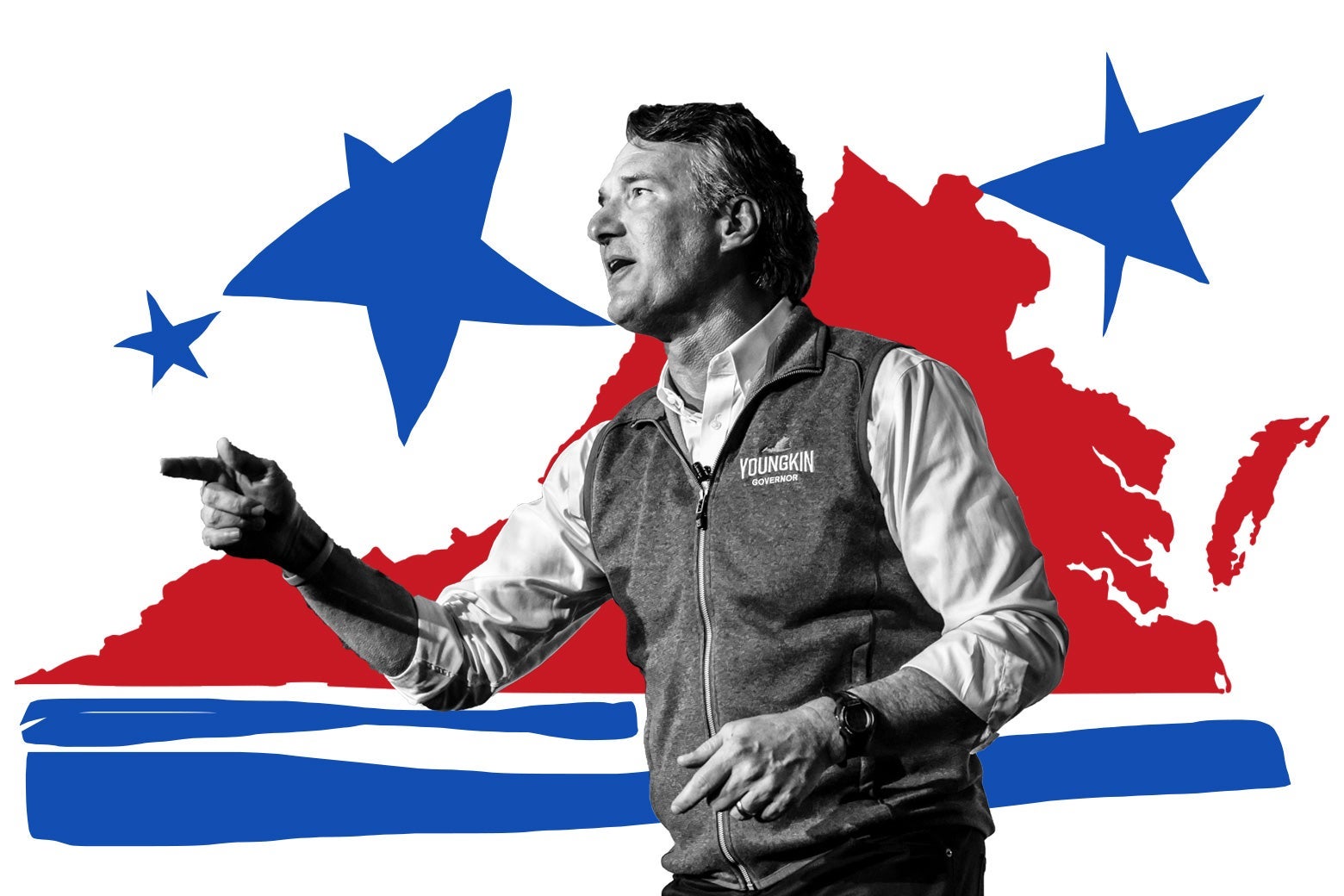 1.

Glenn Youngkin Opportunities to own the libs like this don't come around every day.

It's been an odd year in major conservative efforts to own the libs. There was the refusal to take a lifesaving vaccine during a pandemic, which certainly has annoyed the libs but has also produced consequences for those who refused to take a lifesaving vaccine during a pandemic. Then there was that time Trump supporters stormed the seat of government to interrupt the transition of presidential power. Again, very much annoyed the libs, but didn't allow President Donald Trump to stay in power. In Virginia, though, gubernatorial candidate Glenn Youngkin has Republicans' best chance of the year to decisively own the libs on Tuesday by defeating his Democratic opponent, Terry McAuliffe. The polls have tightened gradually heading to Election Day, and a jarring Fox News survey released Thursday night, showing Youngkin with an 8-point(!) lead, sent the polling average into a dead tie. A Youngkin victory in a state that President Joe Biden carried by 10 points just one year ago would bring all of the midterm-related anxiety Democrats have been feeling since Biden's approval rating began plunging this summer to the fore, sending the national party into an unconcealed panic. If Youngkin wins on Tuesday, it will be difficult to go for a walk in D.C. Wednesday morning without encountering a lib running in the middle of the street haphazardly, screaming, wearing underwear on their head.

2.

Nancy Pelosi Another unsuccessful attempt to jam progressives.

House Speaker Nancy Pelosi first promised a bloc of House moderates a vote on the Senate-passed bipartisan infrastructure deal by the end of September, just when the highway trust fund needed to be reauthorized. But a bloc of progressives, on the other end, refused to vote for that bill until the Build Back Better reconciliation bill, which carried more of their priorities, was also ready to go. Pelosi was forced to delay the infrastructure vote, passing a monthlong patch for the highway trust fund instead. This week, as the new deadline approached … the exact same thing basically happened. Biden, as he did in September, came to the Hill to address House Democrats—and, just as in September, he wasn't particularly insistent that they pass the infrastructure bill that day. Pelosi, nevertheless, tried to get it done on Thursday. Leadership actually whipped the vote this time, something they didn't bother trying in September. Leaders came up with a "framework" for the reconciliation bill and rushed to put out draft text. But in the end, there were still too many "hard no" votes to pass the infrastructure bill, and the House instead passed another short-term patch of the highway trust fund. How does this get resolved? Perhaps just … cut the phony deadlines and pass the reconciliation bill and the infrastructure bill at the same time when they're both ready in the next week or two? Like the progressives insist?

3.

Pramila Jayapal Progressives are ready to accept their half-loaf.

The good news for Democratic leaders, and their relationship with these pesky progressives, is that after the vision for the Build Back Better Act was slashed in half, and priorities like paid family and medical leave, drug price negotiations, and Medicare dental benefits were dropped (for now) from the package, progressives decided to like it anyway. The Congressional Progressive Caucus, led by Washington Rep. Pramila Jayapal "overwhelmingly voted to endorse in principle the entire Build Back Better Act framework," as Jayapal said in a statement Friday, calling it "transformational," even if it didn't include everything they wanted. Minnesota Rep. Ilhan Omar, the CPC's whip, said that the group was "happy with this framework, and we are willing to see it through." Progressives, in both the House and the Senate, will continue working in the eleventh hour of negotiations to get items like paid leave and drug pricing back in the final negotiations. But if nothing else is added, they've shown that they're willing to rally behind what they were able to secure, sell it to the left as a major victory, and fight another day for what they couldn't get. Which leads to …

4.

Joe Manchin and Kyrsten Sinema WELL DO YOU ENDORSE IT OR WHAT?

A clear endorsement of the Build Back Better framework from the dynamic centrist duo would go a long way right now. As Michigan Rep. Dale Kildee, a member of Democrats' whip operation, told the Surge on Thursday, "if they would just speak with greater clarity, and not communicate hieroglyphics, it would be very helpful." And yet the two refused to do so all of Thursday. The best Sinema could offer for the framework was a statement acknowledging "we have made significant progress on the proposed budget reconciliation package" and saying she looked "forward to getting this done." Manchin, meanwhile, said, "I don't think anybody could say they could support it until they see the text." Mushy statements like these only reaffirmed House progressives' belief that they should withhold their votes on the infrastructure bill, Manchin and Sinema's top priority. So why couldn't Manchin or Sinema just say the magic "endorse" word? The most straightforward answer would be because they don't endorse it, and still want to see more changes. But there's also pride, and the sense that progressives, who are holding their infrastructure bill hostage, shouldn't be able to corner them like this. Delaware Sen. Chris Coons, who had spoken to them both on Thursday, told reporters that "they don't feel there's anything more they need to say."

5.

Adam Kinzinger Another Anti-Trump Republican goes down. But not for the reason you think.

Yeeeeeesh this is awkward for Democrats. They earnestly appreciate his patriotism in speaking out against Donald Trump and serving on the Jan. 6 committee, at great risk to his future in Republican politics. If only there were more good guys like Adam Kinzinger! In the next Congress, though, there will officially be zero (0) Adam Kinzingers, because he's not running for reelection. Illinois Democrats, under pressure from the national party to gerrymander new Democratic seats to offset Republicans' gerrymandering advantages elsewhere, got rid of Kinzinger's district, throwing him into a would-be primary with fellow GOP Rep. Darin LaHood, which, Kinzinger correctly surmises, he would not win. Kinzinger's old district, stretching from the northern border with Wisconsin to the eastern border with Indiana, was almost perfectly designed to be broken up to satisfy Democrats' redistricting needs. Kinzinger deserves substantial credit for standing against Trump. But he's also probably seen the writing on the wall, for years, that his district would soon be going poof. Perhaps that political reality liberated him to speak out the way that he has.

6.

Richard Burr Hello, Mr. Broker, I would like to do some insider trades.

The North Carolina senator had already been investigated by the Justice Department for questionable trades he—then chairman of the Senate Intelligence Committee, with access to lots of delicious information—made before the stock market crashed at the beginning of the coronavirus pandemic. He was let off the hook for that. But the Securities and Exchange Commission revealed in filings this week that there's an ongoing investigation into trades made by Burr and his brother-in-law, and shared one particularly damning allegation. After Burr had sold his $1.6 million in stocks, he called his brother-in-law, Gerald Fauth. The two talked for 50 seconds. Fauth, the next minute, called his broker. That broker was out of office, so he then called another broker, who executed between $97,000 and $280,000 in sales of six companies, "including several that were hit particularly hard in the market swoon and economic downturn," as ProPublica reported. Criminality would hinge on whether insider information spurred all of these chit-chats and trades, and Burr's defense last year was that he was acting on public information, like the stuff on CNBC. Even if that were the case, it would be indictment enough of a sitting senator that he was dumping stocks because of what he saw on the teevee.

7.

Terry McAuliffe A stunt to remember if he loses.

We may now have the anecdote by which the entire race is remembered, should McAuliffe lose. On Friday, five people dressed in khakis and white shirts, and carrying Tiki torches—à la the white supremacists at the 2017 Unite the Right rally in Charlottesville, Virginia—showed up at a Youngkin event, stood by his campaign bus, and said, "We're all in for Glenn." If you have covered a campaign on the ground for five seconds, you would recognize this as a stunt by pro-Democratic groups, and a pretty sad one at that. But the McAuliffe campaign staff acted as if these really were organic Youngkin supporters. No one was quite sure for most of the day which specific pro-McAuliffe tricksters were behind this. On late Friday afternoon, though, the Lincoln Project—the group of ex-Republican strategists who pivoted to burning Democratic donors' money during the Trump years—claimed credit. Of course it was them. Now precious final hours of the campaign will be about ludicrously executed pro-McAuliffe stunts, when they could've been devoted to anything else. At least everyone's making memories.