Slate's guide to the most important figures in politics this week.
Welcome to the latest edition of the Surge, your weekly newsletter about Joe Manchin's control of the United States government and assorted other trivia.
This week, we look at the various ways in which Democrats' multitrillion vision for a comfy new country will get put through the congressional meat grinder. The government may cover the cost of seniors' dental care, just not current seniors. Lobbyists will try to save Newport Reginald "Skip" Chauncington IV's billion-dollar inheritance from taxation by pretending to care about family farms. But of course, the biggest obstacle will be getting the necessary support of the senator who doesn't even want to do any of this.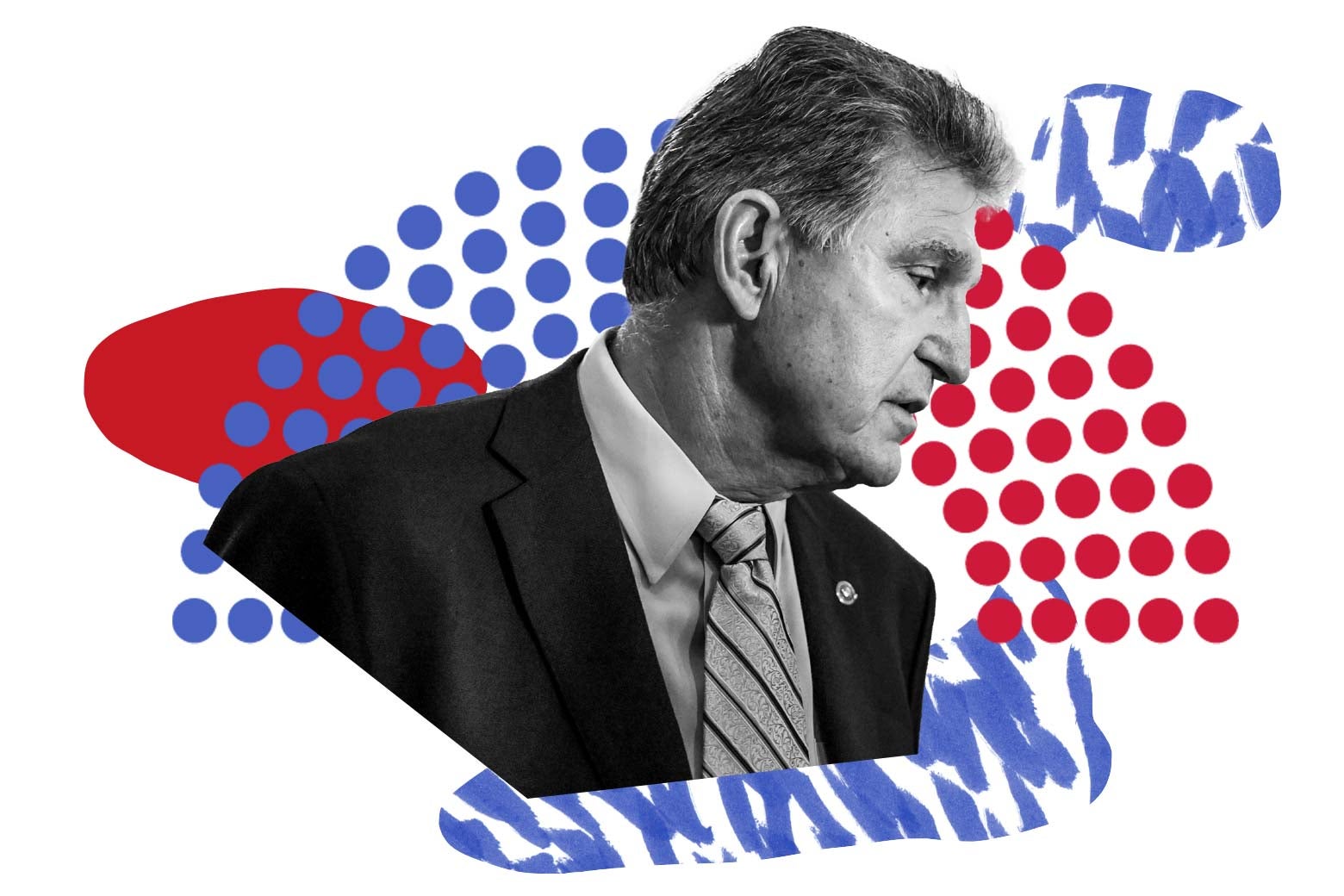 Last Week #1
1. Joe Manchin
What's it going to be?
Aww, are you tired of hearing about the senior senator from West Virginia? Does constant discussion of him simply exhaust you? Snap out of it. Every debate to which Manchin has been the fulcrum so far—on voting rights, nominations, COVID relief—was a warmup for the role he's about to play. This fall, Democrats will try to pass the centerpiece of their agenda: A multitrillion-dollar spending bill touching everything from child care to education to climate change to health care to, well, whatever else can be construed as a budgetary item. The vast majority of Democrats in Congress are at work, now, on a $3.5 trillion compromise vision. Manchin, however, according to reporting from Axios, is thinking more in the $1 trillion—or mayyyyybe $1.5 trillion, if he's feeling frisky—range. It's not just the price tag that Manchin has issues with, either. He has big disagreements on the value of underlying policy items, notably—gulp—on the desirability of transitioning away from fossil fuels. He is both insisting that the entire package be paid for, not deficit financed, and yet is not on board with many of the tax increases on the menu of funding options. There's not much Democrats can do about Manchin, whose vote they need but who doesn't really think Democrats should be doing this bill right now. The only person with a tiny piece of leverage over Manchin is President Joe Biden. Does Manchin want to be responsible for the collapse of the president's agenda?

Last Week #6
2. Gavin Newsom
All hands on deck.
Last week, we wrote about how California Gov. Gavin Newsom was in good shape ahead of the gubernatorial recall election. And since then, polling averages have only widened between "keep" and "remove," with "keep" now holding a 12-point lead in the FiveThirtyEight polling average. Early ballot returns are also pointing to a healthy turnout in the recall, another positive sign for Newsom. Given this turn of events, the Surge's advice for Democrats in the final stretch before the Sept. 14 recall is straightforward: Now is the time to rest on your laurels and assume that there is no longer a way Republicans, namely talk-radio host Larry Elder, could possibly take control of the state. Just stop campaigning, or trying in any meaningful way, and play golf. It appears, however, that Democrats are not taking our advice. The biggest of the big names in the party are campaigning for Newsom now. Former President Barack Obama, who in his post-presidency rarely ignores a prompt to play golf, has cut an ad urging a "no" on the recall. Vice President Kamala Harris, a Californian, campaigned for Newsom this week. And next week, Biden himself will visit California to campaign for Newsom in Long Beach. Why doesn't everyone just relax?

Last Week Unranked
3. Bernie Sanders
Just ride out that toothache for another seven years.
First of all, we're going to wish a happy 80th birthday to Sen. Sanders, even though he may well tell us to fuck off for doing so. It was Sanders who cut the $3.5 trillion handshake deal on the reconciliation bill with moderates on the Senate Budget Committee, which he chairs. And one of the top priorities for Sanders is to expand Medicare to cover dental care, vision, and hearing aids. A funny thing happened in an early draft of this proposal, though, which the House Ways and Means Committee marked up this week. In that draft, the dental benefits were included, but wouldn't kick in until 2028. One good rule of thumb for politics is that if you're going to bribe a constituency, bribe them now. That's especially vital when the constituency is seniors, who in seven years may not be … you know … needing to see the dentist. Sanders said he wasn't on board with that delay, and there are discussions to give seniors an immediate voucher to cover dental services in the meantime. But this episode is an early indication of a lot of the sour trade-offs that will have to be made to fit everything into this bill. Democrats have only as many dollars to spend as Joe Manchin will agree to, and so some lovely sounding items will have to be kicked in later, phased in, or only implemented on a temporary basis with a debate about permanency punted down the road. And each decision like this is going to spark an outcry.

Last Week Unranked
4. Heidi Heitkamp
This tax loophole is a scam! [Gets paid.] Never mind, it's great!
As Democrats pore through trillions of dollars of potential tax increases they can use to fund their agenda, lobbying firms are hard at work trying to prevent any of that from happening. And one of the Surge's favorite lobbying tricks goes like this: Whenever anyone in Washington is considering a tax that could cut into the amount of money that wealthy heirs inherit, all of K Street shouts in unison, Why do you hate farmers? At issue in this case is the elimination of the so-called stepped-up basis of capital gains, which allows heirs not to pay taxes on the unrealized capital gains of assets they inherit. As with the estate tax, opponents point to how getting rid of this "stepped up basis" could force heirs to sell multigenerational assets like family farms to cover the new tax bills. What they are ignoring, though, is that the Biden plan would allow owners of inherited businesses, like family farms, to defer those taxes indefinitely until they decided to sell the farm—and since they're ignoring that, it's a good indication that this isn't really about saving the quaint family homestead at all. The star of this issue, in recent weeks, has been former North Dakota Sen. Heidi Heitkamp. In April, during an appearance on ABC News, Heitkamp described the step-up treatment of capital gains as "one of the biggest scams in the history of forever on income redistribution." Now, however, Heitkamp is arguing that its elimination will kill the Democratic Party among rural voters trying to save the family farm. Why the change of mind? It could be related to her having been recruited by a dark-money group to advocate against it.

Last Week Unranked
5. Hurricane Ida
It has a name so it can have an entry, OK?
In recent weeks, a stupid jerk called Hurricane Ida flooded and wrecked New Orleans, then wrecked much else of the South, and then, for a farewell media tour, went almost directly over I-95 to flood every major Northeastern city. We at the Surge first thought all of this was wildly unnecessary, if not outright uncouth, of Hurricane Ida, who owes the American people an apology. But our next thought, because we're sickos, was about the debt ceiling, which will need Republican support to be raised despite nearly all Senate Republicans saying they'll never support it. Last week we floated an option about Democrats trading a defense spending boost for Republican debt ceiling votes. What about trying to do that with hurricane relief money, too? A lot of the country, including Republican turf in Louisiana and elsewhere in the South, will need disaster relief funds, and the Biden White House this week requested Congress include such extra funds in the government funding bill due at the end of September. Perhaps, if the debt ceiling increase is rolled into the bill as well, the need to bring home relief dollars could unlock some Republican votes. Or not! We just like to brainstorm one idea per week about raising the debt ceiling until someone with actual power comes up with a plan.

Last Week Unranked
6. Elizabeth MacDonough
Bang! Bang! Lizzy Mac's silver hammer.
We've gone through several ways Democrats' $3.5 trillion ambitions will get trimmed down. There's the Manchin-ing of the bill, the weird cut-offs and start dates for various goodies, the lobbyists cosplaying as people who in any way care about family farms. But then there is also Senate Parliamentarian Elizabeth "the Hammer" MacDonough, the arbiter of what fits within the rules of reconciliation, which only allow for legislative items of a strictly taxing-and-spending nature to bypass a 60-vote Senate filibuster. MacDonough, during deliberation over the COVID relief bill earlier this year, advised that increasing the minimum wage, for example, would only have "merely incidental" budget effects. Democrats dropped it from the package. Democrats may be setting themselves up for a series of similar disappointments in this upcoming bill. On Friday—this very day!—MacDonough is set to hear arguments over whether Democrats can include a pathway to legal status for undocumented immigrants in the reconciliation bill. We'll see. But it's easy to be cynical given the way the minimum wage effort played out: Democrats likely knew the increase wouldn't meet parliamentary muster but threw it into the buzzsaw anyway so they could blame the failure on MacDonough. Which is why it's important to remember, as item after item goes before her, that the parliamentarian is just a staffer and doesn't "rule" on anything. She advises, and it's only precedent that the majority follow her advice. The majority has the power to do away with that precedent if it wants.

Last Week Unranked
7. Donald Trump
How to make a culture war out of Afghanistan.
The former president is reportedly quite jazzed about the mess of a withdrawal from Afghanistan, with those close to him believing it could push him toward declaring an early 2024 candidacy. One problem with that strategy, though, is it could be difficult to run against Biden's Afghanistan withdrawal when Biden was adhering to a deal that Trump cut with the Taliban in the first place. Which is why Trump is looking for ways to fuse Biden's handling of Afghanistan with more fertile culture war issues. This is how absurd positions like one Trump released Wednesday night come to be. In a statement lamenting how "the magnificent and very famous statue" of Confederate Gen. Robert E. Lee was taken down in Richmond this week, Trump offered the following hypothetical: "If only we had Robert E. Lee to command our troops in Afghanistan, that disaster would have ended in a complete and total victory many years ago," he said. "What an embarrassment we are suffering because we don't have the genius of a Robert E. Lee!" Buddy, the United States couldn't beat the Taliban, and Robert E. Lee couldn't even beat the United States. Anyway, congrats to Trump: Provocative statement made, reaction successfully provoked. Looking forward to doing this all over again, forever.