Slate's guide to the most important figures in politics this week.
Welcome to this week's edition of the Surge, your weekly digest of #snackable political content patiently tracking the brick-by-brick dismantling of American civil society.
Ladies and gentlemen, we must discuss the Democrats. Life in the majority has not, of late, been a barrel of laughs for them. President Joe Biden is unpopular. Moderates and progressives are in a tense standoff trading threats to kill each other's legislation and possibly sink the White House's whole agenda in the process. House Republicans don't just have an opportunity to mess things up further, they have options for doing so. Senate Republicans are successfully messing with Democrats on a whole other frontier of must-pass legislation. But if you make it until the end, you can read about Lauren Boebert, as a treat.
First, let's start with the leader of the House progressive wing, who's flexing hard this week.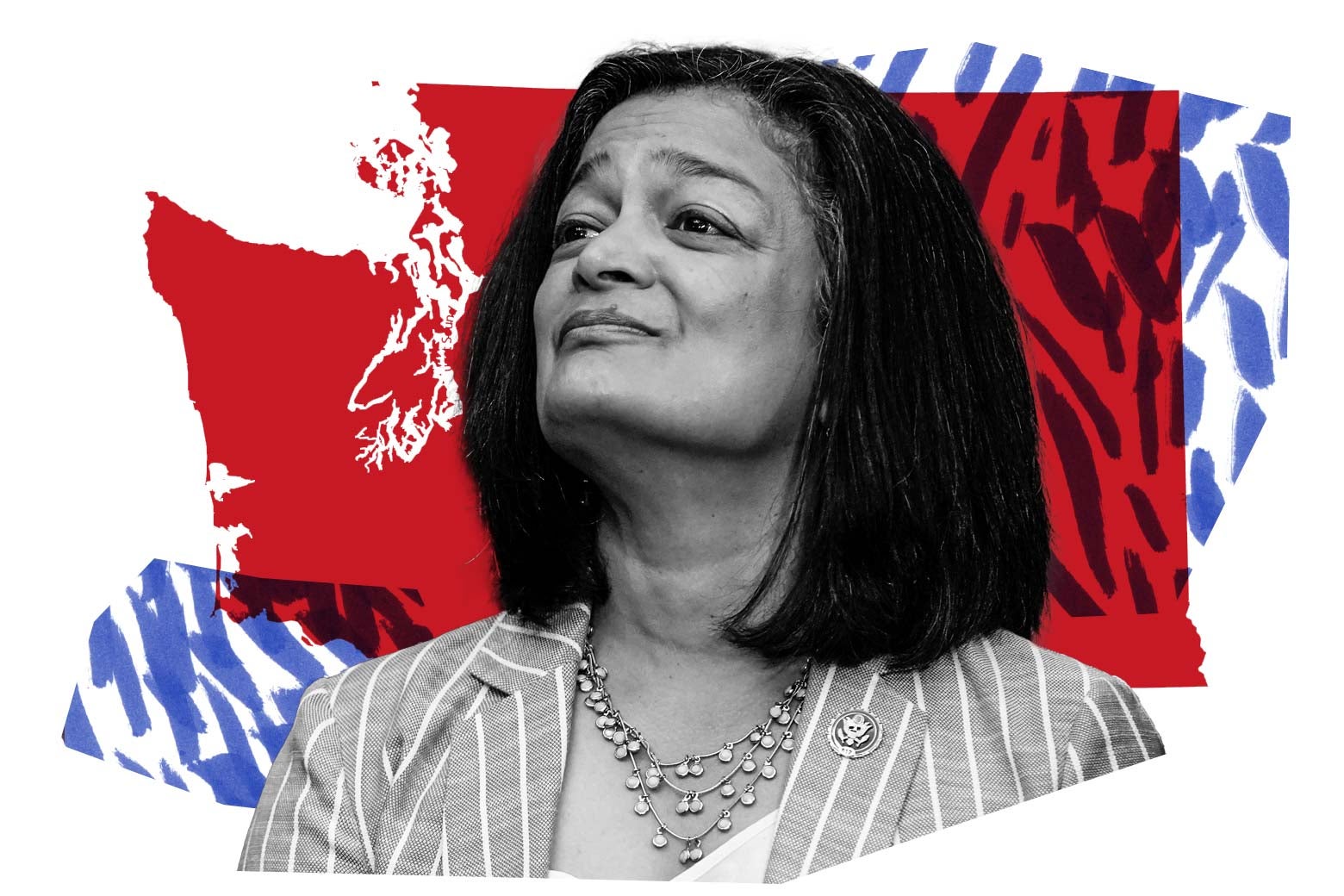 Last Week Unranked
1. Pramila Jayapal
Kill bill, Volume 1.
Democrats' Congressional Progressive Caucus is not perfectly symmetrical to Republicans' House Freedom Caucus. Whereas the latter group absolutely thrives on blowing up their leaders' best-laid plans when Republicans are in the majority, the CPC is more accommodating to theirs. They'll make a lot of demands, but they don't really want to humiliate their own party in the end. (This is also true of House Democratic moderates, or any other Democratic faction that's ever considered crossing Nancy Pelosi.) Will this time be different? Washington Rep. Pramila Jayapal, the chair of CPC, has been adamant this week that she has the votes to bring down, and will bring down, the Senate-passed bipartisan infrastructure bill if it is brought to a floor vote on Monday as scheduled. Progressives believe that if that bill, beloved by Democratic moderates, is sent to Biden for a signature before progressives' preferred reconciliation bill has gotten a vote, they'll lose substantial leverage in negotiations over the latter. Jayapal's threat is being taken seriously enough to get her in lengthy meetings with both Pelosi and Biden himself. Could this threat ultimately just be another bluff from the progressives, and they'll come around ahead of a floor vote? "Try us," Jayapal told reporters this week.

Last Week #2
2. Mitch McConnell
Speaking of people who aren't bluffing …
The Senate minority leader once again did that thing where he pretends his personal power play is actually a long-standing Senate rule and tradition. He announced, over the summer, that since Democrats control both chambers of Congress and the presidency, Republicans have no obligation to, and will not, vote to raise the federal debt limit under any circumstances. Instead, he insists that Democrats must do it by themselves, and he wants to force them to do it in the most time-consuming, aggravating way imaginable so as to secure attack ad material for the midterm elections. McConnell is just making up all of these rules and precedents—and, as usual, he might get away with it. Democrats don't want a debt default to happen on their watch. Though their strategy has been to call McConnell's bluff and get Republican buy-in on a debt ceiling increase when the pressure really kicks in, some are beginning to accept that they may have to do it on their own, torturous as a process that is.

Last Week Unranked
3. Joe Biden
He needs to do something about the thing where he is unpopular.
Biden has a growing political problem: He is politically unpopular. You don't want to be unpopular in the ol' "game of politics." And yet, here Biden finds himself. His polling average is underwater. The most recent survey from Gallup, for example, pins his approval rating at 43 percent compared with 53 percent who disapprove, an 11-point swing from just last month. And while he shouldn't expect to be loved in Iowa, a new survey from high-quality pollster Ann Selzer had Biden's approval rating in that state at 31 percent, compared with 62 percent disapproving. That's off-the-deep-end bad. The Surge would recommend that Biden do stuff to make himself more popular. More realistically, though, he'll probably just have to wait for the delta variant to burn out and hope that none of the other variants take off? Should be easy enough, all he has to do is vaccinate the world.

Last Week Unranked
4. Kevin McCarthy
Kill bill, Volume 2.
House progressives have tough decisions to make about how to play Monday's scheduled vote on the Senate infrastructure deal. Kevin McCarthy's House Republicans, though, have fun decisions to make about how to play it. On the one hand, they could supply enough votes to overcome the progressive defections and get the bill across the finish line. That would give Republicans a popular bill to vote for and provide Democratic moderates the leverage they want to trim down Democrats' reconciliation bill, which is loaded with policies Republicans deem catastrophic. But with Biden as unpopular as he is, and Democrats in tatters over how to move their agenda, House Republicans can't resist following their muscle memory and going for the kill shot. They can see a glimpse now of a world where neither of Democrats' signature bills passes, and even if it's just a glimpse, they have to see it through. McCarthy and the rest of Republican leadership are formally whipping their members against the infrastructure bill that nearly half of Senate Republicans voted for.

Last Week Unranked
5. Kyrsten Sinema
What counts as a "deal," and what's just PR.
Democratic leaders have had a habit throughout this reconciliation process of saying they have a "deal" when they haven't consulted the most important people you'd need for a "deal" to mean anything. Democrats had a "deal" this summer for a $3.5 trillion reconciliation bill, for example, but that was just between Democrats on the Senate Budget Committee. Centrist Sens. Joe Manchin and Kyrsten Sinema in no way acceded to such a thing. On Thursday, then, Senate Majority Leader Chuck Schumer and House Speaker Nancy Pelosi jointly announced that "the White House, the House and the Senate have reached agreement on a framework that will pay for any final negotiation." Neat! What does that mean, though? It wasn't that all Democrats had reached a deal on what taxes would be raised in the package, merely that tax-writing committees and leaders had settled on a "menu of options" for revenue raisers depending on the final size of the package. Not a whole lot of Democrats were read in on the deal that they supposedly reached, with an aide to Sinema saying that "we have seen nothing and have not signed off on anything." In other words, a handful of people came up with a list of stuff they may or may not want to do and pitched it as a sign of tremendous progress on a stuck bill. Moving along.

Last Week Unranked
6. Cory Booker, Tim Scott, and Karen Bass
Police reform is officially finished.
We hadn't heard for a while about police reform, which was on a surprisingly good track this spring and early summer. Part of that was because the lead negotiators—New Jersey Sen. Cory Booker and South Carolina Sen. Tim Scott in the Senate, and California Rep. Karen Bass in the House—are not crazy yahoos and could work relatively well in good faith. But for a long time, the negotiators had stumbled on the issue of qualified immunity, the legal doctrine that shields police officers from liability. In their final offer, the Democrats had taken that off the table, but Republicans, according to Booker, still couldn't accept what they offered. "When it comes to issues like raising professional standards, we couldn't even agree to codify what Donald Trump did in his executive order." Booker called Scott this week to say that the negotiations were officially over. What made the progress negotiators were making earlier this year so surprising was how it was clashing with a shift in the political atmosphere: Violent crime has shot up significantly since the pandemic began, and Republicans are trying to run on how it's all Democrats' fault (even though the huge 2020 surge happened under Donald Trump). In the end, the atmospherics won out.

Last Week Unranked
7. Lauren Boebert
You just can't do that.
We were going to write about how Democrats are also melting down over sending a billion dollars to Israel, but you kind of get the point about how their week is going. Let's look instead at what appears to be a campaign finance violation that just about anyone can understand! Colorado Rep. Lauren Boebert has been ensnared in multiple controversies over her campaign expenses. In an FEC filing this week, it was revealed that Boebert "paid rent and utility bills with campaign funds in violation of federal campaign finance laws," as the Denver Post reported. Yeah, that's extremely against the law. Boebert's filing described the payment as "billed to campaign account in error," and noted that the expense had been reimbursed. The FEC said that if the payments were "personal use of campaign funds, the Commission may consider taking further legal action," but that "prompt action to obtain reimbursement of the funds in question will be taken into consideration." Meanwhile, a former aide to Rand Paul and Mitch McConnell, Jesse Benton, whom Trump had already pardoned previously, was indicted for "funneling $25,000 from a Russian national into the Trump campaign in 2016." It seems like a lot of people were banking on pardons following the secret Trump reinstatement that was supposed to happen this summer. Sorry, guys.