Slate's guide to the most important figures in politics this week.
Welcome to this week's edition of the Surge, which was not invited to the bipartisan COVID party on Joe Manchin's "houseboat" (or $700,000 yacht) and is now in the market for a new agent.
It was a wobbly week for the Democratic Party. After much consternation and infighting, Democrats found a way to extend the eviction moratorium, but the courts might kill it any second now. Party leaders are pleased with how they're getting their way in early primaries this year, but the early midterm polling is painting a grim picture for them overall. Most Democratic governors are not on a glide path toward impeachment for sexual harassment, retaliation, and creating generally toxic work environments, but one is. And while Barack Obama gets to celebrate his birthday, he won't do so in the spectacular fashion for which he'd hoped.
First, though, let's look at one Democrat's quest to keep up the pressure on renewing the eviction moratorium, fleeting though the victory may ultimately be.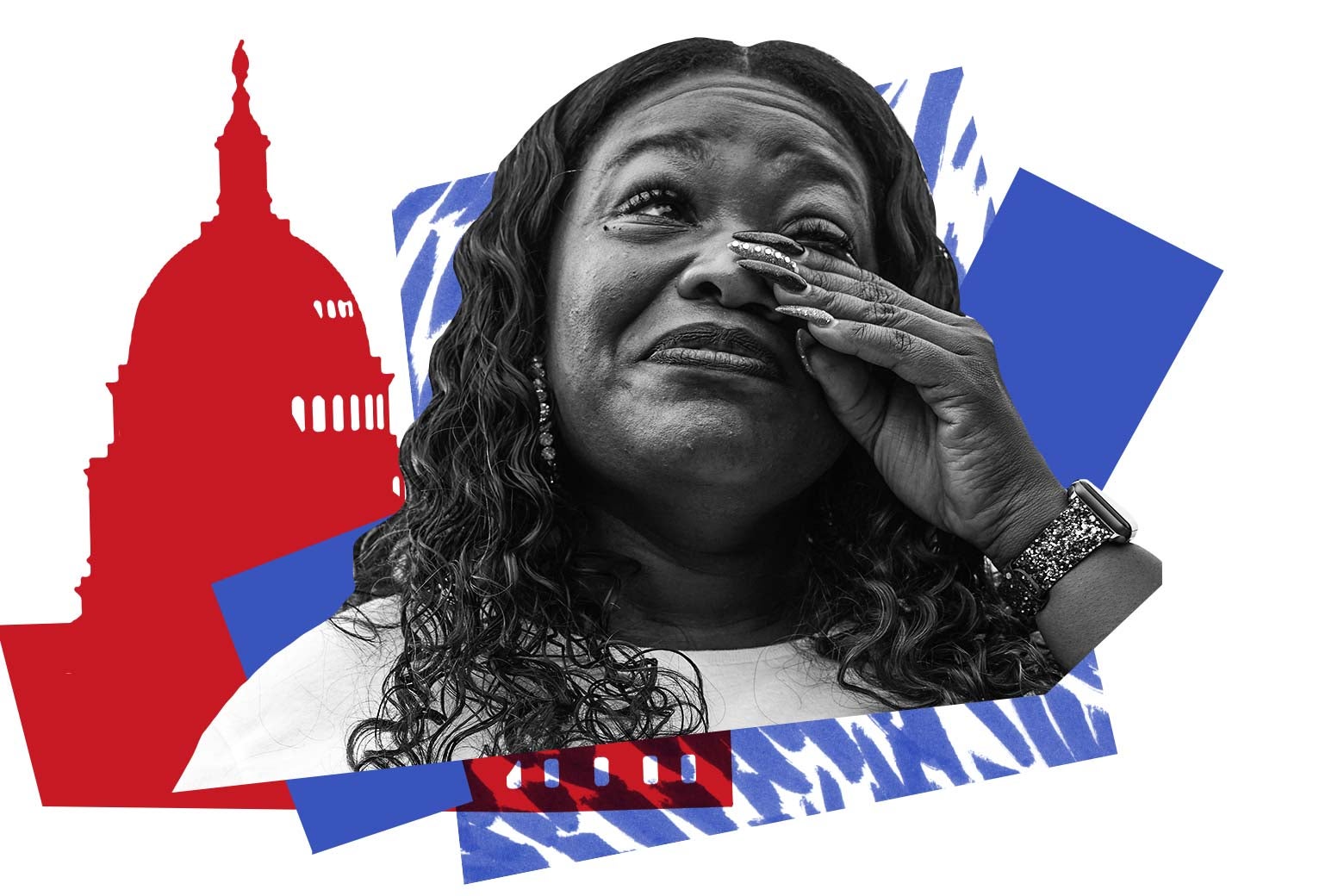 Last Week Unranked
1. Cori Bush
A rare effective protest on Capitol Hill.
Why did both the White House and congressional Democrats wait until the last days before the CDC eviction moratorium expired to attempt to do anything about it? Probably because they believed that they couldn't do anything about it. But that didn't stop the last days of the moratorium from becoming  an exercise in blame theatrics. The White House told Congress it needed to do something; House Democrats couldn't find the votes to do anything and told the administration that it needed to do something. No one did anything, and House members flew home. Or at least, most of them did. Missouri Rep. Cori Bush, a left-wing freshman member, stayed behind and spent days camped out on the Capitol steps until action was taken, with some relief from Reps. Jimmy Gomez, Alexandria Ocasio-Cortez, and Mondaire Jones. Bush's protest exemplified the rage of the left, pushing House Democratic leaders who in turn pushed the administration. On Tuesday, then, the Centers for Disease Control and Prevention released a new order halting evictions in areas of the country where the delta variant is surging (no relation). The Surge has seen all sorts of Capitol Hill protests (truly, all sorts) that mostly exist for members to check the "see? I protested" box. Bush's, however, changed policy. We suspect this is not the last time a member chooses to camp out on the steps to get something done.

Last Week Unranked
2. Joe Biden
… But for how long will it work?
Biden's first commentary on the new moratorium, meanwhile, was curious in that he suggested the policy might be a wee bit … illegal. It's not just that the White House was hesitant to extend the moratorium—it had determined that it could not and had "quadruple-checked" the law before arriving at that decision. Though the Supreme Court had let the moratorium stand until its July 31 expiration, Justice Brett Kavanaugh had said that he didn't think the CDC had the authority to halt evictions in the first place and that further extensions would require legislative action. Though the new moratorium is different in some respects from the expired one, Biden still said at his press conference Tuesday that "the bulk of the constitutional scholarship says that it's not likely to pass constitutional muster." But since Harvard's Laurence Tribe said it would be fine and because Democrats were in a pickle, the administration went ahead and did it anyway. This is why much of Democrats' celebration could prove premature. The same Realtors that challenged the previous moratorium have already filed suit against the new one, citing the White House and Biden's own (substantial) record of saying it might not be legal. The new eviction moratorium could be shot down in a matter of days—perhaps by the time you're reading this—and the judges shooting it down may not be polite in their treatment of the administration.

Last Week Unranked
3. Andrew Cuomo
He wants to Northam it out so badly. Can he?
Another thing that could be ancient history by the time you read this: Andrew Cuomo's decade-plus rule of New York state. New York Attorney General Letitia James released her report into allegations of sexual harassment against the governor and "concluded that Governor Cuomo did sexually harass multiple women—including former and current state employees—by engaging in unwanted groping, kissing, and hugging, and making inappropriate comments," as well as retaliate against "at least one former employee." Whichever Democrats weren't already calling for Cuomo's resignation, from state lawmakers up through the president of the United States, are now calling for it. Cuomo's defense, meanwhile, was that he's just a touchy politician. To show he's not alone in that regard, he released pages and pages of photos of other politicians hugging and touching people. So he doesn't quite get it and seems determined to try to ride this out à la Virginia Gov. Ralph Northam, who similarly faced widespread calls to resign a couple of years ago when a photo purportedly depicting him in blackface emerged. A few key differences, though. First, the yearbook photo—investigations into which still couldn't conclusively prove it was Northam in blackface—was from decades earlier. Second, the entire Democratic line of succession behind Northam was tainted. Third, there was no movement from the Legislature to actually dump Northam. It's that last difference that's the most difficult for Cuomo. There's no chance he would resign just because he had a bunch of allies release statements asking him too. But the near-certainty of the Legislature ejecting him gives him no apparent path to survival. On the bright side: At least he got to be No. 3 on this list.

Last Week Unranked
4. Shontel Brown
The center left asserts control.
After months of trailing in the polls for the special election in Ohio's 11th Congressional District, Shontel Brown rallied to defeat progressive darling Nina Turner in Tuesday's Democratic primary. Aiding Brown in her victory were senior members of the Congressional Black Caucus, Hillary Clinton, the Democratic Majority for Israel PAC, former Rep. Marcia Fudge's mom, and most importantly, Nina Turner. The Democratic establishment—which prefers the term "mainstream Democratic Party"—is crowing at this latest defeat of the left, whose loss in the 2020 presidential primary has spilled over into 2021 with losses in the Virginia gubernatorial primary, New York mayoral primary, and now in Ohio. It cannot be overstated how much top Democratic politicians loathe the left tweeting shit at them all day. "The extreme left is obsessed with talking trash about mainstream Democrats on Twitter, when the majority of the electorate constitute mainstream Democrats at the polls," New York Rep. Hakeem Jeffries, the House Democratic Caucus chairman, told the New York Times after Brown's win. "In the post-Trump era, the anti-establishment line of attack is lame—when President Biden and Democratic legislators are delivering millions of good-paying jobs, the fastest-growing economy in 40 years and a massive child tax cut." Whether you agree with him or not, the center left, so far, is in total control of primaries heading into the midterm election cycle. But about that cycle … 

Last Week Unranked
5. Sean Patrick Maloney
A midterm warning.
A couple of candidate announcements this week caught the Surge's attention. In Missouri, GOP Rep. Ann Wagner, representing a biennially targeted suburban St. Louis district, announced she would run for House reelection instead of jumping into a crowded Senate primary. And in Maine, former GOP Rep. Bruce Poliquin, who once ran toward a ladies' room to avoid a question from the Surge about his Obamacare vote, announced he would challenge the Democrat, Rep. Jared Golden, who unseated him in 2018. Moves like these indicate House Republicans see an early tailwind at their backs heading into the midterms. Another indicator of that? Rep. Sean Patrick Maloney, the DCCC chair, having polling that shows House Republicans have a tailwind at their back. "During a closed-door lunch last week with some of his most vulnerable incumbents," Politico reported this week, Maloney "delivered a blunt warning: If the midterms were held now, they would lose the majority." The polling showed House Democrats trailing Republicans on a generic ballot of battleground districts by a half-dozen points. It also indicated that while discrete elements of the Democratic economic agenda are widely popular, they're not breaking through, and concerns about inflation are hampering overall trust in Democrats' stewardship of the economy. The polling also showed that while discrete elements of the Democratic economic agenda are widely popular, they're not breaking through, and concerns about inflation are hampering overall trust in Democrats' stewardship of the economy. Just because House Republicans are off their rockers doesn't mean they can't comfortably take back the House.

Last Week Unranked
6. Madison Cawthorn
A good way to make enemies: being extremely rude to people.
The entire House of Representatives was on the verge of a dugout-clearing brawl before they adjourned for a much-needed August recess last week. Among the feuds lost amid the larger mask mandate wars and eviction moratorium scrambling, though, was one between 26-year-old freshman GOP Rep. Madison Cawthorn—who was 25 just last week!—and humble West Virginia GOP Rep. Dave McKinley. The two nearly came to blows on the House floor as Cawthorn accused McKinley of attaching his name to a bill he didn't want to be on. "What is your name?" Cawthorn sarcastically asked McKinley, who responded, "You know damn well who I am." McKinley, during the argument that ensued, would repeatedly call Cawthorn "Junior." This came after Cawthorn had personally gone to McKinley's office and screamed at his staff, asking them if their boss was "that guy with the mustache that nobody fucking knows," an incident that prompted a McKinley staffer to file an ethics complaint. It was also revealed this week that Cawthorn tried to bring a loaded gun onto a plane in February, which is not allowed. We would say that this arrogant junior member is spiraling downward and that it won't end well for him if he doesn't pull himself together. Another possibility, though: He keeps getting worse and never faces any consequences for his actions.

Last Week Unranked
7. Barack Obama
Uhhhhh look: The delta variant canceled my birthday party.
We think we've discovered why it took former President Barack Obama so long to pump out his memoirs: He spent 90 percent of his mental energy following his exit from the White House planning his 60th birthday party. It was to be fabulous! Taking place at his 29-acre, $12 million Martha's Vineyard estate, Obama had expected 475 guests, including George Clooney, Oprah Winfrey, and Steven Spielberg. The ultimate band of 60-year-old ex-presidents, Pearl Jam, was set to play. Who knows what else? Canapés made of solid gold; fine cigars lit with complimentary $1,000 bills; pony rides, except the ponies are spaceships, and the rides are to space. Drugs like you wouldn't believe. A decent Buffalo chicken dip. But alas, it was all a mirage, and Obama announced this week that he would cancel the big bash over rising COVID cases and instead have something small with family and close friends (Bono, Angela Merkel, the Surge, Bill Ayers, etc.). Maybe if Obama had simply *invited* the delta variant, it wouldn't have gone out of its way to ruin the whole thing.