Slate's guide to the most important figures in politics this week.
Welcome to this week's edition of the Surge, your weekly "financial tip sheet" that wants you to know: The surest way to get rich now is to have more children!
Democrats this week released a draft for their Big Budget Bill, and it is indeed big. But the process is still early, and Joe Manchin is poring through the draft with a red pen to make sure none of it will make the air too clean. The bipartisan, "hard" infrastructure deal isn't quite dead, and Mitch McConnell can't decide whether passing it or killing it does the most long-term damage to the Democratic agenda. On voting rights, in the wise words of LCD Soundsystem, "everybody keeps on talking about it/ nobody's getting it done." We're not ruling out a legal weed bill just yet, Republicans remain torn on whether being vaccinated and not dying is better than being unvaccinated and dying, and Gen. Mark Milley is not on Trump's coup Evite.
But first, let's gaze at the latest wheeling and dealing from that notorious Capitol Hill inside player, Bernie Sanders.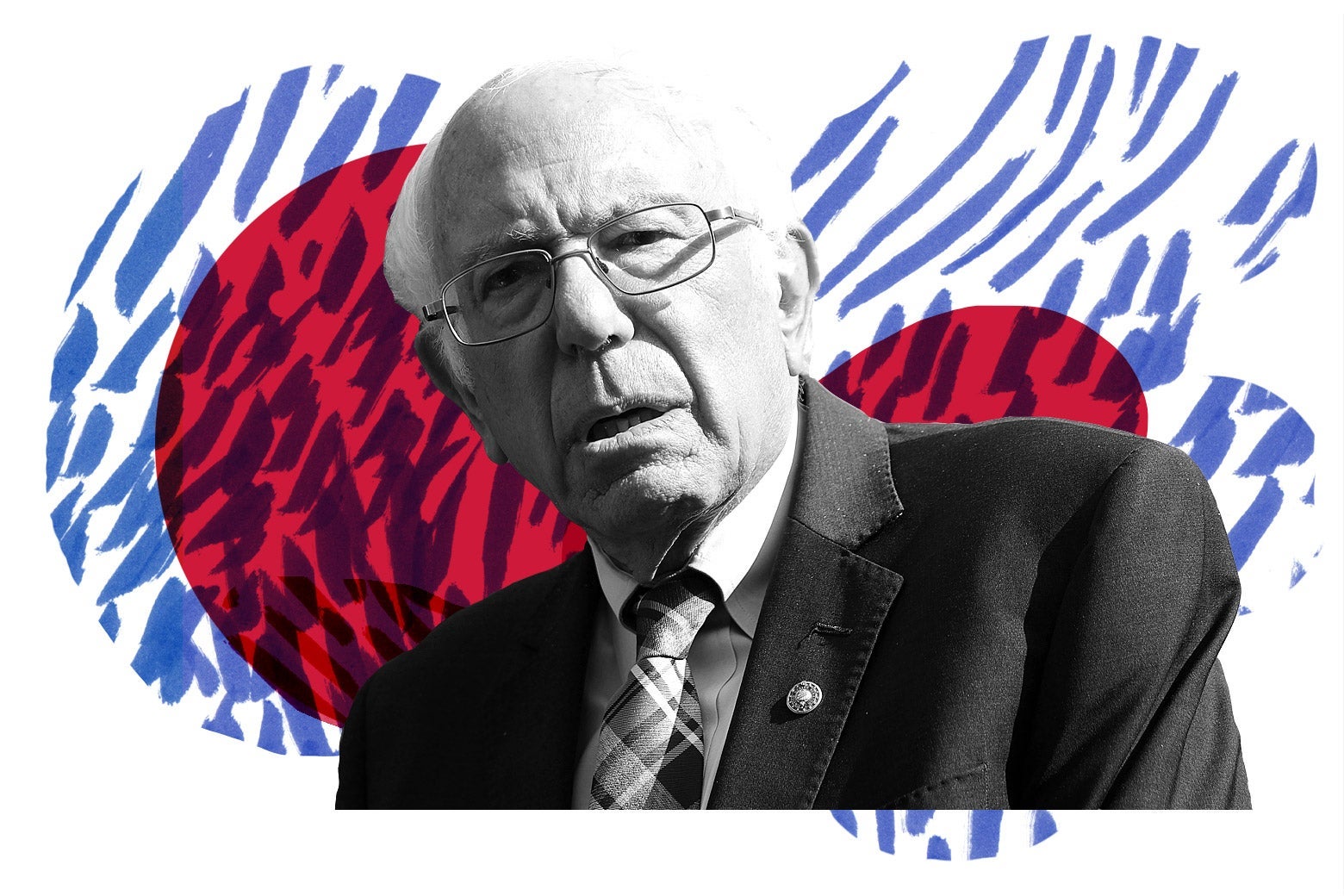 Last Week Unranked
1. Bernie Sanders
Poor guy had to settle for $3.5 trillion to transform the country.
Let's dispel once and for all with this fiction that the Vermont senator doesn't know what he's doing. When Sanders, the chairman of the Budget Committee, initially proposed a $6 trillion blueprint for Democrats' upcoming, enormous spending bill, he was not expecting all of his Senate Democratic chums to agree with him. He was, however, widening the aperture of what they could ultimately agree upon. Pretty smart! This week, Sanders reached a deal with Budget Committee moderates on a $3.5 trillion framework for a party-line reconciliation bill they intend to pass this fall. It would create a host of climate initiatives that Democrats claim would meet the president's goal of halving emissions by 2030; add dental, vision, and hearing aid benefits to Medicare; extend the generously expanded child tax credit and improvements Democrats made to the Affordable Care Act earlier this year; allow Medicare to negotiate drug prices; and fund universal pre-K and paid family and medical leave. We're still figuring out what else could be tossed in. If people would like to call a $3.5 trillion framework with most of the Democratic agenda a loss for Sanders, he can live with that. "The legislation that the president and I are supporting will go further to improve the lives of working people than any legislation since the 1930s," Sanders told reporters once the deal was reached.

Last Week Unranked
2. Joe Manchin
Alas, not everyone has agreed to the deal.
One of the mysteries during intra-Democratic budget negotiations, though, was whether the committee moderates with whom Sanders was negotiating—Virginia Sen. Mark Warner, for example—were negotiating on behalf of all Senate Democratic moderates. That would have made a committee agreement much easier to bring swiftly to the Senate floor. But it became quickly apparent that Warner was no proxy for West Virginia Sen. Joe Manchin, who is, as you may have heard, his own man. The centrist in chief's initial statement didn't draw any red lines, but comments he made to reporters later made clear he would be seeking his pound of flesh. "You cannot be moving towards eliminating the fossil" fuels, he told reporters, saying there's "a lot of language" in that regard that he finds "very, very disturbing." On the broader contours, he also said he was very worried about spending more while inflation is worsening, and that he wants to make certain that the country remains "globally competitive" on taxation. In other words, he's not sure he wants to tax and spend as much as the deal's negotiators agreed to. Don't expect Manchin to kill what would be Democrats' signature legislation. But expect him to leave a significant mark in ways that will infuriate progressives.

Last Week Unranked
3. Mitch McConnell
Unusually coy about killing a bill.
And then there's the other bill. The $600 billion bipartisan "hard" infrastructure proposal is still strutting around out there, mysteriously not having been smushed yet by political gravity. The usual smusher of big would-be Biden administration "wins," Minority Leader Mitch McConnell, is unusually cautious about smushing this one. On the one hand, Republicans don't want to be seen as enabling a big Democratic spending spree, and a vote for the first part of Democrats' "two-track" strategy for enacting their agenda could be perceived that way by the Republican base. Democrats' release of their $3.5 trillion blueprint for the second part this week didn't help with those atmospherics either. But the Republican strategy of supporting a bipartisan deal with some of Biden's most broadly popular agenda items so as to trim moderates' appetites for the reconciliation bill is still a valid one. And the bipartisan proposal's lead Republican negotiator is Ohio Sen. Rob Portman, one of McConnell's closest friends in the Senate. (Whatever it means to be a close friend of Mitch McConnell's. Do they go to Six Flags together or something?) McConnell's going to have to figure this all out soon, though. Senate Majority Leader Chuck Schumer announced Thursday that there would be a first procedural vote on the bill next week. It will need 60 votes and presently has 55. How McConnell lands on the politics will go a long way toward determining whether it gets five more Republicans.

Last Week Unranked
4. Joe Biden
A brief check-in on voting rights.
Let's step away from all the money talk for a sec and check in on that other issue: whether you'll be able to vote in the next election. Was there plenty of commotion on the issue this week? Yes. Did Texas Democrats flee their state for D.C. to deny the state Legislature a quorum on restrictive voting measures, and make the rounds meeting prominent national Democrats? Yes. Is House Majority Whip Jim Clyburn, who gave Joe Biden the Democratic presidential nomination, as a treat, trying to call in his big favor with the White House? Yes. Did Biden give a speech on the importance of voting rights and the need to arrest stifling changes across the country? Yes. Are there 50 Democratic votes for a For the People Act–like bill to arrest those changes? No. Are there 50 Democratic votes to eliminate the filibuster? No. So is there a plan to get any voting rights legislation passed yet? No. Should those who want to see something passed simply give up and stop applying pressure on Biden and Democratic leaders to figure something out? No.

Last Week Unranked
5. Chuck Schumer
How far can legal weed go?
It was a tremendous week for fans of the drug marijuana! Senate Majority Leader Chuck Schumer, along with Sens. Ron Wyden and Cory Booker, introduced the first draft of their bill, the Cannabis Administration and Opportunity Act, to remove marijuana from the federal list of controlled substances. (Stakeholders—which probably includes a lot of you deadbeats!—can submit comments to the Finance Committee by Sept. 1.) The Surge has not yet performed its due diligence of cornering unsuspecting Republican senators in a Senate basement and screaming at them about how they would vote. But we don't want to entirely rule out something happening here. Ten Republican votes is a lot, but marijuana legalization is popular, Republicans love states' rights, etc. President Joe Biden, meanwhile, is extremely weirdly still not in favor of marijuana legalization. But would he really veto this if something got to his desk?

Last Week Unranked
6. Roy Blunt
The Republican vaccine divide.
Congratulations to snake-oil salesman and the right-wing media machine that stokes mistrust for profit: COVID cases are on the rise again, concentrated in deep-red pockets of the country with lower vaccination rates. It's not just Fox News' leading hosts or charlatans at CPAC leaning into anti-vax sentiment either. The call is coming from within the Senate too, as Wisconsin Sen. Ron Johnson has been using his platform to spread doubts. This is something of a pain in the ass for Missouri Sen. Roy Blunt, a retiring, grown-up member of the Senate Republican conference who played a leading role in the Capitol Hill policymaking behind Operation Warp Speed and now is watching as his state suffers the brunt of the recent outbreak. Both he and McConnell—who, as a polio survivor, doesn't dabble with vaccine hesitancy—spent a big chunk of the weekly leadership press conference pushing a pro-vaccine message. "What we don't want to do is let this drag on here, or anywhere else in the world, where a variant is developed that these vaccines aren't dealing with, and have to start back right where we were," Blunt said. After his own patient explanation, though, McConnell would say, "I can only speak for myself," when pressed about Johnson's behavior.

Last Week Unranked
7. Mark Milley
Yeah, well, you can't come to the coup anyway because you aren't INVITED.
Even in the year 2021, there are still things Trumpers say that absolutely blow your mind if you imagine a prominent Democrat saying them. We thought of this earlier this summer when Gen. Mark Milley, chairman of the Joint Chiefs of Staff, got into it with congressional Republicans when he defended studying "white rage" and took offense at accusations over the military going "woke." Conservatives like Tucker Carlson and Matt Gaetz, both privileged brats, called him "stupid," a "pig," and the reason why we lose so many wars. Milley is now likely in for another round of prep school Republicans calling him a wussy war-losing scumbag, as a new book documents some of the insults Milley lobbed Trump's way when he was actively trying to prevent Trump from launching a coup. In a statement Thursday, Trump—who says he only picked Milley because Jim Mattis didn't like Milley, and Trump didn't like Jim Mattis—kicked things off by saying that "if I was going to do a coup, one of the last people I would want to do it with is General Mark Milley." So there!