Slate's guide to the most important figures in politics this week.
Welcome to this week's edition of the Surge, and no, we have no relation to the Newport, Rhode Island, Surges.
This week, Democrats' much-hyped For the People Act hit the Senate floor, died, and is now dead. Hmm. On to the next thing! Democrats have settled on a complex legislative strategy for passing President Joe Biden's jobs and families spending plans in a way that can bring both liberals and centrists on board. Now all they have to do is execute it. Biden, meanwhile, finally set a vaccine goal he couldn't reach; Bernie Sanders engaged in some real talk; and Mitch McConnell plotted. We made a Newport joke because of Sheldon Whitehouse, who we'll get to shortly.
But first, we flipped our special Sinemanchin coin for which Senate Democratic centrist to be No. 1 this week, and it came up …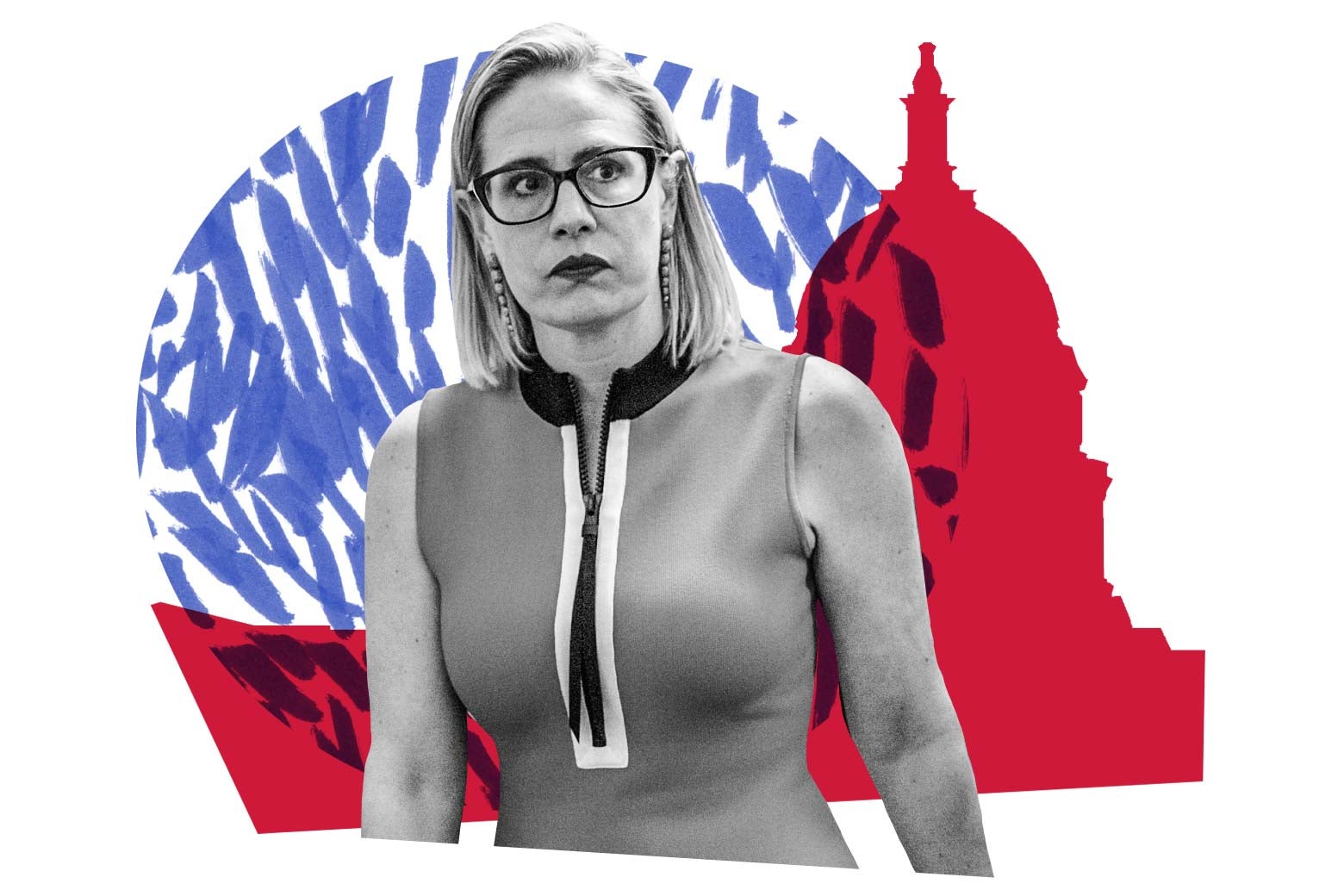 1.

Kyrsten Sinema It's her Senate; everyone else is just living in it.

The Surge's rule of thumb for which of the two prominent Democratic centrists to highlight each week is: Who wrote the most recent Washington Post op-ed about how the filibuster is a cherished part of the American fabric that must remain? Arizona Sen. Kyrsten Sinema called dibs this week, warning that if Democrats ditched the filibuster, Republicans might come after, say, Medicaid when they return to power—if you can imagine such a thing. She published this just as Democrats were preparing to consider voting rights and election reform legislation, making it clear that there was no future for those reforms once Republicans filibustered it (which they did on Tuesday). What Sinema did secure, though, was a tentative deal on a bipartisan traditional, roads-and-bridges infrastructure bill, for which she served as the lead Democratic negotiator. There's a lot of work to do before that tentative deal goes anywhere. The negotiators have to fill in the details for the framework they've settled on, which could be a nightmare, and they have to find 39 more votes beyond the 21 negotiators who consider this a worthwhile effort. If they do it, though, this Congress' policy legacy will be as much Sinema's as it is Manchin's: You will be able to drive on a freshly paved toll road to your polling place, where you will collapse from dehydration while waiting in line, for a result that the state legislature is going to overturn anyway.

2.

Nancy Pelosi The "sit on it" strategy.

Progressives in both the House and Senate believe the bipartisan infrastructure negotiations were waste of time and that the final product is dumb. It's too small—coming in at about $560 billion in new spending—and doesn't touch any of their other priorities, like paid leave, the expanded child tax credit, climate change, expanding Medicare, and on and on. While the idea is that all that "other stuff" not included in the bipartisan deal would be dealt with in a separate, party-line reconciliation bill, progressives have been concerned that the Manchins and Sinemas of the Senate might call it a day after seeing their bipartisan bill passed into law. On Thursday, though, House Speaker Nancy Pelosi drew a line to make sure that doesn't happen: She won't put the bipartisan bill up for a vote until the Senate has also passed and sent over a reconciliation bill that deals with "soft" infrastructure. ("There ain't gonna be no bipartisan bill unless we are going to have the reconciliation bill," as she put it, for some reason.) Under a typical, dopey leader, that could be perceived as a bluff: Senate Democrats could spin their wheels, get nowhere on a reconciliation bill, and then pressure the House to pass the bipartisan bill because it would be better than nothing. But Pelosi is not a dope and wouldn't have announced this strategy if she wasn't committed to it. Biden, too, said Thursday that he wouldn't sign one without the other.

3.

Joe Biden A goal not reached.

Earlier this spring, we noted that the Biden administration had been playing an old political trick in its first months: only setting goals that it knew it could reach, and then celebrating like maniacs once it reached them ahead of schedule. Biden met his goal of 100 million vaccinations in his first 100 days on his 59th day, reset the goal to 200 million shots in the first 100 days, and then met that too. He pledged that vaccines would be available to all adults on May 1; they were available April 19. It's like telling people that you can only count to 10 so that you can throw a blowout confetti party for yourself when you count to 11. But as we head into the July Fourth holiday, the White House has conceded that it won't reach Biden's most recent vaccination goal: vaccinating at least 70 percent of U.S. adults by Independence Day. The number, instead, is expected to be around 67 percent. How big a deal is that 3 percentage point miss? It's not too bad—maybe just impeach and convict him, but no need for jail time.

4.

Sheldon Whitehouse "White" being the operative word.

Rhode Island Sen. Sheldon Whitehouse is the scion of an old-money New England family, and buddy, it's not just the house that's white. For years, Whitehouse has faced questions about his connections to Bailey's Beach Club, an exclusive, old-money Newport beach club, famed for its cabana-rental to the Astors and the Vanderbilts and a lack of diversity. The issue resurfaced over the weekend when a local news outlet asked Whitehouse, who transferred his shares of the club to his wife years ago, about his connection to the "all-white club." The "people who are running the place are still working on that," Whitehouse said, "and I'm sorry it hasn't happened yet." He added, unfortunately, such clubs are "a long tradition in Rhode Island." The president of the beach club—"son of the late Sunny von Bülow and an Austrian prince"—sent a letter to members this week denying that the club was "all-white" and writing that "members of their families have included people of many racial, religious, and ethnic backgrounds." (It's unclear whether they know that Catholics don't count anymore.) While Whitehouse isn't a member at Bailey's, he is a member at a separate Newport sailing club that's not exactly a rainbow coalition either. In a statement, he said he would… not… quit that.

5.

Bernie Sanders Getting to the root of the problem.

Vermont Sen. Bernie Sanders got a lot of attention this week for saying "I'm tired of talking about Mr. Manchin and Ms. Sinema" when asked on MSNBC about their reluctance to ditch the filibuster. The Surge says the same thing to its editors each day, before cranking out yet another article about them. But more notable were Sanders' comments elsewhere making the same observation the Surge made a couple of weeks ago: The problem is less Manchin and Sinema and more that Democrats simply don't have enough senators. "Clearly, we are constrained by the fact that we only have 50 Democrats," Sanders told Andrea Mitchell. "And to my mind, what this next election is going to be about is whether the American people want us to have a government that represents all people, that believes in democracy, or not. And we need a hell of a lot more Democrats in the Senate than we have now." It's frustrating for progressives to have to live and die by each of Joe Manchin's brainwaves, and worse that all pressure against him from the left only helps him with his very right-leaning constituency in West Virginia. If they want to neutralize him, get a 51st Democratic senator.

6.

Jamie Raskin This week in "otherwise good people going nuts when the topic is SALT."

Bernie isn't just jabberin' with Andrea Mitchell on TV, though! As chairman of the Budget Committee, he's tasked with writing the budget that will create the vehicle, and the space, for what Democrats want to pursue in their big reconciliation bill. You may recall from some time ago that there was a bloc of Democrats, largely concentrated in high-cost, high-tax districts, that said they wouldn't vote for any major tax-and-spending package that didn't address the cap on state and local tax (SALT) deductions from their constituents' federal income taxes. This was a messaging conundrum, shall we say, for Democrats: They want to pay for their big social spending priorities by taxing the wealthy and corporations, yet repealing the SALT cap would be a tax cut that overwhelmingly benefits the wealthy. In a draft proposal of his budget, Sanders has carved out $120 billion for SALT cap relief over the next five years. That wouldn't be enough to cover the cost of fully repealing the SALT cap, and Democrats may well just compromise by exempting people earning up to a certain income amount, like $400,000, from the cap. Still, the absolute dedication some Democrats—even good ones!—have about repealing the cap is unseemly. Take Maryland Rep. Jamie Raskin, beloved hero of Trump's second impeachment and progressive darling. "We've got to have a SALT march, like Gandhi did," Raskin joked at a Wednesday press conference, as NBC reported. "Let's have a SALT march in America to restore some common sense to our tax policy." It was, as Fox News lovingly noted, an unusual historical comparison.

7.

Mitch McConnell What might he be thinking about this bipartisan infrastructure deal?

One very important voice is keeping his options open on the bipartisan infrastructure deal. Senate Minority Leader Mitch McConnell, despite getting briefed regularly during negotiations, hasn't come out in support yet. His opinion will matter greatly to whether the bill gets through or not. And how might a tactician like McConnell think about these latest developments? What he's staring at, now, given Pelosi and Biden's assurances that they won't take the bipartisan bill without the partisan bill in tow, is Democrats getting everything they're capable of getting through two linked bills—but with Republicans giving them bipartisan cover for part of it. Would McConnell really love that, or would he rather see Democrats try to pass everything on a party-line basis so he can run against their agenda without any Republican fingerprints on the product? Late Thursday afternoon, before heading home for a two-week recess, McConnell spoke coolly about Pelosi and Biden's pledge not to move the bipartisan bill until the reconciliation bill was in hand, saying that's "not the way to show you're serious about getting a bipartisan outcome" and that Biden "caved" to the left. Remember: A deal on a "framework" does not automatically convert into a passed bill.