Slate's guide to the most important figures in politics this week.
Welcome to this week's edition of the Surge, your weekly newsletter detailing the latest political developments surrounding the third-ranking leadership position in the House minority.
Yes, it was Liz Cheney Week, and we are grateful to House Republicans for putting on a show during what otherwise would have been a slow recess week. It was such a Liz Cheney week that rather than devote an entry to her—there's only so much space, and we've got to fit in something about Senate Republican appropriations rules tangentially pegged to Richard Shelby—we'll just let her spirit infuse the whole thing. Kevin McCarthy fell back in Trump's favor; Mitch McConnell refuses to say Trump's name. President Joe Biden (remember him?) is beginning to hit the wall in terms of arms willing to accept vaccinations. And did you all hear about Stephen Breyer? You know about this guy?
But first, let's talk about the person who's preparing to take Liz Cheney's job.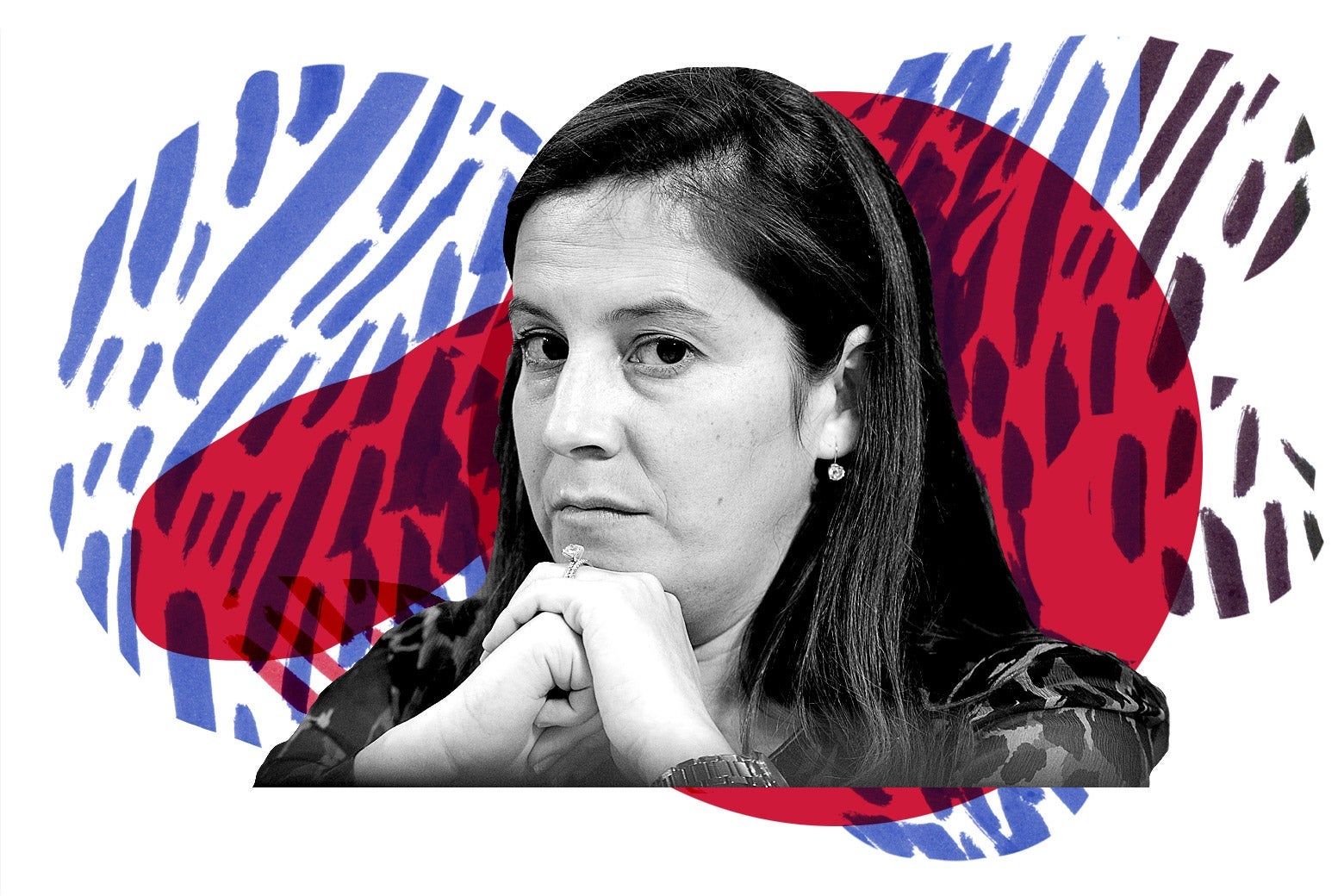 1.

Elise Stefanik How to rise in the modern House GOP.

The upstate New York Republican's near-certain ascent into House Republican leadership will be a turning point for the conference. Even a couple of years ago, the idea of someone with as relatively moderate a voting record as hers rising to the No. 3 leadership position would have been a joke. The Club for Growth still thinks that stuff matters. It doesn't. What matters is loyalty to Trump's most indefensible causes. In a previous era, Stefanik might try to shore up her caucus support through a media tour touting her most conservative votes. In her current media tour, she's going on Steve Bannon's show to voice her support for the Arizona election "audit." That's the one where investigators are trying to determine if thousands of Biden ballots were smuggled in from China by checking the paper's fiber for bamboo. The House GOP truly has found its next-generation leader in Stefanik. It doesn't matter what you think about policy—so how far are you willing to suspend reality?

2.

Kevin McCarthy How to lead in the modern House GOP.

You go ahead and make all the jokes you want about how Kevin McCarthy is a lightweight who's more worried about being liked than being effective. But the guy took care of business this week. Internal drama was dwarfing his party's ability to carry out its central policy message, that Mr. Potato Head is a boy. The feud between McCarthy and Cheney emerged as the main takeaway from their policy retreat in Orlando, Florida, last week, and rank-and-file members were getting sick of being asked about Cheney all the time from reporters and constituents. So McCarthy made a firm choice to whip support against Cheney, pick a replacement, clear the field for that replacement, and enlist Trump's (eager) support to whip votes for that replacement. Someone in his party was vocal in telling the truth about Trump's effort to overturn an election, and McCarthy did what heroic, decisive leaders do: He punished the person telling the truth and earned big points with those hoping to take the easy way out and remain perpetually under the thumb of a madman. Bravo!

3.

Susan Wright None of this House GOP drama matters, by the way.

But does the GOP's continued acquiescence to Trump's democracy-rattling lies, lack of governing beliefs, or general dysfunction matter in terms of the party's ability to retake Congress? Eh. They're only barely out of power in the first place. And look at what happened over the weekend in the special election primary to replace the late Rep. Ron Wright in Texas' 6th District, covering some of Dallas–Fort Worth metro area. Wright had won in 2020 with 52.8 percent of the vote, and Trump only carried it by 3 points. In the special election last weekend, Republican candidates won 62 percent of the vote to Democrats' 37 percent, with two Republicans—Wright's widow, Susan, and Jake Ellzey—advancing to a runoff. Now before you yell at us, sure, caveats. National Democrats didn't invest in this, knowing that the seat will be redrawn and out of their reach by 2022. A better look at enthusiasm will be the special election for New Mexico's 1st District in June. But don't think that just because Elise Stefanik may be days away from personally scanning Arizona ballots with a black light in search of panda paw prints that Republicans can't comfortably retake control of Congress through the basic midterm dynamics of voters pumping the brakes on an active majority. (Or just through gerrymandering.)

4.

Mitch McConnell Now *here's* a leader who can bury his Trump feelings.

Sure, the most MAGA House Republicans don't want Liz Cheney to have the thoughts about Donald Trump that she has. But other Republicans just want her to keep them to herself. For a lesson in how to have thoughts and bury them, look no further than your father. Uh, we mean, look no further than Mitch McConnell. Now here's a guy who does not like Donald Trump—he did, after all, cost McConnell the one thing he cares about, the title of Senate majority leader. But McConnell no longer answers the question when asked about Trump, even as Trump continues to trash him. He will not mention Trump's name, will not acknowledge his existence, and will only speak about his interest in countering the Biden agenda. He may have gone a hair too far in that other direction on Wednesday, though. While dodging a question about the Liz Cheney situation, McConnell said that "100 percent of my focus is on stopping this new administration." Not "finding common ground with," or some such. Just stopping. Democrats will run with that line every time they cite Republican obstructionism going forward.

5.

Joe Biden Has he actually set a real goal?

Biden's vaccine goals early in his presidency have followed a pattern: Come up with a goal that sounds ambitious but really isn't, and then claim credit for coming in ahead of schedule. (This is Politics 101, but it's still incredible how often politicians screw it up.) He wanted 100 million vaccinations in his first 100 days, which was achieved on his 59th day, and then doubled the goal to 200 million vaccinations in his first 100 days, which he also achieved. He wanted all American adults to be eligible for the vaccine by May 1; they were eligible on April 19. This week, Biden announced a new goal: 70 percent of adults with at least one vaccination by July 4. With more than 56 percent having received one shot at the time of his announcement, that's a goal that Biden would be able to reach at the current rolling average. But that average is going down more every day. We still suspect the administration wouldn't set a goal it wasn't certain it couldn't meet. But the work of shots in arms is getting more difficult with each day, and the administration knows it.

6.

Richard Shelby Join the Dark Side. Embrace earmarks.

So far, three out of the four bodies in Congress are back on board with earmarks (er, Community Project Funding!) after an 11-year ban: House Democrats, House Republicans, and Senate Democrats. House Democrats first said they would reinstate the process, which allows legislators to request direct appropriations for projects in their districts or states rather than leaving all of the money to agencies to divvy up. Then both Senate Democrats and House Republicans figured, well, if they're already doing it, we might as well too. Senate Republicans haven't removed their earmark ban. But already, some Senate Republicans—all appropriators, including the leading Republican appropriator, retiring Alabama Sen. Richard Shelby—are treating the conference's earmark ban as more of an earmark "guideline." According to Politico, six Senate Republicans have already said they'll request earmarks, with another 10 undecided. Expect some Senate Republicans who are planning on running for president in 2024 to call out their corrupt colleagues for requesting earmarks, and expect those who request and receive earmarks to not care because they're getting a lot of money for their states.

7.

Stephen Breyer Why are these law people like this?

The justices, the justices. The justices are in the news again. You all heard about this? They're saying that 82-year-old Stephen Breyer, one of the justices, doesn't want to be pressured into retiring, so the Democrats aren't going to try to pressure him. You heard about this? They're saying it might—get this—they're saying it might "backfire." We're not making this up, folks. "Backfire." That's what Democrats will wish they could go back in time to do to Stephen Breyer when Mitch McConnell fills another Supreme Court seat in 2025! [APPLAUSE.] So a couple of issues here. First: Why did we arbitrarily structure this around a late-night monologue gag? Seventh entry, kind of bored. Second: Mitch McConnell's project to remake the Supreme Court over the last five years has been one of the most successful political acts of the last five years. It's incredible that Breyer expects people to tiptoe around the politics of his continued service. But if he wants to play reverse psychology, sure: Don't retire. You are not 82 years old and Mitch McConnell is not one old Democratic senator's heartbeat away from returning as majority leader. Ruth Bader Ginsburg's decision not to retire did work out well for everyone in the end, as she is still alive.