Slate's guide to the most important figures in politics this week.
Welcome to this week's edition of the Surge, your weekly newsletter ranking the top seven figures in Washington that swarms of cicadas are most likely to devour to the bone this summer.
This week, we start with a few entries "hatin' " on the GOP, who should have structural advantages heading into the midterms but also cannot go a single week without melting down over how to deal with the aftermath of the Jan. 6 Capitol riot. What a bunch of bums, our Democratic readers—any Democrats read this?—will say. Then we turn to the Democrats, though, whose leaders have responded to questions about conflict in the Middle East by shutting off all the lights in their offices and hiding under the couches, and also still have no path toward getting anything done on voting rights. This structure is a self-conscious attempt to mimic the course routing of the PGA Championship in Kiawah this weekend, where a lengthy stretch of downwind holes (fun!) abruptly turns into a lengthy stretch of holes into the wind (pain).
For those who didn't unsubscribe and report us for abuse after that last sentence, let's talk some Mitch.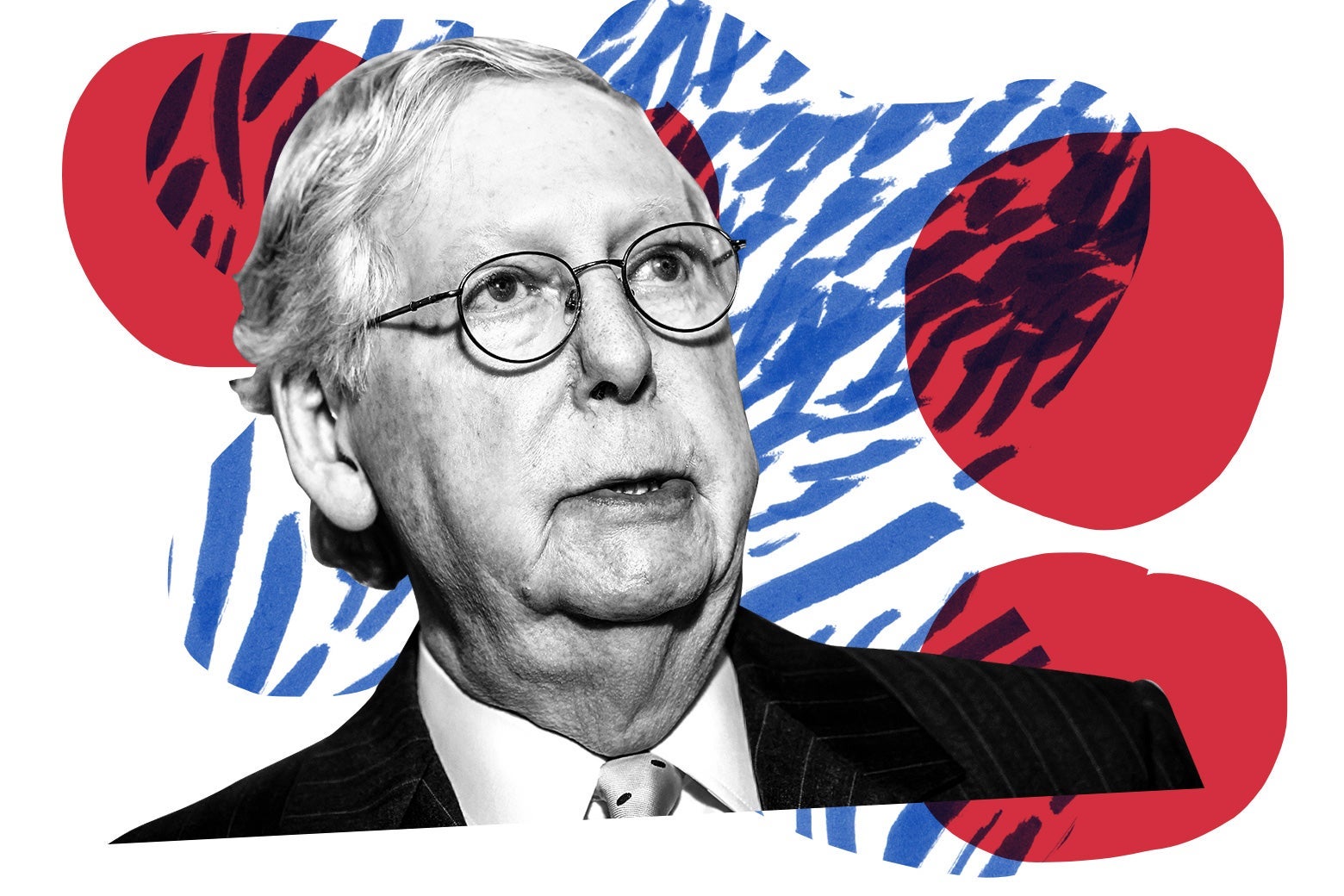 Last Week Unranked
1. Mitch McConnell
Trump's last line of defense.
House Minority Leader Kevin McCarthy couldn't have stopped the bill setting up an independent commission to investigate Jan. 6 in the House, where Speaker Nancy Pelosi only needs a simple majority to pass legislation and always has it. But despite McCarthy's opposition and some light whipping to encourage his conference to stand against the bill, he oversaw a modest jailbreak, as 35 Republicans voted with all Democrats on Wednesday. The task of stopping the Jan. 6 commission—which is designed to produce a comprehensive account of what happened that day, and thus ultimately isn't something Republican leaders want heading into the midterms—now rests on the shoulders of Senate Minority Leader Mitch McConnell. Despite suggesting he was open to the idea on Tuesday, McConnell came outright against the "slanted" proposal by Wednesday morning. Given the better-than-expected Republican support in the House, McConnell may have some whipping work to do in his own chamber. Usually when he wants something stopped and has the ability to stop it, it gets stopped. But whatever dreams he had following Trump's loss and the Jan. 6 riot of making a clean break from Trump's GOP are now dashed. Like McCarthy, he has to protect Trump, because if he doesn't, the party goes down with him.

Last Week Unranked
2. John Katko
Tough times out there for a guy trying to do his job.
The upstate New York moderate Republican is always facing difficult reelection races that he always pulls off. But why does he even bother? When he was in the majority, he had to eat a daily diet of impossible votes on eliminating health care protections or on tax cut bills financed by sticking it to the state of New York. Now in the minority and a ranking member of the Homeland Security Committee, he was deputized by House Republican leadership to negotiate a Jan. 6 commission deal. But after he negotiated to the point of cutting a deal—what was he thinking!—his own leadership threw him under the bus and came out against it. You had to feel for him during the floor debate on Wednesday when, as the bill manager, he had to yield time to Republican colleagues just feet away telling him that he had gotten "played." Maybe New York Democrats could find a way to squeeze him out in redistricting and free him of this burden of serving in dumb Congress. Unfortunately for him, he's cursed with the ability to survive.

Last Week Unranked
3. Nancy Pelosi
Just Benghazi this thing and call it a day.
If Senate Republicans do filibuster the bipartisan deal on an independent Jan. 6 commission, House Democrats have another option, one perfected by House Republicans in the run-up to the 2016 election: creation of a select committee, in which the majority allots itself more seats, to investigate the issue. Republicans' Benghazi committee, while substantively a joke, was a smashing political success: It kept a general aura of scandal around Hillary Clinton for the entirety of her presidential campaign, and it unearthed that she had sent some government emails from a private server, the greatest scandal in American history. During the floor debate over the commission, Pelosi acknowledged that the unilateral approach was available to her. "My colleagues, the press says to me, 'Why don't you just go do your own task force, your own select committee to investigate this? You have the votes, you have the subpoena power. You have this or that,'" she said. "I said, 'I don't want to do that.' We want this to be as it is shaped, bipartisan, with shared responsibility, shared staff, in a way that the public will have respect for the outcome." If her preferred bipartisan outcome can't make its way through the Senate, though, she can say that at least she tried, and proceed to going full Benghazi on Republicans. Pelosi strongly suggested that she could take this route, saying Thursday that "it's a question of, if they don't want to do this, we will."

Last Week Unranked
4. The Squad
The most nerve-wracking vote for House Democratic leaders yet.
The last vote the House took this week before its next scheduled vote in mid-June (??) was on another item of post–Jan. 6 business: a $1.9 billion bill to beef up Capitol security and protections for lawmakers. Passing this bill turned out to be more of a grind for Democratic leaders than just about anything else the House has done this year. Progressive members of the Squad told leaders before the vote they weren't sold on throwing more money at police—especially without accountability for officers they believed were "complicit" in the siege. "The attack on January 6 was not due to a lack of police funding; it was a lack of coordination, preparation, and sharing of intelligence," New York Rep. Jamaal Bowman said in a statement after the vote. "It was because the threat of white supremacy has been enabled to spread and fester throughout our nation—including within law enforcement." Reps. Cori Bush, Ayanna Pressley, and Ilhan Omar, in a statement of their own, argued that the bill dedicates "fifty times more money to the creation of a 'quick reaction force' than it does to counseling" for those in the Capitol. And so leaders had to twist arms on the floor. While Bush, Pressley, and Omar voted against it, Reps. Bowman, Rashida Tlaib, and Alexandria Ocasio-Cortez were persuaded to vote present, lowering the threshold needed for it to pass. The bill passed by the bare minimum—213 to 212—with two Republican votes still outstanding, which led to a "heated conversation" between Republican staff and the House parliamentarian. The measure now heads to the Senate, where both Republicans and Democrats have concerns.

Last Week Unranked
5. Chuck Schumer
Ask him about anything but Israel.
The Senate majority leader, as ever, had much to say on a host of topics this week: on his U.S. Innovation and Competition Act, designed to beef up the country's technological competitiveness against China, which is on the Senate floor this week; on Republicans sprinting away from the Jan. 6 commission; on nominations coming to the floor. When asked about that other big thing in the news, though—the fight raging between Israel and Palestine—Schumer curiously had few thoughts. Twice this week, when reporters asked him about it, he simply referred them to a statement from Sens. Chris Murphy and Todd Young calling for a cease-fire. Schumer is a longtime Israel supporter who opposed President Barack Obama's Iran nuclear deal in 2015 even as he was trying to consolidate support to lead Senate Democrats. But he's also a leader in a party that's much more willing now, than at any time in the past, to question Israel's treatment of Palestinians, and the figure he's most looking over his shoulder at to be sure she's not primarying him—Ocasio-Cortez—has been a leading critic this week of Israel's actions. Schumer is not naturally shy. If there is anything happening on planet Earth that he is not talking about, the only explanation is that it makes him politically uncomfortable.

Last Week #3
6. Joe Biden
Also not a big "loves to talk about Israel" guy.
President Joe Biden is confronting the same sort of internal party dynamics on Israel that Schumer is. But Biden can't just change the subject, unfortunately, because he's president. It's plain bad luck—how was he supposed to know when he launched his campaign that Israel and Palestinians might be at odds? While most Democrats on the Hill have been calling since the weekend for an immediate cease-fire, the Biden administration had been unusually slow to do so. Secretary of State Tony Blinken didn't call for one when he could have earlier in the week, and later that same day, in a very hedged readout of a call with Israeli Prime Minister Benjamin Netanyahu, the White House said "Biden expressed his support for a ceasefire" rather than insisting on one. On Wednesday, Biden was telling Netanyahu that he "expected a significant de-escalation on the path to a cease-fire." Although Netanyahu's response to these demands was some true-to-form version of "no" for several days, Israel reportedly approved a cease-fire Thursday afternoon. Well, that's that. No chance Biden will ever have to deal with this issue again.

Last Week #4
7. Joe Manchin
What now, big guy?
Last week we wrote about how the West Virginia Democrat—whose opposition to the all-encompassing election and voting rights reform For the People Act had all but killed it—was urging his caucus to redirect its energy to passing the John Lewis Voting Rights Advancement Act, which would restore a crucial element of the Voting Rights Act that the Supreme Court struck down in 2013. Manchin believed the narrower bill could get 60 votes, and he co-authored a letter with Alaska Sen. Lisa Murkowski this week urging leaders to find a way. The Surge conducted a brief survey of Republican senators earlier this week, however, and found zero interest in this beyond Murkowski. Like, hoo boy, this is not the Senate Republican Conference that unanimously went along with the last VRA reauthorization in 2005. "I personally don't support turning our voting laws over to the Department of Justice for their approval," Louisiana Sen. John Kennedy said. "The Constitution clearly says that the local and state government should be the ones handling their elections," Kansas Sen. Roger Marshall, similarly, agreed. Utah Sen. Mitt Romney didn't have an opinion. "You go back to the purpose of the Voting Rights Act, there weren't any African Americans voting in the United States," Iowa Sen. Chuck Grassley said. "Now there's a higher percentage of them turning out than turnout for white people." (This was not true in 2020.) So did he think the task of the Voting Rights Act had already been achieved? "Yeah," he said. The Republican Party doesn't want new, or restored, federal voting rights protections of any kind because it directly undermines what they're trying to do on the state and local level, which is to restrict voting rights. Either nine more Republicans have a Sorkinesque conversion to righteousness in the next few months, Manchin and Arizona Sen. Kyrsten Sinema are pressured to pieces and kill the filibuster to pass something, or none of this stuff goes anywhere.