Slate's guide to the most important figures in politics this week.
Welcome to this week's edition of the Surge, celebrating its first 100 days of uproarious, popular gags about procedural motions on the House floor. And while some might call it cheap clickbait, we have a vision for what's next: a Second 100 Days of Riffs on the Second-Degree Amendment Process in the Senate. This is what we call "getting rich through journalism," and they said it couldn't be done.
Joe Biden celebrated his first 100 days by delivering a joint address to Congress this week, and maybe will spend his second 100 days by not passing anything? Bernie Sanders wants to pass such "loony leftie" ideas as helping seniors go to the dentist—the end of America as we know it—while Joe Manchin is conflicted about whether America needs $600 billion or $4 trillion in infrastructure investments. Kevin McCarthy and Liz Cheney hate each other. Ron DeSantis is the new Republican savior; wait, now Tim Scott is the new Republican savior; wait, now a supreme council of four hamburgers is all of America's savior.
It truly has been a successful first 100 days of the Biden administration, though, so let's be sickos and speculate about how it can all go bad.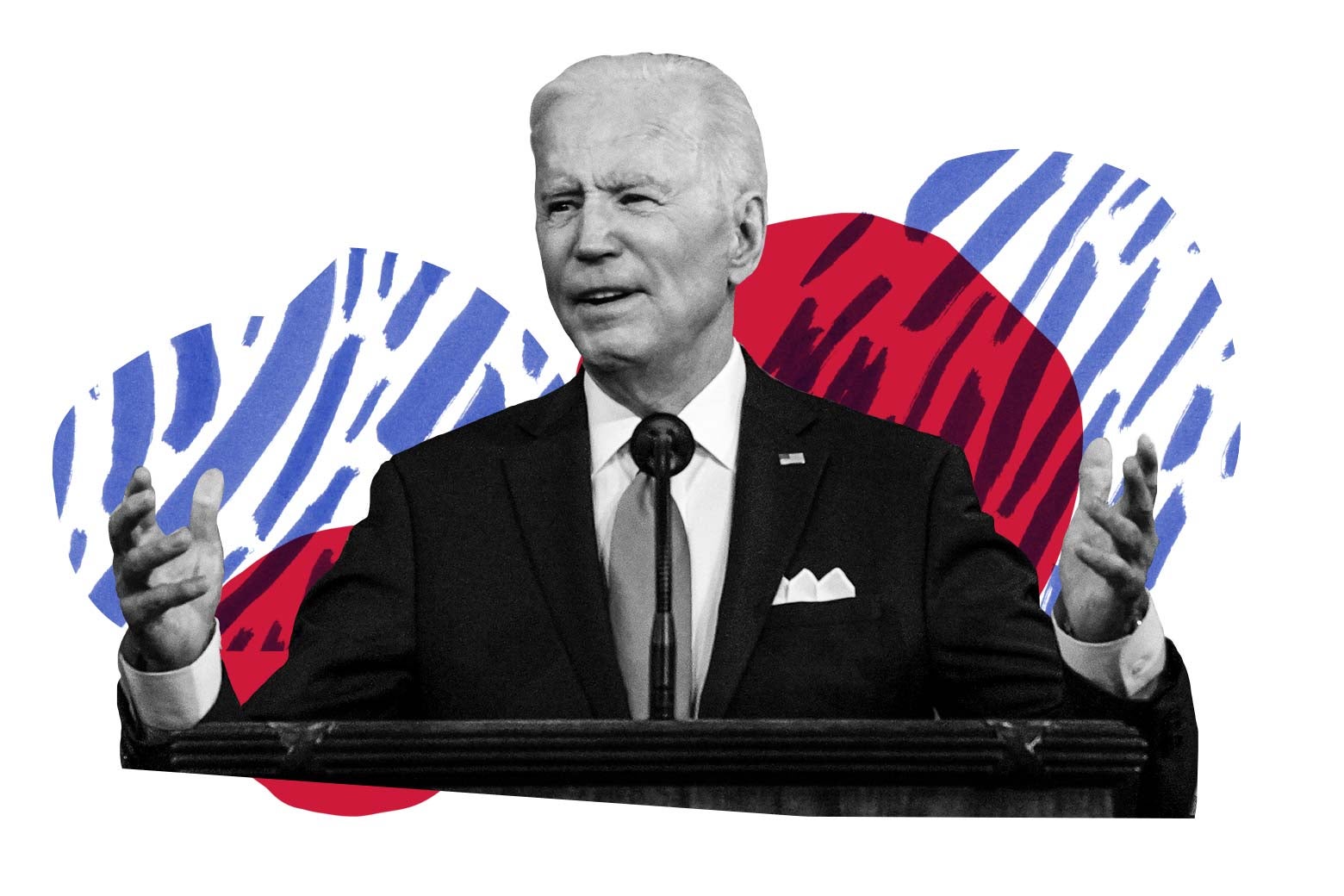 Last Week Unranked
1. Joe Biden
A successful first 100 days down, a pain-in-the-ass next 100 days to go.
Biden finally delivered his first address to Congress and the nation—well, at least the ~250 chump reporters forced to watch it Wednesday night—celebrating his accomplishments in the first 100 days (recovery, cutting child poverty, checks, shots in arms) and advocating for what's next, chiefly his $4 trillion plans for infrastructure and expanding the welfare state. How those plans are processed through Congress, though, is far from determined. If Democrats had 50 votes for Biden's infrastructure plan that he released several weeks ago, they probably wouldn't be playing tiddlywinks with Republicans right now trying to find a bipartisan path forward. They'd be moving onto a new reconciliation bill. On both the American Jobs Plan and newly released American Families Plan, centrists (and some not-centrists!) in the Senate are concerned about the cost of the plans and about proposed tax increases to pay for them; while progressives—more on this in a bit—are concerned that Biden hasn't included enough in his plans. Even aside from those items, there's still no way forward, either, on other high-profile, nonbudget areas like police reform, gun control, immigration reform, election reform, or voting rights, all of which will require 60 Senate votes so long as the filibuster remains in place, which it will. The second 100 days—and however many other units of 100 days there are after that; this is not a math newsletter—will be a grind. What will be key to getting through them is this: reading the Surge every Friday morning and urging your friends and family to subscribe.

Last Week Unranked
2. Bernie Sanders
What's his next move?
The Vermont senator lost out on getting one of his signature issues—a $15 minimum wage—in the COVID relief bill, as both parliamentary and vote-counting issues killed the effort. And the first draft of the American Families Plan, while not without many items Sanders supports, left out a couple of major items for which he had advocated: lowering the Medicare eligibility age and expanding its covered services, paid for by savings generated from requiring Medicare to negotiate with pharmaceutical companies on prescription drug prices. In the days leading up to the announcement, Sanders had led a letter of 17 senators urging Biden to include that in the plan, but the best he got was a line in Biden's speech in which the president emphasized his commitment to it. Now: Some might observe that since this sprawling plan does not include these ideas, which have quite powerful interests opposing them who have quite powerful allies in Congress, then perhaps the Biden administration is not, really, fully committed to enacting these ideas into law. But both the American Jobs Plan and the American Families Plan—however they end up being sorted and moved through Congress—will have much more input from legislators than the American Rescue Plan did. Don't expect Sanders to give up on his push just because the White House didn't put it to paper.

Last Week #5
3. Joe Manchin
Really wants a $4 trillion infrastructure bill. Also, though, wants Republicans' $600 billion infrastructure bill.
There was a lot of talk from big Joe Manchin earlier this Congress about wanting a multitrillion-dollar infrastructure bill, to be paid for with increased taxes. But now that the GOP, led by Republican Sen. Shelley Moore Capito, has proposed a roughly $600 billion bill paid for with no tax increases—except for perhaps fees on electric vehicles, and then some public-private partnerships and "repurposed" federal spending (read: clawing back some COVID relief funds)—Joe Manchin wants that too. What seems to be bridging these two different visions is a belief from Manchin that Congress needs to get something substantial done on a bipartisan basis to show that the process can still work that way. And as with other agenda items, there's a cohort of Democrats who agree with him but are happy to let him go public with it and, as a Senate Democratic aide told the Hill this week, "take shit from the left" on his own. Pursuing a bipartisan deal on traditional infrastructure, and then pursuing the remainder of Biden's spending agenda through reconciliation, isn't an outlandish idea. The concern, though, is: If Democrats cut a bipartisan deal on traditional infrastructure, will they still have the political will to take up the remainder on a party-line basis?

Last Week Unranked
4. Ron DeSantis
Stop!!!
Yes, this is a newsletter about congressional floor procedure and cool dogs (shoutout to Major, who's in rehab for being a little too cool). But we need to briefly address an election item. Everywhere the Surge looks, there's some joker babbling on about how Florida Gov. Ron DeSantis is the front-runner for the 2024 presidential nomination. He perfectly meshes governing experience with Trumpist lib owning, etc. And it's just … what? Why are you all doing this? We're not saying DeSantis doesn't have a chance—although we would note these great-on-paper candidates whom columnists (hi) consider uniquely situated to unite a party have a recent history of eating it in the primary. The issue is that the 2024 election is in three years, and we know nothing about anything! Some currently obscure member of Congress or straight-to-DVD character actor could burp on Joe Biden in a viral video in early 2023 and take the Iowa caucuses a year later. We have had hundreds of years of presidential elections to learn from. The main lesson is that no one knows anything. And yet a governor is declared presidential front-runner for an election three years in the future because he got in a fight with 60 Minutes? The only worthwhile side effect of this wildly early speculation is that the idiot donors take it seriously and throw away their money.

Last Week Unranked
5. Tim Scott
Or is he the new Republican president?
See? We wrote that DeSantis entry a hot second ago and now Ron DeSantis is OUT—you're old news, Ron!!!!—and South Carolina Sen. Tim Scott is IN, the absolute 2024 front-runner now that he gave a 10-minute Biden speech response that Republicans loved. "People are going to start talking tomorrow that Tim Scott should be running for president," House Minority Leader Kevin McCarthy said after the speech. "Can you imagine him on the debate stage vs. Joe Biden? It's not even close." In his speech response, Scott mostly criticized Biden for failing to live up to his promises of bipartisanship. Blah blah blah. But he also said that new restrictive voting laws are actually good, and that "America is not a racist country." Congratulations to Scott on being the new presidential front-runner for a few hours, until Tucker Carlson does a response segment about how America is a proudly racist country.

Last Week Unranked
6. Liz Cheney
Never stop goin' for it.
Wyoming Rep. Liz Cheney, the No. 3 House Republican, voted without hesitation to impeach Donald Trump in January and had to work to survive a run on her leadership position shortly thereafter. Since then, though, she hasn't been seeking to rebuild her bona fides with the Republican base by softening her tone toward Trump. A reporter will ask her any old day, Congresswoman, do you briefly want to talk more shit about Trump? And she says, YES. That persistence has led to an even frostier relationship with House Minority Leader Kevin McCarthy, who supported Cheney in her leadership challenge. The whole gang was in Orlando, Florida, this week for the House GOP's annual retreat meant to display unity. Cheney, however, mentioned that any Republicans who supported overthrowing the election should be disqualified from the 2024 presidential nomination and emphasized the need for a focused commission to study the Capitol riot of Jan. 6. "You can't bury our head in the sand," she said. "It matters hugely to the survival of the country." At a press conference Tuesday, McCarthy said of Cheney that "if you're sitting here at a retreat that's focused on policy, focused on the future of making America next-century, and you're talking about something else, you're not being productive."

Last Week Unranked
7. Madison Cawthorn
Sure, we'll peg the hamburger thing to him.
In 2020, researchers at Tulane and the University of Michigan issued a paper saying that if Americans cut their beef consumption by 90 percent, down to four pounds per year, the country could significantly reduce greenhouse gas emissions. The British browser-crashing lunatic website the Daily Mail, then, took this research finding that had had no connection to the Biden administration's plans whatsoever to the next step by writing an article saying Biden's climate plan could limit your—YOUR—hamburger consumption to one per month. Fox News ran with (and later corrected) a segment of its own about how Biden was going to take your—YOUR!!!!!!!!—hamburger, and other dingdongs ranging from former Trump economic adviser Larry Kudlow to 2024 striver Nikki Haley to Donald Trump Jr. to Texas Gov. Greg Abbott to Reps. Marjorie Taylor Greene and Lauren Boebert all jumped in on Operation Hamburger. We'll give the Surge entry to Rep. Madison Cawthorn, though, whose tweet—"Not only does Emperor Biden not want us to celebrate the 4th of July, now he doesn't want us to have a burger on that day either"—include two wholly made-up claims about Biden.