Slate's guide to the most important figures in politics this week.
Welcome to this week's edition of the Surge, your weekly newsletter ranking Washington's most powerful political "clean-up hitters" and anthropomorphized bad-boy dogs.
This week, in addition to the dog, we look again at, what else, the filibuster. Nothing's happened to it, nothing's going to happen to it for a bit, but people sure are running around yapping about it. That's what God created newsletters for. Elsewhere, Vice President Kamala Harris experienced one of the great joys of being vice president—having the president shove toxicity onto your plate—while Joe Biden Joe Bidened his way through his first presidential press conference. House Democrats flinched over criticisms that they were trying to steal a House seat, and a couple of non–Joe Manchin senators used the leverage afforded them in a 50-50 Senate.
But let's open with an examination of Washington's most flamboyant "it" celebrity, the Senate minority leader, in a rare moment of frenzied media exposure.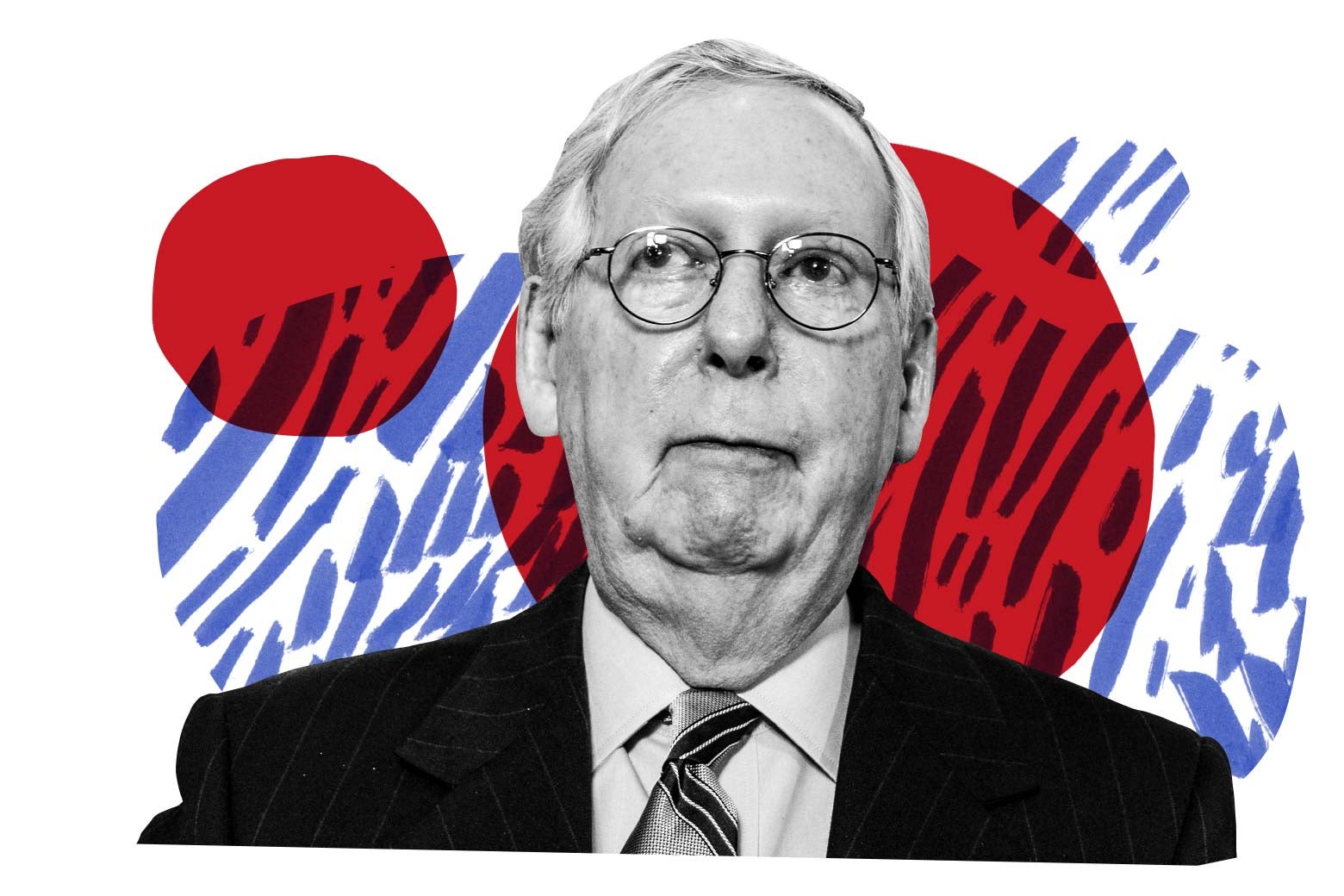 Last Week Unranked
1. Mitch McConnell
A bit on edge, are we?
The Senate minority leader, as a spokesman once said of his limited and disciplined public commentary, doesn't "issue a whole lot of currency." In a typical week, he gives opening remarks on the Senate floor each day of session, does a home-state radio interview, and takes precisely four (4) questions, none of which he really answers, at his weekly press availability. It's a sharp stylistic difference from his counterpart, Majority Leader Chuck Schumer, who is more often than not speaking into a camera. But with Democrats inside and outside the Congress pushing to eliminate the 60-vote filibuster for ending debate on legislation, McConnell is suddenly everywhere. He's on Fox News; he's on podcasts. He's got local op-eds and national op-eds. He made a rare appearance this week at a committee hearing for the For the People Act, Democrats' major election reform legislation, which he views as both a mortal threat to all the policy he cares about and the likely vehicle over which Democrats would nix the filibuster. He's on such a whirlwind press tour that he's getting unusually sloppy, saying that there's "no racial history at all" to the filibuster and having to clean that remark up. The status of the filibuster, right now, is a bit like the unstoppable force colliding with the immovable object: The gravity toward eliminating, or reforming, the filibuster is undeniable among Democrats, especially as Senate Democrats turn toward civil rights legislation. But centrist Senate Democrats like Joe Manchin, Kyrsten Sinema, and some others have not budged in their commitment to maintaining, in some form, the 60-vote threshold. McConnell is not underestimating gravity.

Last Week #1
2. Joe Manchin
But what sayeth the king?
But the immovable object might be a good bet too! The first step toward getting 50 Democratic votes to nuke the filibuster over the For the People Act is getting 50 votes for the underlying legislation. They're close: Forty-nine out of 50 Senate Democrats have either sponsored or co-sponsored the bill. Manchin was the holdout, and his limited public comments on the measure until this week had amounted to we're taking a look. In a lengthy statement Thursday, though—released shortly after Manchin had a long chat with McConnell on the Senate floor—Manchin put a damper on the bill's ambitions, calling on it to be narrowed "toward a bipartisan solution that protects everyone's right to vote, secures our elections from foreign interference, and increases transparency in our campaign finance laws." He added, further, that "pushing through legislation of this magnitude on a partisan basis may garner short-term benefits, but will inevitably only exacerbate the distrust that millions of Americans harbor against the U.S. government." Despite his entreaties for bipartisanship, Republicans have their own well-defined partisan position: They are wholly against the federal government regulating elections, have launched a nationwide campaign of state-level legislation to roll back voting access, and display no interest in any expansionary election reform or voting rights bill right now. Manchin is trying to walk both parties back from the edge of a filibuster showdown. There's no indication that either party is interested in walking with him.

Last Week #5
3. Joe Biden
Will clumsy ol' Joe Biden even survive his first press conference? (He did fine.)
President Joe Biden, to the White House press corps' glee, finally held the first press conference of his presidency on Thursday. And much like how the primary debates, the general election debates, his history of tough-on-crime legislation, the riots in the cities last summer, and his refusal to say whether he'd pack the Supreme Court were all certain to be his undoing as they displayed his inability to perform contemporary politics on even a minor level anymore … it turned out fine. No more, no less. He trailed off a couple of times and got feisty in strange ways (Jim Eagle?). He had unsatisfactory nonanswers about his timeline for removing troops from Afghanistan and when the government will grant more press access to border housing facilities. The headlines out of the event, though, are that he's doubled his vaccination goal to 200 million doses in the first 100 days, practical news that means a great deal to most of the country's immediate concerns right now, and that he's somewhat evasive about whether he'll run for reelection in 2024, news that will have no effect on anyone's life at any time in the near future. What's the next normal-presidential-politics thing that's going to end this whole charade though? We'd say the Easter Egg Roll, but he's canceled that due to a "virus." What is he hiding?

Last Week #3
4. Zoe Lofgren
The Iowa election review unravels.
House Administration Committee Chairwoman Zoe Lofgren is one of the more fair-minded, diligent senior House Democrats, and her review of November's election result in Iowa's 2nd Congressional District—where GOP Rep. Mariannette Miller-Meeks was certified as the winner over Democrat Rita Hart by six votes, despite enough disputed votes to alter the outcome—is well within the House's constitutional rights and precedential history. It is not, in other words, symmetrical to Donald Trump's efforts to overturn his much larger election loss on no factual basis. But Republicans have been hammering Democrats' consideration of the case as hypocritical, prompting Lofgren to release a statement this week defending the process. Despite her effort, Republicans may have already succeeded in making the review toxic. Numerous House Democrats, many of them vulnerable, have distanced themselves from the process. Minnesota Rep. Dean Phillips said that "losing a House election by six votes is painful for Democrats," but "overturning it in the House would be even more painful for America." Michigan Rep. Elissa Slotkin said that "I can't turn around and vote to decertify something that's been stamped and approved in Iowa," while New Hampshire Rep. Chris Pappas said, "It's time to move on." It appears that Democrats don't have the votes to switch out the representative from Iowa's 2nd District, even if that's what the review recommends. Which makes it a question of why it's worth investing another iota of political capital in the process.

Last Week Unranked
5. Kamala Harris
This was the week Kamala Harris finally became vice president.
When Biden announced this week that he had tasked Vice President Kamala Harris as the point person on the border surge (border Surge?) and immigration issues, it made us wonder: So who does he actually want to succeed him? In choosing his vice president, Biden wanted someone who would be unwaveringly loyal to the administration's agenda and willing to take arrows, even if it presented challenges to their own future prospects—a role he believed he served to President Barack Obama. There's a traditional moment where that loyalty is tested: When the hard, complicated, somewhat uncontrollable issue that's giving the president a migraine gets dumped on the vice president's plate. Obama gave Biden the glorious opportunity to run point on the economic recovery following the Great Recession. President Donald Trump tasked trusty Vice President Mike Pence with the career-making chance to lead the administration's response to COVID-19 as it was breaking out uncontrollably. And now Kamala Harris gets to handle immigration, the surge of migration to the Southern border, and all the dispassionate politics surrounding this issue. Congrats!

Last Week Unranked
6. Tammy Duckworth
Using her leverage against the White House. Briefly.
Illinois Sen. Tammy Duckworth, a Thai American, pledged on Tuesday to vote against all of the White House's "non-diversity" nominees in a protest against the administration's lack of Asian American and Pacific Islander Cabinet secretary nominees. She listed a couple of jobs the White House could offer to an AAPI nominee to break her blockade, like a defense undersecretary or OMB director, or she suggested it could commit to a Cabinet secretary later. As the day went on, the criteria for an acceptable resolution became a little more vague. Hawaii Sen. Mazie Hirono, for example, joined Duckworth a couple of hours later, but by then their position was—in Hirono's words—that they needed "a commitment from the White House that there'll be more diversity representation in the Cabinet, and in senior White House positions." By later that evening, Duckworth announced she would back down after White House "assurances that it will do much more to elevate AAPI voices and perspectives at the highest levels of government, including appointing an AAPI senior White House official to represent the community, secure the confirmation of AAPI appointments and advance policy proposals that are relevant and important to the community," according to a spokesman. Well, it's not exactly securing an imminent AAPI Cabinet commitment, but it's movement. And it's a useful reminder to Senate Democrats who are not Joe Manchin that, in a 50-50 Senate, they have the same ability to throw a wrench in things that Joe Manchin does.

Last Week #4
7. Major, the Dog
He's back. What's the body count?
In news that will terrify 15 percent of the White House staff, Major Biden, the president's 3-year-old German shepherd, is back in Washington and looking to sink his teeth back into the nation's affairs. Major was schlepped back to Delaware along with his older, peaceful dog colleague Champ (a victim of guilt by association), after a "biting incident" in the White House that resulted in a "minor injury" to an unfamiliar Secret Service agent. Major ostensibly underwent a rigorous training regimen while in Delaware, according to the White House—but since we haven't seen an '80s-style video montage of this hard work, who's to say Major wasn't ducking off and hitting the golf course every day? We will be monitoring this situation in the Surge forever, or at least well past the point at which you find the gag tiresome.