Live updates throughout Inauguration Day, Jan. 20, 2021. Jim Newell, Christina Cauterucci, Aymann Ismail, and Molly Olmstead are reporting in and around the inauguration in D.C., with other updates from Slate staffers.
8:15 p.m.: Jen Psaki Is Praised for "Not Crazy" First Press Conference

On Wednesday evening, White House press secretary Jen Psaki delivered her first press briefing of the Biden era. To sum up the social media response to Psaki's performance, it was viewed widely as delightfully (p)sane.

Some noted how Psaki's performance didn't even include insane lies about the size of inauguration crowds that could be easily disproved by photographs, like the lies Sean Spicer delivered in his second day on the job four years ago.

You can read more about the substance of the press conference here.

—Jeremy Stahl
7:18 p.m.: Beloved One-Hit Wonder Reunites for Inauguration, Sidesteps Previous Feuds

In its first step toward uniting the country, the Biden-Harris administration seems to have gotten a little sidetracked, prioritizing the reunion of '90s rockers New Radicals to get them to perform their greatest (and only) hit, "You Get What You Give."

The group was a part of the wide-spanning lineup for the Parade Across America, the virtual celebration that replaced the traditional inaugural parade this year due to pandemic concerns. Bandleader Gregg Alexander, broadcasting from Pennsylvania, explained that "when we heard that 'You Get What You Give' was a Biden family anthem, we pledged [that] if Joe won, we'd get together and play our little song, both in memory and in honor of our new president's patriot son Beau, and also with the prayer of Joe being able to bring our country together again."

The video, tweeted by the Biden Inaugural Committee, shows Alexander dedicating the song to Biden and Harris before cutting away to the New Radicals' performance as well as a montage of Americans from all over the country holding signs displaying their cities' names and aphorisms celebrating a new political era.

The performance is one for heartstrings: Alexander and his bandmates still sound great, and the iconic hat that graced his group's one and only album cover makes a prominent appearance. But the reunion jam conspicuously omits the controversial bridge of the song, which reads as follows:
Health insurance ripoff, lying

FDA, big bankers buying

Fake computer crashes dining

Cloning while they're multiplying

Fashion shoots with Beck and Hanson,

Courtney Love and Marilyn Manson

You're all fakes

Run to your mansions

Come around

We'll kick your ass in!
We presume that, in the spirit of Biden's pledge to be a president for "all Americans," the New Radicals did not wish to engage in divisive rhetoric by repeating old disses and potentially alienating the all-important voting bloc of Gen X alt-rock fans.
—Nitish Pahwa
6:25 p.m.: Biden Signs Executive Orders on COVID, Climate, and Immigration

After taking his place at the Oval Office desk on Wednesday afternoon, President Joe Biden signed 15 executive orders that cover some of the most urgent priorities his administration plans to address within the first 100 days. The measures include several COVID-19 orders, rollbacks of Trump administration orders, and plans for tackling longer-term issues like climate change. Among the most significant of the orders:

• Mask-wearing and social distancing mandates for federal employees

• A declaration to rejoin the World Health Organization

• A call for the Centers for Disease Control and Prevention to extend its eviction moratorium until March 31

• A "pause" on student loan payments until Sept. 30

• An end to the so-called Muslim travel ban, which restricted foreign nationals from several primarily Muslim and African countries from entering the U.S.

• Protections for Dreamers and other undocumented immigrants, as well as an end to border wall construction and a direction to the Census Bureau to count noncitizens within the census again

• A recommitment to the Paris Agreement

• A freeze of last-minute Trump administration deregulations

• A revocation of permits for the Keystone XL Pipeline

Some of these actions can be carried out by Biden's Cabinet, while others will likely make their way to Congress as legislation. But with the Senate split 50-50 and the filibuster alive and well, we'll see how that goes.

—Nitish Pahwa
6:15 p.m.: Barely Any Trump Supporters Showed at Inauguration Protests Around the Country

In the weeks following the Jan. 6 riot that enveloped Congress, there had been chatter on social media about more violent insurrection attempts at state capitols from Jan. 16 to Jan. 20. The FBI issued warnings last week that it had received intel concerning armed protests at the capitols in all 50 states. Police departments across the country announced that they would be stepping up security in and around their state capitols. More than a dozen states also mobilized National Guard troops in preparation for the potential unrest. Yet those threats failed to materialize on Inauguration Day. Photo dispatches from a variety of state capitols indicated that the protests were extremely sparse and largely peaceful.

—Aaron Mak
5:40 p.m.: Vice President Harris Swears In Three New Senators, Officially Giving Democrats Senate Majority

In what appeared to be her first official act on the job, Vice President Kamala Harris—as president of the Senate—swore Sen. Alex Padilla of California and Sens. Raphael Warnock and Jon Ossoff of Georgia into office on Wednesday afternoon. It was a historic event in a number of ways: the first woman and person of color to hold the vice presidency swearing into office the first Hispanic senator from California and first Black and Jewish senators from Georgia, making Chuck Schumer the first Jewish Senate majority leader. In order to seat Padilla, Harris had to announce that the seat had opened up because of her own ascension to the vice presidency and read her own name. It was both awkward and cute, and Harris burst into laughter before saying, "That was very weird."

She then swore in the new senators, along with new Senate President Pro Tempore Patrick Leahy of Vermont, who now moves third in line for the presidency behind Harris and Speaker of the House Nancy Pelosi.

New Majority Leader Chuck Schumer, meanwhile, appeared at one point to be a bit verklempt at his own historic promotion. He gave a speech that at least seemed to nod at the consequence of this moment and the necessity for his majority to deliver bold action. "This will be an exceptionally busy and consequential period for the United States Senate. There is much to do and we are ready to get to work," Schumer said. "As the majority changes in the Senate, the Senate will do business differently. The Senate will address the challenges our country faces head-on and without delay. Not with timid solutions, but with boldness and with courage."

Schumer also seemed to go out of his way to state definitively that his majority would be seeking to approve major action on climate change. "Make no mistake, the Senate will forcefully, consistently, and urgently address the greatest threat to this country and to our planet, climate change," Biden said. "This Senate will legislate. It will be active, responsive, energetic, and bold." He then nodded toward the need for bipartisanship and unity, but the affirmative declaration that the Senate would be legislating, and specifically on climate change, should be a welcome sign for those worried that a split 50-50 Senate with Harris as the tiebreaking vote would lead to an overly timid Democratic conference.

Democrats will likely have to push through much of their agenda via the reconciliation process, which allows for a majority vote, to get around any Republican filibuster. The indication has been, though, that Schumer will not give in to a request by now–Minority Leader Mitch McConnell to include a promise not to kill the filibuster in an agreement on how to run the 50-50 split Senate. Removing that at least as a potential threat would destroy much of Schumer's leverage in any effort to pass legislation on a bipartisan basis. On Tuesday, the majority leader seemed to indicate he would bow to no such agreement, with a spokesman releasing a statement saying that he had told McConnell "that the fairest, most reasonable and easiest path forward is to adopt the 2001 bipartisan agreement without extraneous changes from either side."

During his first speech as minority leader, McConnell called on "both parties to find common ground for the common good everywhere that we can and disagree respectively where we must."

—Jeremy Stahl
4:30 p.m.: Biden to Reinstate Goal of Closing Guantanamo

In a piece about prospective executive orders, the Hill has what appears to be a scoop: On Feb. 2, Biden plans to sign an order reinstating the Obama administration goal of closing the Guantanamo Bay detention facility for "war on terror" detainees. As Slate's Joshua Keating anticipated recently, however, the new president will face the same congressional and public relations obstacles to actually closing the base that Obama did, and it's not yet clear how (or even if) he plans to try and change the political math on the issue in his favor.

—Ben Mathis-Lilley
3:34 p.m.: How National Guard Members Are Passing the Time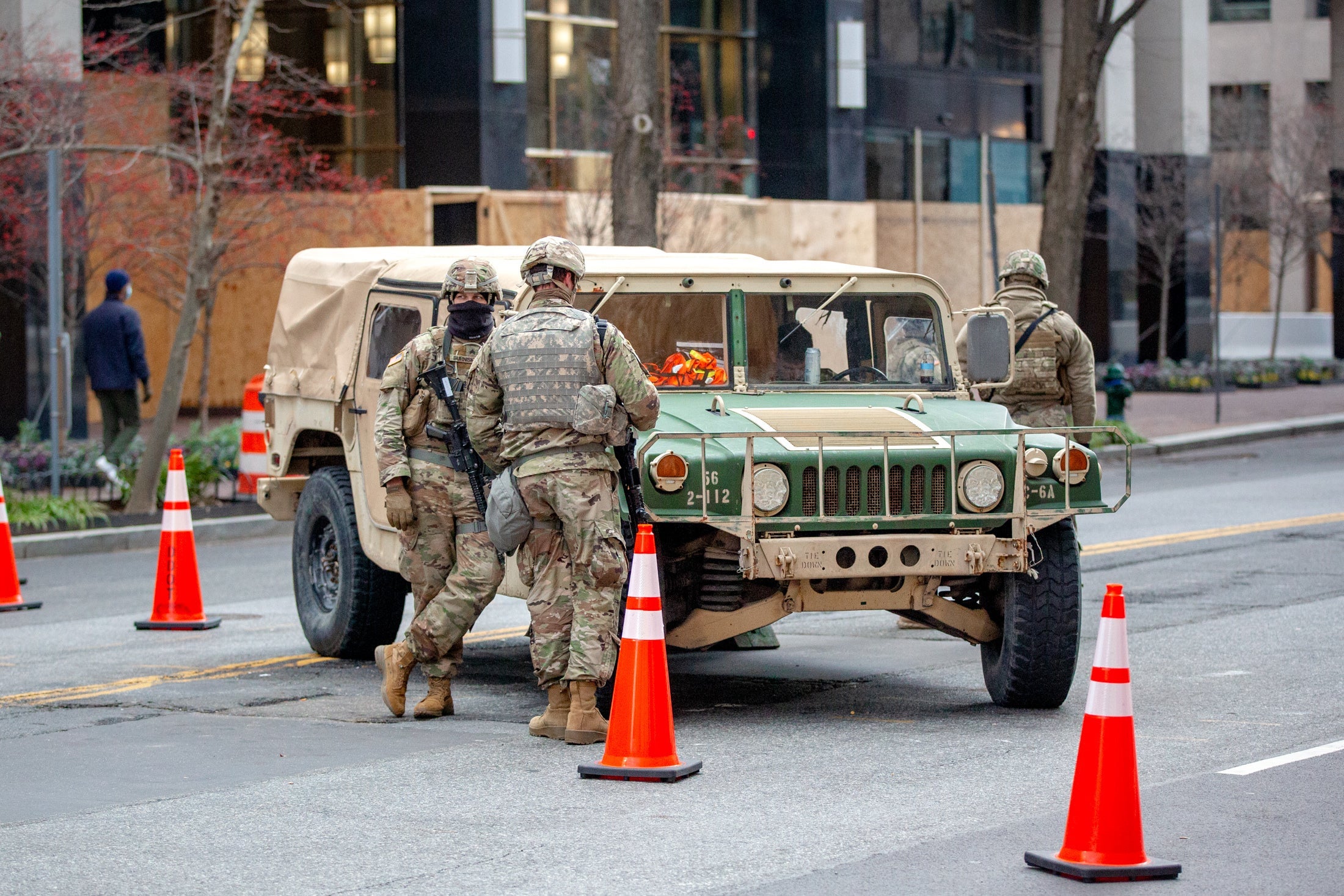 We talked to some members of a National Guard unit from Pennsylvania. They are excruciatingly bored. They felt so unconcerned about everything going on that they're not really paying attention to the people walking by—mostly reporters at this point.
The members we talked to were here for the inauguration four years ago and said it was also uneventful. This time around, they're passing their time just talking about "dumb stuff" they hoped no one could overhear and making fun of the new guy in their unit. (They called it "therapy.") They felt overprepared, but said that's the way they liked it. They complained that they had to carry heavy bulletproof vests with plates in them—they are hoping their security gets downgraded and they can use less heavy vests.
This group got to D.C. on Saturday, and they initially were staying in a hotel. More recently, they've been sleeping on the floor of a federal building. They say it's fine—it's warm, and they've dealt with worse. Their main concern is that they still don't know when they get to go home.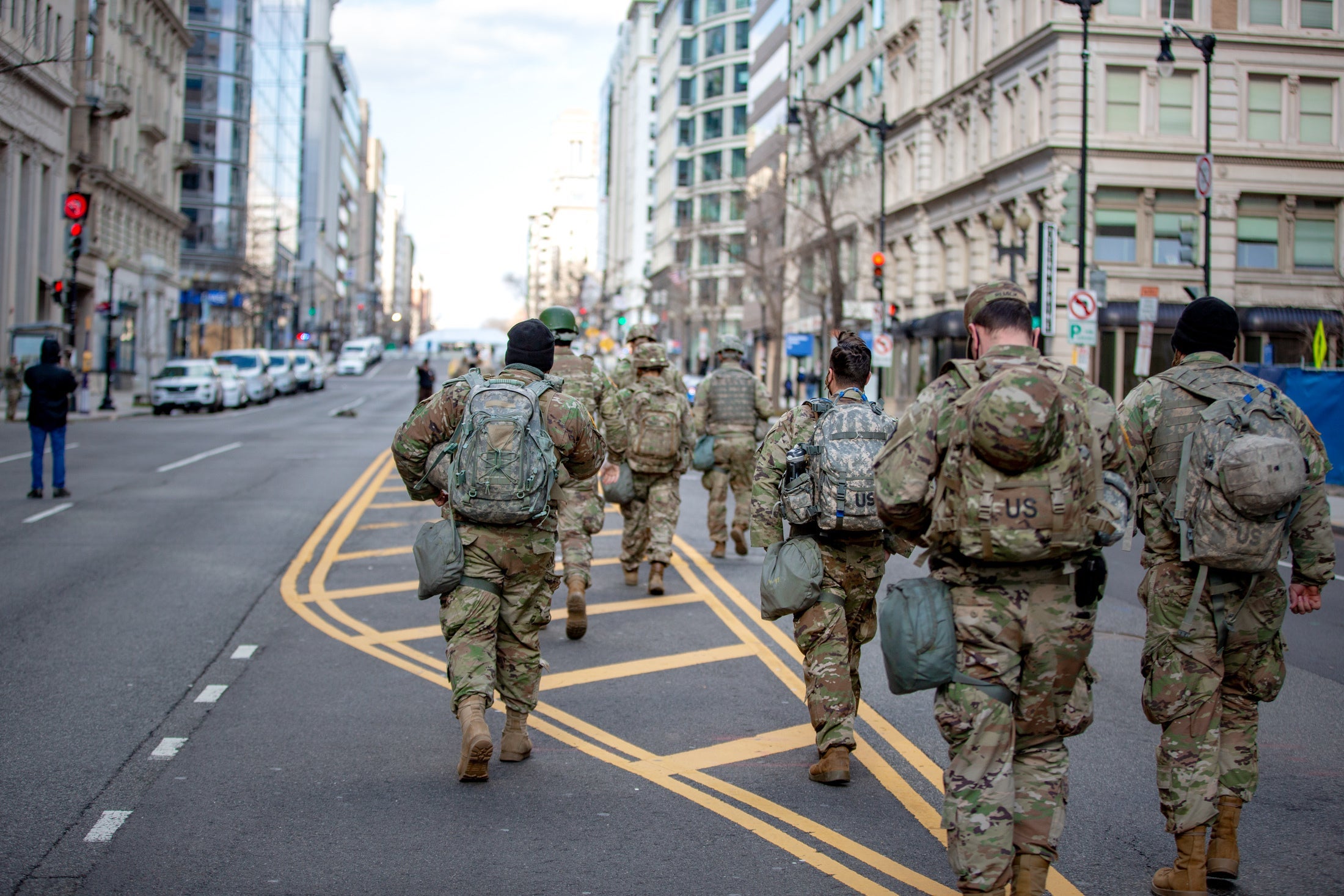 —Molly Olmstead and Aymann Ismail
3:22 p.m.: Street Vendors, at Least, Miss the MAGA Crowd: "Anything That Said 'Trump,' They Bought"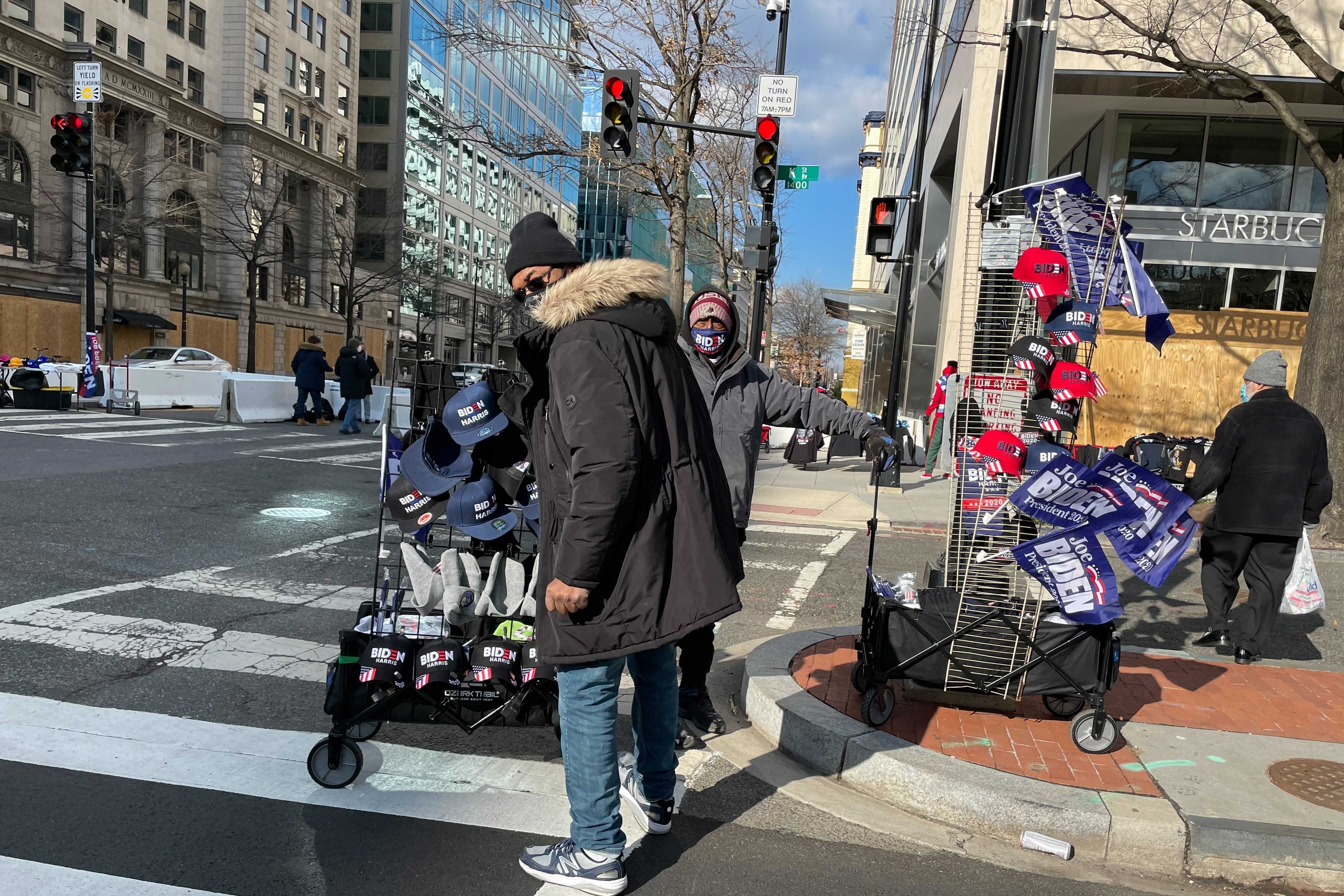 At least some D.C. locals were not totally cheering the departure of Trump from the city: the street vendors who hawk branded political merchandise to visitors from out of town. Two weeks ago, business was brisk. Today, it was terrible.
"Trump supporters bought more than Biden. This ain't nowhere close to what Trump did," one told me about his sales.
He lamented the fortress around the Capitol and seemed to miss the rioters who filled these streets two weeks ago. "They were buying like crazy. Anything that said 'Trump,' they bought."
"Anything that says 'Biden,' they walk past," he said of today's small factions of mostly Biden-friendly passersby. He had sold four items all day.
—Aymann Ismail
2:15 p.m.: Watch Amanda Gorman's Inaugural Poem

Twenty-two-year-old Amanda Gorman, the nation's first-ever National Youth Poet Laureate, gave an energetic and well-received delivery of a new poem, "The Hill We Climb," after Biden was sworn in. Here's her performance:

Gorman completed the poem after the Jan. 6 occupation of the Capitol, and it makes direct reference to those events.

—Ben Mathis-Lilley
1:40 p.m.: Senate Budget Committee Chairman Shows Off Limber Lower Body

An accurate observation by our colleague Joel:

According to some internet research, Sanders stays active by taking walks, chopping wood, and doing his own laundry and shopping. He's also known to participate in sports on the campaign trail and has purportedly cut high-fat food out of his diet since his October 2019 heart attack.

—Ben Mathis-Lilley
12:15 p.m.: Biden Sworn In as the 46th President Using Family Bible

Joe Biden was sworn in shortly before noon by Chief Justice John Roberts, officially making him the 46th president of the United States.

For the ritual, Biden placed his hand on a bulky Bible that has been in his family since 1893. It's tradition for a president-elect to choose the Bible for the ceremony. Biden has used his family Bible, which features a Celtic cross, throughout his political career, including when he took oaths for his Senate seat and the vice presidency. Beau Biden, the president's son, did the same during his swearing-in as the Delaware attorney general. Presidents Ronald Reagan and Franklin D. Roosevelt also used family Bibles for their inaugurations. Biden's Bible is 5 inches thick and is bound in leather. It's also been inscribed with the dates of each of Biden's swearing-in ceremonies. He is the country's second Catholic president, after John F. Kennedy Jr.

—Aaron Mak
11:41 a.m.: A Family of Immigrants Explains Their Trek to D.C. to See Joe Biden Inaugurated

After attending a Catholic church service in downtown D.C., President-Elect Joe Biden rode down Connecticut Avenue on his way to the Capitol for his inauguration. Waving furiously from the sidewalk were three visitors in town from Tennessee. They were en route to the Capitol, too, and had the good luck of stumbling across the motorcade by chance.

"He saw us, he saw us!" said Yessica Leon, 33, who had voted for Biden in November in her first U.S. election. Leon, who was wearing a spangled Biden-Harris mask and holding a matching flag, is originally from Mexico City. "I just got my citizenship last year," she said. "I was like, uh, first time voting and my candidate won?! So it was a big deal for me."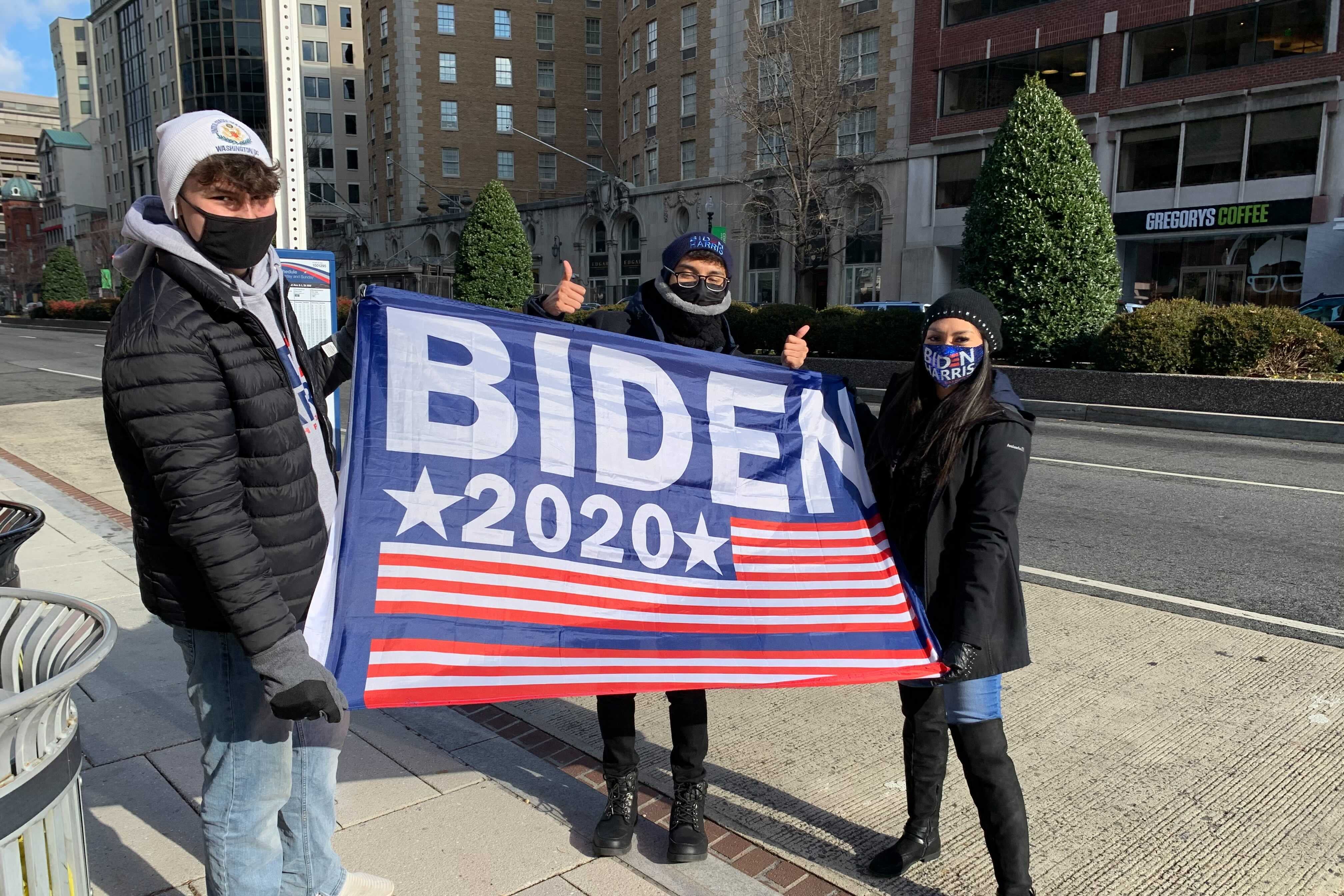 Leon supported Biden for his positions on immigration. Her parents, who have lived in the U.S. for 19 years, stand to benefit from Biden's proposed plan to offer pathways to citizenship for undocumented immigrants. Leon's sister, a DACA recipient, will qualify for Biden's plans to shore up the program and allow recipients to apply for green cards immediately.
Leon was joined by her son, 13-year-old Balian Sanders, and her cousin, 19-year-old Bryan Godinez. Back in November, Godinez, who'd also voted for Biden in his first election, had asked Leon if she wanted to go to D.C. for the inauguration. "It's his fault," Leon said. "He texted me, 'Hey, are we going?' and I was like, 'Why not?' " The trip was also planned as a celebration for Leon's birthday, which was Tuesday.
"I didn't actually believe she was going to want to go," Godinez said. His immediate family will also benefit from Biden's immigration proposals.
The three briefly reconsidered their plans after the Capitol insurrection on Jan. 6 but decided, since they already had their tickets, they'd take as many safety precautions as possible and keep their trip on the books. Their plans for a tour of the monuments were foiled by the militarized blockade of federal property in the city, but they'd rented Capital Bikeshare bikes and set a full agenda for the day.
"We're just gonna try to follow [Biden] around," Leon said. "We've got his schedule."
—Christina Cauterucci
11:05 a.m.: Field of Flags

In lieu of the crowds that would normally be present at a presidential inauguration, organizers for Joe Biden's swearing-in have filled the National Mall with more than 191,500 American flags to represent the people who are unable to attend due to the coronavirus pandemic and the threat of another insurrection attempt. The flags are grouped in 56 pillars representing the states and territories. The Presidential Inaugural Committee illuminated the flags in a ceremony on Tuesday that took about 46 seconds, symbolizing Biden's role as the 46th president of the country. The committee had requested that people not travel to D.C. to witness the inauguration and instead participate virtually. "This Field of Flags, which will cover the National Mall up to 13th Street, will represent the American people who are unable to travel to Washington, DC, and reflect PIC's commitment to an inclusive and safe event that everyone can enjoy from their home," the committee said in a statement. In order to promote social distancing, organizers have only distributed about 1,000 tickets for the event, when in normal times that number would be around 200,000. There are also enhanced security measures in place, including the presence of 25,000 members of the National Guard.

—Aaron Mak
10:55 a.m.: The Scene Outside Biden's Pre-Inauguration Mass
Outside the Cathedral of St. Matthew the Apostle, the church where Biden was attending a pre-inauguration Mass with a bipartisan group of congressional leaders, the scene was quiet, as people tried to peer around the military Humvees and over the blockade to catch a glimpse of the new president.
On our corner at least, the crowd was about 90 percent reporters and a very small number of people being interviewed. One had a Biden-Harris hat on, but most of the others looked like they had been out for a morning jog. A 60-year-old woman with an American flag said she'd come out to try to see Biden. Another woman expressed mild (and possibly amused) frustration that the street was blocked off and she couldn't get to her office. "I knew I should have brought my laptop home with me last night," she said on a phone call.
—Molly Olmstead
10:01 a.m.: The One Pro-Trump Spectator I've Seen on the Ground in D.C.

It's desolate out here in D.C. Nearly everyone I've seen on the ground has been in official tactical gear. In the end, the National Park Service reported it approved just one protest permit for Inauguration Day—and it's for a left-wing group that will be outside the secure perimeter. Another group, "Let America Hear Us, Roar for Trump," also sought a permit, but was refused after it repeatedly declined to speak about its plans.

This morning, I saw self-described "antifa scum" hanging out at Black Lives Matter Plaza: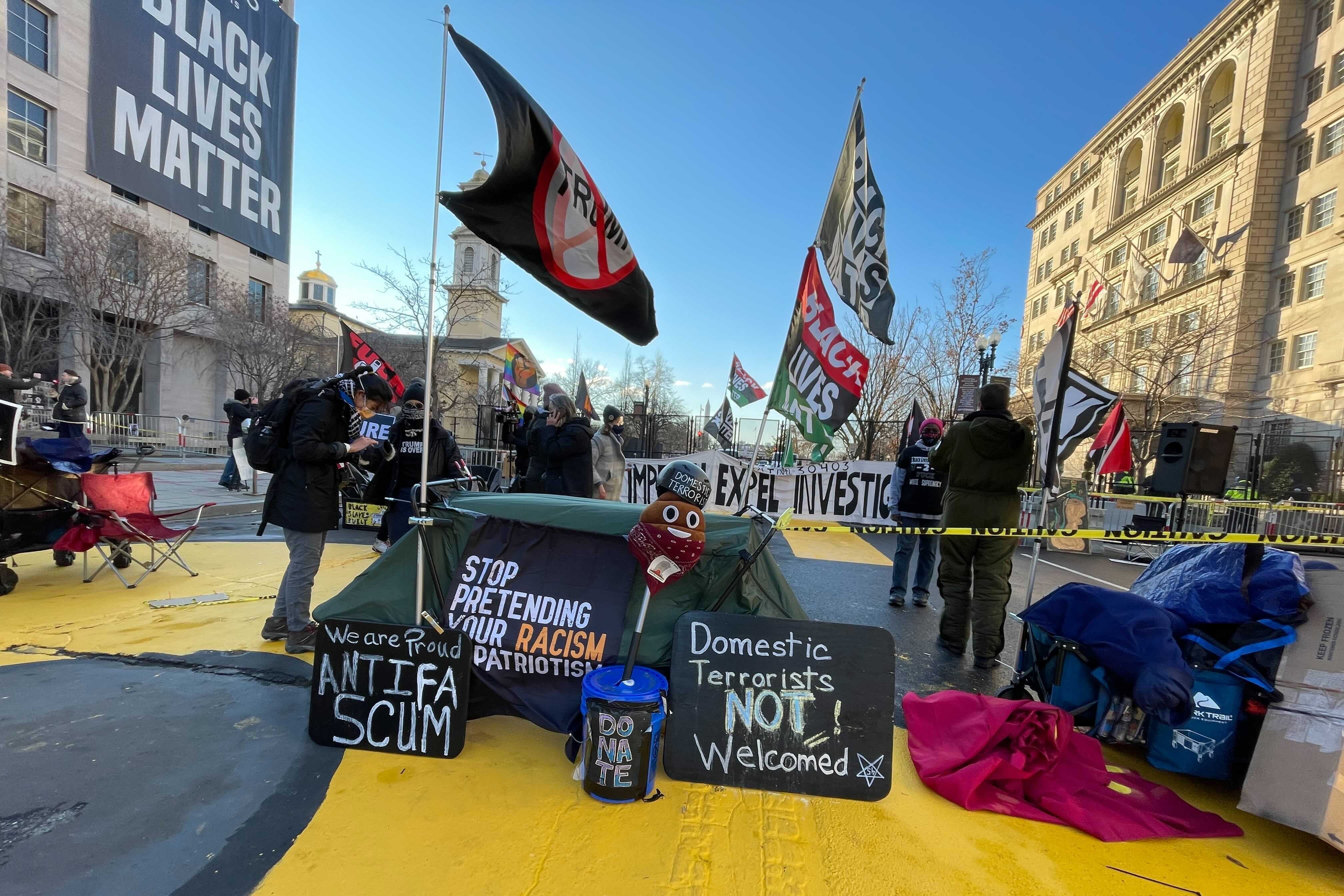 I've encountered exactly one Trump supporter. He declined to be interviewed shortly after the president spoke a final time. "I'm pissed off," he told me. "Trump let me down." Then he stormed off.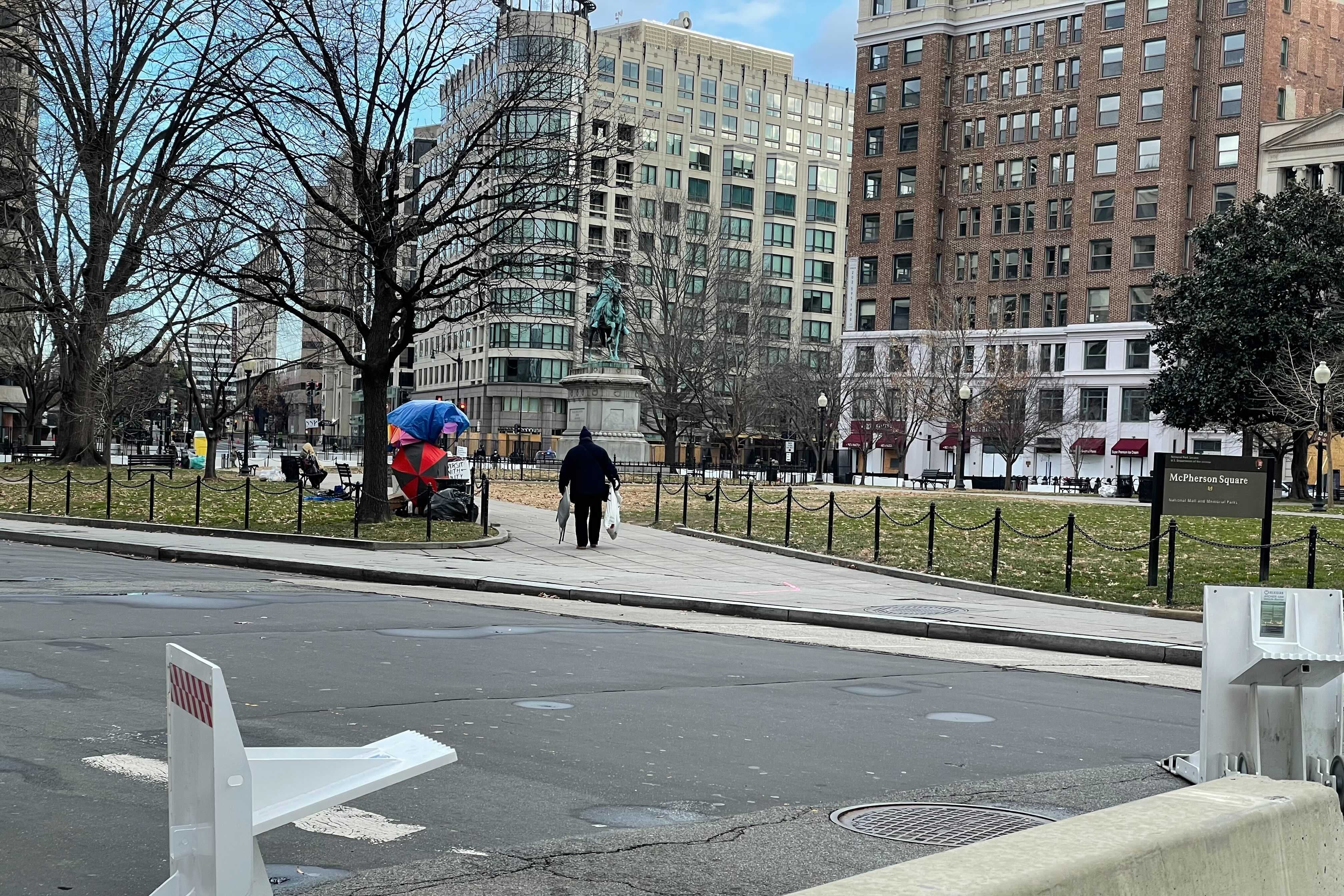 —Aymann Ismail
9:40 a.m.: "So, Have a Good Life"

Trump's final speech as president, classically rambling and suitably bizarre, included a thank-you to Mike Pence (who declined to attend) and promised "we will be back, in some form." The remarks were off script.

If you can endure the rest of it, you'll be rewarded with a sublime send-off from the president. Goodbye, Donald Trump.

—Jeffrey Bloomer
9:36 a.m.: Trump Left Biden a Note!

So far the changing of the presidential guard hasn't been as much a "transition" as a painstaking process of peeling back one president's fingers from his grip on the White House. Trump, who isn't diplomatic or magnanimous or gracious, hasn't acted as such during the months since he lost the presidency—no dignified concession, no gracious presidential tour of the White House, no attending his opponent's inauguration. It all adds up for a president who doesn't believe in anything larger than himself. But Trump reportedly left Biden a note! Perhaps a ransom of some sort. Since Trump is not exactly a man of letters, or emotions, the over-under on its length, according to me, is nine words—not including the signature.

—Elliot Hannon
8:20 a.m.: Donald Trump Has Left the White House

This didn't always seem like a foregone conclusion, but it actually happened. Donald Trump no longer occupies the White House. He still has just under four hours remaining as president to do something bonkers or terrifying, but we're almost there.

—Elliot Hannon
7:55 a.m.: Pence Expected to Skip Trump's White House Departure

Trump is set to depart the White House at 8 a.m. Vice President Mike Pence is not expected to be there.

—Elliot Hannon
7:45 a.m.: The Second-Most Important Transfer of Power Wednesday—the @POTUS Twitter Handle

Wednesday also marks the most fraught handover of (digital) power in social media history—the @POTUS Twitter account. At noon Wednesday, the presidential account, along with the attendant accounts @WhiteHouse, @VP, @FLOTUS, and @PressSec, will all change hands, but not without some controversy! When Biden's teams assume control of the official accounts of the presidency, unlike four years ago, the new owner won't automatically retain the account's followers—33 million of them when it comes to @POTUS.

"These institutional accounts will not automatically retain the followers from the prior administration," Twitter wrote on its blog about the handover. "People on Twitter who previously followed institutional White House Twitter accounts, or who currently follow relevant Biden or Harris Twitter accounts, will receive in-app alerts and other prompts that will notify them about the archival process, as well as give them the option to follow the new administration's Twitter accounts."

It's not totally clear why Twitter is purging the U.S. government accounts. The Biden digital team seems annoyed, but surely has bigger things to worry about. Facebook and YouTube are also transitioning Wednesday.

—Elliot Hannon