This live blog, which covers what happened on Wednesday through the early morning hours of Thursday, is now closed.
On Wednesday, Congress was forced to shut down and flee the Capitol building in the middle of its scheduled joint session to count and certify Joe Biden's electoral victory. Slate is publishing live updates of the day's events, which began with supporters of President Donald Trump gathering on the National Mall to protest the election. Jim Newell is in the Capitol, while Aymann Ismail is covering events outside.
12:16 a.m. What I Saw Inside the Capitol Riot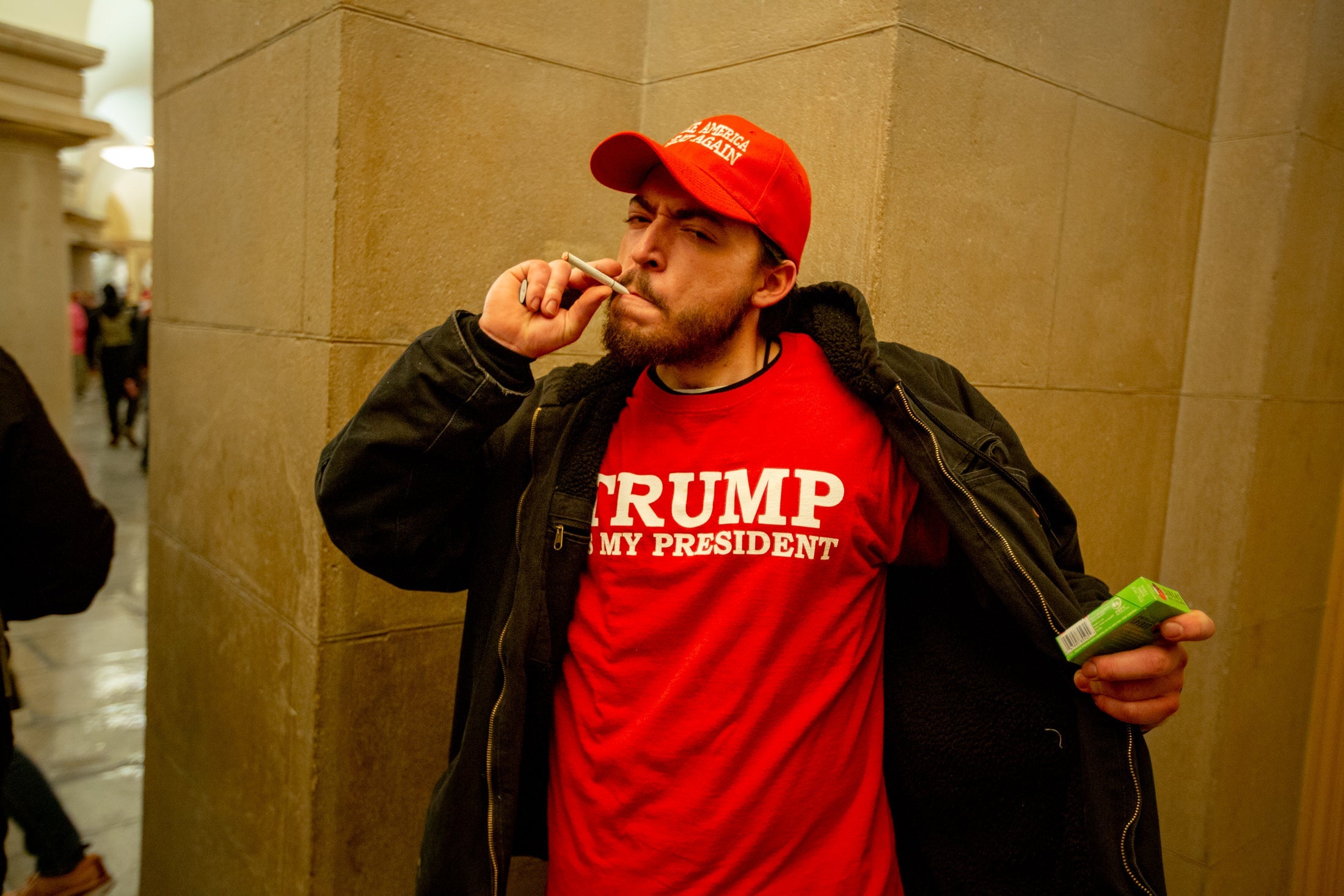 When I walked with marchers into the Capitol during the riot today, the mood was giddy, but it was chaos. Everyone was excited. People were chanting, "This is our America" and "Whose house? Our house!" They waved flags and donned protective gear. They were having fun, entertaining themselves. But the people I spoke to didn't seem to understand the gravity of what they had done. Inside a building they had broken into, they described themselves as "peaceful." I talked to a kid from Florida, who must have been no more than 17 or 18, who told me, "This is nothing compared to what Antifa does." Read the full story here.
—Aymann Ismail
12:02 a.m.: House Rejects Objection to Arizona's Electors, 303–121

The House has followed the Senate's lead in rejecting the objections raised to Arizona's electors, although more than half of the Republicans voted to uphold the objection. House Minority Leader Kevin McCarthy of California and House Republican Whip Steve Scalise of Louisiana were among the Republican representatives who sided with the president's efforts to overthrow the election results. Florida Republican Matt Gaetz, who voted to uphold the objection, claimed during the debate without offering details or evidence that the Trump supporters who stormed the Capitol earlier in the day were, in fact, Antifa supporters in disguise:

Following the vote, the House officially rejected the objection to Arizona's electoral results:

Congress is now continuing the process of counting the electoral votes.

—Matthew Dessem
10:48 p.m.: Senate Overwhelmingly Rejects Objection to Arizona's Electors

The storming of their office building by violent lunatics left some Republican senators shook. When the Senate resumed debate around 8 p.m. on the objection of Arizona's electors, the energy to defend the president's fraud hallucinations dampened.

Georgia Sen. Kelly Loeffler did, indeed, summon the dignity the day after her election loss to decline to perform another dead-end political errand for Trump. "When I arrived in Washington this morning, I fully intended to object to the certification of the electoral votes," Loeffler told her colleagues. "However, the events that have transpired today have forced me to reconsider, and I cannot now in good conscience object to the certification of these electors."

Other senators who had planned to reject electors bailed, too. Both of Tennessee's senators, Marsha Blackburn and newly sworn-in Bill Hagerty, had a change of heart. Oklahoma Sen. James Lankford, who was never really of a coup disposition to begin with, backed off. Indiana Sen. Mike Braun and Wisconsin Sen. Ron Johnson wanted to get it over with, as did Montana Sen. Steve Daines.

After impassioned speeches from South Carolina Sen. Lindsey Graham—who appears to be re-rebranding himself out of his role as Trump's most faithful defender, in the hopes of readmission into polite society—and Utah Sen. Mitt Romney, asserting that Biden won fair and square, the Senate voted. About half of the original group that said it would reject electors balked.

The final vote was 93–6 against the objection to Arizona's electors, with only Sens. Ted Cruz, Josh Hawley, Cindy Hyde-Smith, John Kennedy, Roger Marshall, and Tommy Tuberville voting to reject the electors.

The House vote will conclude between 11:30 and midnight. Will there be another objection, forcing another split into separate sessions and votes, to another state's electors?

We appear headed that way.

—Jim Newell
8:22 p.m.: Now That Congress Has Reconvened, Will Republicans Really Keep This Up?

After a chaotic and dangerous afternoon, Congress has reconvened to continue the process of tallying the Electoral College totals. Members say they are determined to see the process until the end before breaking.

The question is how much longer it will take.

When Congress broke earlier this afternoon to wait out a violent insurrection against a branch of government, the Senate and the House had just split into separate sessions to debate and vote on the objection lodged against Arizona's electors. That debate is expected to continue, followed by a vote on whether to accept or reject the electors.

But what then, when the joint session reconvenes? Is Georgia Sen. Kelly Loeffler, who doesn't believe any of this stolen election stuff anyway and just lost her election, really going to lodge an objection against Georgia's electors? Is Missouri Sen. Josh Hawley really going to object to Pennsylvania's? After this entire doomed-to-fail "Stop the Steal" movement founded on misinformation brought about violence and global humiliation, are the Republicans really going to keep this up?

It's an open question. At least some previously gung-ho Republicans are recognizing that continuing this ludicrous effort might come across as, well, ludicrous.

"I think today changed things drastically," Indiana Sen. Mike Braun told reporters on the Hill on Wednesday evening. Braun had been one of the senators who had pledged he would reject electors. "Yeah, whatever point you made before that should suffice. Get this ugly day behind us."

Wisconsin Sen. Ron Johnson, another objector, sounded similarly squeamish about proceeding with the rebellion. "Obviously in light of events, there's a little bit of a different attitude," he said.

"I think there's going to be the one [objection and vote] we're currently on," Kentucky Sen. Rand Paul, who does not support efforts in Congress to overturn the election, said. "I think it's all going to be condensed into that. There's gonna be probably 30 or 40 more minutes of debate, and one vote."

Once the current objection over Arizona is dispensed with, it wouldn't be surprising if some dead-ender House Republicans still try to lodge objections. Whether they can get a senator to join them is another matter.

—Jim Newell
7:51 p.m.: Twitter Has Locked the President's Account

It took an insurrection for Twitter to finally do it: take away Donald Trump's ability to tweet. The official Twitter Safety account announced the removal of three of Trump's tweets from Wednesday "for repeated and severe violations of our Civic Integrity policy." The platform also stated that Trump's account would be locked for 12 hours, and that if Trump did not delete the tweets himself, the lock would be indefinite. If you visit @realdonaldtrump, you will find the tweets in question hidden by a notice that states: "This Tweet is no longer available because it violated the Twitter Rules. Learn more." The tweets deleted include the video in which Trump professed his affection for the rioters, the tweet in which Trump dissed his vice president for not overturning democracy, and his statement that the riots happened because "a sacred landslide election victory" was "so unceremoniously & viciously stripped away from great patriots who have been badly & unfairly treated for so long." (Obviously, the last claim is false.) Other platforms, including Facebook and YouTube, also removed Trump's recorded address to the Capitol invaders. Given that Twitter doesn't allow incitements of violence, it's probably time for the platform to boot the president altogether.

—Nitish Pahwa
7:20 p.m.: Congress Will Finish the Electoral College Count Tonight

Congress will reconvene later tonight to finish the certification of Electoral College ballots after the Capitol is secured, according to House Speaker Nancy Pelosi.

As Democrat Sens. Tammy Duckworth and Jeff Merkley told the media, "quick-thinking" Senate aides reportedly moved the mahogany boxes containing the Electoral College state certifications after the congressional session was halted due to the impending riots. When lawmakers and their staff shifted to safety, so did the boxes.

There are multiple copies of the Electoral College ballots in existence—each state's governor holds the copies, as do U.S. district court judges. The National Archives also has digital copies on its website. So even if the mob had successfully destroyed the boxes and the certifications inside, Joe Biden's victory would not be affected. Still, the preservation of the boxes will likely ensure a quicker process, provided the multiple Republicans who'd planned on contesting the official results from several states back off from their couplike mission. It also prevents the invaders from obtaining a symbolic victory.

Other senators, including Joe Manchin, seem to be eager to get on with it already:

—Nitish Pahwa
6:40 p.m.: The Woman Shot at the Capitol Has Died
The woman who was shot at the Capitol around 3 p.m. has died from her injuries, two law enforcement agencies told NBC News' Pete Williams. A spokesman for the D.C. police also confirmed the death to the Washington Post. No further details, including the woman's identity or the circumstances of the shooting, have been provided.
Video footage showed the woman, who was wearing a Trump banner around her neck, being shot in the neck. MSNBC confirmed that she was shot by a law enforcement agent. The District of Columbia Fire and Emergency Medical Services Department told BuzzFeed News that the woman had been transported to hospital with "critical, life-threatening injuries" and that she'd received CPR.
This is the first reported fatality from the riots at the Capitol. The president of the United States has not yet directly commented on the death.
—Nitish Pahwa
5:42 p.m.: Democratic Lawmakers Seek to Expel Republicans Who Encouraged the Siege, Impeach Trump

Democratic Rep. Cori Bush announced on Twitter that she will introduce a resolution calling for the expulsion of "Republican members of Congress who have incited this domestic terror attack through their attempts to overturn the election." Her Democratic colleague, Rep. Ilhan Omar, also announced that she will draw up articles of impeachment against Donald Trump. President–elect Joe Biden, meanwhile, described the siege as an "insurrection." In statements and interviews, other congressional Democrats have similarly framed Wednesday's attack as a rebellion against the U.S. government.

The (accurate) description of their actions as an "insurrection" has constitutional significance. The 14th Amendment prohibits congressional service by anyone who "engaged in insurrection or rebellion" against the Constitution of the United States. Each chamber of Congress may expel a member for insurrection by a two-thirds vote; Bush is essentially arguing that the House of Representatives should expel those members who encouraged this attempted coup—like, for instance, Republican Rep. Mo Brooks, who urged Wednesday's crowd to start "kicking ass" shortly before the assault on the Capitol.

Moreover, no one seriously doubts that encouragement of insurrection, which Trump has provided in spades, constitutes an impeachable offense. Indeed, Senate Democrats should consider lobbying not just for Trump's removal from the presidency, but also his disqualification from holding future office. The Constitution authorizes the Senate to bar a president from holding federal office in the future upon removing him.

Expelling the congressional enablers of Wednesday's failed coup, from members of Congress to the president himself, requires Republican support. It seems unlikely that a sufficient number of Republicans would join Democrats in cleansing the government of traitors from the GOP ranks. Republican lawmakers who pushed conspiracy theories and lied about election fraud are already attempting to distance themselves from the rioters who broke into the Capitol. But Bush and Omar's statements at least indicate that Democratic lawmakers will not allow them to get away with potential sedition so easily.

—Mark Joseph Stern
5:25 p.m.: Here's What We Know About the Shooting at the Capitol

Multiple news outlets have reported that a woman was shot around 3 p.m. during the pro-Trump riot that engulfed the Capitol as Congress met to certify the Electoral College votes. CNN, citing two sources, first reported that the woman had been shot and was in critical condition. D.C.'s Fire and EMS spokesperson later confirmed to Fox 5 that the person had been transported to a local hospital. NBC News, citing several law enforcement officials, then reported that a law enforcement official had shot the woman. Officials also told BuzzFeed News that CPR had been performed on the woman.

Washington Post journalists offered a more detailed dispatch, reporting they'd heard an officer say "White female, shot in the shoulder," and that an ambulance had pulled up to the southeast corner of the Capitol. The Post added that paramedics rushed a gurney to the south side of the Capitol and emerged with a woman with her torso and face covered in blood. Pro-Trump protesters surrounded the ambulance and screamed "murderers!" One of the rioters, who had blood on his hands and claimed that he'd been a witness, also told WUSA9 that the shooting occurred when the woman did not listen to police who were telling people to get away from the windows.

There had been multiple unconfirmed reports of gunshots throughout the riot. House Minority Leader Kevin McCarthy said during a Fox News interview that he heard someone say there were "shots fired" in the building over a Capitol Police radio. Meet the Press also aired graphic footage of a woman "covered in blood" being wheeled out of the Capitol in a stretcher, though it's unclear if she was shot, or if she is the same woman from the other reports of a gunshot wound. Several lawmakers like Virginia Rep. Elaine Luria and journalists at the scene tweeted that they had also heard what sounded like gunshots. Photojournalists also took several pictures of police drawing guns while barricading themselves in the House chamber.

—Aaron Mak
4:40 p.m.: Biden Speaks; Trump Says Occupiers Should Go Home but That He Loves Them and Election Was Stolen

President-elect Joe Biden gave brief remarks on the situation at the U.S. Capitol in an appearance from Wilmington, Delaware, calling Wednesday's events "an assault on the most sacred of American undertakings, doing of the people's business." Biden called on Trump
"to fulfill his oath and defend the Constitution" by demanding that the individuals in the Capitol leave. He closed his remarks by looking into the camera and telling Trump to "step up." Literally minutes later, Trump issued a minutelong video statement in which he told individuals occupying Congress to "go home" but reiterated his claim that Democrats stole the presidential election and said, about the occupiers, "I know your pain, I know your hurt." Added the president: "We love you, you're very special … I know how you feel."

—Ben Mathis-Lilley
4:37 p.m.: A Surreal Scene From Speaker Nancy Pelosi's Office

Surreal scenes from the Capitol, which authorities in riot gear are assembling to clear after hours of chaos, have shown pro-Trump rioters scaling walls, hanging from a balcony, and screaming from the dais. But one image has traveled especially far: a man sitting inside House Speaker Nancy Pelosi's office, foot up on her desk. He left her a note scrawled on a folder: "We will not back down."

—Jeffrey Bloomer
3:38 p.m.: Meanwhile, on Newsmax

How is Newsmax TV covering the darkest day in the long recent series of darkest days in American history? For most of the 2 p.m. hour, America's least reliable cable news network was working overtime trying not to report that a horde of MAGA goons had stormed the U.S. Capitol, effectively at the behest of President Donald Trump. When the news became too big for even Newsmax to ignore, fill-in anchor Tom Basile first tried to suggest that the security breach was perhaps the work of antifa infiltrators. Near the end of the time block, the network was offering another suggestion: that the Capitol being overrun by a violent mob was perhaps in fact a positive thing. Some maniac guest with a British accent, whose name I did not catch, suggested that the crowd was merely "furious that this election has been so obviously rigged, and these pussyfoot [senators and representatives] in the Republican Party who have failed to stand up for it, and they're saying that if our elected representatives won't do anything about it, then we'll do something about it." But before he was able to elaborate at greater length, 3 p.m. came around, and Basile cut him off to reset the show for the new hour. "A momentous day in Washington, D.C. It's almost not to be believed, what is happening," he said.

—Justin Peters
3:35 p.m.: One Person Has Been Shot at the Capitol

CNN, citing two sources, is reporting that a woman is in critical condition after she was shot in the chest on the Capitol grounds. Further details are not available at the moment. There have been multiple unconfirmed reports of gunshots throughout the riot at the Capitol. Police officers were also seen drawing their guns while barricading the House Chamber.

—Aaron Mak
3:25 p.m. : The Smell of Tear Gas Is Seeping Into Lockdown

It is 2:30 p.m. and I am locked in a secure location at the Capitol as I hear footsteps and shouts and whistles rattle from outside and below from Trump protestors that have breached the building. They have been marching through the rotunda and statutory hall, central corridors in the Capitol building. The smell of tear gas is seeping in. The building is on total lockdown. This is unreal.

There were first reports that the Madison Building on the Capitol complex was being evacuated. Then the Cannon House Office Building. Protesters were breaking through barriers on the west front of the Capitol, trying to climb the inaugural platform. Shortly thereafter, they burst through gates on the east front. The Capitol, itself, then went into lockdown. The building was infiltrated at a number of exits. I took this video from the third floor, looking down on a central entrance from the second floor, as protesters tried to break through the glass.

I wish I could give more color on what is happening inside the corridors, but: lockdown. Authorities are trying both to secure the building and get personnel evacuated.

For now, we sit and wait.

—Jim Newell
3:15 p.m.: More Video of Chaos Inside the Capitol

Rioters supporting President Donald Trump's attempt to overturn the election unleashed violent mayhem in and around the U.S. Capitol on Wednesday afternoon as members of Congress were debating objections to the Electoral College count. The extremists broke into the Capitol building and assaulted police and security officers. Members of the House and Senate have been evacuated. Some lawmakers were told to don gas masks as security unleashed tear gas into the Capitol rotunda. Rioters broke windows, tried to break down doors, and scaled walls. The rioters stormed the Capitol after President Trump directed ire at lawmakers, particularly Republican ones, and Vice President Mike Pence for not supporting his coup attempt. He offered a weak plea on Twitter to "support our Capitol Police" in the midst of the chaos. D.C. Mayor Muriel Bowser imposed a 6 p.m. curfew in the city.

—Aaron Mak
2:30 p.m.: Violent Pro-Trump Extremists Force Their Way Into Capitol, Sending Joint Session Into Lockdown

Violent clashes between police and pro-Trump protesters broke out on the grounds around the Capitol building as Congress met to debate the certification of Electoral College votes. The Wall Street Journal reports that Paul Irving, the Capitol's sergeant at arms, told members of Congress and their staff to get to their offices by 9 a.m. so that they could be secure in the complex before protesters arrived. Security sealed off the complex from visitors, and a source told the Journal that lawmakers had been asked not to wear pins identifying them as members of Congress outside the Capitol complex. By early afternoon, an unruly crowd of protesters had breached the barricade set up behind the Capitol building. This resulted in police firing tear gas into the crowd and engaging in tug-of-wars over pieces of the barricade. Protesters chanted "you swore and oath" and "move forward."

Virginia Rep. Elaine Luria posted on Twitter that she had to evacuate her office due to reports of a pipe bomb outside the building. Michigan Rep. Haley Stevens additionally tweeted that she had to shelter in place in her office. The Capitol is now on lockdown. Lawmakers adjourned in the midst of the pandemonium. A video from Slate reporter Jim Newell shows protesters attempting to break through the Capitol's doors. Reports indicate that some protesters made their way into the building.
2:07 p.m.: It's Getting Ugly

The Save America March began this morning with a more convivial vibe, like a Trump-themed ComicCon. That is quickly changing as the debate in Congress over certifying the presidential vote continues. He's a taste of how marchers are starting to lash out at counterprotesters and journalists on the sidelines.

Meanwhile, some other reports from the ground:

—Aymann Ismail
1:58 p.m.: Joint Session Convenes and Republicans Lodge First Objection to Electors

The joint session of Congress to tally the Electoral College vote opened at 1 p.m. on Wednesday much like the most well-known annual joint session—the State of the Union—would. The sergeant at arms announced the arrival of Vice President Mike Pence, one axle under the bus already, arrived to applause from House Republican colleagues. Most members of the U.S. Senate followed him in. Texas Sen. Ted Cruz gave an elbow bump to the fist of his fellow objector, Texas Rep. Louis Gohmert, who was greeting members along the aisle.

Despite an agreement between the two sides to limit the number of members in the chamber at any given point, the Republican side of the aisle was slammed, with little spacing and specious adherence

Senate Majority Leader Mitch McConnell took his seat, first row and center in the House chamber, and sat in silence, staring straight ahead, not moving at all. He did have a brief chat before things got going with young freshman North Carolina Rep. Madison Cawthorn, who appeared to be introducing himself.

As the tally began, Alabama and Alaska's electors were read and quickly accepted without objection. Third up in the alphabet was Arizona. When the chance to object came, Paul Gosar—an Arizona representative on whose brain the hot desert has taken a toll—fulfilled his promise. When asked if there was a senator to join the objection, as is necessary for it to be in order, Texas Sen. Ted Cruz rose to second it. Democrats groaned, while House Republicans gradually rose to a standing ovation. Cruz performed his best expression of false, humble conviction.

The joint session broke for its first debate, and votes, on Arizona's slate of electors.

—Jim Newell
1:22 p.m.: Rudy Giuliani Gets a Royal's Welcome in D.C.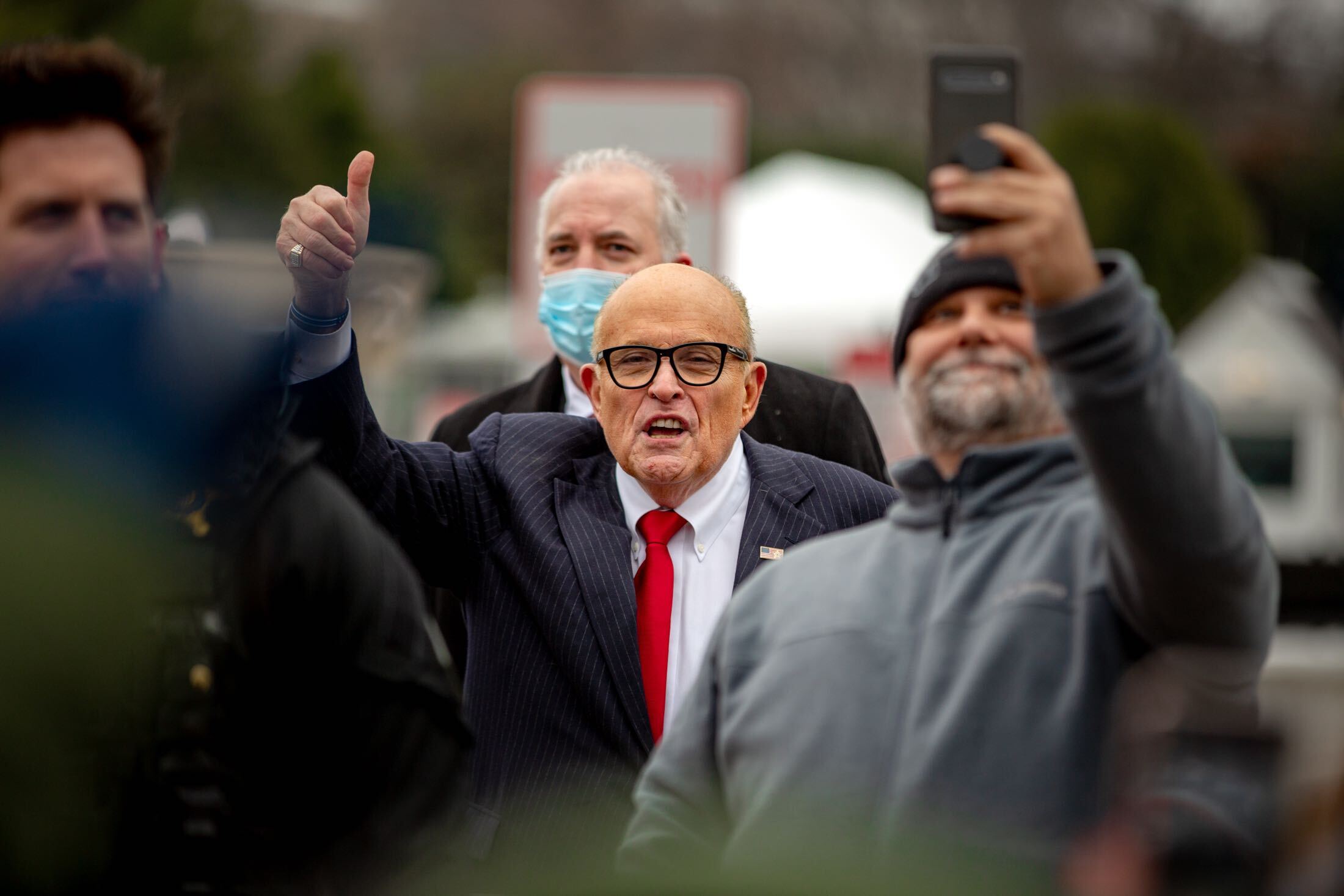 While many ask "How did Rudy Giuliani come to this?," his reception at the Trump rally in D.C. this afternoon offers one clue to what's keeping him going. He was greeted like an absolute rock star today.
1:10 p.m.: Trump Vents at Republicans and Pushes Coup During Rally
Just around midday on Wednesday, President Donald Trump began speaking to rally goers in Washington D.C. who were meeting to support Trump's calls for a coup to overturn the election. Trump's speech offered a fairly typical litany of his classic grievances against the media and big tech, false claims of election fraud, and general boasts about his own electoral success. Still, there were some notable portions in which Trump seemed to preview a post-presidency that will be focused at least partially on destroying members of his own party for not being sufficiently loyal. Here are some of the highlights.
Trump made it official that he never intends to concede:
"We will never give up, we will never concede."
Trump claimed the Georgia Senate election last night was "rigged" and cited a brand new conspiracy theory about voting machines:
"It was rigged against them. Kelly Loeffler, David Perdue. They fought a good fight, they never had a shot. That equipment should never have been allowed to be used and I was telling these people don't let them use this stuff."
Trump repeatedly said that Vice President Mike Pence was obligated to unilaterally overturn the election during Wednesday's Electoral College vote count:
"I hope that Mike is going to do the right thing, I hope so, I hope so. Because if Mike Pence does the right thing, we win the election. … All Vice President Pence has to do is send it back to the states to recertify, and we become president, and you are the happiest people.
Trump said that he had just made one final pitch to Pence and repeatedly made implicit threats to Pence's future political career:
"I actually just spoke to Mike, I said 'Mike that doesn't take courage, what takes courage is to do nothing. That takes courage and then we're stuck with a president who lost the election by a lot and we have to live with that for four more years.' We're just not going to let that happen."
…
"Mike Pence is going to have to come through for us and if he doesn't, that will be a sad day for our country."
…
"We're going to see whether or not we have great and courageous leaders, or whether or not we have leaders that should be ashamed of themselves throughout history, throughout eternity. And you know what: If they do the wrong thing, we should never ever forget that they did. Never forget. We should never ever forget."
…
"Mike Pence I hope that you're going to stand up for the good of our constitution and for the good of our country. And if you're not, I'm going to be very disappointed in you, I will tell you right now. I'm not hearing good stories."
Trump attacked Senate Majority Leader Mitch McConnell and other Republican Senators who haven't backed his coup attempt, saying he would threaten some of them with primaries from loyalists:
"Many of the Republicans, I helped them get in, I helped them get elected. I helped Mitch get elected. … No it's amazing, they're weak Republicans, they're pathetic Republicans, and that's what happens."
"The 'weak Republicans,' and that's it, I really believe it, I think I'm going to use the term 'the weak Republicans.'"
…
"You have to get your people to fight and if they don't fight, we have to primary the hell the ones that don't fight. You primary them. We're going to let you know who they are. I can already tell you frankly."
Trump blamed his former Attorney General William Barr and the Supreme Court for not going along with his coup attempt:
"All of a sudden Bill Barr changed if you haven't noticed. But he changed, because he didn't want to be considered my personal attorney. And the Supreme Court, they rule against me so much, because the story is … that they're my puppets, that they're puppets, and the only way they can get out of that—because they hate that, it's not good in the social circuit—that the only way they get out is to rule against Trump, so let's rule against Trump, and they do that so I want to congratulate that."
—Jeremy Stahl
12: 45 p.m.: Rallygoers Are NOT Enjoying the Georgia Senate Results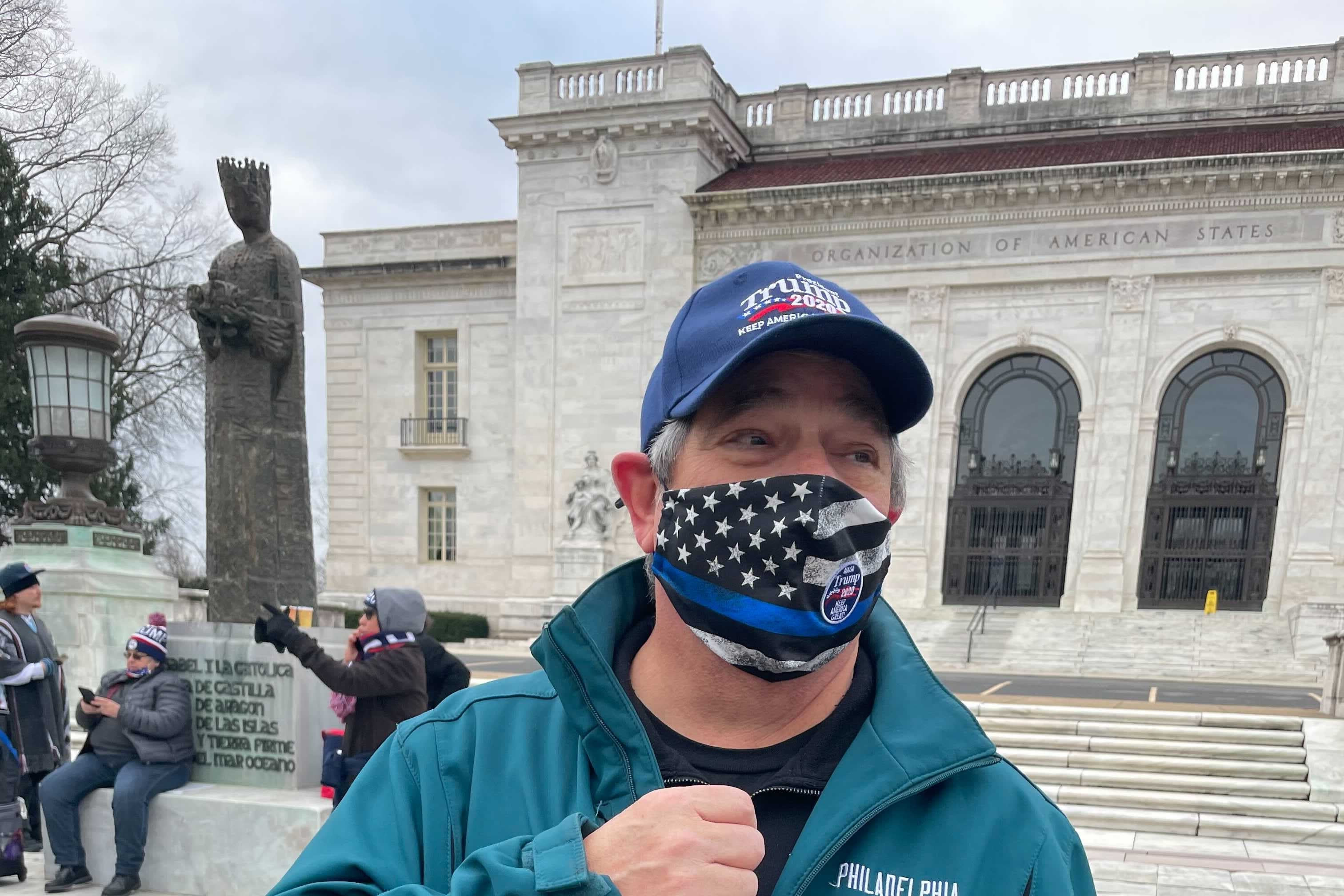 "They should not even have had the election," Frank from Pennsylvania told me of the Georgia Senate election on Tuesday. "Once you've gone through the evidence and seen what goes on with these machines they use, you can't validate 'em. It should have been pushed back and done by hand."
On the ground in D.C. on Wednesday morning, the mood was largely upbeat—except on one subject.
"The two Republican candidates were way ahead last night, and then in the middle of the night, more Democrat votes come in. So the same crap that went on in the presidential election," Frank continued. Others were no less pleased.
I also found plenty of rallygoers who were unhappy but didn't think anything was suspicious in Georgia—though they did have a warning for Democrats. In four years, you just wait. Trumpism is here to stay. Whether it's Trump or somebody else—the ideas of America First are going to stay." Read the full dispatch here.
—Aymann Ismail
12:01 p.m. So Last Night Was Ugly

Downtown D.C. was the site of violent clashes on Tuesday night as pro-Trump protesters took to the streets on the eve of Congress' vote to certify the Electoral College votes and Joe Biden's victory. The city has been preparing for mass upheaval by increasing police presence and mobilizing the National Guard, and officials warned residents to stay away from the downtown area.

Most of the skirmishes on Tuesday occurred later in the night after the official rallies planned for the day had ended. According to D.C.'s local ABC station, some minor scuffles ensued as a result of protesters getting into arguments with counterprotesters, though police were trying to keep the conflicting groups away from each other. The Washington Post also reports that, in one case, a group of about 200 Trump supporters approached a police line shortly after 10 p.m. at Black Lives Matter Plaza, a gathering place for activists close to the White House. People punched and shoved at the line, and officers used pepper spray to break up the crowd. A woman and two D.C. police officers were sent to the hospital as a result, according to a D.C. Fire and EMS Department spokesperson. Videos posted to social media appear to show protesters attempting to rush past the police line and an incident in which a larger fight broke out as a result of two people arguing. There was a total of six arrests connected to the protests on Tuesday for charges including assaulting police officers and weapons violations.

The demonstrators, in several incidents captured on social media, seemed to get in arguments with one another as Democrats' success in the Georgia runoff elections on Tuesday became clear.

—Aaron Mak
11:20 a.m.: What to Expect From the Count and Rally
On Wednesday, Congress will meet to count and certify Joe Biden's 306-to-232 Electoral College victory over Donald Trump in the 2020 presidential election. Because Trump has spent the last two months attempting to delegitimize that outcome in a feeble coup attempt, what is normally a pro forma joint session of Congress will have some fireworks. More than a dozen Republican senators have promised to join more than 100 Republican members of the House in objecting to the votes of various swing states won closely by Biden. Though some symbolic objections have been made during the joint session in the past, never before have this many members of Congress tried to openly overturn the will of the voters.
The mechanics of the day, though, should be pretty normal. Vice President Mike Pence, in his role as president of the Senate, will be handed Electoral College results in alphabetical order by the clerks. He will read those results, and will hear objections. Arizona, Georgia, Pennsylvania, Nevada, Michigan, and Wisconsin are the states most likely to see objections. If the objections are in writing from at least one member each of the House and Senate, then the two chambers will separate for up to two hours of debate and a vote on the objections. Democrats already have more than enough votes to kill these efforts in both chambers, but it could last several hours.
The only real wrinkle is Trump's pressure campaign to try to get Pence to unilaterally overturn the vote based on completely unfounded fraud claims. Trump went on a Twitter rant overnight in which he repeated his desperate effort to cajole Pence into taking part in his coup effort. "If Vice President @Mike_Pence comes through for us, we will win the Presidency," Trump tweeted last night. And this morning, he tweeted: "All Mike Pence has to do is send them back to the States, AND WE WIN. Do it Mike, this is a time for extreme courage!" The New York Times reported last night that Pence already told Trump there's nothing he can do to unilaterally overturn this election, but it will still be interesting to see how he plays the day, particularly given what appears to be the Democratic takeover of the Senate last night with victories in Georgia.
—Jeremy Stahl