Oct 02, 2020 32 days to Nov 03, 2020

Slate's guide to the 2020 races and politicians everyone's talking about this week.
Welcome to this week's edition of the Surge, your campaign newsletter ranki—
HUNTER? HUNTER. DRUGS AND THE MONEY AND HUNTER, WHERE ARE THEY?
We apologize, the president of the United States has seized our computer and—
YOU JUST LOST THE LEFT.
We're not running for anything and—
GRAYDON CARTER, I KNOW YOU'RE BEHIND THIS. YOU WILL PAY, GRAYDON.
What? Graydon Carter is not affiliated with this newsletter! Will you shut up, man?
This week, we return our gaze to swing states, a list that seems to be shifting in composition. Few paid much thought to states like Ohio and Iowa a few months ago; now it would be malpractice not to. Why not think about South Carolina, too? That doesn't mean Biden can just ignore Nevada, and Florida remains as irritating as usual. But first: Some promising polling news for Biden from the state at the center of it all.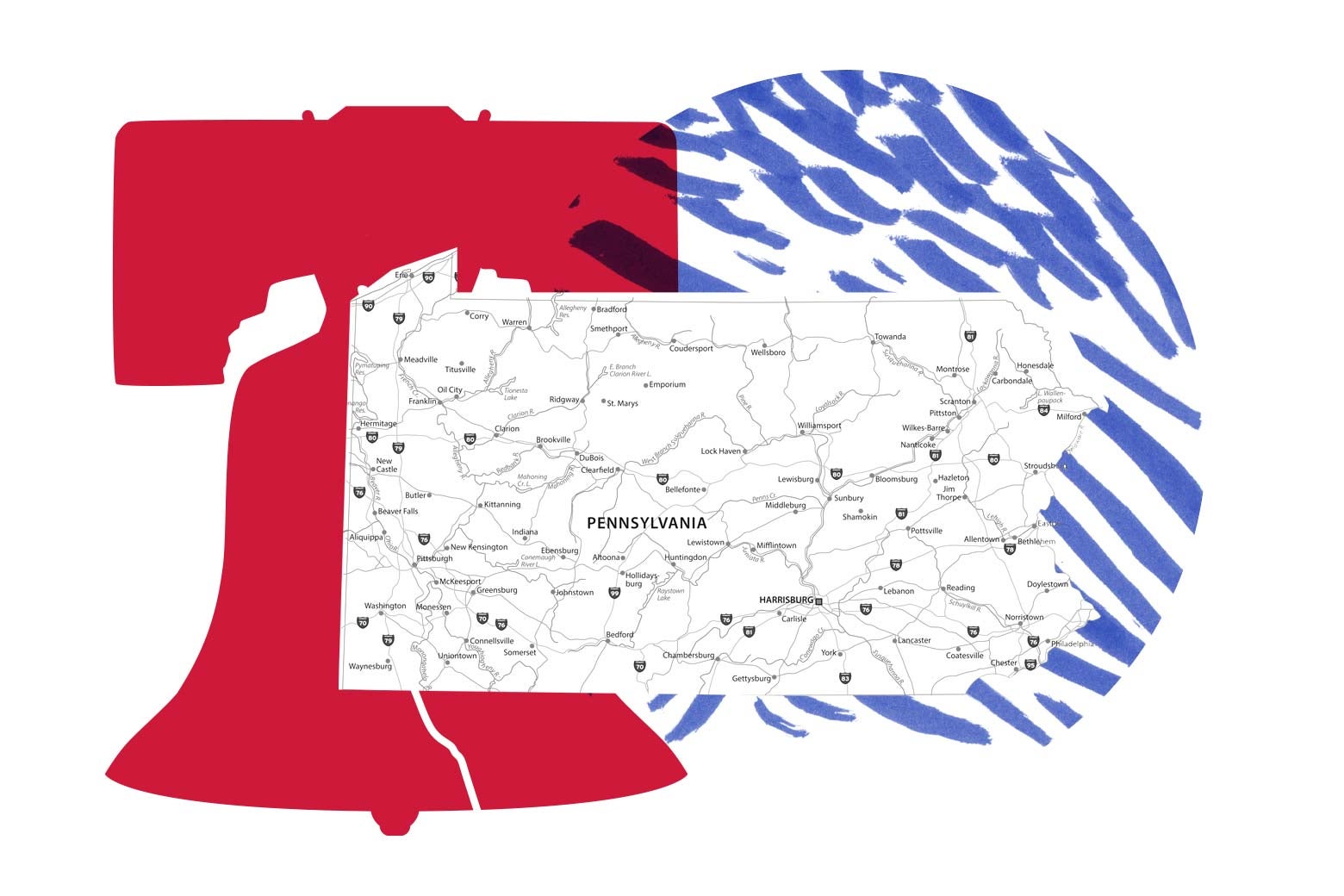 Last Week #2
1. Pennsylvania
"Bad things," in the super-cool sense, as in Donald Trump losing a presidential election, happen in Philadelphia.
The most direct path to victory for Biden, going by polling averages, is for him to hold all the Clinton-won states and flip Wisconsin, Michigan, and Pennsylvania. Pennsylvania has been the tightest of these three races, making it the current tipping-point state. So even though Biden's been having a good polling week (month, year), nothing should be as satisfying to Democrats as the two high-quality polls from Pennsylvania released earlier this week. One survey from ABC News and the Washington Post showed Biden leading Trump by 9 points, 54 to 45. Another by the New York Times and Siena College showed Biden leading Trump by … let's see here … 9 points, 49 to 40. These were polls taken before the president made an ass of himself before tens of millions of people on national television. Biden's lead over Trump in the state sits at 5.7 percent according to the RealClearPolitics polling average; Clinton's lead heading into Election Day in 2016 was 1.9 points, and she lost the state by 0.7 points. So let's just say it: There is not currently a majority or plurality of support for Donald Trump in Pennsylvania, or in the United States. It's becoming difficult, especially after Trump showed zero interest in the debate in reaching out to swing voters who are fleeing him, to see how such a majority or plurality could develop by Election Day. Trump knows it, and it's why we all should prepare for dangerous games with democracy instead.

Last Week #7
2. Ohio
How Biden is picking the lock on the Midwest.
When we last considered swing states, we demanded that pollsters do more surveys of everyone's once-favorite bellwether state, Ohio, which had fallen off the radar following Trump's comfortable win there in 2016. After our own hired goons visited the pollsters to, let's say, emphasize our interest in seeing these polls, they snapped into action. A Quinnipiac poll last week showed Biden leading by 1 in the state, and a Fox News poll showed Biden leading by 5. We'd still like to see more Ohio polls—pollsters, do we need to make another visit?—but the current average gives Biden a lead of 3.3 percentage points. We wanted more Ohio polls because we suspected Biden might be up given the coalition he's putting together this year. Biden is consistently hitting around 40 percent of whites without college degrees, compared with the 29 percent Hillary Clinton got in 2016, while comfortably carrying whites with college degrees. He's leading among seniors thanks to improvements with white seniors. The Biden campaign doesn't need Ohio, but given these demographic shifts, they'd be silly not to devote some of the $800 trillion they're raising per hour toward the state. And so they are.

Last Week #1
3. Florida
The Bloomberg campaign for Biden spends big.
As is our fate, the one big swing state that can count its votes quickly and serve as an election night proxy for who's going to win the presidency is resting on an absolute knife's edge. Biden's once-substantial lead fell over the late summer and early fall as Trump built strength with Cuban American and Venezuelan American voters, while Biden's numbers with Puerto Ricans weren't quite strong enough. Biden recognizes the problem and will visit South Florida again next week, while former foes, like Mi Familia Vota and the anti-Trump Republican consultants behind the Lincoln Project, are joining forces to improve Biden's margins. But the biggest development since we last wrote is the pledge from billionaire Michael Bloomberg to pour $100 million of his own money—about the amount he made on the stock market since we typed the em-dash that begin this aside—into Florida alone. That means ads, ground game, and paying off ex-felons' fines to allow them to vote. We'll see if this spending proves more effective than the billion dollars he spent on his own presidential campaign, though that's a low bar.

Last Week #5
4. Nevada
The machine is kicking in.
In our last swing-state edition, we told you to keep an eye on Nevada given Biden's softness with Latino voters and some COVID-induced hiccups in the efficacy of the typically well-oiled Clark County Democratic machine. Well, did you? Tell us what you learned here: ______________________. What we learned, thanks to some polls, is that Biden is leading in the state by either 11, 1, 4, or 5 points. Let's call it 5.3 on average, since that's what the average is. We'd encourage you, ahead of your next pop quiz, to keep an eye on veteran Nevada reporter Jon Ralston's wildly detailed early voting blog. One thing Ralston has observed in recent days is that the Democratic machine "appears to have kicked into gear" as the powerful Culinary Union and other groups have gone into the field to do what they do best: build up Democrats' registration advantage. On the preserving-democracy front, meanwhile, the state's Democratic attorney general has made clear that there will be prosecutions if the "poll watching" that Trump called for in Tuesday's debate becomes "voter intimidation."

Last Week #3
5. Wisconsin
Who's excited to rally in the COVID hot spot of the country?
COVID cases have been on the uptick again with outbreaks in the Midwest. And if you look at this national case map, your eye immediately will be drawn to the dark-red cluster around Green Bay, Wisconsin. Would you like to guess where Trump intends to hold a rally on Saturday? Hint: It's Green Bay, Wisconsin. Though there will be temperature checks and attendees will be handed (optional) masks to wear, local officials still do not seem to think this rally is a good idea! "Any massive gathering of people that occurs without social distancing, without masking has the possibility of being a super-spreader event," Green Bay Mayor Eric Genrich said. "I don't think the president would want to be involved in something like that." (Another possibility: Since attendees have to agree to waivers to register, the president doesn't give a shit.) Trump's standing in the state is now such that even the Republican pollster Trafalgar, whose methodology essentially assumes a best-case turnout scenario for Trump, has him losing.

Last Week Unranked
6. South Carolina
Why not?
Yeah, we saw it too. Quinnipiac released a poll this week that showed Trump a mere one (1) point ahead of Biden in the red state of South Carolina, and now everyone's going nuts about South Carolina being in play. What's an irritating, nonsensical pundit formulation that we could use to describe the Surge's mixed feelings about this? Hmm … got it: South Carolina has always been in play but barely in play at all. It's in the tier of "in play" for Democrats, along with Alaska, that's just beyond Texas. When the Surge was reporting a separate story about the Senate race there this week, experts described South Carolina as a 55–45 Republican state that's fairly rigid along those margins, and one that they expect Trump to carry by 7 or 8 points. As fun as that Quinnipiac poll was, another from just a couple days earlier showed Trump leading by 10. So go ahead: Allow yourself, for just a few minutes, to imagine that glorious moment around 2 a.m. on election night (or some night thereafter) where you've already held a solo dance party to celebrate Biden carrying Texas, and then the networks call South Carolina for Biden too. Remember that "LOL Obama won Indiana??" feeling you had in 2008? It would be like that, but if Obama had pulled off Missouri, too. Just don't get too caught up in it.

Last Week Unranked
7. Iowa
Like Ohio, but a few states over.
We don't have much to say about the other states—Arizona, Michigan, Georgia, North Carolina, we need some fresh gossip, please—so let's look at another one where Trump cleaned up in 2016 but where Biden has a strong chance given the demographic strides he's making with white voters. There are many white people in Iowa. In the most recent New York Times/Siena College poll of Iowa, Biden earned 41 percent of whites without college degrees. He led by 12 points among whites with college degrees. He led by 13 points among voters 65 and older. That adds up to an overall Biden lead over Trump of 3 points, 45 to 42. If (IF) the polls are accurate and if (IF) Trump doesn't order the military to throw away all Democratic ballots, this Biden coalition has the potential to roll in the Midwest.