Oct 30, 2020 4 days to Nov 03, 2020

Slate's guide to the 2020 races and politicians everyone's talking about this week.
Welcome to this week's edition of the Surge, Slate's 2020 campaign newsletter in which we take a look at if you have not voted yet, do not put your ballot in the mail. Drop it off at a ballot drop box or vote in person.
This will be our last Senate ranking of the cycle, unless we find a way to break down two potential January runoffs with four possible candidates in Georgia seven different ways. In this final edition, we find that all of the races that would determine control of the Senate are within the margin of error and question God's plan for us. The algorithm this week instructed Martha McSally to like Donald Trump, but he may not care for her. And how psyched are you for South Carolina? Well, maybe don't be. Michigan, we see you. We just don't think you're that close. But let's start, for the second consecutive Surge Senate ranking, with the latest on North Carolina and its treasured pastime of having affairs.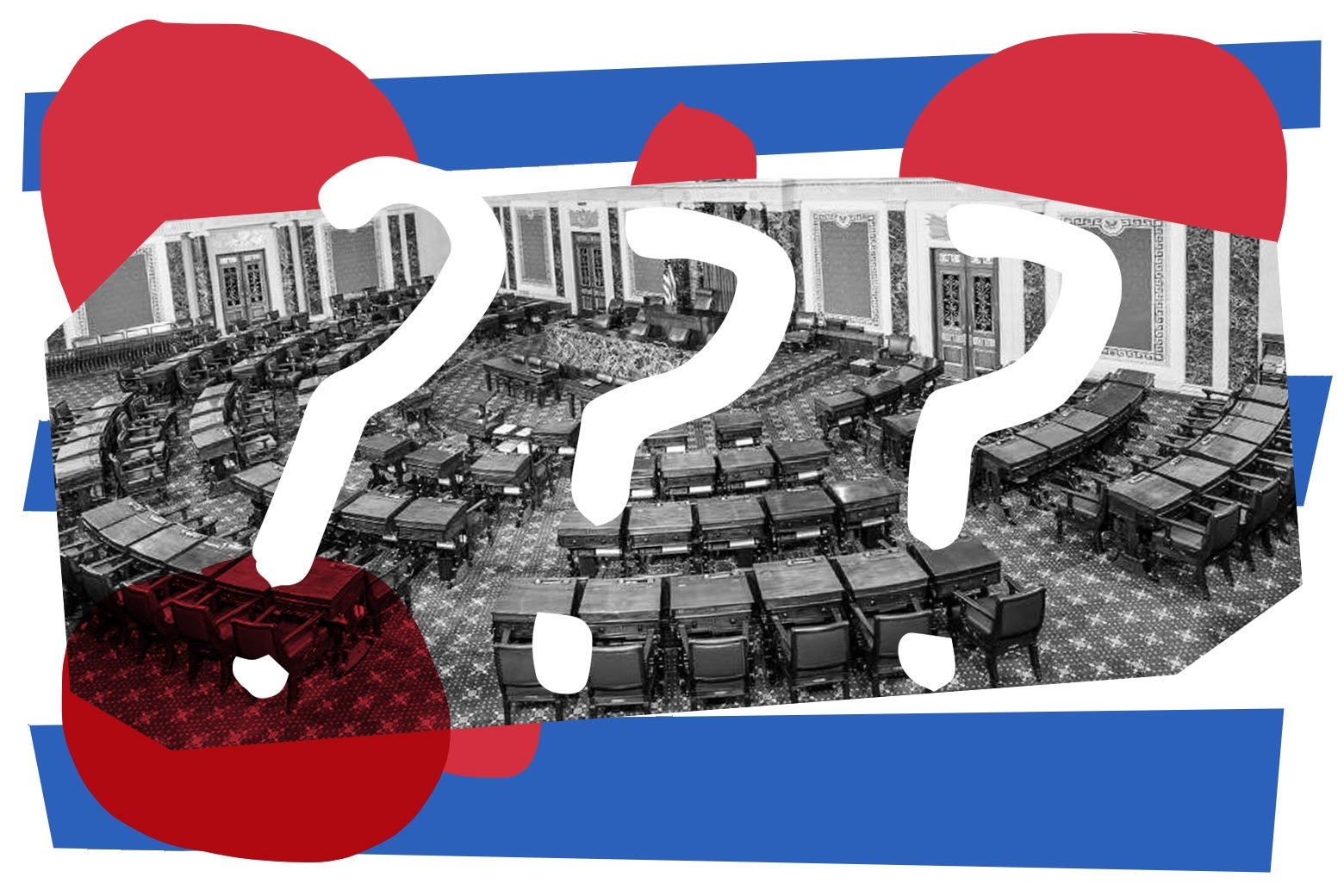 Last Week #1
1. North Carolina
In which the future of the country comes down to an illicit sex haver.
The Surge is so old that it can remember a couple of decent polls coming out for Cal Cunningham in the immediate aftermath of his sex scandal and analysis presuming that was the end of it. If you have learned anything in 2020, it should be that nothing's ever "the end of it." The GOP has spent millions of dollars in ads about Cunningham's affair(s), the aggregate sum of which Cunningham cannot specify, and Sen. Thom Tillis has portrayed his opponent as untrustable. Cunningham's numbers are essentially flat over the past couple of weeks, but Tillis has risen out of his basement of the low 40s. The most recent RealClearPolitics average has him trailing Cunningham by about 1.6 points. This is looking like a race that will be carried by the party that also wins the state in the presidential race. And as a likely tipping-point Senate race to determine control of the Senate, Biden may not need North Carolina to win the Electoral College, but he may need it if he wants a Democratic Senate. Great. No other candidate can afford to have an affair in the next few days, OK? We are calling for a COMPLETE and TOTAL shutdown of NONSPOUSAL SEX until all ballots are cast. Just get through Tuesday, and then we'll go back to everyone having sex with everyone all the time.

Last Week Unranked
2. Georgia (both races)
One state, two races, one entry.
A lot of ground to cover here, so we can't waste time: What did you all make of Clare on The Bachelorette on Tuesday? Was she spending too much time with Dale?? Ugh, sorry, sorry, we got distracted … In Georgia, we have two races: Sen. David Perdue is facing a stiff reelection challenge from Democrat Jon Ossoff. It's essentially a tie and if no candidate can cross 50 percent next week, it will head to a runoff in January. The more tragic/fun race, though, is the special election, in which the top two candidates in a much broader field will also advance to a runoff in January if no one hits 50 percent next week. There's a lot of frustration on each side. For Democrats, pastor Raphael Warnock has been trying to consolidate the Democratic vote so he has a chance at 50 percent on Election Day, but a couple of other, definitely losing Democrats, including Joe Lieberman's bad son, refused to quit. For Republicans, Sen. Kelly Loeffler—who was selected to serve temporarily and run in the special because she might appeal to suburban women—is going to wild lengths to wrest conservative votes from the other major Republican in the race, Rep. Doug Collins. She solicited and touted an endorsement from extremist House nominee Marjorie Taylor Greene, a person on whom the real Loeffler would call the cops if she ever came anywhere near her named estate, Descante. Loeffler has released multiple ads saying she's more conservative than Attila the Hun? And most recently, she has been denying knowledge of the Access Hollywood tape. If Loeffler gets into a runoff with Warnock, the pivot is going to be unreal.

Last Week #3
3. Maine
Will Susan Collins' Barrett vote matter?
Sen. Susan Collins was the one Senate Republican who didn't go along with the raw power grab of installing Amy Coney Barrett to the Supreme Court, whose confirmation she voted against. Not that she had much other choice: Her vote for Brett Kavanaugh did enough damage to her brand of independence in the blue-leaning state, and going along with the Barrett confirmation would have stripped off whatever remained. So her vote may have mitigated the damage. But can it actually help her come back from her modest deficit to Democratic challenger Sara Gideon? FiveThirtyEight rates Gideon a slight favorite, with polls in the past couple of days showing Gideon—who has not trailed in a single poll in months—still leading by a few points. This one is not in the bag for Democrats, though. Collins has a powerful message to her constituents in observing that she's next in line to run the Senate Appropriations Committee—which is to say, she's next in line to be the one who divvies up all federal spending—a message she's been hammering relentlessly.

Last Week #6
4. Arizona
The strange Trump dance continues.
Does Sen. Martha McSally like Donald Trump? Depends on that morning's polling data. A few weeks ago, a debate moderator couldn't get her to answer a simple question about whether she was proud to support Trump, and she wouldn't reveal how she was voting in the presidential election, citing the privacy of the secret ballot. But that was at Trump's nadir following his disastrous first presidential debate and COVID-19 diagnosis! Now Trump's numbers are apparently up just enough for her to announce that she's voting for him and to speak at his rallies. Could it be, though, that Trump—yes, Donald Trump!—might hold a grudge? Because at his Phoenix rally this week, Trump rushed McSally's speaking time, saying: "Martha, just come up fast. Fast. Fast. Come on. Quick. You got one minute! One minute, Martha! They don't want to hear this, Martha. Come on. Let's go. Quick, quick, quick. Come on. Let's go." He gave more speaking time at his rally to Sens. Mike Lee and Rand Paul, House Minority Leader Kevin McCarthy, and even British Brexit nut case Nigel Farage. It's always a grind for Martha! Her opponent, space traveler Mark Kelly, is heavily favored to win.

Last Week #2
5. South Carolina
Ah! Well. Nevertheless …
Silly old Lindsey Graham thought he could just break his word on filling a Supreme Court seat before an election and win by getting conservatives to rally around him in his red state. Well, we've got news for Lindsey: Your precious little plan is … working. In one gut punch of a New York Times/Siena poll released Oct. 15, Graham was leading his opponent, Democrat Jaime Harrison, by 6 percentage points. The FiveThirtyEight forecast shows Graham winning by 5 points, about what would be expected in a state that Trump will win by about 8. This follows a trend of outer-rim races like those in Alaska, Texas, Kansas, and Montana falling a bit out of reach for Democrats in the polling this month as Republican voters come home. There's a gap between the core five pickup opportunities in Colorado (we don't even need to write about Cory Gardner this week, he's toast), Arizona, Maine, North Carolina, Iowa, and then the rest. That doesn't mean they're lost. We spend a lot of time war-gaming electoral scenarios in which there's systemic polling error undercounting Republican voters. There's no reason why the miss couldn't be going in the other direction.

Last Week Unranked
6. Iowa
Toss-up fatigue.
Would it hurt the Politics Gods to just allow for some clarity and not make everything a nail-biter? We had North Carolina as the deciding race for Senate control, and Cal Cunningham built up a comfortable lead by the beginning of October. Nope, too easy—he's got to have affairs and drag it back to a dead heat. Georgia, you want to step up? Oh, you'll wait until January, sure, TAKE YOUR TIME. That leaves Iowa as the other option. How's that looking? Oh, you know, complete dead fucking heat, probably to be decided in tandem with the winner of the presidential contest. Can someone just take a 4-point lead somewhere before this country and all its people have a simultaneous meltdown? You, Theresa Greenfield—go take a 4-point lead against Joni Ernst in the polls by Monday. Get her to screw up the soybean thing again. Whatever. Just get it done.

Last Week Unranked
7. Michigan
Sure, we'll put it on here.
Just about each time we do this Senate rankings, we ask ourselves the next day: Should we have reserved a lil' spot for John James? Even today, we would rather spend another spot about Kelly Loeffler being ridiculous. But let's be on the record for acknowledging the Michigan race: Yes, Democratic Sen. Gary Peters is a weak, almost anonymous incumbent even in a favorable cycle for Democrats, and yes, Republican John James—who ran strongly against Sen. Debbie Stabenow last cycle—is Senate Republicans' best recruit this cycle. Yes, that New York Times/Siena poll earlier this month showing James behind by 1 point was terrifying to a lot of Democrats. And no, John James is not likely to win this race. The last five polls show Peters leading by 6, 6, 9, 8, and 9 percentage points. In other words, the race is effectively tied to the top of the ticket. If James wins, then, Democrats won't even notice as they'll be preoccupied with much bigger problems.