Oct 09, 2020
25 days to Nov 03, 2020

Slate's guide to the 2020 races and politicians everyone's talking about this week.
Welcome to this week's edition of the Surge, Slate's campaign newsletter. COVID and the election got you anxious? Here's a relaxing thought: The president of the United States is Donald Trump, and he's literally on steroids.
This week in our tour de politique is Senate races. Overall, the picture looks grim for Republicans. Cory Gardner and Martha McSally are about cooked, Lindsey Graham is cooking, and Dan Sullivan and John Cornyn are being tossed into the pot. Susan Collins is insulted that you would even think about cooking her, complaining much like a lobster would as the lid closes on the steamer. (We've taken this too far, haven't we?) The one good thing Republicans have going—and it's a really good thing to have going—is that Democrats have recruited a moron in North Carolina.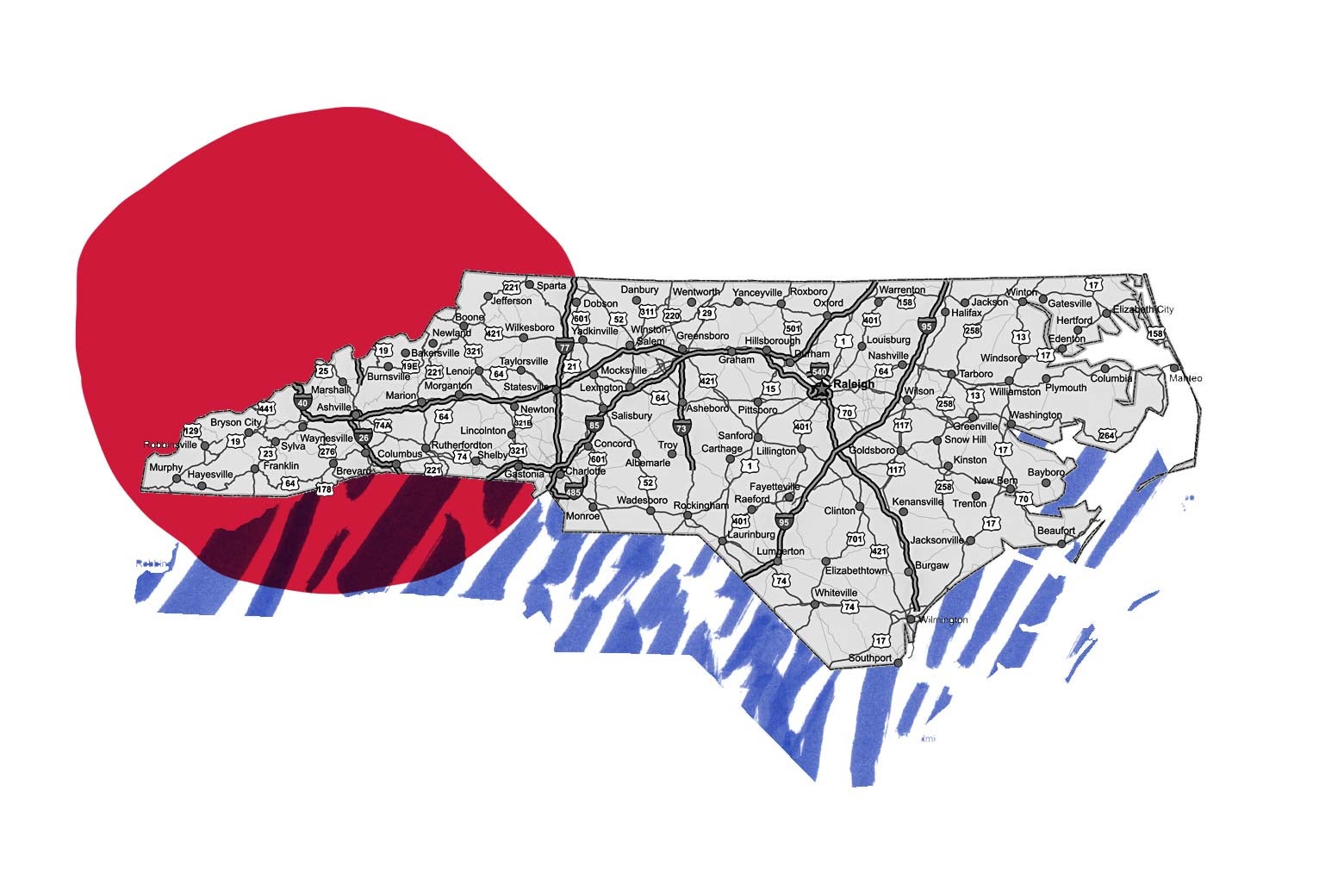 1.

North Carolina How quaint: an affair.

After months of stories along the lines of "the president who gases people in the streets wants to throw away ballots that aren't for him," there's something wholesome about a traditional "October surprise" involving a toothy politician cheating on his wife. And Cal Cunningham, the North Carolina Democratic Senate candidate who'd just built up a comfortable lead against Sen. Thom Tillis in the tipping-point race to determine control of the Senate, indeed cheats on his wife enough for there to be multiple follow-ups with no clear end in sight. At least Cunningham isn't too gross in his text messages, which read along the lines of Aw yeah baby, I'ma kiss your face a bunch!!! What an idiot. Democratic control of the Senate hinged on this uncontroversial troop-lawyer's ability to beat Tillis. He had Tillis beat. And then, Oh, I'm going to have an affair. Unbelievable. Unbelievable! But can he still win? Since the scandal broke, a couple of Democratic pollsters found him still leading Tillis, though one independent pollster has Tillis leading by 1. Tillis, who picked up COVID at the White House Judicial Superspreader Bonanza, isn't exactly setting the record for brilliant recent choices either. Cunningham could still pull it off, but there's a little extra stress on Theresa Greenfield in Iowa or Jaime Harrison in South Carolina now to supply the Democratic Senate majority. Just incredible. An affair. Who even has the time?

2.

South Carolina A dead heat.

The Surge's posture on the South Carolina Senate race has officially gone from "We don't believe it" to "Hmm?" to "WATCH THIS SPACE." It is a real, live dead heat that each party is treating as such. What Sen. Lindsey Graham has tried to do in recent weeks is to consolidate Republicans in a red state by emphasizing his role in delivering conservatives a 6–3 Supreme Court advantage and warning the state of liberal horrors to come if (extremely well-funded) challenger Jaime Harrison gives Sen. Chuck Schumer a Democratic majority. That's what the playbook recommends. But things would be a lot easier for Graham if he hadn't done such damage to his credibility by flip-flopping on the question of filling a court vacancy in the final year of Trump's term. The boost he's received from conservatives has been at least partially offset by a collapse in those who view him as honest. The Cook Political Report this week, which had rated the race as "Solid Republican" in April, has now shifted it all the way to "toss-up."

3.

Maine It's rude of you, trying to beat Susan Collins like this.

Susan Collins has won her past three Senate reelections with 58, 61, and 68 percent of the vote. She hasn't participated in a truly contested election since 1996, when competitive politics were waged at a fraction of the present-day cost. She seemed unused to modern political warfare in 2018, when she complained about the millions of dollars being spent in Maine to sway her to vote against confirming Brett Kavanaugh, and she seems unused to it now. "She will say or do anything to try to win," Collins said of her Democratic opponent, Sara Gideon, in an interview with Politico this week. "This race is built on a foundation of falsehoods. And trying to convince the people of Maine that somehow I am no longer the same person." The race, she added, has been "frustrating because it's backed by so much money. And it's been going on for two years now: Non-stop negative ads. That eventually it pulls you down." Collins has spent decades building a Maine brand as a practical moderate, and she gets sharply defensive whenever someone has the audacity to challenge that brand as, perhaps, a construction that deserves challenging. Why even cast votes when you have to live with the consequences of them? Gideon narrowly leads Collins in the most recent polling average.

4.

Colorado At which lobbying firm will Cory Gardner land?

The day after the Surge wrote its previous Senate rankings, Ruth Bader Ginsburg died. (We want to preemptively apologize to whoever dies after this edition comes out.) In the immediate aftermath of RBG's passing, vulnerable Senate Republicans sorted themselves on the question of replacing her according to the partisan tilt of their state. GOP senators from Iowa, North Carolina, South Carolina, Texas, Arizona, Georgia, Montana, and Alaska agreed to fill the seat before the election. Susan Collins said she would not agree to fill the seat before the election. Then there was the anomaly: GOP Sen. Cory Gardner, who represents the blue-leaning—or just, by this point, blue—state of Colorado and agreed to fill the seat before the election despite it. It's the kind of political sacrifice to an ideological end goal that should land Cory Gardner at the GOP lobbying firm of his choice come January.

5.

Alaska Ooh, a new one!

Earlier this month, Senate Democratic leader Chuck Schumer forced a procedural vote on a bill to prevent the Justice Department from advocating in court to strike down the Affordable Care Act. The vote wasn't successful, but it picked up support from some vulnerable Senate Republicans: Iowa Sen. Joni Ernst, Colorado Sen. Cory Gardner, Arizona Sen. Martha McSally, Maine Sen. Susan Collins—and Alaska Sen. Dan Sullivan. Yes, reader, the junior senator from Alaska, most famous in the Capitol for his weekly Senate speech on "Alaskan of the Week," is in a real one against Al Gross, an independent who also won the Democratic nomination. Alaska is no longer a safe red state, and Gross is raising gobs of money by the standards of an Alaska race. He raised $9 million in the second quarter of the race. To put that in perspective, that's nearly $2 million more than the United States paid Russia for Alaska back in the day. (Yeah, yeah, yeah, inflation, we know, but we're trying to make a gag here.) Sullivan's campaign manager told the Anchorage Daily News this week that Gross was outspending them 5-to-1 in the race. As they say in Alaska, "Don't sleep on Alaska, otherwise a polar bear will eat you, for fun."

6.

Arizona "Are you proud of your support for President Trump?" "Why yes, I do love being an independent-minded veteran."

Arizona interim Sen. Martha McSally may be even more doomed than Gardner, and Gardner willingly jumped on a grenade for Mitch McConnell. McSally has only led her opponent, Democratic space-troop Mark Kelly, in one (crappy Gravis) poll since the beginning of May—May 2019, that is—and it's been the most-polled Senate race of the cycle. Her challenge in managing the shifting political sands of Arizona was captured, in a nutshell, in an excruciating exchange with the moderator during a debate this week. She would not, despite repeated follow-ups, answer the question of whether she was proud of her support for President Donald Trump. McSally has morphed her political self-presentation numerous times over the past decade, but now she's stuck in a glitch.

7.

Texas The Republicans are distancing themselves from Trump.

It's not just McSally resisting the ties to Trump. As the Associated Press wrote this week, Senate Republicans may not be fleeing from Trump since his poll numbers plunged further following last week's debate and the White House COVID outbreak, but they are giving him a stiff-arm. McConnell, in the midst of his own (likely) reelection, said on Thursday that he hasn't been to the White House since early August "because my impression was their approach to how to handle [COVID] was different than mine and what I insisted that we do in the Senate, which is to wear a mask and practice social distancing." And Texas Sen. John Cornyn, McConnell's former deputy who's not out of the woods in his bid for a fourth term, was similarly critical of the president's recklessness. "I think he let his guard down," Cornyn told the Houston Chronicle, "and I think in his desire to try to demonstrate that we are somehow coming out of this and that the danger is still not with us—I think he got out over his skis and frankly, I think it's a lesson to all of us that we need to exercise self-discipline." It's not a full-on jailbreak, but Senate Republicans are definitely starting to take note of the guards' shift-change patterns.