Oct 23, 2020
11 days to Nov 03, 2020

Slate's guide to the 2020 races and politicians everyone's talking about this week.
Welcome to this week's edition of the Surge, Slate's weekly campaign newsletter. Because we don't trust notorious international scoundrel Lesley Stahl to put our words in context, we are releasing the full, raw Surge ourselves. Try to edit this, Stahl.
This will be our last swing state ranking before the election and folks … there's not really much to say? Biden is leading in most of the swing states, and thus in the election, by about the same margins he's been leading the whole time. For all that's going on, there's not much "going on" with the boring numbers. The country has seen enough, and it's time for the courts … we mean, it's time for the voters to pick the next president!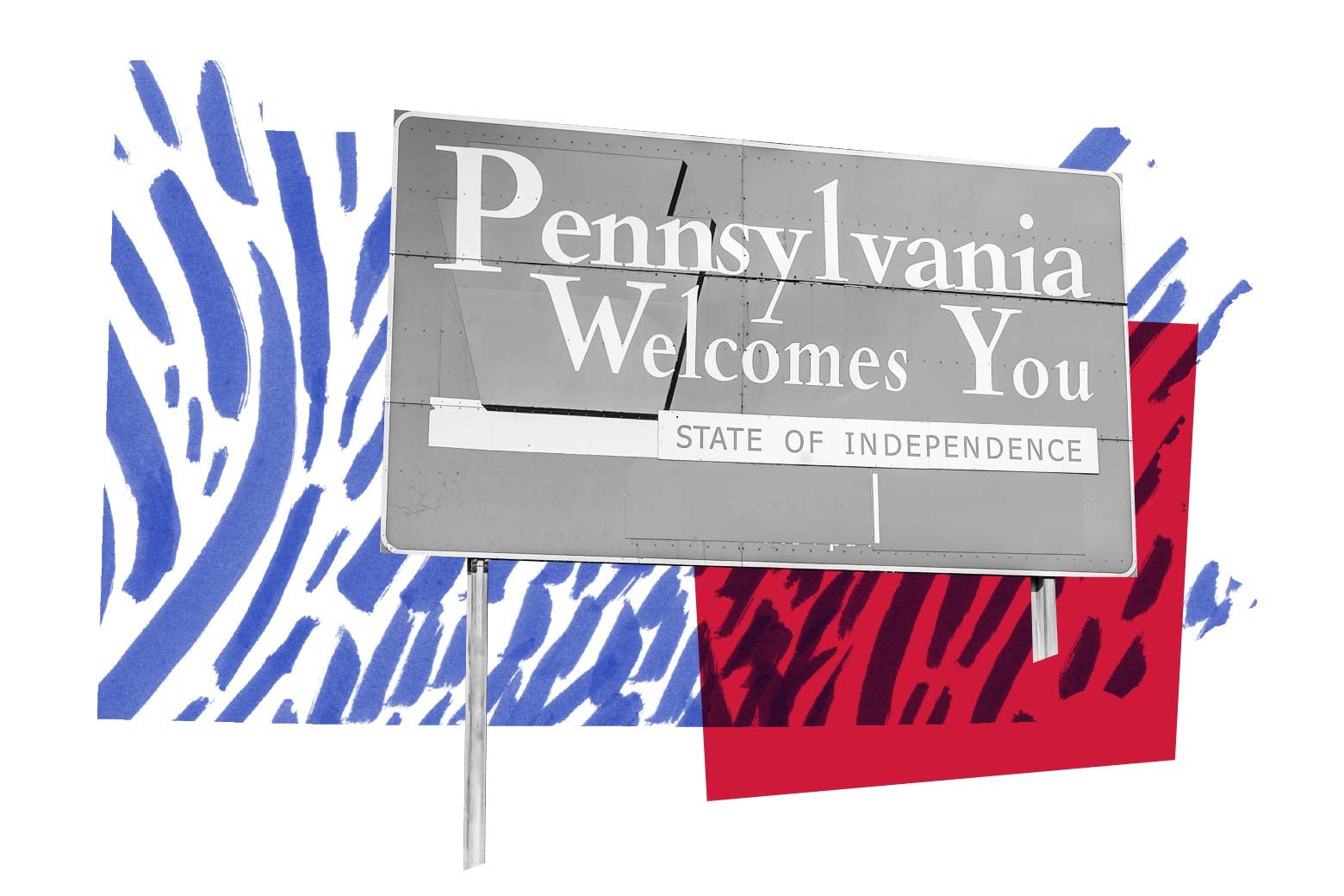 1.

Pennsylvania Just gotta count the votes. (Is that legal?)

Eleven days out from Election Day, here's how we'd sum up the status of the race: The tipping-point state to determine an Electoral College majority is Pennsylvania, and Donald Trump hasn't led in a poll there since late May. Not even in an occasional, GOP-tilted Trafalgar or Rasmussen survey. So where does Trump's comeback path lay? Well, if he could persuade Hunter Biden to replace Joe Biden atop the Democratic ticket, his attacks on Hunter might pack more of a direct electoral punch. Barring that, his hopes rest on a polling error both in the same direction and of a greater magnitude than the polling error that missed his Midwestern support in 2016. And if that brings the tally to a jump ball, he'll need a friendly, overtly partisan court system to tip decisions in his favor. It's that last part that's well within the cards! This week, the U.S. Supreme Court, by a 4–4 split decision, denied a challenge to a Pennsylvania Supreme Court decision allowing mail votes postmarked by Election Day to be counted so long as they're received within three days after the election. Democrats welcomed the decision in the short run. The looming problem, though, is that there's a brand new conservative judge joining the court next week. If the polls are somehow underestimating Trump's support, and Pennsylvania's vote count ends up being decided at the Supreme Court, we have a pretty good idea which way they will rule once Amy Coney Barrett is elevated.

2.

Florida Welcome to the fray, hostile foreign actors!

On Wednesday night, the FBI hastily assembled an evening press conference to deliver some news: It's foreign interference time! FBI Director Christopher Wray and Director of National Intelligence John Ratcliffe accused Iran and Russia of obtaining registration data and sending fake, threatening emails to voters. And as with 2016, Florida voters were targets. Earlier this week, voters in (heavily Democratic) Florida counties received emails purportedly from the Trump-supporting, far-right group the Proud Boys, warning voters to vote for Trump "or else." Ratcliffe, curiously, claimed during the press conference that these emails—the alleged work of Iran—were "designed to intimidate voters, incite social unrest and damage President Trump." One second-order effect of threatening Democratic voters with violent attacks if they don't vote for Trump is that it could be reported out and embarrass Trump, or even motivate voters to go to the polls. A first-order effect, though, is that it could intimidate Democratic voters with violent attacks if they don't vote for Trump. In any event, Florida remains as competitive as ever, with Biden leading Trump by 2 percentage points in the latest polling average. To mentally prepare for Nov. 3, though, you should expect the state to be decided by two votes, not two points. (Also: Expect the last three Biden votes to be thrown out by the Supreme Court.)

3.

Texas One last time: It would be cool …

Why yes, we're putting Texas in the "Texas-sized" three-hole here, yeehaw, boy-howdy, etc. We're doing so because the magnitude of early voting, in what's expected to be a record-shattering turnout year, has been most pronounced in Texas. As of early Thursday afternoon, nearly 5.9 million votes had been cast in Texas. That—with 11 days to go before the election!—was already at 65 percent of the 2016 total for ballots cast. This week we also saw polls from Quinnipiac, Data for Progress, and Morning Consult that either had Biden up by 1 point or even with Trump in the state. While Trump is still up by 4 points in RealClearPolitics' polling average of the state, FiveThirtyEight's forecast gives Biden about a one-in-three chance of winning it. This is all happening, too, in an environment where the campaigns have barely spent anything in the state. We spend a lot of time, following the 2016 shock, speculating about what it means if the polls are underestimating Trump's support. If the polls are underestimating Biden's support—and there's no reason why they couldn't be—then Texas could go blue. And here's why Texas going blue would be crucial: because it would be funny.

4.

Iowa Getting competitive by narrowing Trump's margins among his base.

Hillary Clinton lost Iowa by 9 percentage points, 51 to 42, in 2016. The state is now a dead heat. This is a good opportunity to note that it's not just white seniors and whites with college degrees fleeing Trump: Trump's underperformance among whites without college degrees is a key driver of Biden's polling success in the Midwest. In the 2016 Iowa exit polls, whites without college degrees made up 50 percent of the electorate, above the national average. Trump won them by 20 points, 58 to 38. In a New York Times/Siena poll of the state this week that showed Biden leading Trump by 3 points overall, whites without college degrees were 58 percent of the sample, but Biden was only losing them by 7 points, 48 to 41. When the gap is that narrow among what's recognized as Trump's "base," and when Biden is then leading by 19 points among whites with college degrees, well, congratulations to Iowa: You're competitive again.

5.

Wisconsin Oh fun, voting in the epicenter of a national coronavirus spike.

One thing to keep in mind as we wonder whether the polls are off in a certain direction: There's another national coronavirus spike now with one of its major epicenters being in the top-tier swing state of Wisconsin. That coronavirus has made Wisconsin its home stadium, just before the election, might not be great news for the president, who's consistently downplayed the coronavirus as a problem—even after having it!—or for Wisconsin Republicans, who have fought the state's Democratic governor, Tony Evers, tooth and nail over restrictions he's imposed. Cheeseheads might be irritated, too, that they're having to vote in person in the middle of an outbreak because nobody trusts the state's mail-in voting infrastructure. That doesn't mean it will stop them: On the first day of in-person early voting this week, 75,000 people voted. Along with absentees already cast, that means that more than one-third of the 2016 Wisconsin electorate has already participated in the 2020 election with more than a week to go. Whom this is better for remains to be seen.

6.

Nevada Trump's one real shot at a flip.

In a campaign staff call on Monday during which the president himself hijacked the phone to launch off a string of profanities, campaign manager Bill Stepien said that "if the election were held today, the president would win Nevada." Well, probably not. But it is polling about the same for Trump as Wisconsin and Pennsylvania are, and it could provide Trump a clinching state if he splits the difference in those two. If Trump held all of his 2016 electoral votes save for those of Michigan, Pennsylvania, and Nebraska's 2nd District, he would have 269 electoral votes, enough for a tie. If he took Nevada on the sly, though, then that would clinch a new path to victory for him. In other words: Stepien isn't just talking about (and scheduling visits to) Nevada as a means of humoring the president in the way that, say, he buys ads in D.C. for Trump to see on Fox News.

7.

Georgia The rare prize where Biden's being outspent.

Georgia! Everyone's polling it, and it more or less shows a tie. There are a lot of new registered voters this cycle in the growing state, which Trump only won by 5 percentage points in 2016. And yet, for a state this competitive, there's a wide disparity in spending between the two campaigns. If you look at this New York Times visualization of ad spending since May, Biden is outspending Trump in just about every major battleground—but not Georgia, where the Trump campaign's ad spending has dwarfed its competitor's. While the gap is narrower, the Trump campaign has also outspent Biden in Ohio and Iowa. That the Trump campaign, however, has had to spend any money defending these must-win states is a sign of its weak position. If Trump loses the Peach State this year despite wildly outspending his opponent, it will be part of a Biden landslide that made all of our anxiety look like a waste of time. A Surge can only dream.