Sept 18, 2020 46 days to Nov 03, 2020

Slate's guide to the 2020 races and politicians everyone's talking about this week.
Welcome to this week's edition of the Surge, our 2020 election newsletter surveying eerily stable races across the country and wondering what hellish, closing trick 2020 is about to play. Meteor or mass polling error? Let's hope for the former.
This week, we're going to look at Senate races. We allow ourselves to buy into the South Carolina race as a real contest, examine the politics around vaccinations, observe the mind-bending two-track contest in Georgia, and come up with a complex theory for why Montana Republicans up and down the ballot are struggling. But first: To the lobster cave!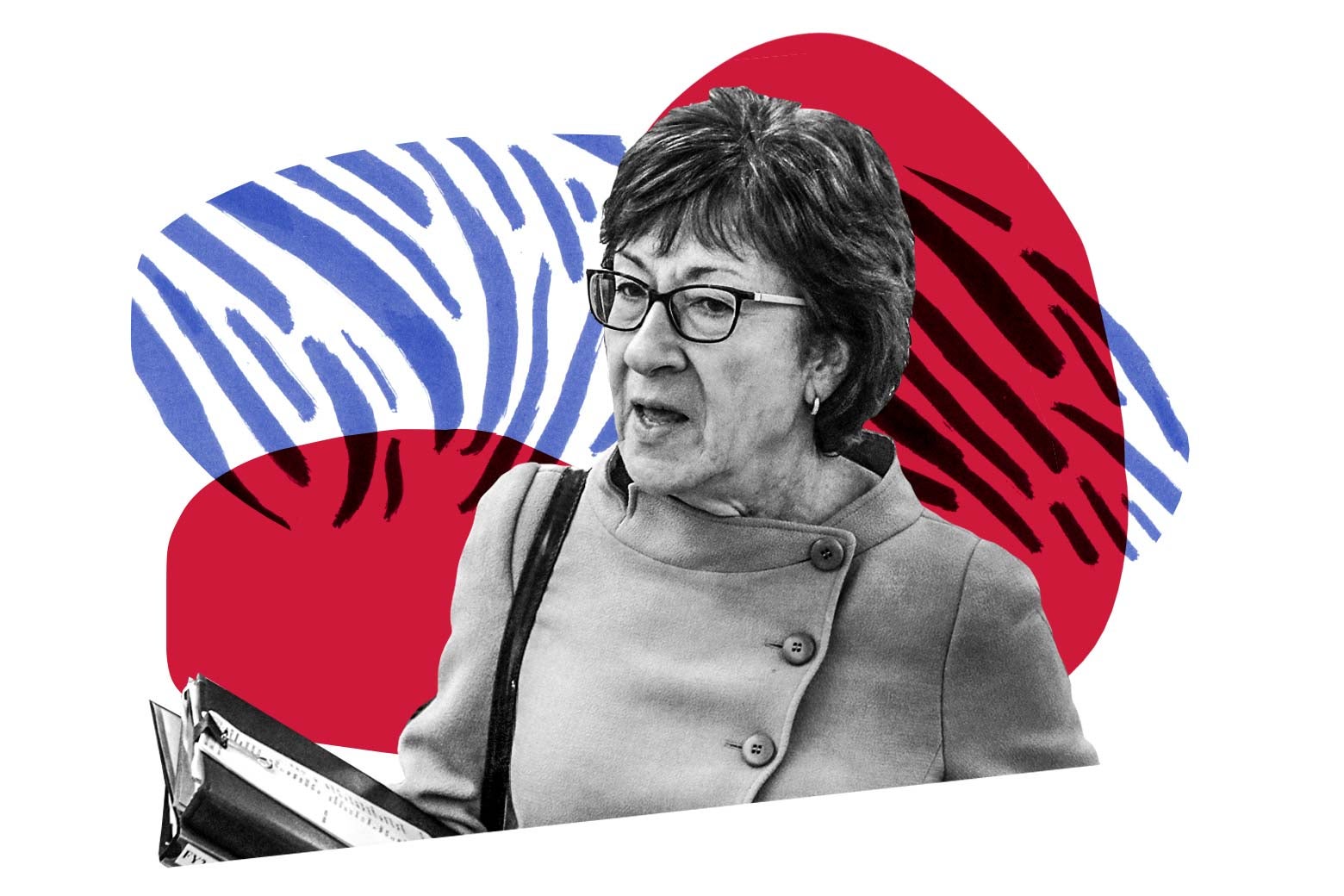 1. Maine
Susan Collins is FINISHED. (Or the one poll is bad.)
Putting this race in the top slot feels a bit like cheating. Sure, there was a Quinnipiac poll this week that showed GOP Sen. Susan Collins trailing her Democratic opponent, Sara Gideon, by 12 percentage points, 54 to 42. That margin would suggest that Collins is finished and should retire to Maine to spend more time with her beloved friends, the lobsters. But … the poll smells funny and we don't believe it? Every other poll of the race—and there haven't been too many—has shown Gideon with more modest leads in the low to mid–single digits. Quinnipiac's poll of the presidential race in Maine, meanwhile, found Joe Biden leading Donald Trump by 21 points in a state that Clinton only carried by 3 in 2016. So the numbers are suspect and will be melted down a bit when tossed into the celebrated lobster pot we call the polling average. That said, there is still reason to believe Maine is a growth state for Democrats this cycle given that it has the oldest population of any state in the country, and older white voters are one of Biden's strongest growth groups this cycle. (For more on both the Maine Senate race and Biden's growth among older voters, clicky clicky.)

2. South Carolina
Dare to believe?
South Carolina Sen. Lindsey Graham is in a political position with which he's unfamiliar. Typically during reelection time, Graham has to concentrate most of his worries on getting through a Republican primary where voters are angry at his relatively moderate views on immigration. Then he can coast through the general election. This year, though, the Graham who transformed into a loyal Trump lieutenant coasted through the primary and is facing a real general election against Democrat Jaime Harrison. South Carolina is still a red state, but it's not immune to the demographic trends that have made its neighbors, North Carolina and Georgia, competitive. Has the state purpled just enough, though, that a strong Democratic recruit raising disturbing amounts of money can energize the state's Democrats and win enough independents to take out a suddenly polarizing incumbent? Two of the past four polls of the race between Graham and Harrison showed them tied, while the other two had Graham leading by 1 and 3 points. Yeah, it's got our attention.

3. North Carolina
Let's consider "vaccine politics," a not-at-all frightening term.
Jaime Harrison is allowed to blow it, if he must. It's South Carolina! But Cal Cunningham, the North Carolina Democratic challenger to Sen. Thom Tillis, is not allowed. Cunningham's contest stands a good chance of being the tipping-point race that decides control of the Senate. If he blows it, well, he's officially exiled to Maine for a life sentence of bathing Susan Collins' lobsters. So our blowing-it-o-meters were set off this week when Cunningham said in a debate he would be "hesitant" to take a COVID-19 vaccine, adding that he would have a lot of "questions" because of "the way we've seen politics intervening in Washington." Both Tillis and national Republicans slammed Cunningham immediately after the debate for his "anti-vaxxer" conspiracy theory. The question, however, was whether he would feel safe taking a vaccine if it was available by Election Day. On Nov. 3. Forty-six days from now. Polling shows that majorities of the country share Cunningham's hesitancy and fear that political pressure is causing the Food and Drug Administration to "rush" the vaccine. The Surge doesn't share this hesitancy: If the odds of a mystery injection today are 20 percent "effective COVID inoculation" and 80 percent "Raiders of the Lost Ark face melt," we'll roll the dice. But fears are understandable when, say, the Centers for Disease Control and Prevention director testifies under oath that vaccines won't be widely available until mid-2021 and immediately gets chewed out by the corrupt president who's nearing his reelection. If Tillis and company want to get the most meat out of their "anti-vaxxer" attacks, they should urge the president to stop converting more Americans to vaccine skepticism by being the way that he is. But anyway, the race is tight.

4. Arizona
What years of opportunistic reinvention gets you.
Democratic spaceman Mark Kelly still has a nice edge over Arizona Sen. Martha McSally, with the most recent polling average showing him leading the incumbent by 6.4 percentage points. Digging into the last couple of polls, we see an asymmetry in support among the candidates' own partisans, which would explain why McSally is running behind Trump. In a September CBS poll, Kelly had 92 percent of Democrats' support, with only 3 percent opposing him. McSally only has 85 percent of Republicans, with 7 percent opposed. A Monmouth poll this week shows Kelly earning 97 percent of Democrats, with only 3 percent opposed; McSally earned 88 percent of Republicans, with 6 percent opposed. The positive way to look at this for McSally, then, is that she has room to grow. But what if she doesn't do it? It would be a fitting end for a candidate who's wildly changed her positions on core issues depending on which constituency she's seeking to represent, or which phase of the election she's in. With absolutely no appeal to the other side, which sees through her, and limited trust among her own, McSally could find herself in a political Nowheresville of her own making.

5. Georgia
Republican faceoff!
We've got two Senate races in Georgia this year. The first is a regular race in which GOP Sen. David Perdue is up for reelection against 2017 breakout-star loser Jon Ossoff. The second is a special election to replace retired Sen. Johnny Isakson in which a jungle election—candidates of all parties run in the same field—will take place on Election Day, with the top two facing off in a runoff later. What interests us is how the two different formats are leading Republicans to run completely different strategies. Perdue is in a tight race against a Democrat in a purplish state. That's why he, who's been a loyal Trump ally for most of the past three years, has been trying to play to the middle recently. It's creating some dissonance, though, with the other race, in which Sen. Kelly Loeffler (who was given Isakson's seat when he retired but now has to actually compete for it) and Rep. Doug Collins are vying to win over the most Republicans. This is why you see Perdue, on one channel, speaking about bringing people together, and Loeffler, on another, picking a fight with the players of the WNBA team she owns as part of an anti–Black Lives Matter crusade she's been on. The most mysterious question of all in these races? It's why Perdue or Loeffler, two extremely rich people who could just be playing golf every day, want to be in the Senate.

6. Colorado
Can anyone say, for sure, that the candidates haven't been kidnapped?
This Colorado race gets the 2020 Surge Award in Campaign Innovation for the candidates' efforts to eliminate even the most remote possibilities of spontaneity. GOP Sen. Cory Gardner and former Democratic Gov. John Hickenlooper, as the Denver Post recently wrote, "have appeared in zero combined candidate events to date," and won't debate until October. Otherwise, it's all a paid-media war. As the Post explains, both candidates have good reason to be shameful cowards. Hickenlooper has been posting comfortable leads throughout the race but, despite being elected mayor of Denver and governor of Colorado, can't speak good. Cory Gardner can speak, but each question he's asked requires him to perform advanced calculus negotiating his support from Trump's base versus the overall blue tilt of the state. We look forward to their first debate, in which the two candidates will say, "No, you go first" to each other for the duration.

7. Montana
Is there a worse Republican ballot?
Incumbent GOP Sen. Steve Daines still has a slight polling edge over Democrats' prized recruit, Gov. Steve Bullock, in this red state. But why is it so slight? Why are the open-seat races for governor and the House's at-large seat also so tight in Montana? The answer dawned on us when reading this final sentence in a news story about a recent Mike Pence campaign visit for Daines: "Gubernatorial candidate Greg Gianforte (R) and House candidate Matt Rosendale (R) also spoke at Monday's rally." Do you see it? The reason all of these races are so tight is because the Republican candidates are all kind of bad. Steve Daines is an anti-personality, a warm body Republicans heaved at Washington in a good GOP cycle. Gianforte beats up reporters who ask him for comment about CBO scores and then weasels out of legal settlements. Matt Rosendale is some guy from Maryland who's lost the previous two federal races he's entered. Despite this, all three of them have good chances to win, but Montana Republicans would have a much easier and less expensive time if they could just find good people to run. In our opinion.