Sept 11, 2020
53 days to Nov 03, 2020

Slate's guide to the 2020 races and politicians everyone's talking about this week.
Welcome to this week's edition of the Surge. We've just concluded our 27th voluntary interview with Bob Woodward in which, without prompting, we confessed to many crimes. It's called "controlling the narrative," folks.
So, here we are, in the official, post-convention general election. It's going to be a stressful couple of months, but we have a lifehack for how to get through it: Instead of knocking doors, making calls, or encouraging your friends and family and strangers to vote, try staring at Twitter for 16 hours a day and freaking out about each swing-state poll that drops. Don't exercise, either.
To help, this week we take a glance at how the various battleground states are shaping up, and where you should channel most of your crushing anxieties. There's only one place to start.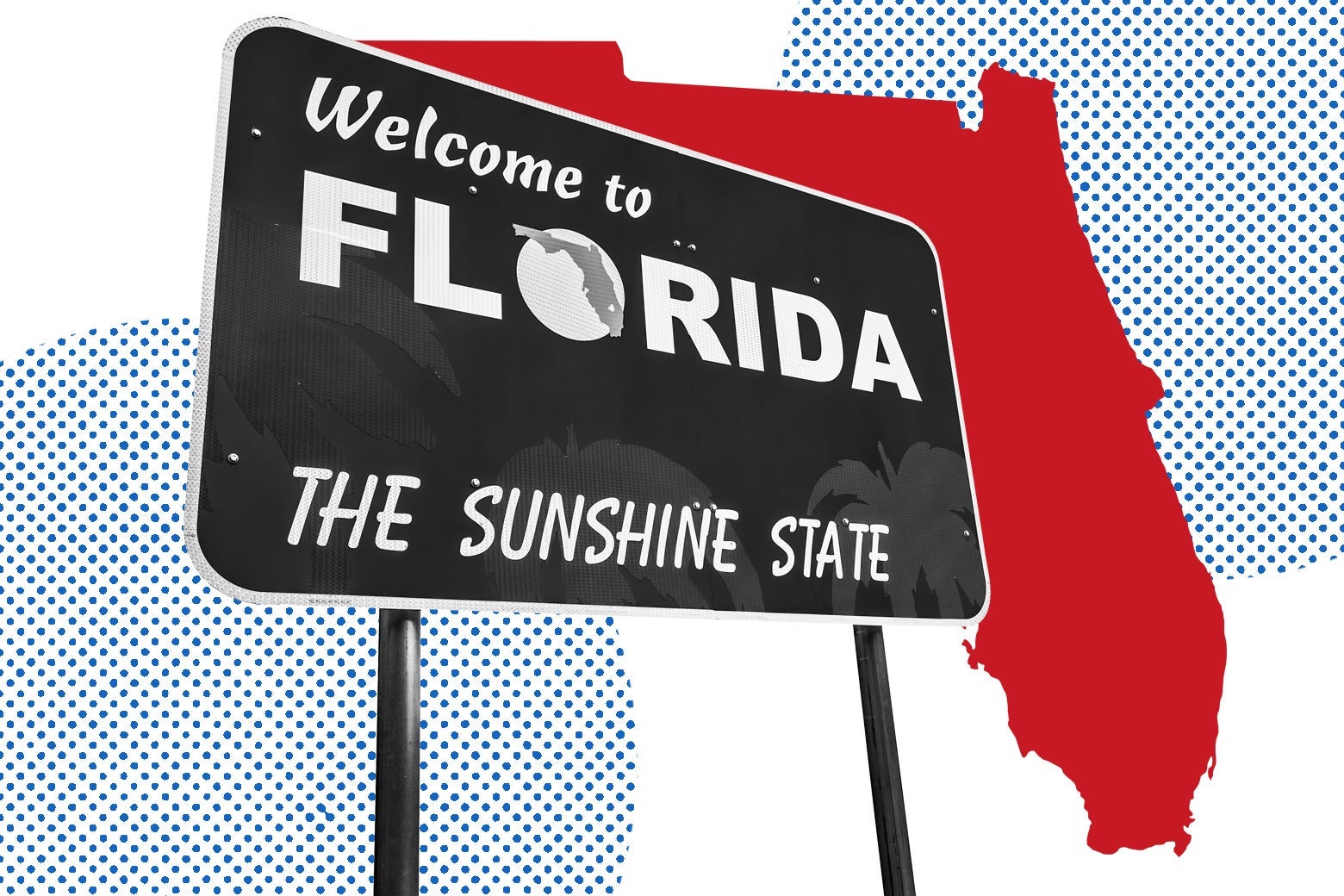 1.

Florida Uggghhh.

Pipe down, Pennsylvania. Sit on it, Wisconsin. Go suck an egg, Michigan! When it comes to election anxiety production, Florida, the Terror State, has retaken the crown. We'd like to congratulate Floridians this week for the first general election, battleground poll that sent Democrats into their first fall 2020 fit of existential panic. A high-quality pollster, NBC News/Marist, found Biden and Trump tied at 48 percent in a poll this week, the first (non-Republican pollster) survey that didn't show Biden leading the state in months. Democrats do not need Florida to win the election in the way that Trump does. But if Democrats did know on election night that they had won Florida—which can tabulate its absentee votes faster than other swing states that are new to "the mail game"—it would spare them much of the anxiety they'd otherwise feel waiting days or weeks for Rust Belt results. But too bad. Florida isn't an occasional participant in drama. Florida is drama. Florida doesn't want to give you a nice, clean outcome on election night. Florida locates the worst feeling you have inside yourself and encourages it. Florida teases you with sunshine but delivers you eternal night.

2.

Pennsylvania Get in line with the narrative!

If, as polls suggest, Biden is showing growth with white suburbanites and seniors but softness with Latinos, that should net out positively for him in each of the Rust Belt states Trump flipped in 2020—Wisconsin, Pennsylvania, Michigan. This should be true in Pennsylvania, especially, because the state is both older than the national average and the suburbs of Philadelphia are often where the election is decided. So what is this dissonance? A 1-to-3 point lead for Biden among likely voters, depending on the turnout model, in a Monmouth poll? A dumb 2 point lead in the Susquehanna poll? A stupid 3 point lead per the AARP? Why isn't Joe "Born in Scranton (but Then Moved to Delaware for the Next 70 Years)" Biden putting this thing away? Sure, he was up by 8 and 9 points in a couple of other Pennsylvania polls this week. But those polls didn't fit with narrative of our entry. Similarly, Pennsylvania, why aren't you fitting with the narrative of being comfortably in Biden's back pocket?

3.

Wisconsin The "law and order" test.

Donald Trump, who this week began using public employees from the Department of Justice to defend him in a private defamation lawsuit, is a real "law and order" guy. The president, who recently rewarded his friend Roger Stone for not snitching in a federal investigation by commuting his prison sentence, knows that rules are rules—and he believes the American people are with him. Since rioting broke out in Kenosha, Wisconsin, following the police shooting of Jacob Blake, the president has gone all-in on warning that if Democrats win the presidency, crime will run rampant in the streets with the full encouragement and backing of Comrade Biden. Is there real purchase for Trump in this message? Democrats must have seen something worrying in their polling, as Biden was forced to deliver a speech confirming that he, a former 36-year member of the Senate, chair of the Senate Judiciary Committee, and two-term vice president, does not love anarchy and riots. But Trump's message, so far, hasn't shown much deterioration in Biden's polling, and Biden consistently outperforms Trump on the question of whom voters would trust to keep them safe. And in Wisconsin, where the Trump campaign expects the law-and-order message to have special resonance due to Kenosha, Biden's position over the past month is unchanged. He led by 6 in an early August CBS/YouGov poll and led by 6 in an early September CBS/YouGov poll. He led by 4 in an early August Marquette poll and 4 in an early September Marquette poll. So… back to calling him senile?

4.

North Carolina They're already voting! But how often?

Last week, North Carolina became the first state to start mailing absentee ballots, and they're already starting to come in. What, though, should a North Carolinian do if they change their mind over the next two months? What they should do, according to our president, is try to see if they can vote again later on. When asked about his faith in the integrity of North Carolina's mail-ballot system, the president said his supporters should test it themselves. "So let them send [their mail ballot] in and let them go vote, and if their system's as good as they say it is, then obviously they won't be able to vote. If it isn't tabulated, they'll be able to vote," he said. "So that's the way it is. And that's what they should do." The thing about voting twice is that it's illegal, meaning you would be committing a crime if you did it, so don't do that. Even if our Law and Order President says it's OK.

5.

Nevada Keep an eye on it.

The Surge typically trusts Nevada Democrats to figure it out. Former Senate Majority Leader Harry Reid built a labor-backed political machine that can reliably carry narrow races for Democrats, even in election cycles where Democrats have gone to shit elsewhere. But that machine, which relies heavily on in-person interaction, has been disrupted by the pandemic—while Republicans, who generally take a more c'est la vie approach to CDC guidelines, have been active on the ground. Even though Hillary Clinton only carried the state by a couple of points in 2016, there hasn't been much polling of Nevada this cycle as it was presumed to be comfortably in Biden's column. But between the concerns about the Clark County Democratic machine's efficacy and overall concerns about Biden's softness with Latinos, the campaigns are treating Nevada with much more interest than you'd pick up by the ho-hum press interest in it.

6.

Michigan Will Trump pull the plug?

Michigan was the narrowest of the Midwestern states that Trump flipped in 2016, carrying it by a modest .3 percentage points, or 10,000 votes out of nearly 5 million cast. Common sense, then, suggests that it should be the easiest state for Democrats to flip back, and those on the ground aren't really suggesting otherwise. Over the summer, the Trump campaign pulled its ads from the airwaves in the state—something that also might be related to the campaign having inexplicably blown through $800 million—leading to some questions about whether the Trump team was triaging here to defend other, more likely tipping-point states. But while Biden has a polling lead in Michigan, the average is still within mid–single digits. And then there is Trump's pride to consider. He will never want to cut his losses on anything he won last time. He visited the state on Thursday.

7.

Ohio More polls!

No disrespect to Arizona, Minnesota, Georgia, and Texas, but we're giving the crucial No. 7 slot to Ohio this week for a couple of reasons. First, it seems appropriate to bookend a list that leads with Florida, the state that made Democrats cry in 2000, with Ohio, the state that made them sob in 2004. But also: Can we get more polls here, please? The RealClearPolitics polling average has Biden up by 2.4 percentage points in Ohio but with only one recent poll—and that was from Rasmussen, which has a notorious Republican bias and yet showed Biden leading by 4. The Surge has questioned whether it's worth it for Democrats to invest heavily in this state that's drifted away from its bellwether reputation and toward lean-red status. But … it's competitive and worth 18 electoral votes, so can we get some more check-ins? We demand polls. Polls, polls, POLLS! We need Ohio polls like nobody's business. Someone with money, not us, should commission them right now, thanks, appreciate it.