What did President Donald Trump know about the novel coronavirus, and when did he know it?
Trump says China, the World Health Organization, and his intelligence briefers misled him or failed to warn him about the virus. But his statements in January and February, juxtaposed with what advisers were telling him and saying publicly, show that he repeatedly lied. He vouched for Beijing's truthfulness despite being advised not to. He parroted Chinese President Xi Jinping's false assurances and defended Xi's suppression of information. Long after WHO declared a global emergency, Trump shrugged off the virus. At every turn, he focused not on the public health threat but on protecting his trade relationship with Xi.
Here is a chronology of what Trump said—and what he knew—in January and February. (For events beyond February, see our related story here.) This timeline focuses on his relations with China during the two crucial months that seeded the epidemic in the United States.
Prelude: On June 29, 2019, Trump meets with Xi in Japan. As recounted by Trump's then–national security adviser, John Bolton, Trump "turned the conversation to the coming U.S. presidential election, alluding to China's economic capability and pleading with Xi to ensure he'd win. He stressed the importance of farmers and increased Chinese purchases of soybeans and wheat in the electoral outcome."
Jan. 3, 2020: Doctors in China inform Robert Redfield, the director of the Centers for Disease Control and Prevention, that a new coronavirus might be responsible for recent pneumonia cases in China. Redfield tells Alex Azar, the secretary of Health and Human Services. Azar's office informs the National Security Council.
Early January: Intelligence briefers put a "detailed explanation of the problem … in the President's Daily Brief." The explanation focuses on "troubling signs of a new virus spreading through the Chinese city of Wuhan, and the Chinese government's apparent efforts to conceal details of the outbreak."
Jan. 9: At a campaign rally in Toledo, Ohio, Trump boasts that he's about to sign a lucrative trade deal with China: "a big, beautiful monster—$40 [billion] to $50 billion to our farmers."
Jan. 10: Trump tells Fox News that he's angling for a second trade deal with Xi. "We have a great relationship with China right now, so I don't want to speak badly of anyone," he says. He deflects a question about China's human rights violations, explaining, "I'm riding a fine line because we're making … great trade deals."
Jan. 13: The World Health Organization reports that the virus has spread beyond China.
Jan. 14: At a rally in Milwaukee, Trump says he's about to sign the "trade deal with China, massively boosting exports of products made and produced right here in the great state of Wisconsin."
Jan. 15: Trump signs the deal and praises Xi. "250 Billion Dollars will be coming back to our Country," he tweets. "We are now in a great position for a Phase Two start."
Jan. 16: Around this date, according to Politico, Azar "tried to share an urgent message with the president: The potential outbreak could leave tens of thousands of Americans sickened and many dead." Politico says that according to "three people briefed on the conversations," "Trump's aides mocked and belittled Azar as alarmist, as he warned the president of a major threat to public health."
Jan. 17: In a CDC briefing, Nancy Messonnier, the director of the National Center for Immunization and Respiratory Diseases, predicts that as more countries test for the virus, "We're going to see additional cases all around the world."
Jan. 18: Azar phones Trump to talk about the virus. Multiple accounts of the call say that Trump "insisted on talking about e-cigarettes" before discussing the virus. The Wall Street Journal, citing officials who were briefed on the call, reports that Trump "dismissed coronavirus concerns as alarmist."
Jan. 19–20: China's chief health investigator publicly reports multiple cases that show the virus is spreading from human to human.
Jan. 21: The CDC reports the first documented infection in the United States. The agency also acknowledges "growing indications that limited person-to-person spread is happening." Anthony Fauci, the director of the National Institute of Allergy and Infectious Diseases, tells Voice of America that the virus has been found to spread with high efficiency—"one person in China infected 15 others"—and that cases have been detected in Thailand, Japan, South Korea, and France. "Clearly, it's starting to disseminate in a much wider way," he warns.
Jan. 22: Trump says the CDC has briefed him and "China is in very good shape." In a CNBC interview, Joe Kernen asks the president, "Are there worries about a pandemic"? "No, not at all," says Trump. "We have it totally under control." Kernen asks about reports that Beijing is hiding information: "Do you trust that we're going to know everything we need to know from China?" Trump replies: "I do. I have a great relationship with President Xi. We just signed probably the biggest deal ever made." He says he'll begin talks on a second deal with China "very soon."
Jan. 22–23: China shuts down Wuhan. This drastic response alarms the White House. On Jan. 23, national security adviser Robert O'Brien, joined by a CIA analyst, briefs Trump on the virus. In this briefing, according to a White House official who speaks later to NPR, Trump "was told that the coronavirus was potentially going to 'spread globally.' " The Washington Post reports that during this time frame, "Trump's advisers told him that Beijing was not providing accurate numbers of people who were infected or who had died."
Jan. 24: Messonnier says the CDC expects "more cases in the U.S.," including "human-to-human transmission." Hours later, Trump tweets, "China has been working very hard to contain the Coronavirus. The United States greatly appreciates their efforts and transparency. It will all work out well."
Jan. 25–26: China's health minister announces that the outbreak is accelerating and is being spread, in part, by "hidden carriers."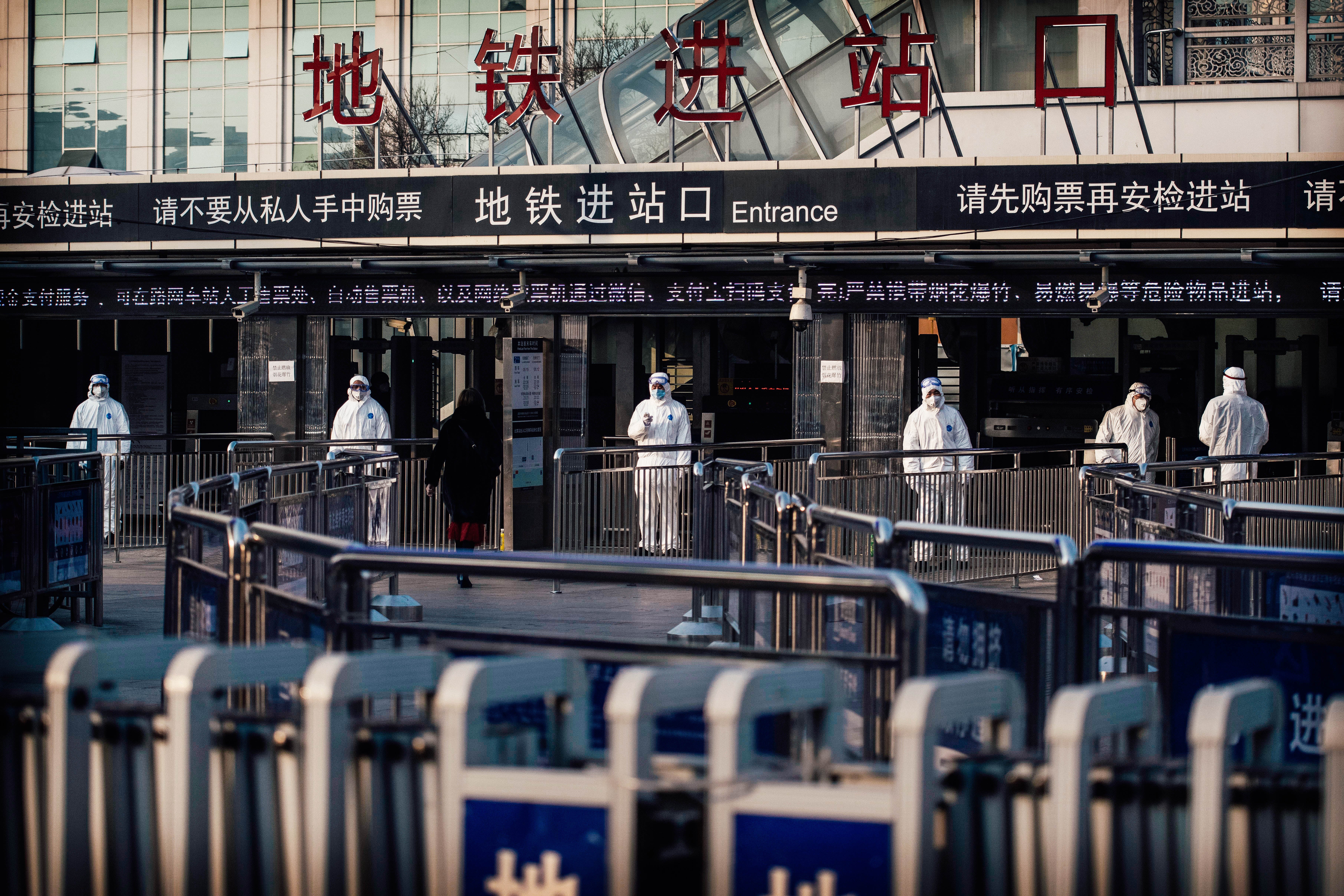 Jan. 28: Trump gets another intelligence briefing. He is told that China is "withholding data" and that the virus is "spreading outside of China." At a press conference, Azar says: "The president and I have been speaking regularly about this outbreak, and I have been speaking with the senior officials at HHS and the White House multiple times each day since the outbreak began to represent an international threat. The president is highly engaged in this response and closely monitoring the work we're doing to keep Americans safe."
That evening, at a rally in New Jersey, Trump says he has "signed a fantastic new trade agreement with China that will boost New Jersey exports and defend New Jersey jobs."
Jan. 29: White House trade adviser Peter Navarro circulates a memo warning that the virus could lead to "a full-blown pandemic, imperiling the lives of millions of Americans." According to the New York Times, "when aides raised [the memo] with Mr. Trump, he responded that he was unhappy that Mr. Navarro had put his warning in writing."
Jan. 30, morning: In an Oval Office meeting, Azar and other officials urge Trump to suspend travel from China. The Wall Street Journal reports that according to the president's aides, he was "reluctant to sign off" on the proposal, "concerned about the signal it would send to markets and his relationship" with Xi. "Trump was skeptical," says a New York Times account of the meeting. "The two countries were in delicate trade negotiations. Was this the time to provoke China? he asked. And what about the consequences on the economy?"
Jan. 30, afternoon: The CDC announces "the first instance of person-to-person spread" in the United States. Shortly afterward, WHO declares "a public health emergency … over the global outbreak of novel coronavirus." But two hours after WHO's declaration, Trump tells an audience in Michigan: "We're working very strongly with China on the coronavirus … We think we have it very well under control. … We think it's going to have a very good ending for it. So that, I can assure you."
Jan. 30, evening: Azar, backed by Fauci and Redfield, phones Trump again to talk about the virus. The New York Times, in an article based on "dozens of interviews with current and former officials," reports that Azar "directly warned Mr. Trump of the possibility of a pandemic." But Trump "responded that Mr. Azar was being alarmist. … Stop panicking, Mr. Trump told him."
Jan. 31: Delta Air Lines and American Airlines announce that they're suspending flights from China. United Airlines tells the White House it plans to do the same but will "hold off on announcing it" if Trump goes first. Trump, "eager to claim credit for acting to contain the virus," announces a forthcoming suspension "within hours."
Feb. 1: In a Fox News interview recorded for the Super Bowl, Sean Hannity asks Trump: "We're now up to our eighth case in the United States. How concerned are you?" Trump replies: "Well, we pretty much shut it down coming in from China." In reality, the suspension, which applies only to foreign nationals, isn't scheduled to begin until the next evening.
Feb. 3: Messonnier says that based on "the growing volume of exported cases to countries around the world" and "reports of person-to-person spread outside China, including the United States," the CDC is "preparing as if this were the next pandemic."
Feb. 7: Trump tweets: "Just had a long and very good conversation by phone with President Xi of China. He is strong, sharp and powerfully focused on leading the counterattack on the Coronavirus." Trump continues: "Great discipline is taking place in China, as President Xi strongly leads what will be a very successful operation." A reporter asks Trump, "Are you concerned that China is covering up the full extent of coronavirus?" The president replies, "No." As evidence, he says the "CDC is working with" Chinese authorities.
Feb. 10: In a Fox News interview, Trish Regan asks Trump about China: "What's your sense of their transparency right now, whether they're being more accommodating in terms of telling us what's going on?" The president replies that "they have everything under control." He repeats that U.S. experts are in China and can vouch for Beijing's candor. "It's going to be fine," he says.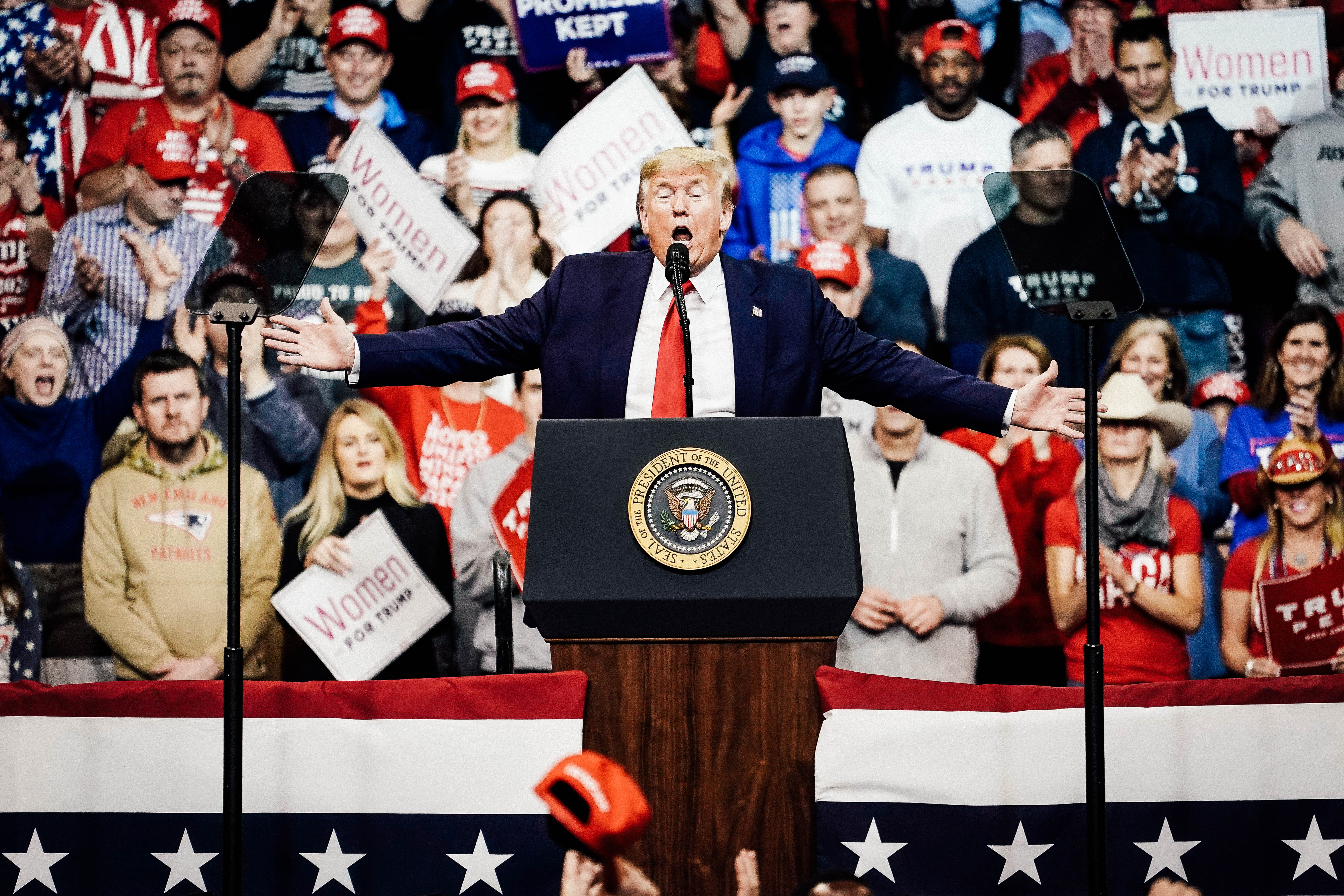 That night, at a rally in Manchester, New Hampshire, Trump says he has signed a "trade agreement with China that will defeat so many of our opponents." "I spoke with President Xi" about the virus, he reports, and "it's going to all work out fine." Trump says it "looks like by April," as the weather warms, the virus "miraculously goes away." He doesn't mention that he got this idea from Xi in their Feb. 7 call.
Feb. 12: Messonnier says "it's premature to assume" that the virus will die out as the weather warms. Fauci cautions against "wishful thinking" and worries that "as we get more travel-related cases, the threat of this becoming more diffuse is great."
Feb. 13: In an interview with Geraldo Rivera, Trump says he has spoken with Xi again. "We think, and we hope, based on all signs, that the problem goes away in April," he says. "The April date is very important." Rivera asks, "Did the Chinese tell the truth about this?" "You never know," says Trump. But he tells Rivera, in Xi's defense, that "if you were running" China, "you wouldn't want to run out to the world and go crazy and start saying whatever it is, 'cause you don't want to create a panic."
Feb. 16: Fauci says that with more than 500 documented cases in 24 countries, several of which "are starting to get to the second and third transmission," the virus is on the verge of being declared a "global pandemic."
Feb. 18: Trump posts several tweets against a proposal to restrict U.S. technology sales to China. He denounces the "National Security excuse" and insists, "I want China to buy our jet engines." Later, a reporter asks Trump about the virus: "Some people don't seem to trust the data coming out of China. Are you worried about that?" Trump retorts, "Look, I know this: President Xi loves the people of China, he loves his country, and he's doing a very good job."
Feb. 19: In Arizona, an interviewer asks Trump, "How confident are you that China is being 100 percent honest with us when it comes to this scary virus?" "I'm confident that they're trying very hard," Trump replies. "I know President Xi. I get along with him very well. We just made a great trade deal." Trump goes on: "I think the numbers are going to get progressively better … I think it's going to work out fine." He repeats that the virus will subside "when we get into April."
Feb. 20: Fauci warns that "there are likely many, many more infections than we realized" in China. He worries that the U.S. infection count might be artificially low because, due to a shortage of tests for the virus, "we're not looking for it properly." He notes that this happened in China: The virus proliferated for weeks "under the radar screen, while authorities "didn't recognize it."
Feb. 21: Messonnier says the virus has become "a tremendous public health threat" to the United States.
Feb. 24: Trump tweets, "The Coronavirus is very much under control in the USA. … CDC & World Health have been working hard and very smart. Stock Market starting to look very good to me!"
Feb. 25: The National Center for Medical Intelligence, in a bulletin circulated within the U.S. government, declares the virus an imminent threat. Messonnier tells reporters that new data show there will be community spread in the United States. The only question now, she adds, is "exactly when this will happen and how many people in this country will have severe illness." Fauci concurs that based on the latest data, "It's inevitable that this will come to the United States." The stock market plunges.
Feb. 26: Trump phones Azar, rages at Messonnier for scaring the stock market, and threatens to fire her. He seizes control of press briefings on the virus. He is told that the CDC has found evidence of community spread in the United States. But hours later, as he briefs reporters, he doesn't mention this. Instead, he claims that U.S. infections are "going very substantially down, not up" and that "within a couple of days" the case count will be "close to zero." "We have it so well under control," he says.
Feb. 28: At a rally in South Carolina, Trump says there are still only 15 infections in the country. He accuses the press of "hysteria" and says criticism of his response to the virus is a "hoax." In an interview, he derides Democrats for telling him to spend more money preparing for the pandemic. "They say, 'Oh, he should do more,' " he complains. "There's nothing more you can do."
Feb. 29: In his final press briefing of the month, Trump says the virus has brought the U.S. and China together. "We just did a big trade deal. We're starting on another trade deal," he says. "They've been talking to our people, we've been talking to their people, having to do with the virus. No, our relationship with China is very good. Maybe it's closer because of what's happened here."