It sure felt like the Republican National Convention was full of Trump children this year. As David Plotz pointed out on the Slate Political Gabfest, this year's convention didn't feature "the last Republican president, the last Republican vice president, the last two Republican nominees for president, the last three Republican speakers of the House, the last three Republican secretaries of state, the last RNC chair before Trump"—but Donald Jr.; Ivanka; Tiffany; Eric; Don Jr.'s girlfriend, Kimberly Guilfoyle; and Eric's wife, Lara Trump (the last two advisers to the presidential campaign), all had their say.
Was this as much of a departure from recent tradition as it felt? I reviewed the C-SPAN Video Library's archived recordings of 21st century convention proceedings to see how much time each party's convention devoted to children (or younger-generation child proxies, like nephews and daughters-in-law) of the nominees, at the 12 conventions that have taken place since 2000. I used C-SPAN's archived proceedings for each convention "day" to make my determinations. (For years when the archive tagged entries as "evening" versus "morning," I selected the "evening" broadcast.)
The raw totals and percentages of time given to younger-generation speakers told the tale: The two Trump nominating conventions are, indeed, outliers. Having a nominee's child speak at the convention is fairly standard, but there were many conventions over the past 20 years where the younger generation had a minimal presence at the convention podium. In 2008 and 2012, Barack and Michelle Obama, who had younger children, opted to have their half-sister and brother, respectively, speak on their behalf. In 2008, none of the seven John McCain children spoke (McCain's kids had minimal involvement in that campaign); in 2012, only one Mitt Romney son, out of five, got airtime.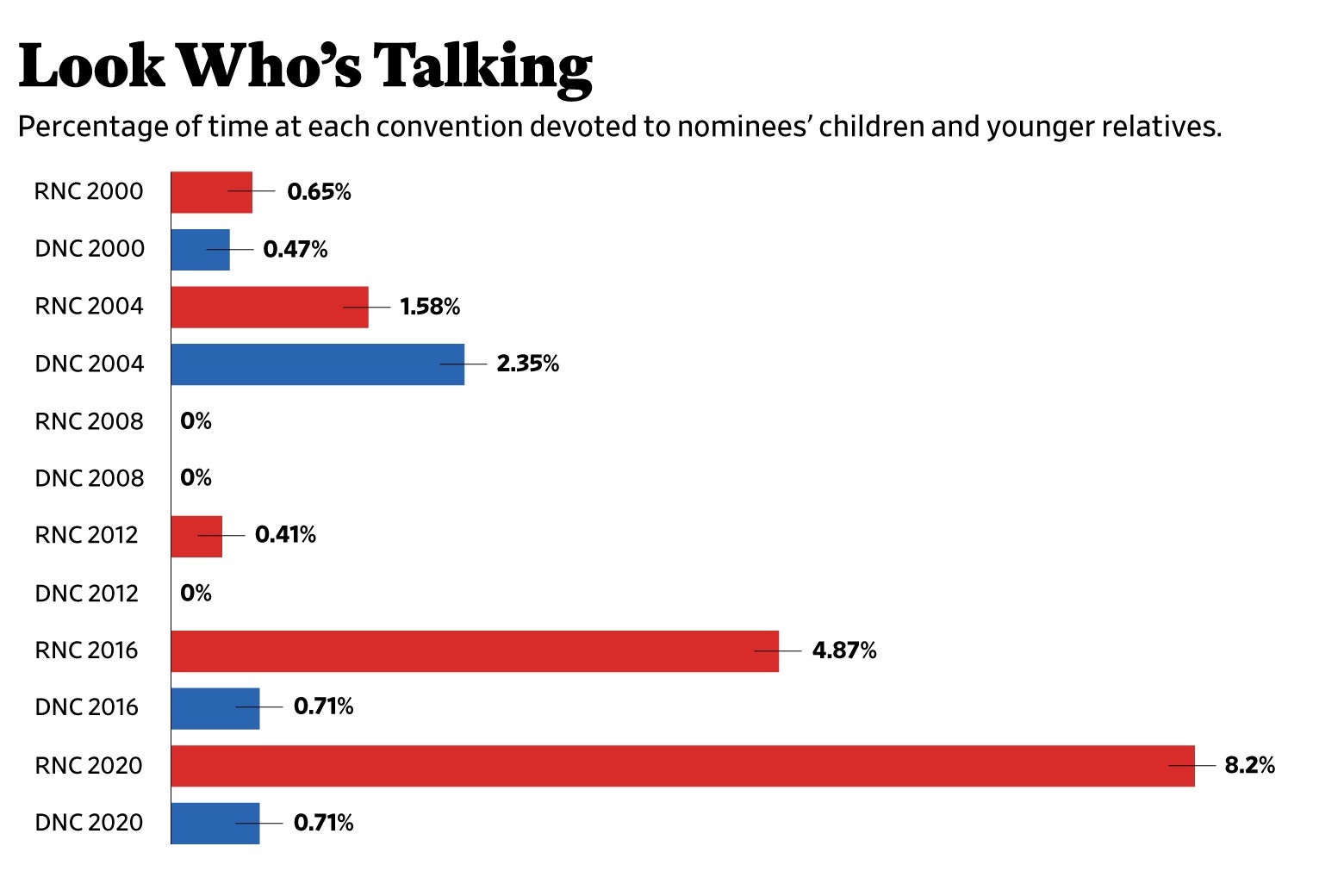 But it's not just the number of minutes given the Trump younger generation that departs from precedent. It's the content of their speeches. Next-generation speakers have traditionally attested to the nominee's qualities as parent and mentor, focusing on caregiving moments and good advice given over the years. In 2000, Kristin Gore, representing the four Gore siblings, introduced her mother, describing her care for "mentally ill homeless men and women" and her sweet sense of humor. In 2004, Vanessa Kerry recounted a story about her dad making her homebound, autumn-loving grandmother a bedside sculpture out of fall leaves and copper wire. In 2016, Chelsea Clinton described the notes her mom left in a drawer when she had to be away for work—which, she added (presumably offering good-mother cover to the first female presidential nominee), "thankfully did not happen very often."
Another thing younger-generation speakers can offer conventions is a bit of levity. In 2004, Alexandra Kerry told a maybe-not-super-flattering story about her dad doing CPR on a hamster: "There were some reports of mouth-to-mouth, but I admit that's probably a trick of memory," she joked. Jenna and Barbara Bush's introduction of Laura Bush in 2004 took the form of a stand-up comedy routine. They poked gentle fun at their grandmother, the former first lady: "She thinks Sex in the City is something married people do but never talk about!" The twin 23-year-olds engaged in a running bit about trying to get jobs in the White House, then running into entrenched staffers who refuse to give up their positions. (That last bit seems much less funny, in the age of Jared Kushner.)
When past younger-generation speakers have gotten political, they've done so via representation. In 2000 and 2004, George Prescott Bush, George W. Bush's nephew, whose mother, Columba, is Mexican American, gave speeches dotted with sentences spoken in Spanish, stressing his uncle's interest in education. In 2012, Mitt Romney's son Craig—not Hispanic, but with experience in Chile as a missionary for the Church of Jesus Christ of Latter-day Saints—also spoke Spanish in his speech, reaching out to the Hispanic constituency his father was courting.
Besides taking up more time at the conventions, the Trump kids have given speeches that are qualitatively different from their predecessors'—much more partisan, meaner, and angrier. In 2016, Donald Trump Jr. lauded his father's "unrelenting determination," but also made sure to poke holes in the "other side" at every turn, filling the speech with negative references to "PC culture," calls to "repeal and replace Obamacare," excoriations of teachers unions—all the greatest hits.
This year, the rest of the Trump kids struck oppositional notes in their speeches as well. Ivanka lauded her father for "refusing to surrender his beliefs to score points with the political elite"; Tiffany warned that "our thoughts, our opinions, and even the choice of who we are voting for may and are being manipulated by the media and tech giants"; Eric spoke of "radical Democrats" who want to "erase history and forget the past"; Donald Jr., not to be outdone, blamed the "Chinese Communist Party" for the coronavirus. Here, indeed, was something new—the younger generation speaking not as relatable character witnesses, but as surrogates consolidating the power of their father's regime. For the most transactional president ever, who better to speak up for him than the people who literally owe him their lives?