A sign at the foot of San Juan County, Utah, welcomes visitors to the "world's greatest outdoor museum." In the south are the rugged walls and totems of Monument Valley, the image of the West for Americans raised on John Wayne, Looney Tunes, and Marlboro ads. In the east is Lake Powell, the country's second-largest human-made lake, which draws more than 4 million visitors every year to swim, fish, and water-ski. In the north is Canyonlands, Utah's largest national park, where hiking trails wind beneath sandstone arches. Three towns dot the county's more settled eastern edge, tracing the Mormon journey south from Salt Lake City 140 years ago.
Between these landmarks is harsh, arid terrain where each generation of white settlers has tried to make a fickle living: from farming, from livestock, from minerals. Most dramatic was the 1950s uranium rush, when prospectors laid claim to 40 percent of San Juan County and mine profits spurred a building boom. The bust left thousands of abandoned shafts and radioactive waste sites across the plateau and a sprawling road network that connects places no longer worth connecting. But the hope has endured that because San Juan County once made money from the land, it could do so again.
That is the white map of the territory, but there's another way of seeing things. South of the San Juan River is the Navajo Nation, the largest and most populous Indian reservation in the United States. The median household income in Utah's section of the Nation is $25,000—about half what it is on the other side of the river. (In recent months, the Nation has also been ravaged by the coronavirus, though I visited San Juan County and talked to everyone here long before the pandemic hit.) Nearby is a reservation of the Ute Mountain Ute Tribe, the people who gave the state its name. The county is home to tens of thousands of ancient Anasazi archaeological sites, spread across a territory the size of Connecticut. Right at the center of San Juan County are the cedar-covered twin buttes known as the Bears Ears, a sacred site to Indigenous people from various tribes who venture onto the land to gather medicine and firewood or to pray. It is the birthplace of Chief Manuelito, the headman who resisted the U.S. government and signed the treaty establishing a sovereign Navajo state in 1868.
Since Utah gained statehood 124 years ago, power in San Juan County has largely rested with a small, resilient band of Mormon families who settled the region in the late 19th century. An equal-sized contingent of Native Americans, mostly Navajos and Utes, have lived on reservations near the Arizona border and had virtually no say in affairs outside their boundaries.
But this is changing. In the 1980s, Navajos sued for fair representation on the county board. In 2012, they sued again. And just two years ago, the three-person County Commission became majority Native American for the first time in history. A wave of vitriol followed the Navajo commissioners into office. "I don't want to call it a race war," one local reflected recently. "But that's what it was."
A rural Utah county commission is generally a sleepy little operation, but only San Juan County has a backyard that became ground zero for a national debate on American wilderness. Obama declared Bears Ears a national monument in 2016; one year later, Trump contracted its area by 85 percent. Outerwear brands like Patagonia have crusaded to protect the monument. Oil companies have pushed for more drilling. And in the midst of all this are the people of San Juan County, fighting—with outsiders and with one another—over what to do with the land.
Commissioner Willie Grayeyes is a soft-spoken man from Navajo Mountain, more than four hours drive from the county seat in Monticello. He has a handlebar mustache, bushy eyebrows, and a gray ponytail. In December, I met Grayeyes at a Thai restaurant in Monticello, along with the second Navajo commissioner, Kenneth Maryboy, who was on the phone with the Navajo Nation government when I arrived. This was a familiar act of diplomacy: Maryboy had served 14 years as a Navajo Nation Council delegate and two previous terms on the County Commission. He had once criticized the Nation's "pattern of malfeasance and neglect" for ignoring the sliver of the reservation that sits on Utah land. He had also slammed commissioners in Monticello for ignoring the Native American portion of the county.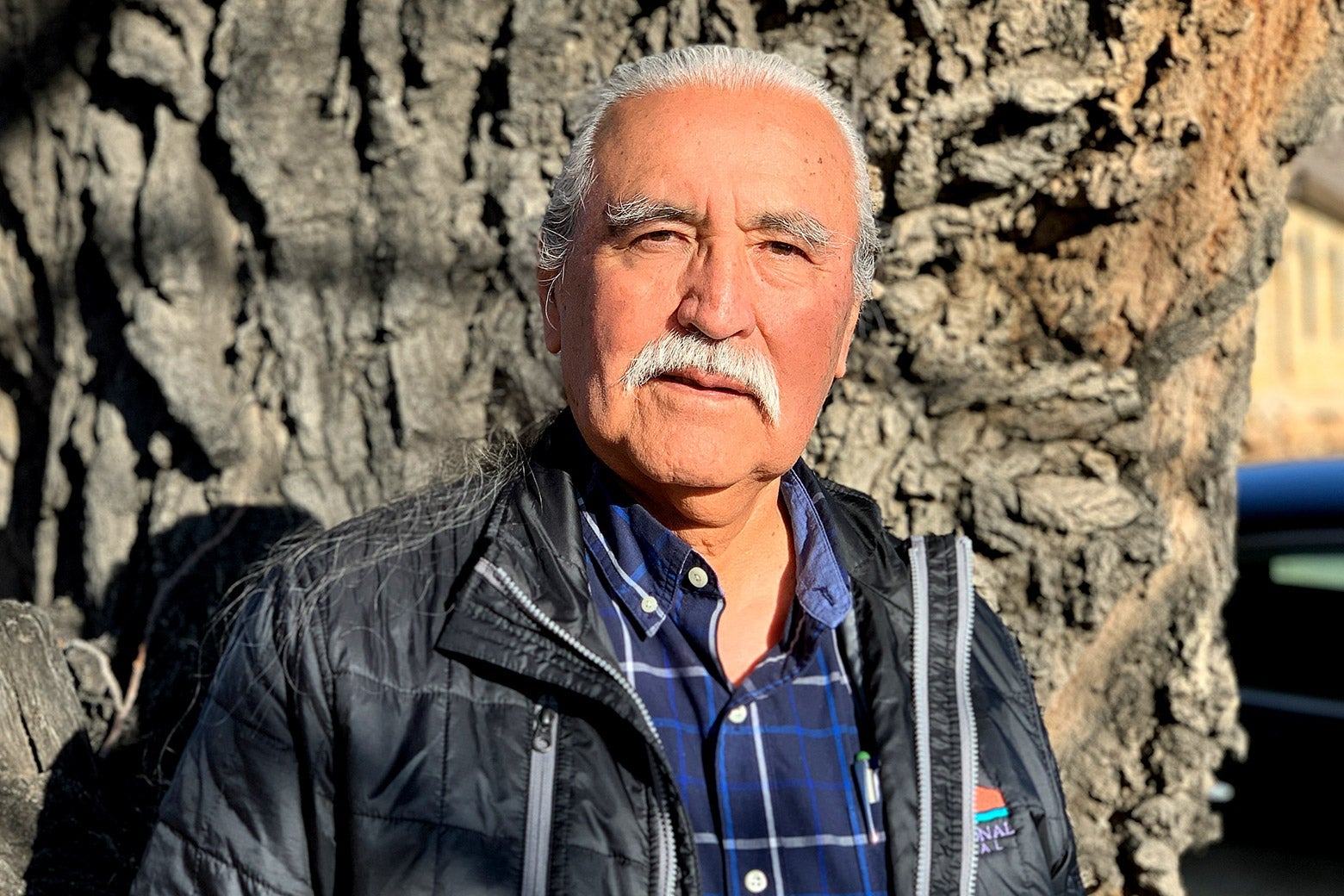 That morning, the two Diné (Navajo for "the people") men had been berated at a county meeting by a tribe member fed up with the state of the roads south of the river. In one of the least densely populated parts of the United States, roads are destiny: Are they open or closed? Rutted or smoothly paved? Ensuring access for locals, tourists, or industry?
As we ate, Grayeyes told me a story about trying to drive back home one night in 1968. He hit a snowbank so thick he had to spend the night under a cheap blanket in the Flagstaff, Arizona, jail. As a veteran of local politics, Grayeyes spends much of his time behind the wheel, praying for the land or for his own safety. After he was elected in 2018, one of the first things he and Maryboy did was bring a county meeting onto the reservation for the first time. It was a symbolic gesture, but also one that meant there were immediately more Navajos in the room.
The state of the roads is a common complaint down there, and Maryboy was trying to sort out a complicated road maintenance agreement between the county and the tribal authorities. Doing, in other words, the boring work of local government. Since Grayeyes and Maryboy took over, the stakes of such mundane work have felt particularly high.
The lone Republican commissioner is a fifth-generation rancher named Bruce Adams who has served on the county board for 16 years. All things considered, Adams and the two Navajo commissioners have a friendly relationship, Adams and Grayeyes both said. But their main ideological conflict has been over Bears Ears: Adams and his previous two co-commissioners had done everything they could to shrink Obama's monument and restore local control over the county's sagebrush steppe. The two Navajo commissioners were Bears Ears activists: Maryboy and Grayeyes were both closely involved with Utah Diné Bikéyah, the main advocacy group behind the monument push.
Utah's Republican leadership wants the land reopened for oil and gas leasing. Grayeyes wants a federally run reserve, one that will care for the land and draw tourists to pump money into the economy. "That's what we've been attempting to do, those money-generating pursuits," he says. "That's the only thing that could increase the economic status of the county."
Many of the speakers at the county meetings—and they came by the dozens after the Navajo men took power, like never before—were less polite than they used to be. Maryboy told the Navajo Times he and Grayeyes were subjected to harassment by white people who "can't stand to see Native Americans in the driver's seat."
One example was the furor over Grayeyes' personal attorney, Steven Boos, whose involvement had become a bitter fixation for San Juan County Republicans. "It appears the county is being governed by an attorney from Durango, Colorado," Adams said at a commission meeting last spring. A local right-wing blog portrayed Boos as a puppet-master. Boos, who worked with both men as a legislative counsel in Navajo Nation, responded, "I helped them put their resolutions into proper form for the San Juan County Commission. That doesn't make me a puppet master; that just makes me a lawyer."
Boos had been the lead attorney for Navajo Nation when the tribe, plus six individual plaintiffs, filed suit against San Juan County in 2012. The suit alleged that the county was "packing" Navajos into a gerrymandered third district that, by 2010, was 92 percent Indigenous. After years of back-and-forth, the Navajo plaintiffs prevailed: A district court appointed a special master to redraw the map, which was finalized in 2018. That November, San Juan County got its first majority–Native American council in history.
Grayeyes' tenure was acrimonious before it even began. During the campaign, the county clerk kicked him off the ballot, asserting that he really lived in Arizona—not at his ancestral home in Navajo Mountain. A federal judge put Grayeyes back on. After he won, the losing candidate sued him over his residency, saying that he kept his horse in Arizona and had an Arizona driver's license.
At the trial, recounted by the writer Terry Tempest Williams in her book Erosion, Grayeyes' daughter defended her father: "You want to know where my father lives? He lives in his car. He sometimes lives with me in my cabin at Navajo Mountain. He sometimes lives with his sister Rose and sleeps under a shade hut on Paiute Mesa. But you ask where my father really sleeps? He has a horse, he puts out his bedroll, and he sleeps on the land where his umbilical cord is buried. My father's home is the land." Grayeyes won the case, but his opponent has appealed. The Utah Supreme Court will hear the case later this year or next.
San Juan County conservatives were also livid about the redistricting. They believed the new districts were racially gerrymandered to put them permanently out of power. So they organized a do-over. "Currently, we have government by court order, dominated by outside parties, hardly democratic," Joe Lyman, mayor of Blanding, the county's biggest town, wrote in an op-ed for the San Juan Record. Lyman started collecting signatures for a ballot referendum to redesign the county government all over again, moving from three to five commissioners and throwing out the court-ordered redistricting map. The county's Republican middle saw an opportunity to reclaim control, or at least representation; Navajos in the south saw a racist power grab. Mark Maryboy, brother of commissioner Kenneth, called San Juan County whites "redneck Mormons." Organizers with the nonprofit Rural Utah Project swarmed the county, registering Indigenous people to vote. In November 2019, San Juan County saw record 75 percent Indigenous turnout. The referendum to expand the County Commission failed by just 153 votes.
The first Indigenous person to serve as a county official in Utah was Mark Maryboy. He was sworn in as a San Juan County commissioner on Jan. 5, 1987. He served for 16 years. "I never enjoyed a day," he told me recently.
Both on and off the commission, the elder Maryboy brother tried to empower Utah's section of Navajo Nation. He helped start Utah Navajo Health System, a nonprofit that provides health care to more than 10,000 people. In 1990, he led Niha whol zhiizh (It's Our Turn), a movement to get more Navajos into San Juan County government.
For four terms, Maryboy made the long drive to Monticello: Out of Navajo Nation and across the San Juan River, an ancient boundary that some older tribe members still feel uncomfortable crossing. (Maryboy's custom: keeping a close eye on his speedometer.) Up through the cottonwoods in Cow Canyon, onto the plateau where snow clings to the sagebrush, past the smokestacks of the uranium mill, around the Abajo Mountains to the square brick building that serves as the county seat.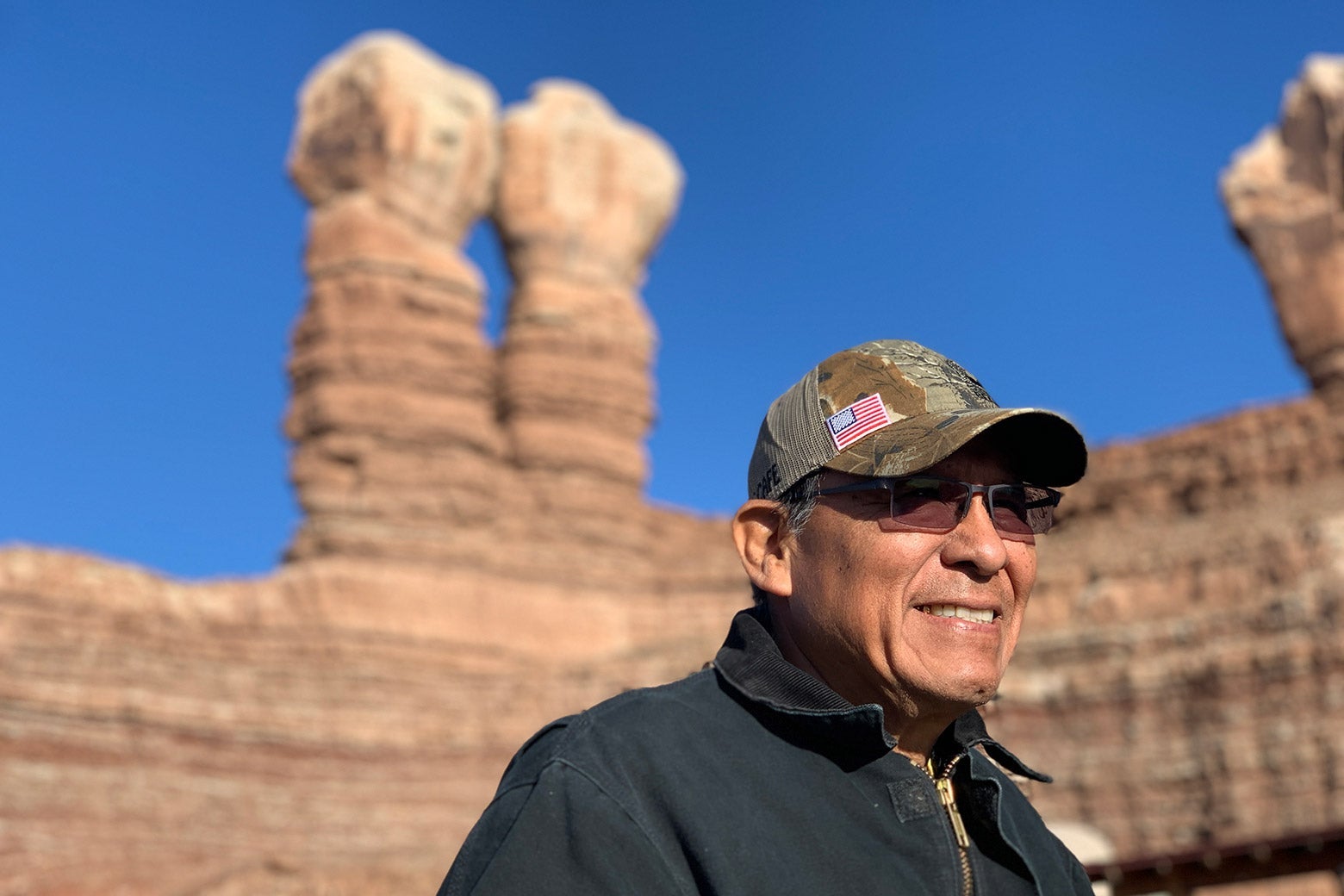 There, he did battle with the commission chair, San Juan legend Calvin Black. You could hardly invent two men less likely to get along. Black was a mogul who got in on the Utah uranium rush, which made some men rich and gave other men cancer. Black got rich; then he got lung cancer, which killed him in 1990. In better times, he is said to have worn a uranium disk in his bolo tie and sipped a uranium cocktail at a public meeting. See, it's fine. "All wealth comes from the land, and whoever controls the land, controls the people," Black told the Los Angeles Times in 1987.
Maryboy was an anti-nuclear activist; his father, whose tales of railroad work in Omaha, Nebraska, and San Francisco sparked his son's curiosity about the world, wound up toiling in the radon dust of a local mineshaft and died of lung cancer at 50. His sister died of lung cancer at 34.
Black was famous as a leader of the Sagebrush Rebellion, a white movement to end federal meddling in Western affairs, whose contemporary adherents include Nevada rancher Cliven Bundy and Washington state Rep. Matt Shea. With his pudgy face, dark hair, and aviator-frame glasses, Black didn't look like much of a threat, but his rage was legendary. "I'm not a violent man," Black roared at officials at a 1979 public meeting of the Bureau of Land Management, which controls nearly half the state, "but I'm getting to the point where I'll blow up bridges, ruins, and vehicles. We're going to start a revolution. We're going to get back our lands." (Black was immortalized as Bishop J. Dudley Love in The Monkey Wrench Gang, Edward Abbey's novel of environmental warfare in the Southwest: "rag[ing] like a strictured bull over half of Utah.")
Maryboy, meanwhile, owed his post to a 1984 Department of Justice intervention that attempted to force San Juan County into compliance with the Voting Rights Act, resulting in the creation of the heavily Navajo county commission district along the Arizona border. It was neither the first nor the last time that pressure from Washington would help Navajos assert their rights in San Juan County. Utah was the last state in the nation to permit Native Americans living on reservations to vote, and only in 1957, when the threat of a trip to the U.S. Supreme Court forced the state Legislature into action.
Black was particularly livid with the feds when Maryboy arrived in Monticello in 1987. Seven months prior, federal police had launched the largest archaeological raid in U.S. history on Anglo families in San Juan County, busting down their doors to confiscate hundreds of Indigenous artifacts that had been harvested from Anasazi sites. Black's house was searched. His Anasazi bowls, delicate clay vessels with black-and-white markings, were confiscated (later returned); his son was indicted (the case was dropped). Black called the raid an "act of terrorism," federal officials "Nazis," and again suggested armed resistance might be called for. Like many white people in San Juan County, he viewed "pot hunting" as a harmless family tradition—rescuing art from dirt. Always, he said, on private land.
To which Maryboy would say: How would you feel if we went into Mormon cemeteries and started digging up your graves? Black had particular disdain for Navajos, Maryboy recalled in December over biscuits and gravy at the Twin Rocks Cafe in Bluff, Utah. "His favorite excuse was 'Navajos don't pay taxes. They don't deserve to be served. They're not entitled to goods and services provided by the county.' A Navajo would come ask for better roads, public safety, and he would blast them with numbers and statistics, make them look stupid. He'd call them stupid, and he didn't care if I heard him. Navajos came before us and he'd say, 'I can't stand those sons of bitches. They're a bunch of rag-ass Injuns.' I turned around and I said, 'Calvin, I've been hearing your bullshit for over a year. I don't know how you've been raised, what kind of a person you are, but you have no respect for the people. Let me tell you something: I think you're a damn stupid fucking son of a bitch.' "
"Commissioner Maryboy said he was taught to hate white men," Black once told the Salt Lake Tribune. "I wasn't taught to hate anybody." Black retired in 1990. Though tradition was to hand the commission chairmanship to the longest-serving commissioner, Black voted to skip over Maryboy and seat recently elected Republican Ty Lewis instead. But Maryboy thinks he is winning the war. Niha whol zhiizh came to pass; "our turn" arrived. And so did a bigger dream: setting one quarter of Utah's largest county aside in the name of Native American heritage.
On Dec. 28, 2016, Barack Obama signed a long, lyric proclamation that turned 1.35 million acres of federal land in San Juan County into a national monument. He invoked the Antiquities Act, a 1906 law signed by Theodore Roosevelt that was intended to stop the looting of Native American artifacts on public land. Obama's designation also banned mining and drilling, and the president touted its potential to encourage tourism.
Utah Republicans were apoplectic. They felt the president had stretched the Antiquities Act beyond its limits, overriding negotiations between Utah politicians and tribal groups that had been underway for almost a decade. Sen. Orrin Hatch called it an "astonishing and egregious abuse of executive power" and "an attack on an entire way of life." Some locals also questioned the wisdom of the designation: If the president wanted to keep Bears Ears nahodishgish, a Navajo word for a place to be left alone, then why was he touting its "recreation opportunities" in the same breath? When Obama announced the establishment of Bears Ears National Monument, he mistakenly showed a photo of Arches National Park, across the Colorado River to the north.
"The San Juan County good ol' boys don't want to see this happen," Kenneth Maryboy told NPR back in 2017. "They adamantly, openly said, 'This is our land. The damn Navajos need to go back to the reservation.' " Later that year, Trump shrank the designated monument by 85 percent, part of a suite of moves to eliminate environmental protections for air, water, and protected species. Tribal and environmental groups sued. But the Republican-led County Commission defended the president's move in a federal court filing. "This monument designation was not about protection and preservation, the people of San Juan County have done that as stewards of the land," the commission wrote in a statement. "The county is enjoying the economic and cultural benefits of increased access to federally controlled land for productive uses such as mining, logging, and livestock grazing."
Federal power had made the West: Washington subjugated Native American tribes, dammed rivers, and bought the radioactive metal that miners chipped from the ground. But over the past few decades, the federal government has embraced a new position as environmental protector, civil rights guardian, and police force.
Consider, for example, Washington's growing role as custodian of tribal antiquities—the power Obama invoked to create the Bears Ears monument. Just after sunrise on June 10, 2009, more than 100 armed federal agents stormed into homes in Blanding in another artifact raid. An informant had spent years inserting himself among the town's 3,000 residents—and more than $300,000 buying, and some argued inflating, the prices of black-market antiquities. Interior Secretary Ken Salazar flew to Salt Lake City to boast that the operation was the largest-ever bust of artifact looters. Twenty-four people were arrested; 16 were from Blanding. The biggest catch was the town doctor James Redd, a beloved figure whose house was so full of Native American artifacts it took the authorities 10 hours to catalog them all. The next day, Redd committed suicide. The informant also killed himself. So did another suspect.
The narratives in San Juan County quickly diverged: Conservationists and tribal leaders viewed the artifact haul—and a subsequent series of defacements—as evidence that the wilderness around the twin buttes needed more serious protection. In Roosevelt's day, amateur archaeologists ventured onto the mesa here at the behest of historians and museums; these days, the practice is sometimes for profit, but mostly a hobby. One local told me she had seen the bones of an Indigenous baby's arm with a turquoise bracelet on a mantlepiece in Blanding. It is estimated that 90 percent of Native American sites in San Juan County have been tampered with or damaged beyond recognition.
But the Blanding raid made the pot hunters into victims. White families saw an abuse of police power far out of proportion to the offenses that precipitated it. For Phil Lyman, a San Juan commissioner turned Utah state representative, you could draw a direct line from the Blanding raid to Bears Ears: It was one big story about Washington bigfooting San Juan County.
In May 2014, Lyman led a protest against a Bureau of Land Management road closure in an archaeologically rich wash near Blanding. Fellow travelers arrived en masse, riding all-terrain vehicles and carrying assault rifles. Ryan Bundy showed up, fresh off the family's Bunkerville standoff in Nevada the month before. Lyman led this crew up to the bureau's barrier and made a speech about the virtue of liberty, citing Thomas Paine. The crowd wanted to go further. "I believe it'll cause more harm than good to cross that line today," Lyman admonished them.
At the top of the road, the militia crowd won out over the guy on the borrowed ATV with the Emerson quote on his business card. "If we're not opening a trail, I'm going to get in my truck and go home," Bundy countered. Over Lyman's opposition, the men roared up the shuttered canyon path, crushing Anasazi ruins beneath their tires. Lyman never crossed the gate, but he was charged with inciting a riot, was convicted by a jury, and spent 10 days in jail. Native American leaders condemned the ride.
When I visited Lyman at his day job as a Blanding accountant in December, he pulled out a huge map of San Juan County—the kind of wall-hanging chart you might see in a high school classroom. One by one, Lyman pulled down transparent sheets that each added a layer of color to the county: the reservation, the federal land, the state land, the monument, the sage-grouse protection area. By the time he was done, San Juan had been whittled down to a few small fingers of private land. "We're taking San Juan County away from you," he said in imitation of his enemies, "and the reason we're going to say is 'You're all racists.' "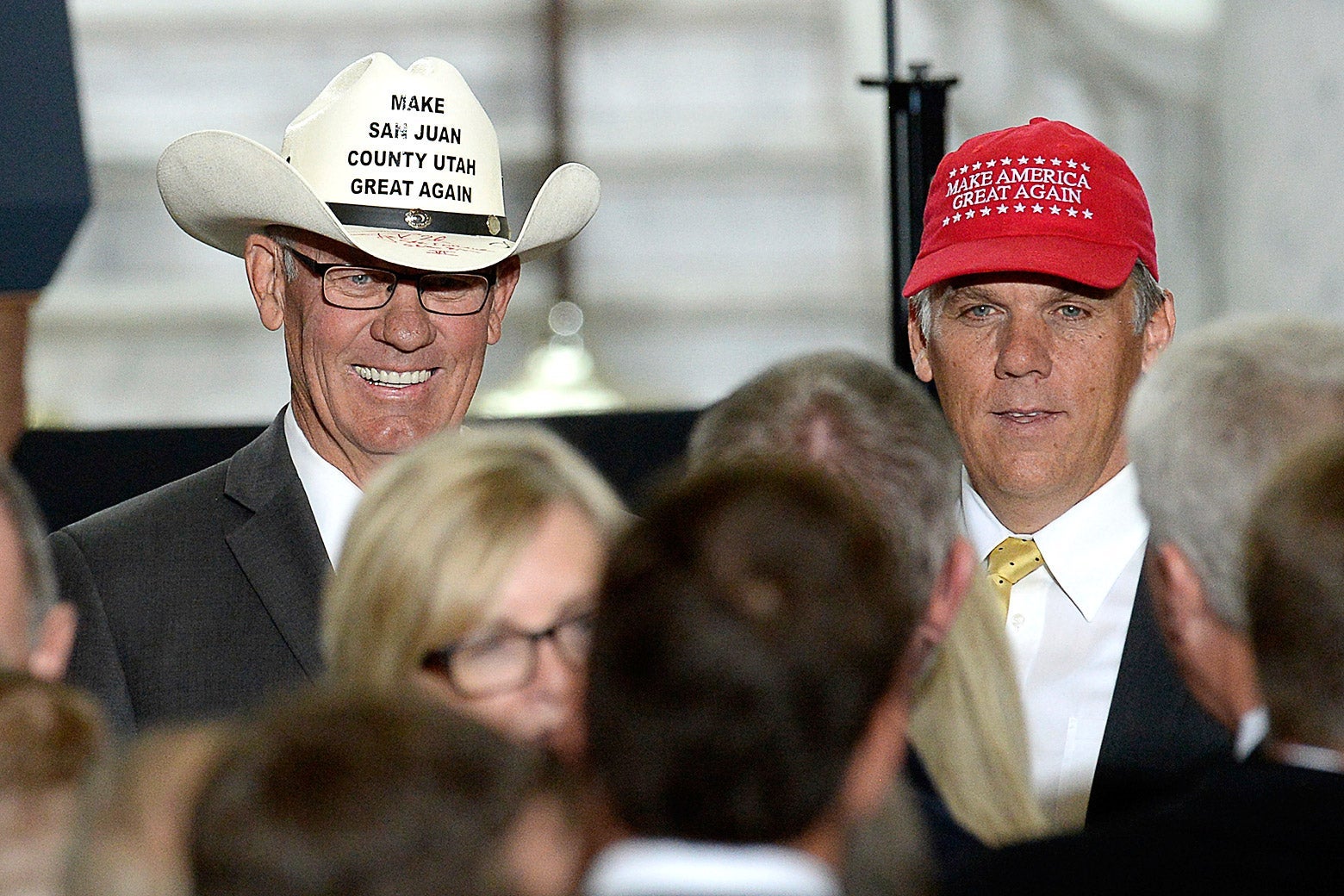 Underneath this simmering sense of grievance is the conviction that San Juan's white population cares as deeply for the land as the Navajos do. After all, they've never known anyplace else either: One of Phil Lyman's ancestors founded the town of Blanding at the start of the 20th century, after he had a vision of a Mormon temple and a town that would educate Native Americans. As one white shop owner put it to me, "Who's going to protect the land here more than the people who live here and love it?"
In 2017, Lyman and his fellow commissioners traveled to Washington to lobby Secretary of the Interior Ryan Zinke to reduce the size of Bears Ears. Later that year, San Juan commissioners donned MAGA hats for a photo-op with President Donald Trump when he cut the monument down. The case will not be resolved for years.
"What was lost through the monument designation? A little bit more of what was lost through everything else leading up to this," Lyman said. "These people are dogmatic, and zero economy in San Juan County would be OK with them." It's fun to visit a museum—but try living in one. And so Lyman has come to the conclusion that after more than a century, it is time for San Juan County to be split into pieces.
Willie Grayeyes and Kenneth Maryboy inherited a mess. Utah's poorest county is running out of money. The commercial property tax base has fallen by half in the past six years, largely due to a decline in drilling and mining. (This is mostly the market talking, but conservatives will tell you environmentalists aren't helping). It's become a bit of a joke around the office that the county is a magnet for lawsuits, but the prior commissioners chose the most litigious, expensive path at nearly every turn.
That council blew through a nearly $7 million general fund reserve appealing the redistricting (they lost in July of 2019), fighting an ACLU suit over Navajo polling places (they settled), and hiring $500-an-hour lawyers to lobby the Trump administration on Bears Ears. That left the Navajo commissioners in the uncomfortable position of raising what is already Utah's highest property tax rate to balance the budget. "We've been shortchanged, and we lost a lot of money," Maryboy said in April.
The new commissioners also reversed the county's stance on Bears Ears, at a commission meeting in February 2019. Opponents claimed Maryboy was a plant. "Your proposed resolution is in no way a reflection of the majority of your constituents, both Anglo and Native, in San Juan County," said Kim Henderson, a Monticello resident who went on to organize a town hall on the subject and now serves on the City Council. "That has been made very clear over the last year and a half. It seems more like it's a reflection of nonlocal special interest groups and their agenda. It seems more like payback." "Who authored these resolutions?" asked a Blanding resident. "Is it someone inside the county, or is it someone outside pulling strings on the puppets here in San Juan County?"
The idea that Bears Ears is an imposition that San Juan County's Indigenous people never asked for and don't want is a popular one. It was a line that Ryan Zinke himself used in a 2018 interview with the right-wing site Breitbart to defend the Trump administration. "The Navajo tribes that actually live close to Bears Ears … were all in support of the president's action," he said. Bears Ears supporters countered that votes in the Nation's Utah Chapters had been overwhelmingly in favor of the monument designation.
It is true that creating a Bears Ears National Monument was not a long-standing local ambition; the area was known to most locals as Cedar Mesa, and the Maryboy brothers had begun the Bears Ears mission just a decade before Obama completed it. Navajo views on environmentalism are much more varied than the liberal view of Native American priorities represented by Iron Eyes Cody's "Crying Indian"; historically, Navajos have been as angry with the distribution of the spoils as with oil drilling itself. But since 2016, local and national events had swept the Bears Ears issue into the culture war, and few people who live in the area still have no opinion about it.
Later that spring, at a meeting where one land rights activist suggested the Navajo commissioners didn't even understand what their own resolutions meant, the Republican Commissioner Bruce Adams tried to play mediator. He suggested the county hold a plebiscite on the issue—an up-and-down vote to once and for all ascertain how San Juan County residents felt about Bears Ears. "I'm uncomfortable with the three of us trying to make a decision on Bears Ears," the commissioner said. "I'm willing to accept whatever the citizens of this county vote to do." In a letter to the San Juan Record, the head of the county Democratic Party, James Adakai, called that stance "laughably ironic" coming from a fifth-term commissioner. The Republican-led commission had never previously asked for citizen input, Adakai noted, before spending half a million dollars on lawyers to lobby the Trump administration.
Sometimes it seems that the anger at the San Juan County Commission's work is not because of its power, but the lack thereof. The real battle over Bears Ears is happening over the commissioners' heads. In protest of the Trump administration's move to shrink the monument, the retailer Patagonia, which has dedicated itself to environmental causes, pushed to have the huge Outdoor Retailer trade show moved from Utah to Colorado. The New York Times uncovered documents showing that the Bears Ears monument's new Trump-era boundaries aligned with a map drawn by Sen. Orrin Hatch's office to resolve conflicts with extraction sites. The company that runs the White Mesa uranium mill, the country's last functioning uranium-refining facility, lobbied the Trump administration to reduce the size of Bears Ears. It has also asked the Trump administration to require nuclear plants to buy American uranium, boosting the domestic mining business, which has worried environmentalists.
In his book Confluence, Salt Lake Tribune reporter Zak Podmore writes about the damage that uranium inflicted on the county and its people. Children once played in mine tailings like sandboxes. They wrote their names in the yellowcake that gathered on cars. And they died of leukemia and lung cancer before they were old enough to vote. An enormous mound of radioactive waste sits on Navajo land just south of Mexican Hat, Utah.
But times may be changing. In January, the White Mesa mill laid off a third of its workforce. Oil and gas hasn't taken off in the monument's diminished boundaries. Some locals feel the emphasis on extraction is outdated, a worn and familiar debate that no longer applies to a territory whose more likely economic value—and environmental wear—will come from tourism. Leisure and hospitality now account for more than one in four private sector jobs in San Juan County, and employment in the sector grew by 44 percent between 2014 and 2018—the fastest rate in the state.
Grayeyes is not against the use of the land. "I'm in favor of extraction as long as you take this grain of sand"—he ripped a spitball-sized piece off a paper napkin, then moved it back—"you put it right back here in its proper position. That's still my position. But when they disturb the natural makeup, they will not put it back. How long does it take to heal the natural landscape? It will be years until these trees are replanted, these natural rocks are suntanned to the color of the surrounding." He thought of trophy hunters, decapitating animals and leaving the meat to rot for scavengers. "All this was looked at as a church," he said, gesturing west toward the Bears Ears. "The Mormons have a sacred place, the temple. The difference [here] is not everyone is invited into the temple."