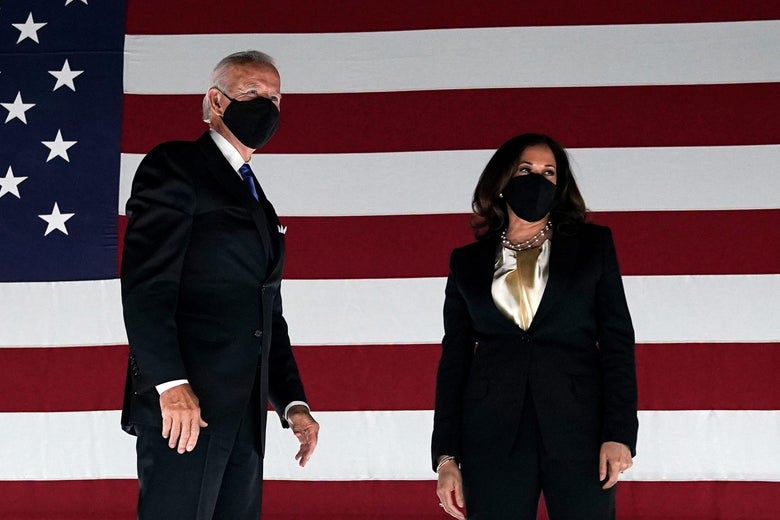 Former Vice President Joe Biden said he would not hesitate to issue a nationwide stay-at-home order if scientists said it was necessary. In his first interview since officially becoming the Democratic Party's nominee for president, Biden was asked about what he would do if, as some are warning, there is a surge of COVID-19 infections in January alongside the regular flu season. "I would shut it down," Biden told ABC's David Muir in a joint interview with Sen. Kamala Harris. "I would listen to the scientists."
Biden said that there was a "fundamental flaw" in how President Donald Trump has dealt with the coronavirus because he seems to believe that the economy and life in general can return to normal if the virus is not under control. "I will be prepared to do whatever it takes to save lives because we cannot get the country moving until we control the virus," Biden said. "That is the fundamental flaw of this administration's thinking to begin with. In order to keep the country running and moving and the economy growing, and people employed, you have to fix the virus, you have to deal with the virus."
Biden's words mark the strongest action he has proposed to try to stop the spread of the virus, reflecting concern about how the coronavirus crisis could worsen over the winter if hospitals are overwhelmed by both COVID-19 and flu patients. It also marks a stark contrast with Trump, who said earlier this summer that "we won't be closing down the country again." Biden's strong statement on the action he would take in the face of a renewed surge of cases come shortly after he called on governors last week to issue a universal mask mandate, although he did not push for a federal mandate. "Every single American should be wearing a mask when they're outside for the next three months, at a minimum," Biden said. "Every governor should mandate mandatory mask-wearing. The estimates by the experts are it will save over 40,000 lives."
Earlier this month, Anthony Fauci, the country's top infectious disease specialist, said the country could avoid another extended shutdown but only if Americans take basic mitigation strategies, like social distancing and masks, seriously. "You don't have to lock down again, but everybody has got to be on board for doing these five or six fundamental public health measures," Fauci said.
During the interview, Harris also laughed off Trump's attacks against her, characterizing them as efforts to distract voters. "President Trump has referred to you as 'nasty,' 'a sort of madwoman,' 'a disaster,' 'the meanest,' 'most horrible,' 'most disrespectful of anybody in the U.S. Senate.' How do you define what you hear from the president?" Muir asked. Harris began laughing halfway through the question, making clear she doesn't take the president's words seriously. "I think that there is so much about what comes out of Donald Trump's mouth that is designed to distract the American people from what he is doing every day—that is, about neglect, negligence and harm to the American people," she said. Biden chimed in: "And incompetence." Harris agreed and the former vice president continued to emphasize the unprecedented nature of the president's words. "The idea that he would say something like that—no president, no president has ever said anything like that. No president's ever used those words," Biden said.
Support Slate's politics coverage
Slate is covering the stories that matter to you. Join Slate Plus to support our work. You'll get unlimited articles and a suite of great benefits.
Join Slate Plus
Join
---