Aug 07, 2020
88 days to Nov 03, 2020

Slate's guide to the 2020 races and politicians everyone's talking about this week.
Welcome to this week's edition of the Surge, in which we take a lil' walk down recent memory lane to recount some of the more memorable upsets of the House primary season so far. With these races in the rearview, the Surge can reveal that it predicted the outcome in all of them, down to one-tenth of a decimal point.
We'll look at how progressives, despite getting dusted in the presidential primary, were at least able to knock off some House incumbents. We'll consider what the next House Republican conference will look like and wince. (Do you know what a "biblical conservative" is? If not, you're going to hell.) But we'll start with the most recent, and the most consequential, upset of the cycle.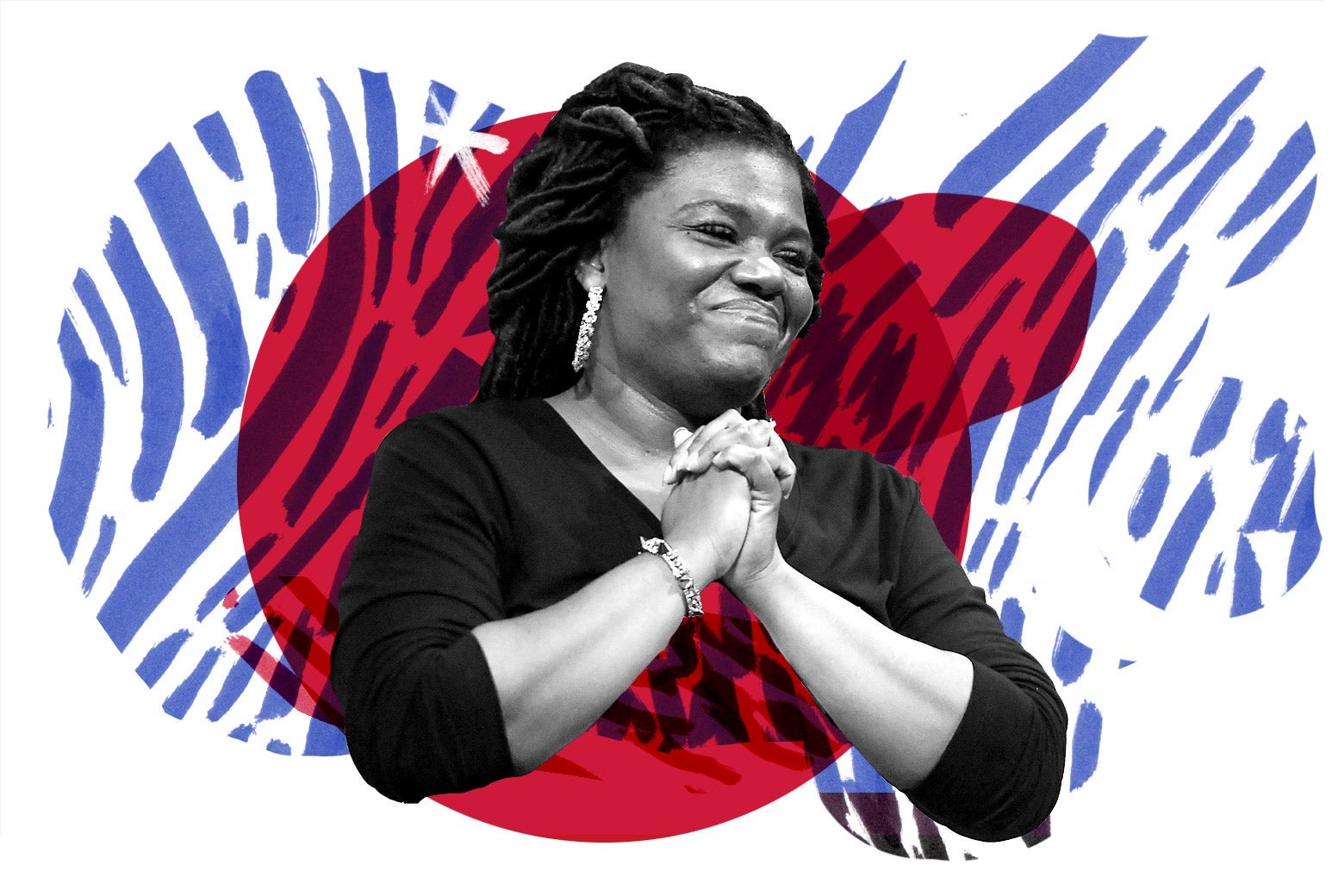 1.

Missouri's 1st District A new frontier for progressive challengers.

For Democrats, urban districts in America's major cities are some of the safest seats in the country, and left-wing Democrats don't feel like they're always getting the most left-wing members out of them. This is the theory behind the raft of safe-seat progressive challengers backed by groups like Justice Democrats in the past two cycles. And the incumbents whom they'd been successful in ousting were, essentially, anachronisms: white Democrats representing what had become majority-minority urban districts. But left-wingers had much more trouble beating Black incumbents in safe, urban districts—and frankly, they had trouble beating safe-seat incumbents outside the Northeast. That's why activist Cori Bush's primary win this week over St. Louis Rep. Lacy Clay, a Black, 20-year member of Congress who replaced his father, Bill, in the seat he had held for 30 years, is an earthquake in Congressional Black Caucus politics. Clay had defeated Bush with ease in 2018 and was caught sleeping against her much more professionalized challenge this time around. Expect every safe-seat CBC member to face a well-funded primary next cycle, and expect those CBC members to take them seriously.

2.

New York's 16th District The "W" that banged-up progressives needed.

Despite Cori Bush breaking new ground, this has not been the Most Awesome Year for the left. Bernie Sanders appeared to have the Democratic presidential nomination in his grasp heading into the South Carolina primary. Then the party snapped its fingers and within a week, Joe Biden had left Sanders in the dust. Meanwhile, Chuck Schumer and the Democratic Senatorial Campaign Committee got every candidate they wanted out of Senate primaries. By June, the left badly needed a meaningful win to show it was still a force worth taking seriously. It was generous, then, of longtime Rep. Eliot Engel—the chairman of the House Foreign Affairs Committee and one of those aforementioned ensconced, urban white guys in a majority-minority district—to stay at his Maryland home instead of in his New York district during the pandemic. And it was additionally kind of him to say other things—"If I didn't have a primary, I wouldn't care"—that made him appear out-of-touch and in need of a fresh replacement. Jamaal Bowman, the Justice Democrats–endorsed challenger who won the primary, appreciated it too.

3.

Virginia's 5th District Classic "ousted at the drive-thru convention for being nice to gay people" situation here.

This one is ranked so highly for the simple reason that it confounds the Surge. GOP Rep. Denver Riggleman, a freshman elected in 2018 under a cloud of Bigfoot erotica, lost the party's nomination at an unusual drive-thru convention in June to challenger Bob Good, a self-described "biblical conservative" who carefully adheres to such scriptural edicts as making English the national language and eliminating birthright citizenship. Riggleman's sin? He officiated a same-sex marriage in 2019, a move that prompted a county Republican Party to disown him. So, yes, people do still get mad about that in 2020. The R+6 district, which stretches from north to south along a central strip of the Old Dominion, was vaguely competitive already and, with Good's nomination, will be truly competitive for Democrats in November. Riggleman's loss represents this cycle's entry in Virginia Republicans trying to secure their status as a permanent minority.

4.

North Carolina's 11th District In which Mark Meadows effectively loses to a child.

This upset was as notable for its mismanagement by the White House chief of staff as it was for its winner. North Carolina then-Rep. Mark Meadows announced he was retiring from his seat in the western part of the state just before the filing deadline in December, a move that local politicos suspected might have been timed to benefit his wife's friend, Lynda Bennett. Meadows and his wife, further, successfully convinced President Donald Trump to endorse Bennett. In the June runoff for the GOP nomination, though, Bennett went down to an upstart named Madison Cawthorn who, at 24 years old at the time of his win, was, by our calculations, one of the youngest people to have ever lived. Anytime one of America's youths wins a congressional seat, it's a good story. It's even better when that upset prompts Trump to yell at his chief of staff.

5.

Colorado's 3rd District The cranks are gaining steam.

The next House Republican Conference—which, in all likelihood, will be the next House Republican minority—is going to be a spectacle heretofore unseen in American politics. Committee chair term limits and low expectations of retaking the majority have created a situation in which all of the House Republicans who know how to govern will be retired. People like Ohio Rep. Jim Jordan, considered objectionable cranks within the conference just a year ago, will continue to ascend in leadership. And who's coming in, aside from youths named Madison and "biblical conservatives"? Well, Lauren Boebert likely will be. Boebert, who knocked off incumbent Rep. Scott Tipton in this western Colorado district, is the owner of Shooters Grill, a bar and eatery in which the conceit is that everyone carries and shows off their guns. Boebert got some press by keeping her gun restaurant open in defiance of the governor's coronavirus lockdown orders. Boebert also is sympathetic to the QAnon conspiracy theory—and she's not the only competitive, or even likely, Republican candidate this cycle to share those sympathies. Texas Rep. Louie Gohmert, whom former Speaker John Boehner once described as "insane" and lacking a "functional brain," is going to be the Pericles of the next House Republican Conference at this rate.

6.

Iowa's 4th District Steve King is gone, though not for the reasons you think.

House Republicans who have been trying to prove that they're not a racist bloc have had an annoying problem for the past 17 years: Anyone can just say, But you have Steve King in your conference as an effective rejoinder. Republican leaders were finally able to oust the consistently offensive lawmaker, though, by stripping him of his real source of power in northwestern Iowa, his committee assignments, and specifically his senior position on the House Agriculture Committee. With that gone, even Republican primary voters who had little problem with King's regular racist comments had to concede that those comments had stripped him of the ability to be effective for his district. Which is why state Sen. Randy Feenstra comfortably defeated King in the early June primary. It may be the end of King's nine-term tenure, but it's just the beginning of his quiet life in study of obscure Austrian racial theory.

7.

Illinois' 3rd District Tough year for local political machine scions.

And now for that other Democratic member of an urban political machine who took over a seat from his father named "Bill" in the early part of this century and then lost it to a progressive challenger this year. Was Dan Lipinski's loss, though, really an upset? Lipinski only barely defeated his primary challenger, Marie Newman, in 2018, and Newman was sure to be stronger with a little more experience and ample resources behind her. After Newman defeated Lipinski in March, Lipinski claimed in his concession speech that he was "shunned by my colleagues and other Democratic Party members and operators. I was shunned because of my pro-life stance. The pressure on the Democratic Party on the life issue has never been as great as it is now." Along these lines, the defeat of one of the last pro-life Democrats in Congress earned some tsk-tsking about how rigid the Democratic Party has become. Is it really a stunning display of narrow-mindedness, though, that primary voters in a comfortably Democratic district wanted a representative who shares a foundational belief of the Democratic Party?