President Donald Trump is apparently none too happy that people are criticizing him for playing golf as a pandemic is raging in the United States. The commander in chief took to Twitter on Sunday to defend his frequent trips to the golf course saying that it is the only exercise he gets and that his predecessor "played more and much longer rounds." And that was "no problem" but when he decides to play, "Fake News, CNN, and others" go to great lengths to get a picture and show people how the president is playing golf. "Actually, I play VERY fast, get a lot of work done on the golf course, and also get a 'tiny' bit of exercise," Trump wrote.
That Trump doesn't gets any other exercise beyond the golf course may very well be true. But his claim to play less frequently than his predecessor just isn't. Trump went to his golf club in Sterling, Virginia, for the second time this weekend on Sunday, marking the 276th time he's visited a golf course as president. Numbers vary slightly. Mark Knoller of CBS News, for example, specifies that Trump has made 193 visits to golf courses over at least part of 258 days during his presidency. NBC News, meanwhile, says Trump has spent 269 days at one of his golf properties.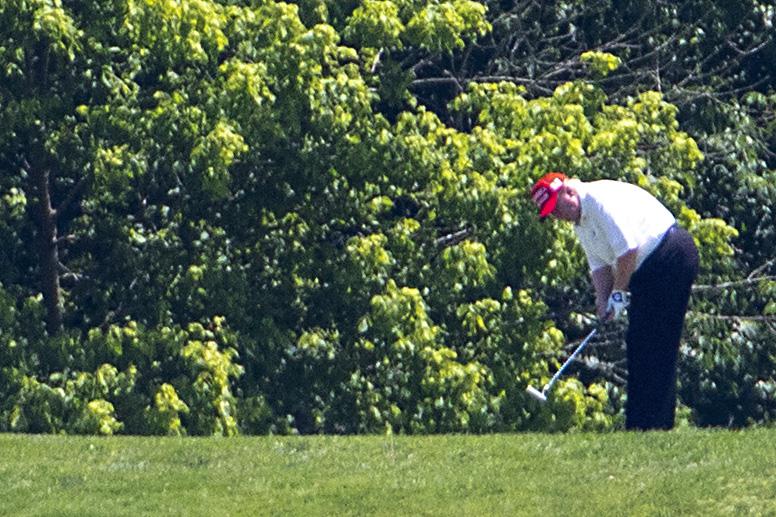 Regardless of which number you use, though, the conclusion is still the same: Barack Obama was nowhere near Trump's levels during the same point of his presidency. According to Knoller, Obama had played 102 rounds of golf. CNN says that Trump "has played more than twice as many rounds of golf than former President Barack Obama had at the same point in his presidency." In his whole first term in office, Obama played 113 rounds of golf, according to Golf Digest. The website Trumpgolfcount.com even has a handy chart that makes crystal clear that Trump has played more golf than Obama. It's difficult to know exactly how many times Trump has actually played golf at his properties because it's something the administration doesn't usually confirm unless the president is playing with a dignitary or celebrity. "However, if he's going to the golf club for about 4-5 hours, you can be pretty sure he's playing golf," notes Golf News Net.
Trump's claim that he plays golf "VERY fast" is also a bit suspect considering reports that it took hours for aides to reach Trump when he was golfing two weeks ago. On June 28, Trump tweeted a video that showed one of his supporters yelling "white power!" Controversy erupted, but aides reportedly could not reach Trump to tell him what had happened while he was at his Virginia golf club. The video remained on the president's Twitter feed for more than three hours.
Before becoming president, Trump repeatedly criticized Obama for playing golf. On the campaign trail, Trump famously said that he wouldn't "have time to play golf" as president. Even before he launched his campaign, Trump was fond of using his Twitter account to criticize Obama for playing golf. In October 2014, for example, Trump was shocked Obama was playing golf "with all the problems and difficulties facing the U.S." That same year, he criticized Obama for playing golf during the Ebola outbreak. A total of 11 people were treated for Ebola in the United States during the 2014–16 pandemic, only two of whom contracted the virus in the country. As of Sunday, more than 3.2 million people in the United States have been infected with COVID-19, which has killed almost 135,000 people across the country.
For more of Slate's news coverage, subscribe to What Next on 
Apple Podcasts
 or listen below.