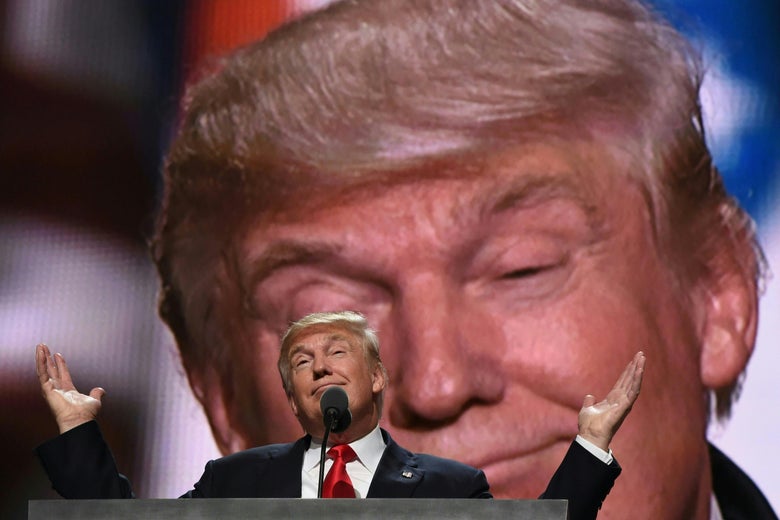 President Donald Trump announced on Thursday the cancellation of the Republican convention that was set to be held in Jacksonville, Florida, in a month's time. Trump had been itching to get back in the glowing limelight with a big, bawdy event to jumpstart his lagging reelection bid despite the coronavirus risks that accompanied it. The GOP had been in full-speed-ahead planning mode, but there appeared to be cracks in the Florida-or-bust vibe the White House was throwing down; local officials were starting to express concern about the feasibility of safety pulling off the event. Finally, Trump caved to the current reality of the virus that was his own making and announced the Jacksonville events would be canceled in favor of some sort of online programming. The cancellation was perhaps the most responsible moment of the Trump presidency.
"I looked at my team, and I said the timing for this event is not right, just not right with what's happened recently. The flare-up in Florida to have a big convention is not the right time," Trump said of the event. "It's really something that for me, I have to protect the American people. That's what I've always done. That's what I always will do. That's what I'm about." That is surely is not how actual events played out leading to Trump relinquishing his favorite thing: center stage. There's also the reality that Floridians were increasingly unhappy at being used as guinea pigs for the president's convention. A Quinnipiac University poll released the same day as Trump's announcement found that 62 percent of Florida voters opposed holding the convention. "I could see the media saying, 'Oh, this is very unsafe.' I don't want to be in that position," Trump said. "It's safety, not because of the media. But that's what they would say. And we'll have a very nice something. We'll figure it out. It'll be online in some form." The same Quinnipiac poll showed Trump now trailing Biden in the state by a whopping 13 points. In April, Biden's Florida lead was four points in the same poll.
Democrats had held similar hopes of putting on some semblance of a live convention to anoint Joe Biden its nominee, but the party has incrementally scaled back its vision to the point where it has now essentially jettisoned any hope of a mass celebration in favor of a choreographed digital event. The DNC in Milwaukee is now expected to be largely a formality and involve several hundred people, rather than the 50,000 it had originally planned. The GOP will have a similar number of party workers carrying out the Republican's formal nominating process in Charlotte, North Carolina, where this year's convention had originally been scheduled to take place. The Trump campaign, however, decamped for Florida after North Carolina's Democratic governor said the gathering would be subject to coronavirus safety restrictions.
For more of Slate's political coverage, subscribe to the Political Gabfest on Apple Podcasts or listen below.
---