President Donald Trump will be holding an outdoor rally in New Hampshire next weekend, his campaign announced on Sunday. After recent events hosted by the president during which face masks were markedly absent, this time the campaign said face masks will be handed out and their use will be "strongly encouraged" among those who attend. "There will be ample access to hand sanitizer and all attendees will be provided a face mask that they are strongly encouraged to wear," the campaign said in a news release. Before his rally in Tulsa last month, Trump had notably refused to endorse the use of face masks. "I recommend people do what they want," he said.
The president's rally will gather supporters at Portsmouth International Airport, and it will mark the first campaign event for the president since the sparsely attended event in Tulsa last month. Several campaign staff and Secret Service personnel have tested positive for the coronavirus since that rally. On Friday, Kimberly Guilfoyle, the girlfriend of Trump's eldest son and a top fundraising official for the campaign, tested positive for the virus. She had attended the Tulsa rally. Her diagnosis was made public days after Herman Cain, the former Republican presidential hopeful who was also at the rally, was hospitalized with the coronavirus on Wednesday.
Face masks were few and far between on Friday when Trump addressed a crowd of supporters at Mount Rushmore. There also seemed to be no effort to socially distance any of the attendees. The next day at the White House, few who'd attended Independence Day celebrations were wearing masks either.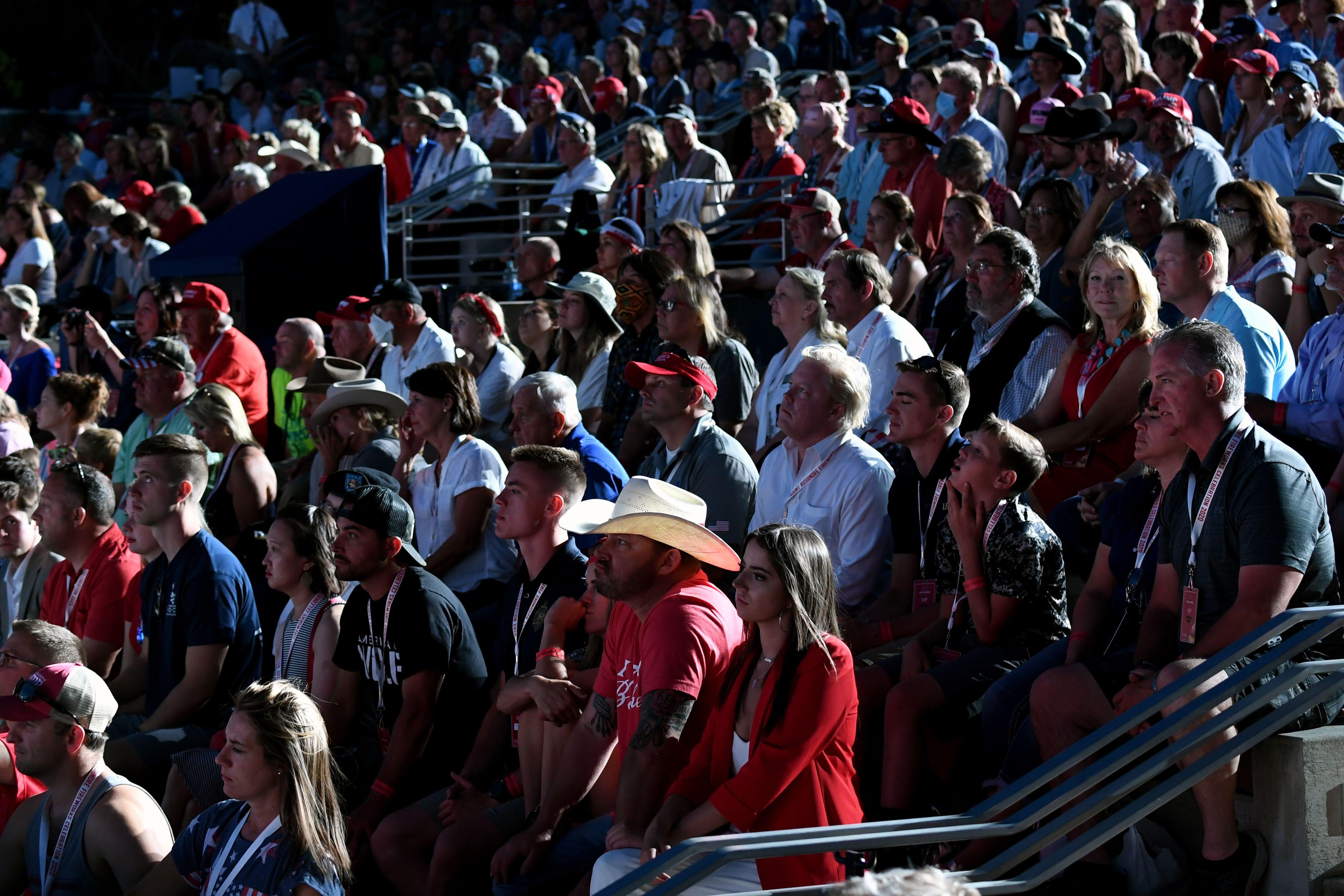 The rally in New Hampshire will take place in one of the few states that is reporting a decrease in coronavirus cases. A total of 39 states are seeing increases in coronavirus cases, and 15 states have reported record increases this month as some areas are grappling with a surge that officials warn is getting difficult to manage. Hospitals in Houston, for example, could be overwhelmed in approximately two weeks if cases keep increasing, the city's mayor warned. "The number of people who are getting sick and going to the hospitals has exponentially increased. The number of people in our ICU beds has exponentially increased," Mayor Sylvester Turner said on CBS's Face The Nation. "In fact, if we don't get our hands around this virus quickly, in about two weeks our hospital system could be in serious, serious trouble." Austin, Texas, Mayor Steve Adler gave a similar diagnosis on CNN's State of the Union. "If we don't change this trajectory, then I am within two weeks of having our hospitals overrun," he said.
The Austin and Houston mayors were among the local leaders who blamed the surge of cases on early reopenings and people quickly going back to life as normal. "There's no doubt that when we reopened, people started socializing as if the virus didn't exist," Miami Mayor Francis X. Suarez said. "It's extremely worrisome."