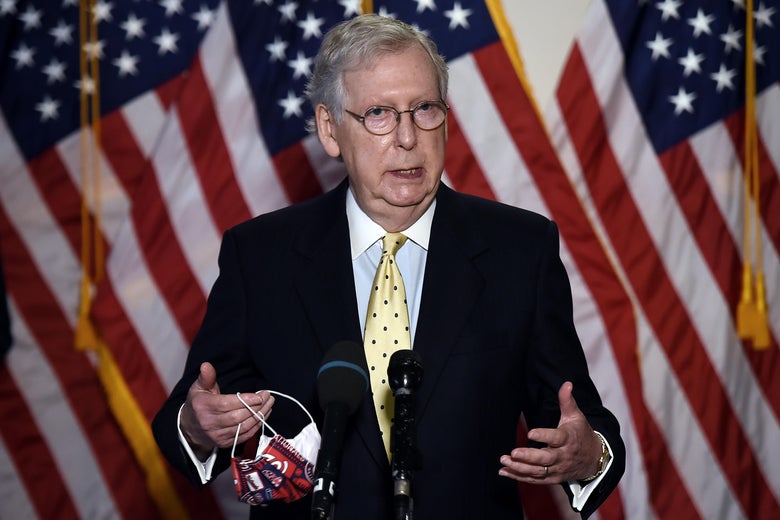 With a couple of weeks to go until August recess, and less than a week to go before enhanced unemployment benefits and a moratorium on evictions are set to expire, the White House and the Senate Republican majority have decided it's time to consider the first significant coronavirus relief legislation since late March. And as grueling as the bipartisan negotiations with the Democrats are expected to be as the process moves further along, Republicans are having trouble getting past the first step: reaching consensus among themselves about what they want.
"I think the White House is not necessarily going to be lined up with us, generally," Indiana Sen. Mike Braun said Tuesday, "because I don't think we're lined up with one another, generally."
At his weekly press conference following Tuesday's Senate Republican lunch, Majority Leader Mitch McConnell described the discussion about what to include as "robust," a Hill euphemism for "the senators were taking cutlery to one another's throats." There is a sizable number of Senate Republicans, after all, who would prefer that the cost of the bill be $1 trillion less than the $1 trillion price tag around which leaders are organizing. Kentucky Sen. Rand Paul, for one, was so disgusted with the conversation that he stormed out of the lunch and up to the cameras staked just outside.
"Everything they ever said about President Obama, everything they ever said about the Democrats, they are," Paul said of his colleagues. "They're talking about spending another trillion dollars. It's fiscally irresponsible and they should be ashamed of themselves."
"There should be a law," he added, "that says they are no longer allowed to say they care about the debt. This is insane. We are ruining the country."
Among those Republicans who are willing to spend money, there are some areas of consensus. The draft, which McConnell is preparing to release later this week, will include $105 billion for schools to help them reopen safely, as well as unnamed "specific incentives" for companies "to hire and retain workers," as McConnell put it in floor remarks Tuesday. There will be another, more targeted round of the Paycheck Protection Program designed to keep shuttered businesses afloat, as well as another round of direct checks to Americans, though the amount of the checks and the threshold for those who would get them are subject to discussion.
And then there is McConnell's own personal must-include provision, which he emphasized Tuesday. "I won't put a bill on the floor that doesn't have liability protection in it," he said. "Don't mischaracterize what this is about. This is for hospitals, doctors, nurses, yes, business, but also colleges, universities, K–12, in fact everybody trying to grapple with this new disease that we didn't fully understand."
What you'll see missing from this list, however, are: what to do about the enhanced unemployment benefits and the eviction moratorium set to expire this week, or additional aid to strapped state and local governments. These may be issues that are resolved through a tried-and-true formula in the end—Democrats offer one number; Republicans offer another number much closer to, if not exactly, zero; they settle on something in between—but there's a broad array of opinions about them within the Senate Republican conference itself. Louisiana's Bill Cassidy and Maine's Susan Collins, for example, support a plan to create a $500 billion fund for state and local governments. And though there is consensus among the GOP—and strong lobbying from business—that the additional $600 per week in enhanced unemployment benefits shouldn't be renewed as is, there's recognition too that zeroing out that fund, at a time when both new coronavirus cases and the unemployment rate are at historic highs (and when the election is in three months) wouldn't be the smoothest move.
But the requests that are causing the most distress are coming from the White House.
Some of the administration's demands are just the usual comic book stuff. While President Donald Trump is reportedly fixated on securing funds for a new FBI building in the coronavirus relief bill, his administration is trying to block additional funds for virus testing and tracing as well as a boost to the Centers for Disease Control and Prevention. When Missouri Sen. Roy Blunt, an appropriator and member of leadership who's been pushing back against the administration on this issue, was asked on Tuesday whether this demand had been dropped, he could only say, "Well, we've had good progress."
But a central issue causing problems is the idea of a payroll tax holiday. Trump has been pushing this proposal, fleetingly, for months. It's usually dropped when it's clear it doesn't have much support on the Hill. It's not an effective tool for the problem at hand—it doesn't help those who don't have jobs, of which there are many millions of people—it's costly, and it depletes funding from Social Security and Medicare. This time, however, Trump is insisting on it, deploying his top negotiators, chief of staff Mark Meadows and Treasury Secretary Steve Mnuchin, to argue for it and walking right up to a veto threat if he doesn't get it.
I did find a couple of defenders of the idea on Tuesday. North Dakota Sen. Kevin Cramer appreciated the "simplicity" of providing relief by zeroing out a tax that's paid by both employer and employee, rather than offering it through a more paperwork-intensive program like PPP. But that's far from the consensus opinion.
"I don't hear a lot of interest in that among Republican senators," Mike Braun told me. "So that would be a hard discussion at this point."
If they're trying to keep the price of the legislation under $1 trillion, a payroll tax holiday would crowd out much of the other things Republicans want to do—even before Democratic demands enter the equation. One solution being entertained is a good old-fashioned budget gimmick to hide the cost: They could structure it as a payroll tax deferral, in which the tax would theoretically be due at a later date—only later, they'd just pass separate legislation waiving the payback requirement. Otherwise, there's probably a choice coming in the direct-cash-relief space between a payroll tax holiday or an additional round of checks.
"I think both the direct payments and the elimination of payroll taxes would be a pretty big part of the package," Blunt told reporters. "Either one of them would be. Both of them would be, my guess is, challenging to do, and do much else, under a trillion dollars."
­In light of the divisions, McConnell's decision to wait until late summer to consider additional coronavirus relief appears less like an exacting, scientific determination that this was the moment when it would be needed again, and more like him delaying what he knew would be a painful conversation between competing elements of his conference and an oddball White House clamoring for oddball nonsense. Mnuchin and Meadows have been saying they expect a bill to pass by the end of next week. When McConnell heard that, he laughed.
Support our independent journalism
Readers like you make our work possible. Help us continue to provide the reporting, commentary, and criticism you won't find anywhere else.
Join Slate Plus
Join
---