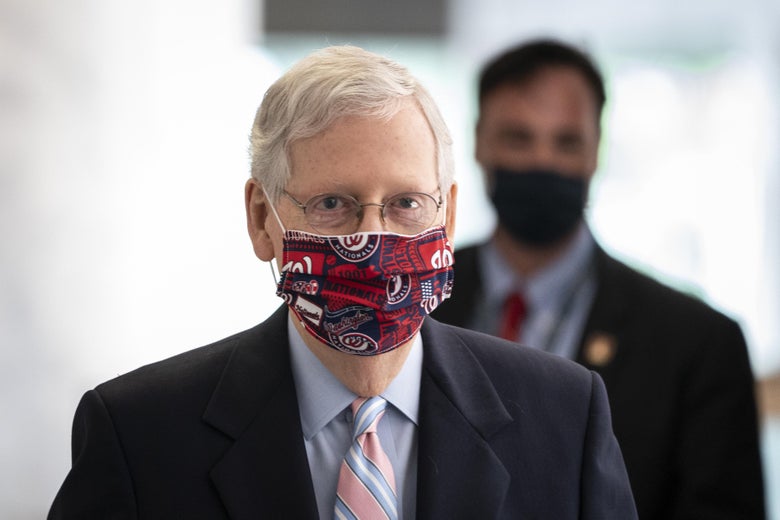 After last week's embarrassing delay, Senate Majority Leader Mitch McConnell was finally able to release Senate Republicans' opening offer in negotiations over the next coronavirus relief bill on Monday night. His next task is finding Senate Republicans who will vote for the HEALS Act.
He's got his work cut out. And that means McConnell's in the kind of terrible negotiating position he usually manages to avoid.
The legislation—which extends federal unemployment insurance benefits at one-third of their previous level, provides money for schools, issues another round of $1,200 checks to Americans, revises and extends the Paycheck Protection Program, and offers broad liability protections for businesses—is slated to cost around $1 trillion. (Also included: money for a new FBI headquarters and fighter jets.) That cost alone was enough to scare away a healthy chunk of the Senate Republican conference that has already sworn off spending more to prop up the economy.
"The price tag is going to be a deal breaker for many of us, regardless of the content," Indiana Sen. Mike Braun, who considered himself "unlikely" to vote for the package, said. Wisconsin Sen. Ron Johnson was more terse, saying that he would be a "no." Florida Sen. Rick Scott pointed to the markets, saying the price of gold was a sign that we're spending too much money, and anyway he thinks there's enough money still left over from the CARES Act that we shouldn't be spending another trillion. Kentucky Sen. Rand Paul, who seems to have discovered a fun bit, stormed out of Senate Republicans' discussion lunch early for a second straight week and told reporters he felt like he was in a meeting of progressive Democrats, given the dollar amounts being thrown around.
And they all know that if Republicans' opening offer is $1 trillion, the price tag on the bill that they actually vote on—once it's been negotiated with House Speaker Nancy Pelosi and Senate Democratic leader Chuck Schumer—is going to be a lot higher. "This is not the bill," Missouri Sen. Josh Hawley said after leaving lunch. "We have no idea what the final bill will be. And we'll be the last to know."
Even the senators who are generally supportive of the HEALS Act acknowledge that much of the Republican conference is simply out of reach. "When it comes to spending money on these kinds of things, a number of Republicans are just not going to be willing to do that," Missouri Sen. Roy Blunt, a key negotiator of the package and a member of leadership, told reporters. South Carolina Sen. Lindsey Graham usefully offered a specific benchmark against which to measure McConnell's skills. "If Mitch can get half the conference, that'd be quite an accomplishment," Graham told reporters. "I think we lost probably close to half [of Senate Republicans] at $1 trillion."
Mitch McConnell abhors issues that divide his conference. The way he typically deals with such issues is not to give them floor time. But this time he's got no choice. McConnell knows that as the governing party they'll likely get blamed for the bottom falling out of the economy, and he's trying to protect the vulnerable senators up for reelection who make his majority. Additional, expensive coronavirus relief now has achieved a sort of must-pass status.
Divided Republican support for the least expensive version of a must-pass bill puts McConnell in one of the worst negotiating positions he's found himself in since becoming majority leader in 2015. Schumer and Pelosi are fully aware of this dynamic, and they have been dutifully trashing McConnell's proposal as "a sad statement of their values, selling out struggling families at the kitchen table in order to enrich the corporate interests at the boardroom table." They don't always get an opening like this.
"Right now, Republican leadership is playing right into that trap, offering many of the same solutions [as Democrats], just a little bit less," Texas Sen. Ted Cruz, one of the most vocal opponents of McConnell's approach, told reporters. "These provisions are not designed to get people back to work—they're designed simply to spend money."
I asked Cruz how worried he was, knowing how many votes short Republicans would be, about Pelosi and Schumer taking Republican leadership to the cleaners.
"Very," he said.
"It is frequently the case in Washington that if you want to pass a trillion-dollar spending bill, the way you do it is you get all the Democrats and about half the Republicans," he added. "If that's the path Republican leadership takes in this crisis, I think that would be a serious mistake."
I asked South Dakota Sen. Mike Rounds, a rare member of the Senate Republican rank-and-file who's vaguely optimistic about the HEALS Act, about why they're pushing ahead on a bill that's so divisive within the conference.
"If we don't do the right thing here, people will suffer," Rounds said. "And part of our role here, as leaders, is to keep that pain and suffering to the very minimum."
But that's a controversial statement in the Senate Republican lunchroom these days.
Support our independent journalism
Readers like you make our work possible. Help us continue to provide the reporting, commentary, and criticism you won't find anywhere else.
Join Slate Plus
Join
---