June 05, 2020 151 days to Nov 03, 2020

Slate's guide to the presidential candidates everyone's talking about this week.
Welcome to this week's edition of the Surge. This year has been full of exhausting, emotional periods, but this past week might have been the heaviest of them all. Let's try to offer some fleeting, minor relief, then, by looking at a whole bunch of shitty polls for Donald Trump.
At this moment, Joe Biden is polling better against Donald Trump than any challenger to an incumbent president in recent memory, and the Trump campaign knows it. That's why we're taking an expansive look at "swing states" in this edition, considering a slew of states—some that we noted a few weeks ago and some newcomers—that aren't necessary for Biden to win the Electoral College, but which, if the election were held tomorrow, he might.
Anyone who recalls that just a few months ago the biggest problem in the country was how the Iowa Democratic Party was slow to report election results knows how quickly and comprehensively the dominant news stories can change, and with them, the election outlook. In one month, media coverage might be exclusively focused on the international response to toxic purple blobs that have mysteriously descended from deep space. But let's not get so bogged down in our hedging that we can't state the obvious: Biden is the favorite.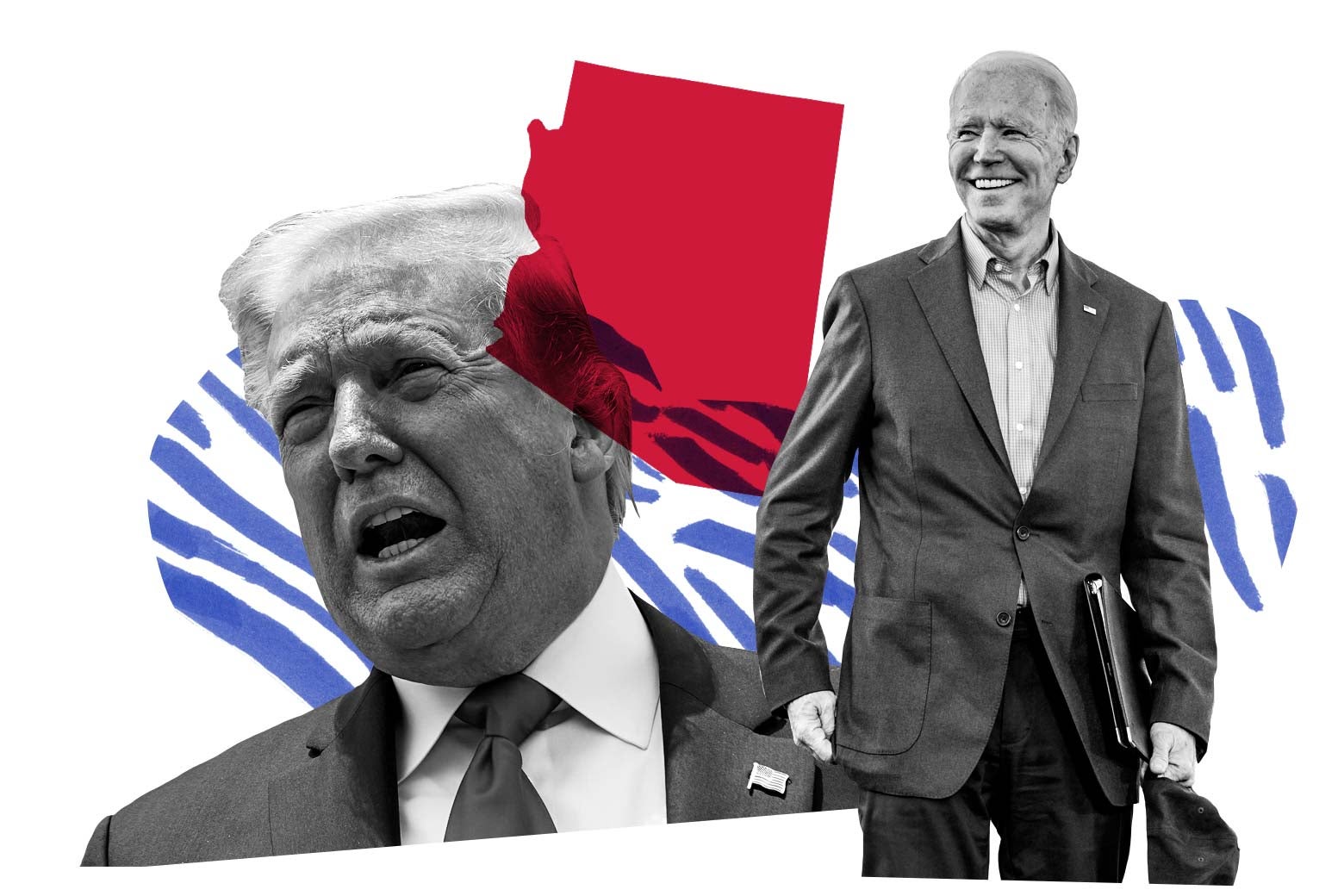 Last Week #3
1. Arizona
The GOP is getting so desperate that it might voluntarily spend time there in August.
The very afternoon of our last Surge swing-state rankings, Biden campaign manager Jen O'Malley Dillon described in a press call how she was "bullish about Arizona," describing it as "a state where we are not only ahead, but we have a strong opportunity to build our unique pathway to victory." Did O'Malley Dillon feel that way before reading that morning's Surge, in which we recommended she switch out Wisconsin for Arizona? Unlikely. Still, since then, the polling out of Arizona has remained strong for Biden—and incredibly strong for Mark Kelly, the Democratic nominee seeking to replace Sen. Martha McSally. The situation is dire enough that the Republican National Committee, which is searching for a last-minute convention locale (see the North Carolina entry below), is strongly considering the Phoenix area, even though the Valley of the Sun reaches a high of instant-death degrees Fahrenheit in August. It's the sort of punishment you'd only accept for a state that means instant death for your Electoral College path if you lose it.

Last Week #2
2. Wisconsin
Trump's worst poll of the week.
We continue to not trust this state that is governed by an overtly partisan Republican state Supreme Court that does whatever it wants, whenever it wants. Still: This is a killer poll for Joe Biden in Wisconsin. The Fox News survey this week—and to get it out of the way, Fox News has a good polling operation; it's not Sean Hannity himself getting on the blower and making cold calls—found Biden leading Trump by 9 percentage points in the state, 49 to 40. Since the state Supreme Court will find a way to turn any Biden win margin that's less than 5 percentage points into electoral votes for Trump, it's useful to have that kind of cushion. Ace poll from Hannity.

Last Week Unranked
3. Ohio
Should Democrats compete here? Sure, why not.
During the Democratic presidential debate near Columbus last fall, the Ohio Democratic Party, which doesn't win much of anything anymore, practically begged the national party not to give up on the longtime bellwether state just yet. Were national Democrats sold? That's wholly unimportant. What matters, ultimately, is that the Surge was not. Ohio had become red enough (Trump +8 in 2016), we thought, that if Democrats were to win it, it would mean they had already won the Electoral College anyway, and there are cheaper states in which to go all-in on advertising campaigns. But a Fox News poll this week showed Biden holding a modest lead. This is causing a modest reevaluation on the Surge's part. Can Biden win Ohio? Yes. Does Biden need Ohio? Probably not. Would it hurt Donald Trump's feelings if he lost Ohio, on top of having already lost everything? Yes. These factors tilt in the direction of a serious Biden play for Ohio.

Last Week Unranked
4. Iowa
What to learn from Steve King's loss.
Iowa is in the same boat as Ohio, albeit for cheaper: Democrats probably don't need it, but it would be neat to have anyway. As with Ohio and Arizona, the Trump campaign is fretting about the state and dumping advertising money into shoring it up. The big news out of Iowa this week, though, was that longtime Rep. Steve King, the leading openly racist member of Congress, lost his Republican primary. He did not lose because he was racist, and plenty of ex-King supporters had said during the primary campaign that they thought controversies around his various comments were overblown. They kicked him out, though, because his vitriol had made him an ineffective member of Congress, especially after his comments had lost him his prized seat on the House Agriculture Committee. We don't want to extrapolate too much from how the result of a Republican congressional primary in northwest Iowa foreshadows the result of a national general election. But with Trump's polling sliding to new lows, we could see a trend where voters don't leave Trump because they have a moral problem with his many insane daily outbursts. They leave because they recognize that the many insane daily outbursts make him incapable of governing, a flaw that's sharply exposed when there are two concurrent national crises. Trump led by 2 percentage points in the latest poll, in early May.

Last Week #4
5. North Carolina
A convention stare down.
In a neutral political environment, you might think the Democratic governor of a pale-red state up for reelection in 2020 might back down in a high-stakes standoff with the incumbent Republican president. But after weeks of discussions with national Republicans about hosting the 2020 RNC in Charlotte in the age of COVID-19, North Carolina Gov. Roy Cooper didn't budge. Republicans had demanded a guarantee of a full, 19,000-person, face-to-face indoor convention in August as planned. They were rebuffed. "Neither public health officials nor I will risk the health and safety of North Carolinians by providing the guarantee you seek," Cooper wrote. And so Republicans are shopping around for new cities, while still planning to host some of the "business" of the convention in Charlotte. Why might Cooper have felt confident to refuse presidential pressure this way? Besides being honest about the threat level—North Carolina is not in a good place, COVID-wise—Cooper has an approval rating in the 70s according to one recent survey, and he's leading in reelection polling by, well, landslide margins. Trump, meanwhile, trailed Biden by 4 percentage points in a poll this week of what is an absolute must-win state for him.

Last Week Unranked
6. Georgia
A comprehensive Republican headache.
As the New York Times observed, the Trump campaign has had to start worrying about Georgia, too, and Vice President Mike Pence has visited the state twice in the past month. Republicans have quite a few problems on their hands there. The governor, Brian Kemp, has earned the worst marks in the country among governors for his management of the coronavirus outbreak, even as the doomsday scenarios from his early reopening of the state haven't materialized. Georgia has two Senate races this cycle, and Republicans don't have a lock on either of them. Presidential polling, too, shows a dead heat between Trump and Biden. Anyway, one or two more trips from our charismatic vice president should solve everything.

Last Week #5
7. Texas
Resist!
No. NO. Don't do it, Democrats. Do not spend dozens (hundreds?) of millions of dollars going for this indulgence. Do not blow all your money advertising simultaneously in San Antonio, Austin, Dallas, Houston, and El Paso for your 400th electoral vote and the opportunity to neener-neener Republicans for losing the crown jewel of their Electoral College coalition a couple of cycles ahead of time. It is an illusion, from the devil. Texas will tempt you. It will serve you these DELICIOUS polls, like Quinnipiac showing Trump only leading Biden by one, and then take all your money, and then Trump will win. It's how tricksy Texas operates. Republicans don't even let Democrats vote in Texas if they sense there's going to be a problem.