June 19, 2020
137 days to Nov 03, 2020

Slate's guide to the presidential candidates everyone's talking about this week.
Welcome to this week's edition of the Surge, our weekly newsletter revealing damning information that we withheld from the United States Senate because Slate paid us $2 million for it instead.
It's time to look at Senate races again. We're not ranking them according to traditional power-ranking factors such as "most likely to flip." We're ranking them according to (a) how much new information there is and (b) how much they allow us to discuss the Great American Outdoors Act. Overall, the map continues to look terrible for Mitch McConnell's Republican conference as President Donald Trump drags the party down. But the biggest story of the week is what's going on with Democrats in McConnell's own state.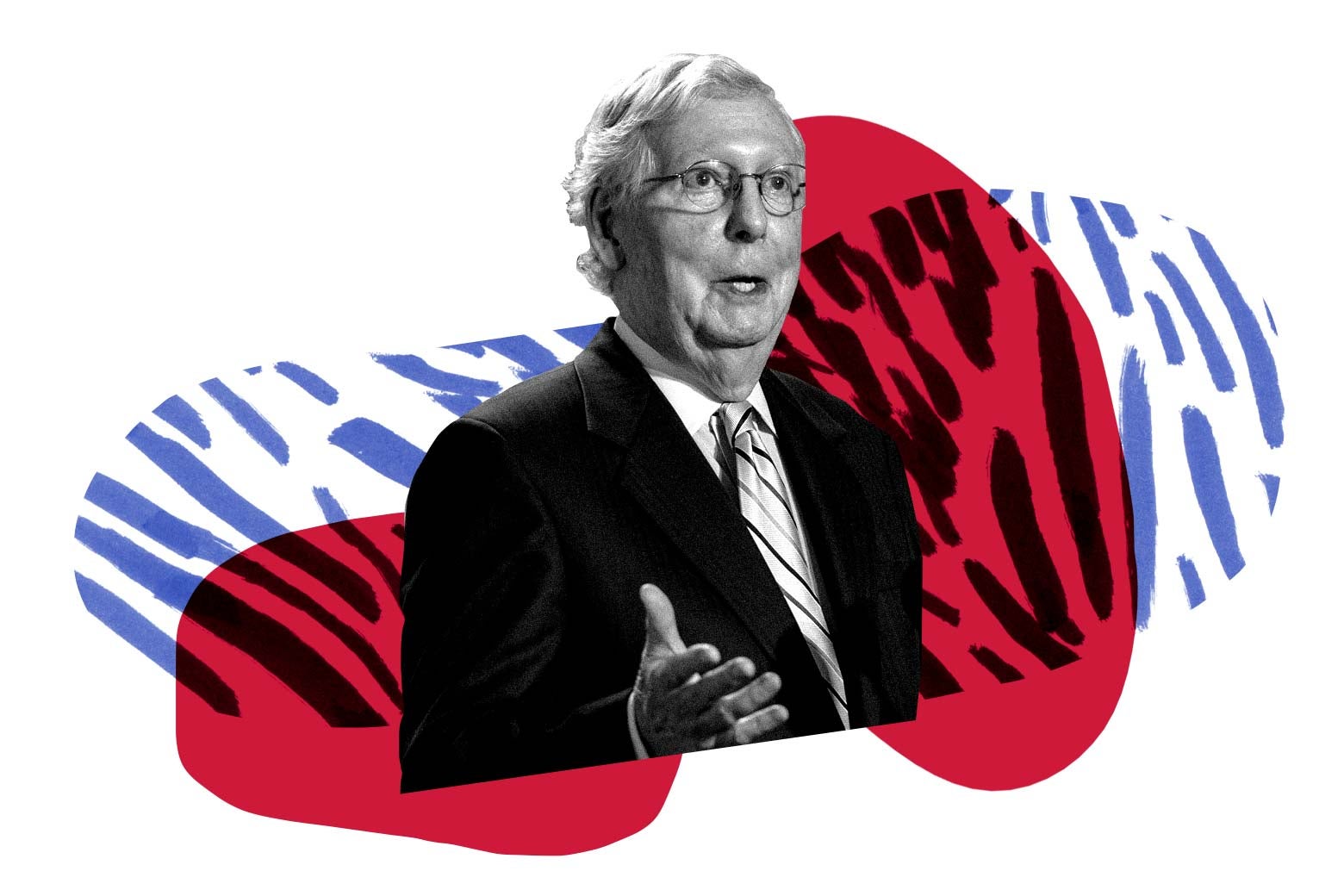 1.

Kentucky The battle for who gets to lose to Mitch McConnell is on.

The national Democratic establishment gets its way in Senate primaries. It's a rule. Democratic primary voters aren't like Republicans. When Republican voters hear that Mitch McConnell has recruited some well-credentialed haircut, they think, Screw that, I'm voting for the slob I just saw shouting about the "PC Police" at an empty park bench. Democrats live in permanent fear of losing and trust the powers that be to pick someone whom they think other people would like. All of which is to say: It would be something if Charles Booker, the state representative from Louisville who's seen his profile grow exponentially since the police killings of George Floyd and Louisville's Breonna Taylor, defeated Amy McGrath, the Chuck Schumer recruit who's taken all of your money, in the June 23 Democratic Senate primary. The endorsements from national, progressive figures kept rolling in for Booker this week, but so did the endorsement of an ensconced establishment Kentucky Democrat: former Secretary of State Alison Lundergan Grimes, whom McConnell defeated in his 2014 reelection. The most recent polling confirms that this primary is, indeed, a race. But it also confirms that regardless of who wins the nomination, the general election may not be much of a race at all: McConnell is ahead by double digits over both McGrath and Booker—though Booker is closer.

2.

Colorado Cory Gardner saved the great American outdoors!

To the extent that you were paying attention, you may have noticed something weird happening in the Senate the past two weeks: The guy we can't stop talking about, Mitch McConnell, was devoting an extensive amount of precious floor time to debate, amendment, and passage of a major and somewhat pricey conservation bill—the Great American Outdoors Act—that united Democrats while dividing Republicans. "Passing good bipartisan bills" is typically the exact opposite of how McConnell, who prefers to spend all floor time confirming small conservative children to lifetime positions on the federal judiciary, runs the Senate. So why did he do it? So he could give Colorado Sen. Cory Gardner, the lead sponsor on the bill, a comfy law with a Disney-ass name to run on. It was a gift to the most vulnerable Senate Republican up for reelection, who's cast some difficult votes for McConnell in the past few years. Gardner is in a deep reelection hole in his bid against would-be Democratic nominee John Hickenlooper, the popular former governor. Could this one bill save Gardner and our natural environment? Probably not. If Hickenlooper finds a way to blow his primary against consistent election-loser Andrew Romanoff, though, then we might have a race.

3.

Montana Yeah, let's keeping talking about this Great American Outdoors Act thing.

Montana Sen. Steve Daines, known among his Senate chums by the cheeky nickname Steve "That Other Montana Dude, Whatshisname, Ron Dayne? No, Ron Dayne Was the Running Back. Ron Daynes, That's the Guy" Daines, was once just another dude who co-sponsored the Great American Outdoors Act. And yet, throughout debate, Republican leaders would use every opportunity to thank both Gardner and Daines, specifically, for their heroic leadership and accomplishment (of doing so badly in their reelection bids that McConnell had to give them a layup). The Surge has a niche sense of humor, and the process behind the passage of this bill—yes, the bill's good, fine!—directly targets it. But still: Steve Daines is neck-and-neck with his challenger, Montana Gov. Steve Bullock, and the Cook Political Report moved the race to "toss-up" status this week.

4.

Iowa Not a long shot anymore.

A few Surges ago, we wrote about how Trump's national position had weakened so badly that his campaign was having to spend money defending Iowa, a state he won by 9 percentage points in 2016. Iowa isn't a tipping-point state in the Electoral College, but a poor performance there could prove decisive in determining control of the Senate. A survey this week of the Iowa Senate race, conducted by well-respected pollster Ann Selzer, showed incumbent Republican Sen. Joni Ernst trailing her Democratic challenger, Theresa Greenfield, by 3 percentage points. A couple more showings like that, and this race will become a top-tier Democratic pickup opportunity along with the races in Arizona, Colorado, Maine, and North Carolina. What does Ernst need? Well, it would be helpful if Donald Trump could stop making himself toxic to swing voters for just, like, a couple of days. Since that's not happening, she will probably need a few weeks of floor time from McConnell to pass some sort of Terrific American Corn Act. 

5.

Kansas Mike Pompeo will not save the Republicans.

Secretary of State Mike Pompeo has said thousands of times over the previous year that he would not run to replace retiring Kansas Sen. Pat Roberts. And yet it was still treated as somewhat of an open question on the day of Kansas' filing deadline in early June whether Pompeo might be convinced in the closing minutes. He was not. The reason the national GOP kept working Pompeo was that, without him entering and effectively clearing the primary field, Republicans are in danger of losing a Senate seat that they have held for 100 years. (No, that is not the Surge using one of its three joke templates, the one in which we insert a hyperbolically large number to prove a point. Republicans have actually held this seat for 100 years.) Now, Republicans are concerned that Kris Kobach, the far-right former secretary of state who blew a gubernatorial race in 2018, could take the nomination and create an opening for Democratic candidate Barbara Bollier, who left the Republican Party in 2018. If Rep. Roger Marshall, the best horse the establishment has in lieu of Pompeo, can win the Aug. 4 Republican primary, Republicans should hold onto the seat. If Kobach wins instead, well, he is the one Republican who can lose elections in Kansas. 

6.

Arizona Where's Martha McSally on DACA today?

On Thursday morning, shortly after the Supreme Court blocked the Trump administration from rescinding the Deferred Action for Childhood Arrivals program that shields Dreamers from deportation, Arizona Sen. Martha McSally tweeted the following: "I've fought many times in Congress to provide a legal status for DACA recipients while enhancing border security, closing loopholes in our laws, and modernizing our legal immigration system. I stand ready to continue that work in a bipartisan way." She's fought many times, it's true—with many different positions. In 2017, when she was a moderate Republican congresswoman from a swing district, she co-sponsored a bill that offered a pathway to citizenship for Dreamers. In 2018, when a Senate seat opened up and she was competing in the Republican primary, she removed herself as a co-sponsor of that bill and instead supported a hard-right immigration bill offering Dreamers much less, in exchange for, among other things, vast legal immigration cuts. On immigration, she's fought for whatever the short-term political winds compel her to fight for, and all it's earned her is a short-term appointment to a Senate seat and a 10-point deficit to Democratic nominee Mark Kelly.

7.

Alabama Congrats to Jeff Sessions for blowing DACA.

Former Attorney General Jeff Sessions, who is trailing in Senate primary runoff polls to Trump-backed former Auburn football coach Tommy Tuberville, released his own statement following the Supreme Court decision on DACA this week. "It simply cannot be that when one President alters law by fiat the next President cannot undo it," Sessions said. The problem for Sessions here is that the ruling said nothing of the sort: The administration can rescind DACA, but it needs to show its work rather than rescinding it in slapdash fashion. Jeff Sessions, as attorney general, could have rescinded DACA, but he screwed it up when he tried. Just offering some tweet material for Trump here, against his mortal enemy. The race remains heavily tilted toward Republicans regardless of who wins the primary, since it's Alabama in a presidential election cycle and Roy Moore has already lost. But for fans of Jeff Sessions' continued debasement, it's a fun one to watch.