June 12, 2020 144 days to Nov 03, 2020

Slate's guide to the presidential candidates everyone's talking about this week.
Welcome to this week's edition of the Surge, a newsletter that pretends the United States will hold fair elections in 2020 in which it is possible to ascertain who "won" and who "lost" based on preferences of "voters," when it's just as possible those "voters" will stand in long lines to no apparent end.
Before we get to November's long lines, there are still so many primary lines to get through. During the peak-panic days of the coronavirus outbreak in March and April, numerous states pushed back their primaries until June or July, by which time all of the country's problems would have been adequately resolved. So here we are, with a slew of high-stakes down-ballot races still to be determined, the vast majority of them somehow being in the Bronx.
Here's a look at some of the most exciting primary contests. We start the way we always start: with an old man having a difficult time.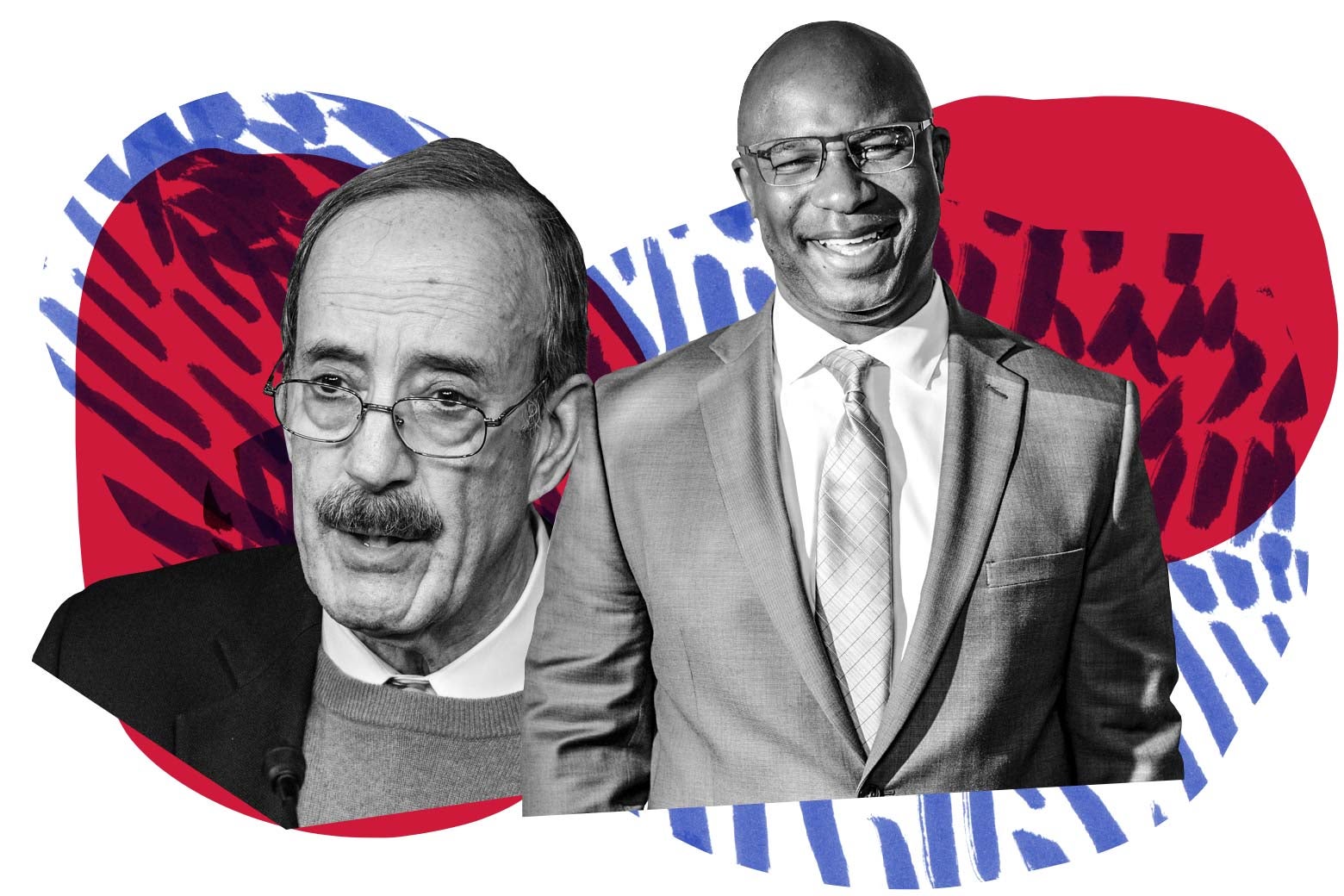 1. New York's 16th District, Democratic primary, June 23
Eliot Engel can't catch a break.
It's been a weekly nightmare for the 30-year incumbent, whose district covers parts of the Bronx and Westchester County, ever since a reporter discovered that he had been riding out the coronavirus outbreak at his home in the suburbs of D.C. rather than in his district. "I'm in both places," Engel said when the reporter rang his doorbell in Potomac, Maryland. Engel was, at least, back in New York on June 2, when he was caught on a hot mic at a news conference asking for time to speak and adding, "If I didn't have a primary, I wouldn't care." Indeed, Engel does have a primary from the left in the form of Jamaal Bowman, a principal from the Bronx. Engel's problem isn't just that he can't move a muscle without reinforcing the opposition's message that he's a stereotypically entrenched, entitled politician. Bowman is getting the press and endorsements he needs, too. He's recently earned the support of another partial Bronx member of Congress, Rep. Alexandria Ocasio-Cortez (who took down her own district's powerful, entrenched, longtime rep), as well as that of Sen. Bernie Sanders, New York City Public Advocate Jumaane Williams, and New York City Comptroller Scott Stringer. The most embarrassing episode of this week, though? Engel had listed the endorsement of Senate Democratic leader Chuck Schumer on his website. When Schumer was asked about that on Tuesday, though, he simply told reporters, "I haven't endorsed in that race."

2. Kentucky Senate, Democratic primary, June 23
Do donations to Amy McGrath have a return policy?
Last July, Chuck Schumer successfully recruited popular (albeit failed) 2018 House candidate Amy McGrath to run for Senate against Mitch McConnell, and you all—yes, reader, YOU; you know what you did—promptly gave her all of your money. Through March of this year, McGrath had separated Democrats across the country from nearly 30 million of their own dollars. In that same period, another, more left-wing Democratic challenger, Charles Booker, had raised only $315,000. But since the protests following the Minneapolis police killing of George Floyd, Booker, a freshman state representative from Louisville, has met his moment. He launched his first TV ad this week, in which he suggested Kentucky needed a "real Democrat" and not someone, like McGrath, who would "help Trump just get his way." Booker has earned the endorsements of Bernie Sanders, Alexandria Ocasio-Cortez, and "Kentucky sports radio host Matt Jones," whom the Surge does not know but who is almost certainly more important than Sanders or Ocasio-Cortez (and at one point was floating a run for the Senate himself). On Wednesday, Booker also nabbed the endorsement of the Louisville Courier-Journal, the highest-circulation paper in the state. The Surge doesn't pick favorites, but the prospect of McGrath's $30 million pointlessly going up in flames before it's scheduled to—in the general election against McConnell—has caught our attention.

3. Massachusetts Senate, Democratic primary, Sept. 1
As they say in Massachusetts, it's getting "Massachusetts spicy."
Let us now turn to a race that's extremely high-profile despite its result meaning almost nothing to how Massachusetts is represented in the United States Senate. Sen. Ed Markey and his challenger, Rep. Joe Kennedy, who are each campaigning as the purest of progressives, have been at it in a series of recent debates. Kennedy, whose unspoken rationale for running is that he is a Kennedy and can win, has been trying to mar Markey's progressive image by finding Biden-esque dirt in his lengthy congressional record, such as his votes for the Iraq war and the 1994 crime bill. Markey, though, referred to Kennedy in a debate this week as a "progressive in name only," saying that "when he [got] a chance to lead on Medicare for all, on climate change, on the militarization of the streets of this country, he was not a progressive leader." Blah blah blah. What we appreciate more are the subtle digs, such as when Markey told a Boston Globe reporter who dropped by his modest Massachusetts home, "welcome to the compound!" in reference to the famous Kennedy Hyannis Port grounds. Markey, apparently, has been literally standing in his driveway to prove that he spends time in Massachusetts and not at his home in Chevy Chase, Maryland. With Kennedy leading in the polls, Markey will need to stand there without moving through the Sept. 1 primary, so consider dropping off supplies if you're in the area.

4. Alabama Senate, Republican primary runoff, July 14
Can Football Man score the "big touchdown" against Elf Cop?
When former Sen. and Attorney General Jeff Sessions announced he was running for his old Senate seat last November, he humiliated himself by offering nothing but love for the president who shredded his dignity before firing him. But it wasn't enough to earn Donald Trump's favor, or even his silence. As soon as Sessions earned his way into a runoff with former Auburn football coach Tommy Tuberville in the March primary, Trump tweeted a "Complete and Total Endorsement" of Tuberville. When Trump again tweeted his support for Tuberville in May, with more direct poking of Sessions, the former attorney general finally stood up for himself and told the president to stay out of Alabama's business. A May poll showed Tuberville with a large lead over Sessions, a dynamic more or less confirmed by Sessions' resorting to classic also-ran tactics such as challenging his opponent to a million debates and leaking rosy internal polls that still show him losing. Sessions has also recently called Tuberville a bad football coach.

5. New York's 15th District, Democratic primary, June 23
A Trump supporter might be the next Democratic congressman here.
Wee bit of a major fucking problem here, for the Democrats. Twelve candidates are running in the Democratic primary to replace retiring Rep. José Serrano in this, a comically safe Democratic district in the Bronx, which Hillary Clinton carried by an 89-point margin over Donald Trump in 2016. But the one with a strong shot of winning, given his long tenure representing the area in the state Senate and New York City Council and the split progressive opposition, is Rubén Díaz Sr., a conservative Democrat who just last year said the City Council was "controlled by the homosexual community." Compounding the problem: His name will only appear on the ballot as "Rubén Díaz," which may lead voters to believe they are casting their ballot for his son, Rubén Díaz Jr., the popular, non-insane Bronx borough president. A Democrat who could vote for Donald Trump in the presidential election could soon represent the South Bronx in Congress. Eleven days to fix this, New York Democrats! Have fun.

6. Michigan's 13th District, Democratic primary, Aug. 4
The Squad under fire.
Three of the progressive House freshmen popularly known as "the Squad"—Ocasio-Cortez, Minnesota Rep. Ilhan Omar, and Michigan Rep. Rashida Tlaib—drew primary challengers this cycle. The most threatened of them is Tlaib, who's facing off against Detroit City Council President Brenda Jones. Jones is a former congresswoman herself, having served for five weeks in late 2018 after winning the special election to replace Rep. John Conyers. But Jones lost the simultaneous Democratic primary for a full term in the 116th Congress to Tlaib by only 900 votes in a six-way field. This time around, however, Jones and Tlaib will be facing off in a one-on-one race. An April poll showed Tlaib ahead but not comfortably so.

7. Georgia's 14th District, Republican primary runoff, Aug. 11
The Q Caucus, coming to a Congress near you.
Those of you who harbor an intense animosity for the existing House Republican Conference don't know how good you have it. Just consider the extremely online melt-brains that are going to replace existing members in safely red districts when they retire. Georgia's 14th District, covering the blood-red northwestern corner of the state, held its primary on Tuesday for the seat being vacated by Rep. Tom Graves. The leading vote-getter in the Republican primary was Marjorie Greene, with about 41 percent of the vote (as of this writing), double her nearest competitor, John Cowan. The two will face each other in an August runoff and … we don't know how else to put this: Greene is a believer in the QAnon conspiracy theory. (If you're not familiar yet, STAY THAT WAY. If you must learn up, go ahead.) Relative to that, her ad posing with an assault weapon and threatening "ANTIFA terrorists" is almost quaint. And relative to that, Cowan's ad shooting a plastic model of a coronavirus with his own assault weapon is RINO stuff, practically a Rockefeller Republican over here. We cannot overstate how doomed this country is.