May 08, 2020
179 days to Nov 03, 2020

Slate's guide to the presidential candidates everyone's talking about this week.
Welcome to this week's edition of the Surge, in which—for this one week, at least—we will debase our object of jokey evaluation from the almighty presidency to the disgusting servant's quarters that is the United States Senate. The very term down-ballot reeks of "junior hotel suite" and other terms beneath the Surge's dignity. We can't wash our hands enough.
The Senate outlook for 2020 has been trending blue since Democrats nominated "safe" Joe Biden and the coronavirus pandemic reminded folks that President Donald Trump is PRESIDENT *DONALD TRUMP*? Opportunities abound for Democrats as the national environment for Republicans worsens. But there's one race, especially, that's become key to their hopes.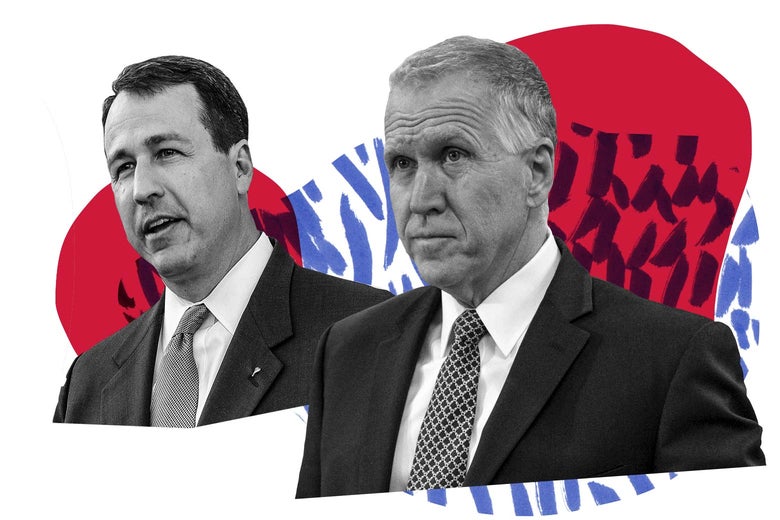 1.

North Carolina The hinge race.

Let's get the math out of the way. The current, Republican-led Senate composition is 53 to 47. That means Democrats need a net pickup of three seats to win the chamber if they win the presidency—and have a Democratic vice president to cast the tie-breaking vote—or four seats if they don't. Democrats will likely need to flip four or five Republican seats, though, because Alabama Sen. Doug Jones, who this time will not be running against a Republican who's been banned from the mall, is probably going to lose. Democrats' three best pickup opportunities (spoiler) are in Maine, Colorado, and Arizona. Where's the fourth? has been the question looming over the Senate puzzle this whole time. We now appear to have an answer: It's in North Carolina, where Democrats have invented a specimen named "Cal Cunningham" (troop, lawyer, dad!) to take on incumbent Republican Sen. Thom Tillis, whom voters dislike. Cunningham prevailed in the primary, despite Republican hijinks to prevent him from doing so, and will be competitive with key Democratic Senatorial Campaign Committee–targeted swing blocs in the Research Triangle like White Claw Frolf Dads and CIA Predator Drone Pilot Moms. The polling average shows a dead heat, though a (Democratic-leaning) pollster this week put Cunningham up by 7 percentage points. No pressure, Cal, but preventing a 6–3 conservative Supreme Court—i.e., a permanent Republican victory in American politics—may rest on your shoulders?

2.

Maine The long Kavanaugh hangover.

Remember when Susan Collins cast the deciding vote in favor of Brett Kavanaugh's Supreme Court confirmation? Maine sure does. The once broadly popular veteran senator still hasn't recovered from the polling collapse following that fateful 2018 vote. In the same Bangor Daily News April poll where Democratic Gov. Janet Mills earned a 60 percent approval rating, Collins' approval stood at 37 percent, with a 52 percent majority disapproving. Polling is sparse, but the most recent (Democratic-leaning) poll in March showed Collins trailing her main competitor in the ranked-choice voting system, Democrat Sara Gideon, by 4 percentage points. Those fundamentals are bad, especially in a presidential election year in a (narrowly) blue state where the top of the ticket will dictate much of what goes on down-ballot. Next to his own race, though, reelecting Collins will be Mitch McConnell's top priority after the risk she took on Kavanaugh. She won't lack for funds.

3.

Colorado Is it too early to put this one away?

No Republican is up for reelection in a bluer state than Colorado, earning Cory Gardner the sad title of most vulnerable Republican this cycle. His likely opponent will be popular former Denver Mayor and Colorado Gov. John Hickenlooper, whose entrance into the presidential race last year had no impact but whose entrance into the Colorado race has (nearly) cleared the Democratic field ahead of the June primary. Democrats' recruitment of Hickenlooper appears to have panned out, as a couple of new polls show him leading Gardner by 18 and 17 percentage points, respectively. If the idea that Doug Jones is cooked in Alabama is widely accepted—and that's where the official Democratic Party seems to be—then it's time to put Gardner in the same boat.

4.

Montana YES WE KNOW THE POLL IS BAD but …

The "hot poll o' the week" came from Montana State University, showing Democratic Gov. Steve Bullock, a late recruit whom Chuck Schumer wanted so badly that he flew his Brooklyn-ass self out to Montana in February to meet him, leading incumbent Sen. Steve Daines 46 to 39 percent. Now: How accurate is this flashy poll? There's no way, for instance, that Trump is only leading in the state by 5 percentage points, as the poll also found, when he won it by 20 in 2016—and privately each side of the campaign is calling the race more like a toss-up at the moment. But a Democratic Senate candidate being in a toss-up for a Montana seat against an incumbent, even an uninspired warm body calling itself "Steve Daines," is pretty striking in its own right.

5.

Kansas If only Kansas Republicans could export Kris Kobach.

In 2018, Kansas Republicans, who have spent the past decade in a protracted civil war between their normie "we just like business!" types and their kooky right flank, nominated a candidate from the latter category, controversial former Secretary of State Kris Kobach, for the governor's race. Kobach lost the general election to Democrat Laura Kelly. LOST to a DEMOCRAT, in KANSAS. Now Kobach is running for the vacant Senate seat left by retiring GOP Sen. Pat Roberts. The state Republican Party is trying to unite the primary field behind an alternative, Rep. Roger Marshall, to prevent Kobach from advancing to another general election. Such heavy-handedness from the top often backfires in Republican politics these days—anyone notice recently that NBC's Donald Trump is president?—but the Kansas GOP doesn't have much other choice. If they nominate Kobach again, there's a good chance they blow it again, this time to Democratic state Sen. Barbara Bollier.

6.

Massachusetts The marquee Democratic primary takes shape.

Finally, some primary action. Let's turn our gaze to the Bay State, aka Jarrett Stidham Nation. It must be hard for Rep. Joe Kennedy to be asked constantly why he's challenging Sen. Ed Markey, a senator with whom he has few policy disagreements (that he'd like to highlight), while being unable to provide the real answer: Because he can win. Markey, a longtime liberal congressman and senator in the race of his life, has earned an unorthodox roster of endorsements ranging from the Massachusetts elected establishment to progressives like Rep. Alexandria Ocasio-Cortez to weird meme teens. Sen. Elizabeth Warren, a Markey endorser who spans two (three?) of those categories, is one of Markey's most valuable primary assets, and a recent Markey clip firing back at some Kennedy trash talk leaned heavily on Warren's support. All good assets for Markey. The upside for Kennedy, though? His last name is "Kennedy" and is expected to remain "Kennedy" through the September primary.

7.

Arizona Mark Kelly isn't running in a red state.

Is this going to get hard for Democrat Mark Kelly, astronaut husband to former Rep. Gabby Giffords, at some point? Shouldn't beating an incumbent Republican senator, even if she's just an appointee like Sen. Martha McSally is, in Arizona during a presidential election year be hard, for like a week even? Kelly is leading McSally by 8 percentage points in the polling average. He had nearly double McSally's cash-on-hand total at the end of the first fundraising quarter. This is the state of Barry Goldwater and John McCain and Jon Kyl and Joe Arpaio! Except it's not, anymore. Part of the reason why it's so difficult to appreciate that Kelly might just coast to a Senate seat in November is that it's difficult to appreciate how firmly a swing state Arizona has become. Democrat Kyrsten Sinema won a Senate seat there in 2018. She might be a centrist, sure, but she runs around the Senate floor in purple wigs—and Arizona voters knew, when they were voting for her, that she probably would run around the Senate floor in purple wigs! Joe Biden has led in nearly every general election poll of the state. Can we allow ourselves to believe that Arizona is just going to be this way, from now on?