April 17, 2020 200 days to Nov 03, 2020

Slate's guide to the presidential candidates everyone's talking about this week.
Welcome to this week's edition of the Surge, in which we suspend reality and pretend that there's going to be a normal presidential election in 2020.
Oh, reader. We regret to inform you that Democrats are in array. It is only April, but Joe Biden is the presumptive presidential nominee, and nearly all of the major figures within the Democratic Party are aligning behind his candidacy. Actors from across the coalition are behaving rationally and refusing to let the perfect be the enemy of the good, united in their shared focus on making Donald Trump a one-term president. How is this happening so smoothly? Where is the real Democratic Party hiding?
So this week, we're ranking the precious wave of Joe Biden endorsements from precious Democrats in their precious plan to win the election (which … see Paragraph One). Oh, isn't it just so great to see everyone getting along? We have a headache.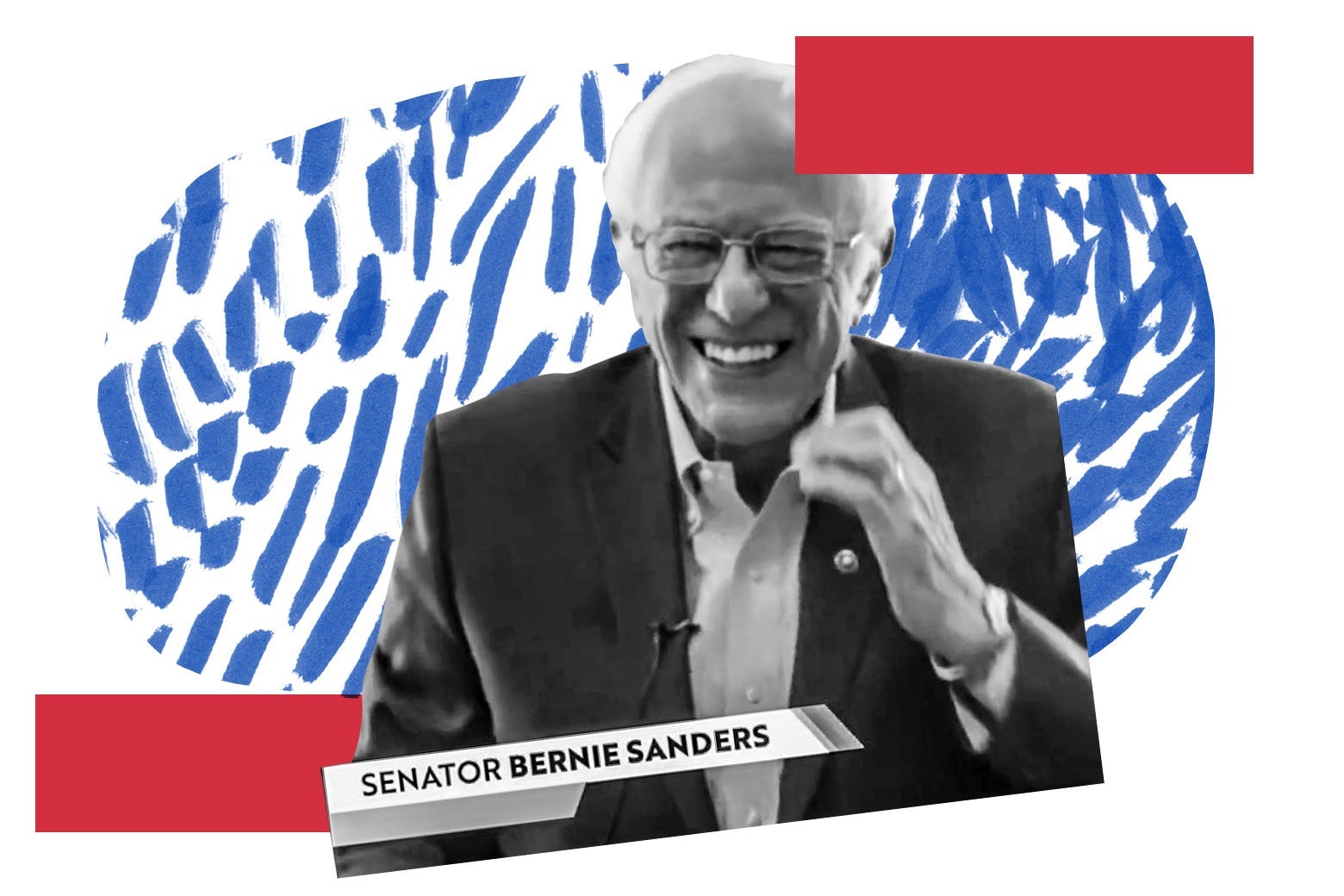 1. Bernie Sanders
It's like he's keeping his word.
The Vermont senator has been saying since the start of his campaign that he would do everything in his power to defeat Donald Trump, one way or another. This pledge did not stop many people, still irritated by the duration of his 2016 campaign, from believing that he would be a pain in the ass right through the (theoretical) nominating convention this summer. Well! In early April, Sanders suspended his campaign and then endorsed Biden in a janky web chat conversation five days later. He used the Democratic establishment's favorite word (irresponsible) in performing the Democratic establishment's favorite recreational activity (chiding Bernie Sanders supporters to suck it up and vote for the nominee), while also negotiating with the Biden campaign on policy to help his supporters make the transition. These sound like the actions of a former candidate who's doing everything in his power to defeat Donald Trump. But why is Sanders bowing out more quickly for Biden than he did for Hillary Clinton? It's such an intriguing question, with so many psychological avenues to explore. (It's because Biden was beating Sanders by more.)

2. Barack Obama
Oh great, another hipster communist trashing Obama.
There were rules in the 2020 Democratic primary. For example: If a candidate said that Barack Obama's policies weren't good enough or didn't go far enough, or that going back to them wouldn't be nearly enough to meet the scale of the problems facing the country, that meant the candidate hated Barack Obama and thought he was an abhorrent president, person, husband, and father. So it was depressing to see Barack Obama himself say this week that he "wouldn't run the same race or have the same platform as I did in 2008." Obama, like so many other Bernie Bro keyboard warriors, added that the Affordable Care Act isn't good enough on health care and that reentering the Paris climate agreement doesn't get the job done on climate change. Yes, Obama may have "endorsed" Barack Obama's former running mate, Joe Biden, this week. But can we really believe that Barack Obama meant it when he so clearly hates Barack Obama?

3. Elizabeth Warren
In which the earlier nonendorsement was more valuable than the endorsement.
The Massachusetts senator endorsed Biden on Wednesday in a tweeted video that made all the usual points: He's from the "ragged edge of the middle class in Scranton" (Joe Biden was born in the Dunder Mifflin warehouse), he's had a hard life, we don't agree on everything but he's nice. Fine. Gets the job done. Still, Warren's endorsement came much later than her other fellow dropouts, even later than Sanders'. You might think that someone who's on the vice presidential watch list—an appointment that Warren this week confirmed she would accept if asked—would lose leverage by waiting so long to endorse. But this is a case where an earlier nonendorsement, when there were actual stakes, might have been the more valuable bargaining chip. Warren's refusal to endorse Sanders when he got into a one-on-one race with Biden did leave a mark on her credibility with the left, a favor that the Biden campaign will remember.

4. Alexandria Ocasio-Cortez
Uh uh uh, you didn't say the magic word!
Endorsements are a dumb thing. (We wait until the fourth entry to say this!) You can say you're going to vote for someone, but unless you say the words "I, Hereby, Doth Endorseth With Fullest Vigor & Noblest Verbiage the Honorable Josephus Robinettington Biden Jr., Esq., First Viceroy of Delaware and Regent to His Excellency Barack Obama," it doesn't count. You've got to say the E-word. So what are we to make of Rep. Alexandria Ocasio-Cortez's numerous comments on the endorsement topic this week? When asked in a New York Times interview whether her endorsement of Biden was a "sure thing," AOC replied, "I've always said that I will support the Democratic nominee." In a Politico interview, meanwhile, she observed that "it's either going to be Donald Trump or Joe Biden that will be elected president in November," so it's "very important" for her "to be in solidarity with the families that I represent, in supporting Joe Biden in November." Hmm. We'll have to consult with the Surge parliamentarian.

5. Cardi B
Finally, an endorsement that matters.
Not all of Bernie World is following the boss's lead in falling in line and supporting Joe Biden. Some vocal, senior staffers from the 2020 campaign, like national press secretary—or former national press secretary, as Sanders emphasized this week—Briahna Joy Gray, have said they do not endorse Biden, and the progressive group Justice Democrats isn't on board, either. Former adviser and speechwriter David Sirota is going through some things, too. Sanders is having a little more luck, though, in bringing along ardent supporters whom most people actually know. The senator did an Instagram interview with Cardi B this week explaining his endorsement of Biden. While the rapper said that she and other young people don't "really rock with Joe Biden because he's conservative," she will support him "because I cannot see the next step of America being ran by No. 45." Sometimes, it's just that easy.

6. Tammy Baldwin
A little too late, for her and her state.
The Wisconsin senator released a video endorsing Joe Biden on Tuesday. Results for the Wisconsin Democratic primary came out Monday. Would've been a lot cooler, for someone who's on the veep list, to put her neck on the line earlier. But that's just the Surge being catty. A bigger question for Baldwin's chances at getting picked for VP is the Electoral College prioritization switcheroo that may be developing before our eyes. Wisconsin has been considered the tipping point state for the general: If you win Wisconsin, you've likely also won the marginally more comfortable states of Pennsylvania and Michigan, and thus you've won the election. But could it be, as recent polling has suggested, that Biden has a better chance in Arizona—with 11 electoral votes to Wisconsin's 10—than he does in Big Cheese Land? If that holds, then there's really no reason to set up a special Senate election in purple Wisconsin by picking Baldwin.

7. Stacey Abrams
Is an endorsement implied if you're applying for vice president?
There is a traditional playbook for seeking the vice presidential slot on a ticket. When you're asked in an interview whether you're interested in serving as vice president, you're supposed to say, "What? Huh? ME? Hahaha. What a risible thing to say, you rapscallion. I have never and would never think of such a thing! Nor would anyone ever ask me, a totally humble person with no ambition whatsoever!" Former Georgia gubernatorial candidate Stacey Abrams, however, threw this all out and pitched herself in an interview with Elle. "I would be an excellent running mate," she said. "I have the capacity to attract voters by motivating typically ignored communities. I have a strong history of executive and management experience in the private, public, and nonprofit sectors. I've spent 25 years in independent study of foreign policy. I am ready to help advance an agenda of restoring America's place in the world. If I am selected, I am prepared and excited to serve." One thing that she did not say in the interview—which was conducted in March—was that she endorses Joe Biden. That, itself, is another break from the usual bullshit. Of course she endorses Joe Biden! He's the presumptive Democratic nominee, and she's a Democrat who wants to be his vice president! What a silly exercise.