April 03, 2020
214 days to Nov 03, 2020

Slate's guide to the presidential candidates everyone's talking about this week.
Welcome to this week's edition of the Surge. I am Slate's international editor, filling in for Jim "the Surge" Newell, and this week we will be taking a trip around the globe to rank world leaders in their response to the ongoing coronavirus crisis.
If there's anything comforting about this tragic, terrifying, and confusing moment, it's that national leaders have by and large been responding to a global pandemic exactly how one would expect them to. Nobody has risen to the occasion, but nobody's really disappointed either. These people are who we thought they were. Let's meet them.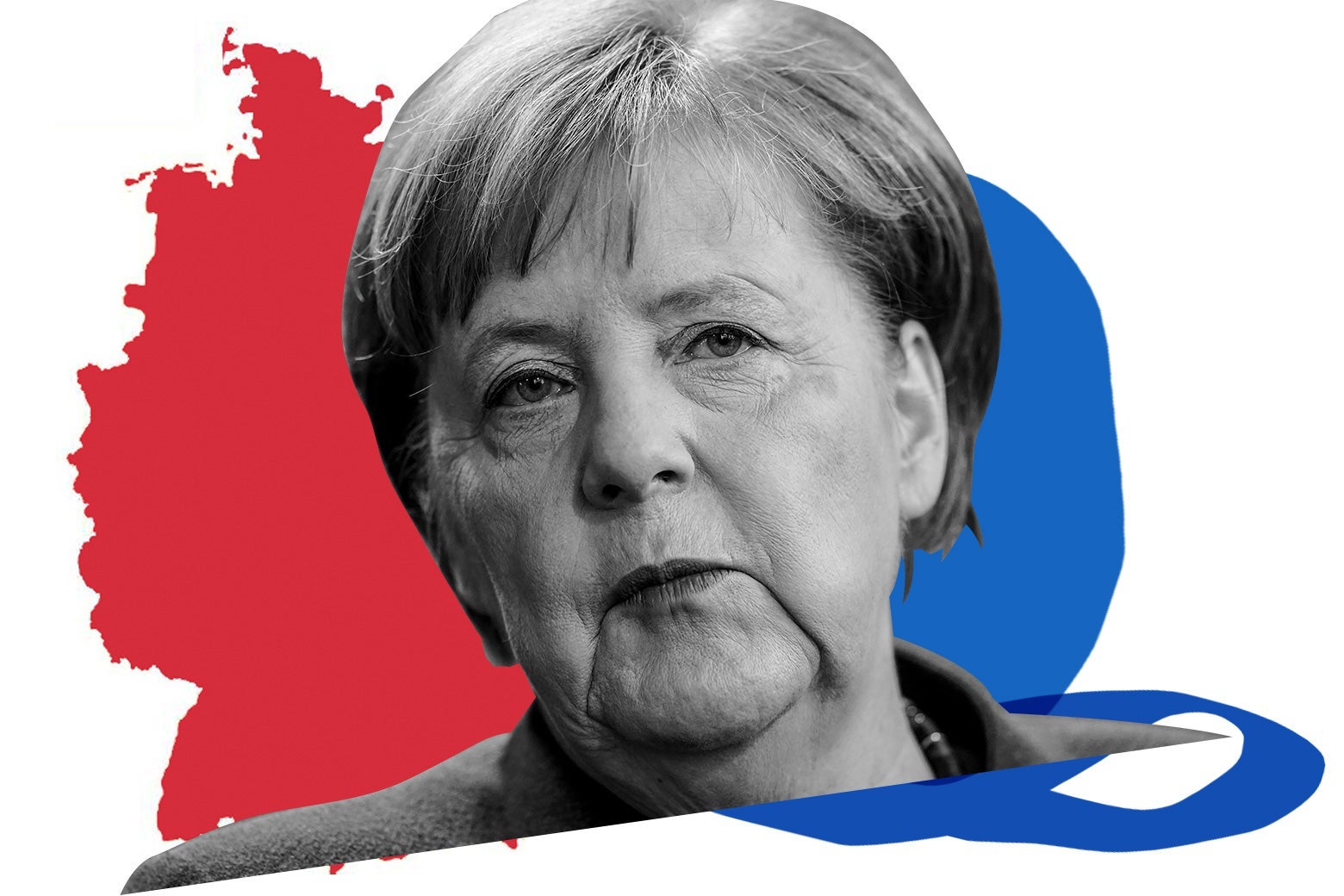 1.

Angela Merkel Love her or hate her, she's good in a crisis.

You can always count on Merkel to give it to you straight but probably not to make you feel better. From the debt crisis to the refugee crisis and now this, she has been unintimidated by big numbers, daunting problems, or controversial solutions. At a time when other leaders were still playing down the seriousness of the virus in early March, Merkel went on TV and told Germans it was likely that "60 to 70 percent of the population will be infected" by a disease for which they had no immunity and there was no vaccine. Merkel also set an example by going into self-isolation after coming into contact with a doctor who had been infected. Germany was early to implement social distancing measures and mass testing. German scientists had already developed a reliable test in mid-January and can conduct up to 500,000 of them per week at this point. It's still early and things could take a turn for the worse, but while other country's hospital systems are collapsing, Germany has so many free ICU beds it is flying in Italian and French patients for treatment. Merkel will be stepping down next year after 16 years in office. She'll leave a complicated legacy, but Germans may miss her next time there's a crisis.

2.

Moon Jae-in South Korea's comeback kid.

East Asia's economic powerhouses—South Korea, Taiwan, Hong Kong, Singapore—have done the best job so far of containing the pandemic. Of these, South Korea stands out for having beaten back an outbreak that had already gotten quite serious, and having done so without the kind of draconian lockdowns employed in much of the rest of the world. It didn't get off to a great start, though. Moon, a liberal who took power after the impeachment of his predecessor in 2017 and is best known internationally for his efforts to normalize relations with North Korea, was initially pilloried for saying that the virus would "disappear before long" and assuring people they didn't have to wear masks. But then, spread by a secretive church in the city of Daegu, the outbreak rapidly grew into what was, for a time, the largest outside of China. Things were quickly brought under control through extensive testing, an innovative system using phones to track contacts of infected individuals, and voluntary business shutdowns. While schools were closed, South Korea never had to implement full-scale shutdowns. It still has fewer than 10,000 cases and a death rate well below Europe and the United States. Earlier this month, 1.5 million Koreans signed a petition calling for Moon's impeachment. Now, his poll numbers are at record highs heading into elections this month, and he's lobbying other governments to adopt South Korea's approach. Even if he loses the election—not impossible given the state of the economy—he's almost guaranteed to be a fixture at U.N. summits and thought leader gatherings for decades to come, assuming those are things that still exist in the decades to come. Assuming we have decades to come. 

3.

Giuseppe Conte Random guy deals with unprecedented disaster.

Conte wasn't even supposed to be here. The obscure law professor who has never held any other political office began his second stint as Italy's prime minister last year as a nonpartisan compromise pick in coalition talks between the center-left Democratic Party and the undefinably weird Five Star Movement after the far-right League party fell from power. It didn't seem likely he'd last long. But history is a quirky thing, and this unelected placeholder is the man leading Italy through its worse crisis since World War II. There were early missteps—Conte played down the crisis, blamed the high infection rate on aggressive testing, and failed to adequately convey the necessity of social distancing measures. Italy still has by far the highest reported death toll from the disease, though the U.S. has overtaken it in the number of cases. But Italy was the first country outside China to order the sort of widespread lockdown that is now in place for much of the human race, and the pace of infection appears to be leveling off. This is definitely not what Conte signed up for, but he has approved economic stimulus measures and aid packages for the worst hit, his approval ratings are high, and the far right in Italy has been mostly sidelined.

4.

Boris Johnson No one to blame but himself.

It might seem harsh to pick on Johnson, who last week became the first elected world leader to be diagnosed with COVID-19, but he brought this on himself. While the rest of Europe started adopting social distancing strategies in early to mid-March, the U.K. decided to go a different route, protecting vulnerable populations while letting the virus circulate in the public at large to develop "herd immunity." While other countries were shutting down schools and workplaces, the U.K. told citizens to go on about their business. Britain's pubs weren't even shut down until March 20, when 3,000 people were already infected. After a widely cited analysis from Imperial College London suggested the disease could kill up to half a million people and overwhelm the National Health Service, Johnson abruptly shifted course and ordered a nationwide lockdown. This is the opposite order of how you want to do things: The British government let the virus circulate and then sent people home to infect their family members. (It's worth noting that Johnson has in the past argued that the real hero of the movie Jaws is the mayor who insisted on keeping the beaches open.) While Johnson has been pilloried around the world for "herd immunity," Sweden is also taking a hands-off approach to social distancing, relying on people to be responsible rather than closing businesses by force. Prime Minister Stefan Löfven is going to look either extremely smart or extremely dumb in a few weeks.

5.

Xi Jinping Would be the worst on this list, if it weren't for the other guys.

Despite well-founded doubts about the accuracy of its numbers, China has clearly bent the curve after months of draconian lockdowns and mass surveillance measures. But Xi, who has created a highly centralized and personalized autocratic regime, is not the hero here. The Communist Party chairman and the state media spent weeks downplaying the virus's rapid spread in Wuhan and punished the people who were trying to raise the alarm. After the virus spread overseas, Chinese officials tried to deflect blame with conspiracy theories pointing the finger at the U.S. military for engineering it. Xi's government has tried to spin the virus into a propaganda coup by touting the medical equipment and know-how it is providing to others—efforts that have been somewhat undercut by the fact that many of the coronavirus tests it's been selling to Europe don't even work. Recent days have also seen rare public clashes between residents and the authorities in Hubei province, and there are signs that China's youth are increasingly critical of the government's handling of the situation. It's never a good idea to bet against the Chinese Communist Party and its quite possible that Xi will use this crisis to entrench his power further, but if there is political change in China, it's likely the coronavirus will one day be viewed as the moment it started.

6.

Donald Trump As always, true to form.

Do I really have to go into it? There are plenty of stories on Slate and elsewhere about the missteps that got the U.S. into its current catastrophe as well as the president's rambling and self-serving justifications for it, so I'll spare you the longer version. One thing worth noting is that while Trump has indeed seen a polling bump during the crisis, much to the consternation of his critics, it's been a small one by global standards. While more than 47 percent of Americans now approve of the Trump administration, compare that with 72 percent for Johnson—who's had a pretty mixed record here!—or Conte at 73 percent. The "rally-round-the-flag" effect is real, and Trump isn't getting as much from it as his peers. But as bad as he's been, and he's been very bad, he's not the worst coronavirus leader in the world, or even in the Western Hemisphere. Mexico's curiously unconcerned Andrés Manuel López Obrador is in the running for that title, particularly after violating social distancing guidelines so he could visit El Chapo's mom this week, but really there can be only one choice.

7.

Jair Bolsonaro What if Trump, but worse.

Trumpism is less a philosophy than a mixture of one man's impulses, prejudices, and whims that subordinates try with varied success to retcon into deliberate policies. Brazil's right-wing populist President Jair Bolsonaro and his associates often express ideas that sound similar to Trump's, but the difference is that it seems like they've really thought about it. This has held true for Bolsonaro's coronavirus response, which feels both more deliberate and may end up being more damaging than Trump's. Shortly after returning from a trip to the U.S., a member of Bolsonaro's entourage tested positive for the virus. Bolsonaro then shook hands and took selfies with nearly 300 people at a rally of his supporters. He has contradicted his own health officials by calling for schools to reopen and for Brazilians to go back to work and said that he is unlikely to be infected because of his "past as an athlete." (The NBA begs to differ.) He has suggested Brazilians should be studied because they "never catch anything" and said the virus is a media "trick." Meanwhile, Brazil's infection rate is growing at an alarming rate, forcing Brazil's environmental officials to scale back monitoring of deforestation, assuring the world of decades of crises to come.