March 27, 2020 221 days to Nov 03, 2020

Slate's guide to the presidential candidates everyone's talking about this week.
Welcome to this week's edition of the Surge, where this time we're ranking the most boring species of politician found in the natural world, except for when there's a pandemic out there: governors.
Governors—or as I like to call them, Coronavirus Governors—have been getting so much attention in the media during this crisis for a few reasons. One, there's no national leadership to compete with. Two, they're the ones actually dealing with the situation on the ground with limited resources, and don't have the luxury of time to tweet nonsense from the toilet for four hours each morning about how the dental implant magnate from Palm Beach County thinks the coronavirus is a hoax. There's also not much space for ideology when you're managing a crisis, and among the most effective governors, we've seen the responses flatten the partisan divide.
Be forewarned: This is a praise-heavy edition of the Surge, something it gives us no pleasure to report. But it's not all bad news: We leave space for making fun of Ron DeSantis too.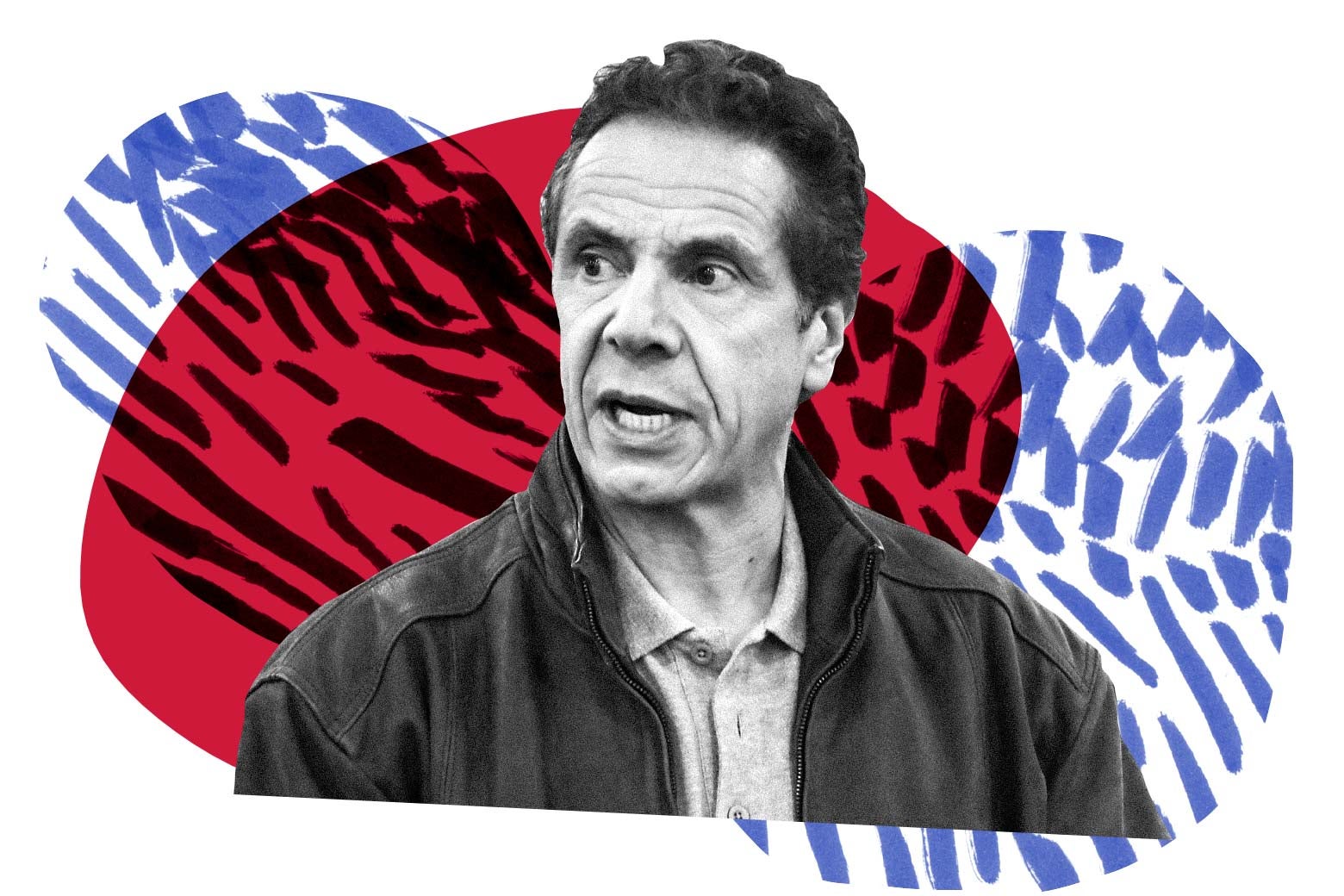 1. Andrew Cuomo
OK, he's good now. Could be bad later. But good now.
The Surge feels like it hears each day from New Yorkers whose Twitter feeds for the past decade had been extended hate-poems against Andrew Cuomo about how impressed they've been with his coronavirus response. The reception from much of the media, and in particular the cable news networks that broadcast his daily press conferences in their entirety, has been exponentially more laudatory. Online betting sites are now giving Cuomo better odds at winning the Democratic presidential nomination than Bernie Sanders, an actual candidate in the race. And it's true: Cuomo has been impressive, and he's shown that the public won't simply grade leaders' responses by the number of cases under their watch. People want honesty and lucidity, and Cuomo is blunt in assessing what's happened so far, what trajectory New York is on, what the state has been able to accomplish, what it's trying to do next, and where it needs help from the federal government. He's managed to stay on top of a state crisis that would have devoured others, and even managed to set aside some time for his family.

2. Mike DeWine
Who's "boring" now, eh?
The Ohio governor has been in one public office or another since the Carter administration and has never been particularly adored for his work. He is a boring, safe, establishment Republican. But now it's time for Safe Governor Grandpa to come out of his shell! This devilish rogue defied a court order and stopped a presidential primary scheduled for the following day on the grounds of a public health emergency. The move was so cavalier that the Ohio Supreme Court eventually agreed with him, writing in a ruling (paraphrase/fabrication) that "it was so cool when he did that we have no choice but to let Mr. Not Boring but Actually Cool follow through with that," while asking for an autographed photo of DeWine wearing a leather jacket and riding a motorcycle. What's not as cool is that DeWine's state is one of a few that has deemed abortion a "nonessential procedure." He is, in other words, still a Republican.

3. Gavin Newsom
California seems OK-ish?
Trying not to jinx it here, but as we look at the 40,000-plus coronavirus cases in New York state, it seems … not bad that California, a state of 40 million people, has about 3,000 cases? That could change. But Gov. Gavin Newsom has been perhaps the most aggressive big-state governor in seeking to stop the spread of the virus. He issued the country's first statewide stay-at-home order and isn't raising false hopes about how he might lift it soon. He's also worked with banks and credit unions to suspend residential mortgage payments and ensured that missed payments won't affect credit ratings. (Doing more for renters would be nice, Gavin.) The situation in California is going to get worse, especially as unemployment claims have surged past 1 million in just two weeks and that nice budget surplus the state had built up fritters away. But moves Newsom has made that seemed extreme when first announced might protect the state from its nightmare scenario.

4. Andy Beshear
Congrats on owning Tennessee.
The story of how Responsible Kentucky has done better than Slacker Tennessee went viral this week, bringing much shame on Tennessee. This story may ignore random exigencies of life and be too cute to be entirely real. But let's tell it anyway. On March 6, Kentucky got its first confirmed case of the bug, and Gov. Andy Beshear immediately issued a state of emergency, shutting down bars and restaurants. Lousy Tennessee, meanwhile, got its first case on March 5, and Gov. Bill Lee waited a week before declaring an emergency. As we write, Kentucky has far fewer cases per capita than Tennessee, one of various Southern states where the virus is spreading. Beshear can't stop every young person from throwing a "coronavirus party"—no governor can. But his management of the crisis gets him on our list.

5. Larry Hogan
Not saying he likes this situation …
… but for a Republican governor who's maintained his popularity in a blue state in part by adequately separating himself from Donald Trump and the national Republican Party, this is kind of his wheelhouse. While Trump was still deep in his "it's just a lil' seasonal flu" phase, Hogan was locking down Maryland and giving sober, Cuomo-esque daily updates on the situation in his state, which has not gotten out of hand. He's earned praise from all corners of Maryland—and when Trump says something stupid like "it's just a virus, let's all go to church on Easter!!!," he does not miss opportunities to swat him down.

6. Ron DeSantis
Phew! Let's talk about bad governors.
Thank God, we made it. We made it!!! It's finally time to talk about the governor of Florida, Ron DeSantis. Two years ago, he was a back-bencher in the House Freedom Caucus whom no one cared about; now he's the executive of the third-most populous state in the country. The coronavirus has been licking its chops just thinking about this state where a full 110 percent of the population is 87 years old. DeSantis didn't do anything as hordes of spring breakers traveled to Florida's overcrowded beaches, one of various ways in which the state is lagging behind others in its response despite being home to one of the most vulnerable populations. Florida's numbers are now well on the rise, a situation for which DeSantis blames New York. He ran as a Trump lackey, and now he gets to govern as one. Best of luck to Florida.

7. Kevin Stitt
Congratulations on being chided by Donald Trump for not taking this seriously enough.
Sticking with the negative: The Oklahoma governor earned more national fame than he might care for when he tweeted on March 14, "Eating with my kids and all my fellow Oklahomans at the @CollectiveOKC. It's packed tonight!" While Stitt deleted the tweet, his spokesperson did say afterward that "the governor will continue to take his family out to dinner and to the grocery store without living in fear and encourages Oklahomans to do the same." When Trump was asked about the tweet, he wasn't particular harsh, but he did say he "would disagree" with the advice and that "it's probably better that you don't." It's really something, to be gently criticized by Donald Trump for not taking coronavirus seriously enough.