Dec 20, 2019
319 days to Nov 03, 2020

Slate's guide to the presidential candidates everyone's talking about this week.
Welcome to this week's edition of the Surge, your weekly newsletter ranking 2020 presidential candidates according to wine cave jokes. (See, Pete Buttigieg held a fundraiser at a wine cave in California, and that came up at the debate, and so everyone on Twitter made a wine cave joke. Ha ha ha.) OK, let's get this newsletter out the door. The Surge apologizes for the debate-induced delay.
In this week's edition, we analyze the debate, obviously. All Amy Klobuchar had to do was pretend that her rival was her legislative assistant, and the viciousness effortlessly poured out. Joe Biden completed all of his sentences, and Sarcasm Bernie came prepared with one-liners. In Congress, Donald Trump was impeached and, as punishment, won't let teens buy cigarettes anymore even as he sends them to fight in the Space Wars. Meanwhile, one candidate was targeted ceaselessly as both corrupt and a baby: a corrupt baby.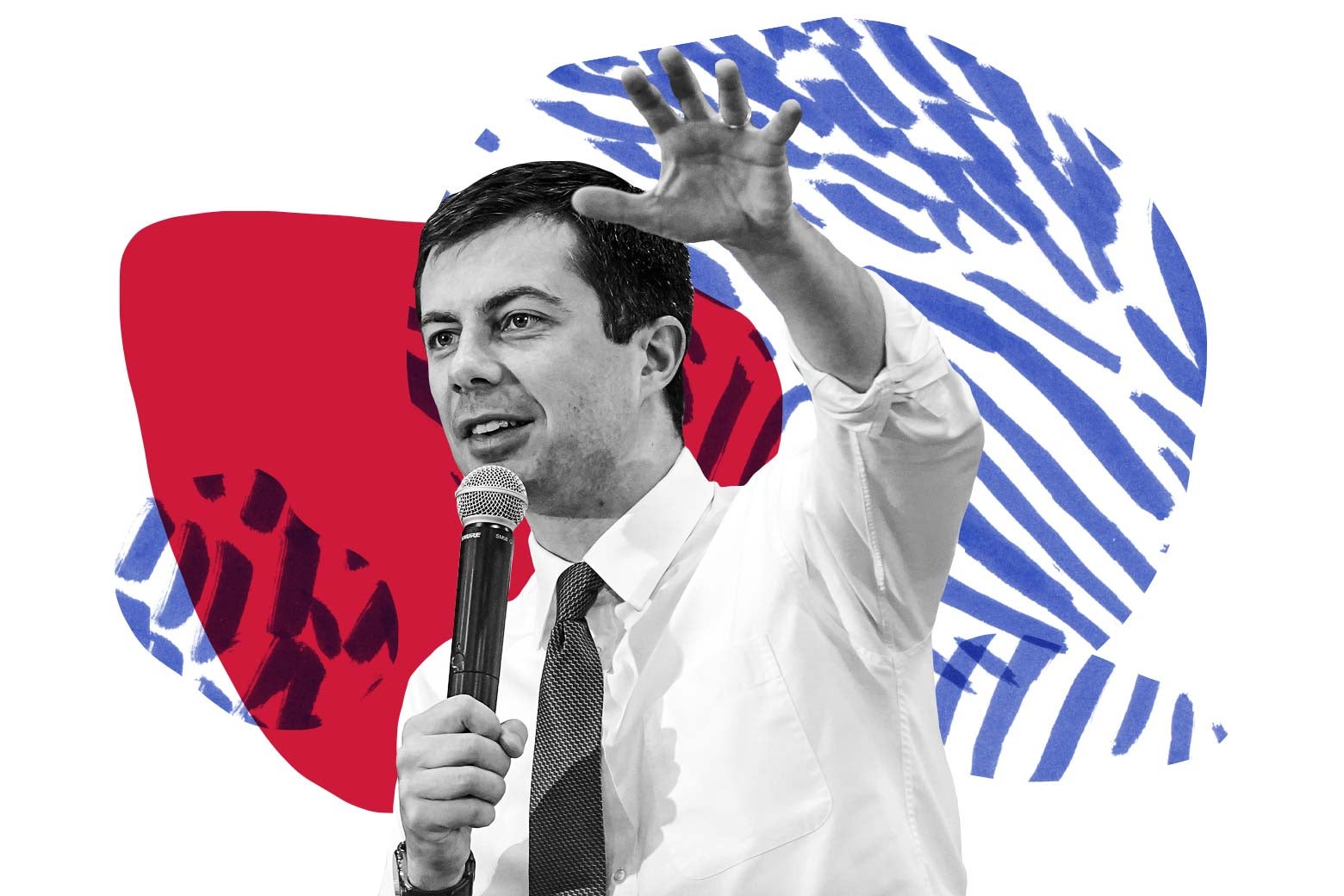 1.

Pete Buttigieg How very odd, I don't remember affixing a "KICK ME" sign to my back.

Thursday night's debate finally drew out the antipathy that the other candidates feel for Buttigieg. But did any of it catch Buttigieg by surprise? Nothing has caught Pete Buttigieg by surprise—in his life. It's unlikely that the transcript of the debate veered a single word from the script that Buttigieg wrote for this exact event when he was 8 years old. When Elizabeth Warren came after Buttigieg for his big-dollar fundraisers? Pete had her own net worth and big-dollar fundraising history ready. Amy Klobuchar wants to call him inexperienced? Here's some experience ma'am: I'm a troop. Buttigieg is going to be taking incoming fire as long as he's at the top of the Iowa polls. It's doubtful we'll ever once see him fumble for words in his response.

2.

Amy Klobuchar Putting away the Klob and picking up the rocket launcher.

Klobuchar has put in her time. She served in local politics as a county attorney and eventually rose to the United States Senate, to which she has been reelected twice. She has passed an inordinate amount of unflashy but meaningful legislation. Having accumulated the requisite résumé experience to run for president, she gets in the race with an eye on Iowa as a candidate with strong Midwestern vibes. AND THEN THIS HOWDY-DOODY-ASS "PETE" "THING" GETS IN THE WAY? That's the frustration we saw Klobuchar let out on the debate stage Thursday night, as she mocked him for his lack of experience and inability to win any contest beyond a midsize college town's mayoral election. It was her moment of catharsis. May she enjoy her time as President Buttigieg's secretary of agriculture.

3.

Donald Trump Fumbling his way into a productive year's end.

On Friday morning, our president tweeted the following: "I will be signing our 738 Billion Dollar Defense Spending Bill today. It will include 12 weeks Paid Parental Leave, gives our troops a raise, importantly creates the SPACE FORCE, SOUTHERN BORDER WALL FUNDING, repeals 'Cadillac Tax' on Health Plans, raises smoking age to 21! BIG!" The tweet conflated appropriations and authorization bills and actually listed provisions from three separate mega-bills that Congress sent to the president's desk this week. That aside, he is correct about all of those things getting done—and didn't even mention that the House passed his signature North American trade agreement as well. He also became the third president in history to be impeached(-ish?) this week, but you can't win 'em all.

4.

Joe Biden He did it!

Biden had a strong first 90 minutes of the debate, only heightening the Surge's dread at what was to come in the latter end. The third hour of the debate is typically when Biden comes undone; it's when he fields a question on China policy with a response about playing the record player and also about how he is black. Didn't happen on Thursday, though! Biden was lucid throughout the night. And "lucid throughout the night" might have gained him more on net from the debate than any other candidate. As Warren and Buttigieg tore each other apart, Biden put in a quietly strong performance that will reassure his donors and the Democratic establishment that he's still their safest choice.

5.

Bernie Sanders Oh so now you're a comedian, too?

When the Surge has asked people close to Sanders what he's like in private, they say he has this incredible dry, sarcastic sense of humor that the public doesn't always see given the grave, existential tones in which he colors his speeches. But Sanders was cracking jokes all over the place on Thursday. He urged the "energetic" and "competitive" Buttigieg to catch up to Biden in the race for who could get the most billionaire donors. When Klobuchar addressed a criticism to Bernie, he feigned agony, saying to the moderators, "She took my name in vain. She hurt my feelings, I'm crushed. Can I respond?" They didn't all land. When moderator Tim Alberta said that Sanders was the oldest candidate onstage, he interjected to say, "And I'm white as well!" to an awkward silence. That's all right, you've got to test your material. We want to encourage as much sass from Sanders as possible. Oh, and what's that? How's Bernie doing overall? Same as ever: He has a very good chance at winning the nomination even though no one is talking about it.

6.

Elizabeth Warren Her first night on the attack.

There was a time when Warren refused to get in the muck with her fellow candidates, refused to discuss polls of any sort, and generally just refused to go there. And then she started losing. Thursday night was the debut of a new, scrappier Warren who had to directly go after the candidate who had replaced her atop Iowa, Buttigieg. She did it pretty well, painting the picture of Buttigieg's luxe "wine cave" fundraiser and drawing a bright line between her fundraising model and that of candidates like Buttigieg and Biden: "I don't sell access to my time." It's a distinction to which Buttigieg and Biden's best responses are: We need to raise money like this to beat Donald Trump. It is the 4,789th question in this primary that asks voters to make the tough decision between choosing their ideals and doing whatever it takes to get Trump out of office, and it's still unclear what their answer will be.

7.

Michael Bloomberg What is he buying this week?

The mega-billionaire candidate isn't accepting any donations, which prevents him from participating in Democratic debates. No sweat. Because while the other candidates were scrapping it out at their precious little public-television debate at their precious little Loyola Marymount University in precious little, uh, Los Angeles, Michael Bloomberg was buying something else: fucking YouTube. Not literally, but he did buy banner ad space for a YouTube campaign, "one of the most expensive and widest-reaching digital advertising slots," as the Washington Post reported. Good for him. He is at 5 percent in the national polling average, down from 5.5 percent this time last week. Good for him. Indeed, these are the final words the Surge will type this decade: Good for ... him. Wine cave.