Nov 08, 2019
361 days to Nov 03, 2020

Slate's guide to the presidential candidates everyone's talking about this week.
Welcome to this week's edition of the Surge, your weekly ranking of 2020 presidential candidates using only words that billionaires have clipped from glossy magazines in their anonymous ransom letters to Elizabeth Warren.
What a great week! Last Friday's Liberty & Justice Celebration in Iowa kicked off the home stretch to the Iowa caucuses, when the candidates stop play-fighting and commence trying to murder each other. Sly murder-fox Pete Buttigieg's weapon of choice is a call for "unity," the deadliest of them all. Common man Joe "Super PAC" Biden is getting sick of these snooty Harvard-ass calls for universal health care. Andrew Yang has hired Bernie Sanders' old consultants but Bernie doesn't care. Donald Trump, meanwhile, might win reelection? Something to consider. But just about all roads in this touchy week ran through one candidate.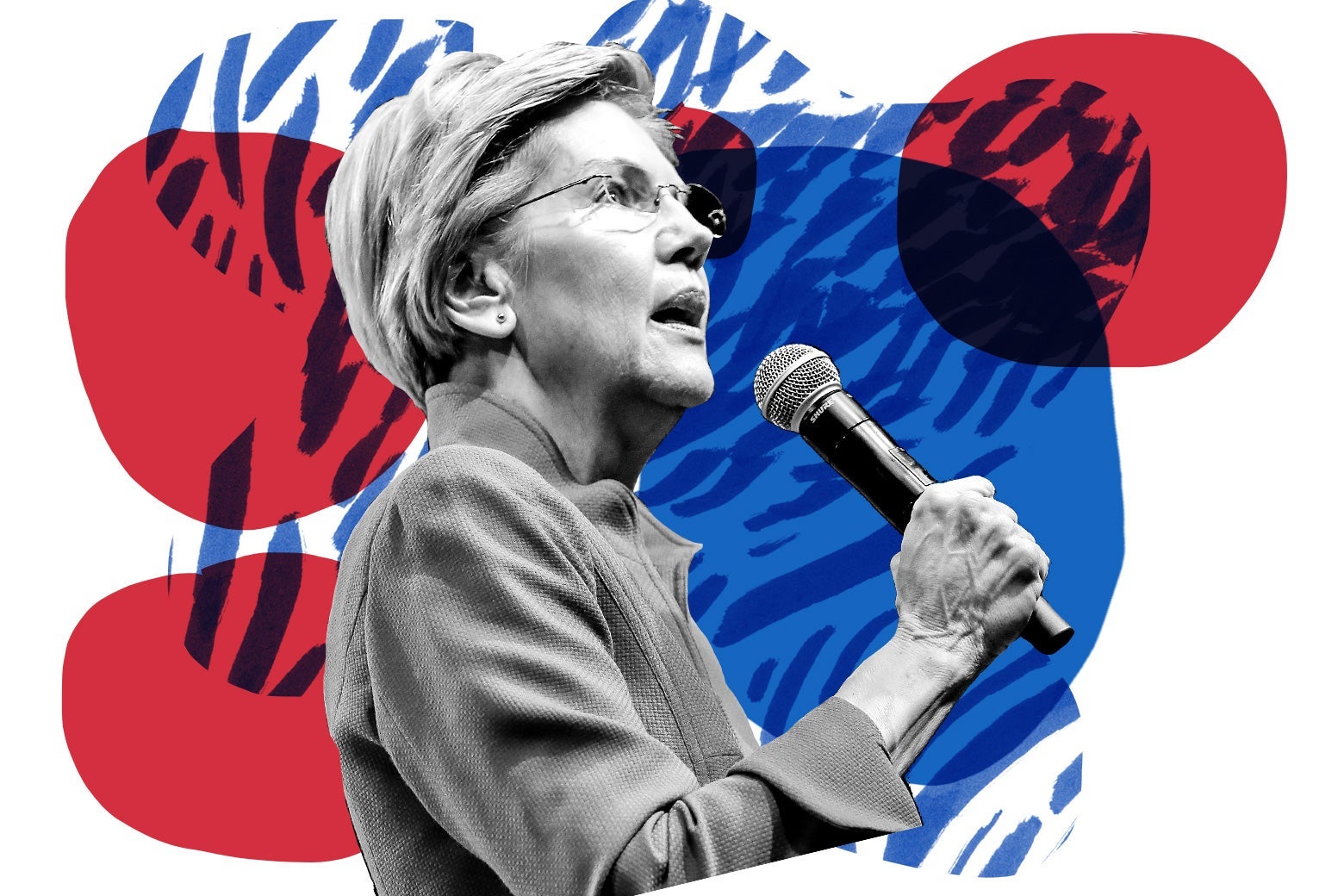 1.

Elizabeth Warren At the center of it all.

This is definitely not the first time that the Massachusetts senator has graced the top of this list, but it is the first time she's done so for reasons less than awesome. It wasn't one of those weeks when Warren led every poll and caught every break and seemed destined to capture the nomination. It was a dirty, grinding week, many more of which we'll see in the next few months. Warren is taking consistent incoming criticism not just from rivals like Joe Biden, Pete Buttigieg, and Kamala Harris, but also from any billionaire who, regrettably, is given a microphone. Her plan to pay for "Medicare for All" was met with much skepticism. Concerns about her general-election viability spiked earlier this week, when a slew of New York Times–Siena polls showed her trailing President Donald Trump in hypothetical swing-state matchups. The "likability" discourse that surrounds this person who spends five hours taking selfies with the many people who go to her rallies has resurfaced too. All of which is to say that this week was further proof that Warren is the top threat to win the nomination as we enter the Season of Fighting, and all of [waves hands indiscriminately] "this" is a reaction to that.

2.

Pete Buttigieg You're going to unify the *what* now?

In his speech at the Liberty & Justice Celebration, the (newly lame-duck) South Bend, Indiana, mayor outlined his unsubtle contrast with Warren like so: "We will fight when we must fight, but I will never allow us to get so wrapped up in the fighting that we start to think fighting is the point." The next day, he added that the "premise of my candidacy" is that he is "bold enough to solve the problems in front of us and capable to unite the American people." It genuinely surprises the Surge that a message of healing the country's political wounds and unifying it behind common-sense solutions isn't laughed out of the room in 2019, but Democrats—dear, darling Democrats—cannot help themselves. This message is as irresistible to them as a party-size bag of Frito's Scoops! is to the Surge. But also, it's working? Buttigieg has moved nearly into an effective tie for the Iowa lead and has roughly $80 trillion to spend promoting his message of optimistic friendship-boldness on television.

3.

Donald Trump Oh, you thought this would be easy?

Those New York Times–Siena swing-state polls we referenced earlier that showed Warren narrowly trailing Trump? And Biden and Sanders not exactly lighting the Rust Belt on fire, either? Democrats lost their MINDS over those polls, even as other polls of hypothetical matchups have shown Trump in much worse positions. The panic was enough to make the Surge consider: Did some Democrats think it would be easy to beat Donald Trump in 2020? Trump's favorability ratings are bad, but the Democratic nominee's will be, too. Democrats will continue to make gains in suburbia, but Republicans will continue to pile up their advantage in small towns and rural areas. Democrats will necessarily injure themselves as the primary continues, while Trump faces no (realistic) primary. The Electoral College is still the Electoral College. Maybe those NYT-Siena polls were tighter than some others, but Democrats should proceed and prepare as though they're accurate and they'll be fighting for their lives and grinding their teeth down to the roots this time next year, because television's Donald Trump could literally win another four years as president of the United States and end the world!!

4.

Bernie Sanders Your semiregular reminder that he could win the nomination.

Sanders supporters can be cranky when their candidate is overlooked in media coverage, sometimes too cranky. But the frustration has been understandable in the past week, as the media (ahem) focused on the race between Biden, Warren, and Buttigieg in Iowa without observing that Sanders is the fourth pillar in the state's flattened, four-way race. With four candidates hovering between 15 and 22 percent in the polling average, any of them could grab a caucus victory, and Sanders—who happens to have the best fundraising model in the field—is one of them. If he were to eke out an Iowa win, that would give him momentum heading into New Hampshire, a state he comfortably won in 2016 and would be poised to win again. Winning Iowa and New Hampshire would be quite a feat in a big, competitive field, and it is not a stretch to see Sanders doing it. Plus, the aforementioned NYT-Siena poll is better for Sanders than it is for Warren. Don't overlook the Heart Pain from Lake Champlain.

5.

Joe Biden Time to press the emergency "fancy know-it-all professor thinks she's so fancy" button.

If we're doing a proper ranking, Biden is the real fourth pillar in the Iowa race, in that he's … in fourth place. That downward slide has put a sense of urgency into the Biden campaign's messaging this week, as he looks to stay within spitting distance of the top. After Warren, in a rare shot at a rival by name, suggested that Biden might be running in the "wrong presidential primary" with his "Medicare for All" criticisms, Biden responded with a new set of attacks centering on Warren's "elitist" attitude. "If you don't agree with Elizabeth Warren, you must somehow be not a Democrat. You must somehow be corrupt. You must somehow not be as smart as she is," Biden said in an interview this week, echoing a Medium post his campaign published the day before. "She has things in her plan that are just not realistic, but if you question it, she says you don't understand or you're talking like a Republican. It's just an elitist attitude that it's either my way or the highway." No, he doesn't explicitly call Warren an effete, ivory-tower, textbook-licking, quinoa-snorting, four-eyed Harvard professor. That's just the implicit contrast with Joe Biden, man of the people, whose (One Percent–funded) campaign is organized around hugging a former Harvard Law Review editor and constitutional law professor.

6.

Andrew Yang Time to expand.

The Surge is pleased to have the Yang Gang back on this list and interested to watch this next phase of its campaign unfold. For most of the primary, Yang has been laser-focused on a single message: a universal basic income. That's helped him establish an enthusiastic base, but now it's time to grow. This week, Yang announced a $1 million ad buy in Iowa that introduces him personally and touches on other issues he's less known for, like financial reform and health care. (It also features images of him with Barack Obama.) The ad is the product of Yang's most high-profile hires yet: partners Tad Devine, Julian Mulvey, and Mark Longabaugh, three senior advisers to Bernie Sanders' 2016 run. Keep an eye on Yang.

7.

Michael Bloomberg God damn it.

Wouldn't you know it: Just as the Surge was putting this week's edition to bed, another billionaire decides, Eh, sure, I will join the primary too. Former New York City Mayor Michael Bloomberg, who opted against a presidential run earlier this year after correctly recognizing that he could not win a Democratic primary, plans to file for the Alabama primary this week before the deadline, as a Democrat. "We now need to finish the job and ensure that Trump is defeated," Bloomberg adviser Howard Wolfson told the New York Times, "but Mike is increasingly concerned that the current field of candidates is not well positioned to do that." In other words, he thinks Biden sucks at stopping Elizabeth Warren, which is not wrong. But how does Bloomberg stop Warren, or Sanders, himself? He … probably doesn't make any debates but siphons votes from Biden and Buttigieg, making it easier for Sanders or Warren to win while also giving them more messaging fodder by being another billionaire who thinks he can waltz in and buy the primary in the 11th hour. Mike? What's the plan?

One last thing: The Surge thinks that Surge readers in the New York area should watch the next Democratic debate with Slate! On Nov. 20, join Slate's amazing roster of female journalists for a live and off-the-cuff deep dive into the state of the election, followed by the ultimate debate watch party. Christina Cauterucci, Julia Craven, Ashley Feinberg, Mary Harris, Virginia Heffernan, Dahlia Lithwick, and Nichole Perkins will explain the ups and downs of the primary and shed light on the candidates, their policies, and their media coverage. More information here.