Nov 15, 2019 354 days to Nov 03, 2020

Slate's guide to the presidential candidates everyone's talking about this week.
Welcome to this week's edition of the Surge, our weekly ranking of viable 2020 presidential candidates as well as various losers whom CNBC is forcing to enter the Democratic primary to "short" Elizabeth Warren in "the stock trades."
In this week's edition, we look at how Pete Buttigieg's smarm is getting on the other candidates' nerves, while Elizabeth Warren's campaign is now mostly an organized troll job of a guy named Leon Cooperman. Confidence in Joe Biden is collapsing even though he's still leading a lot of polls, Bernie Sanders has renamed himself "Alexandria Ocasio-Cortez," Donald Trump's lackeys are protecting him in Congress, and Michael Bloomberg is still making up his mind. As we await his decision, we already have a new candidate to consider.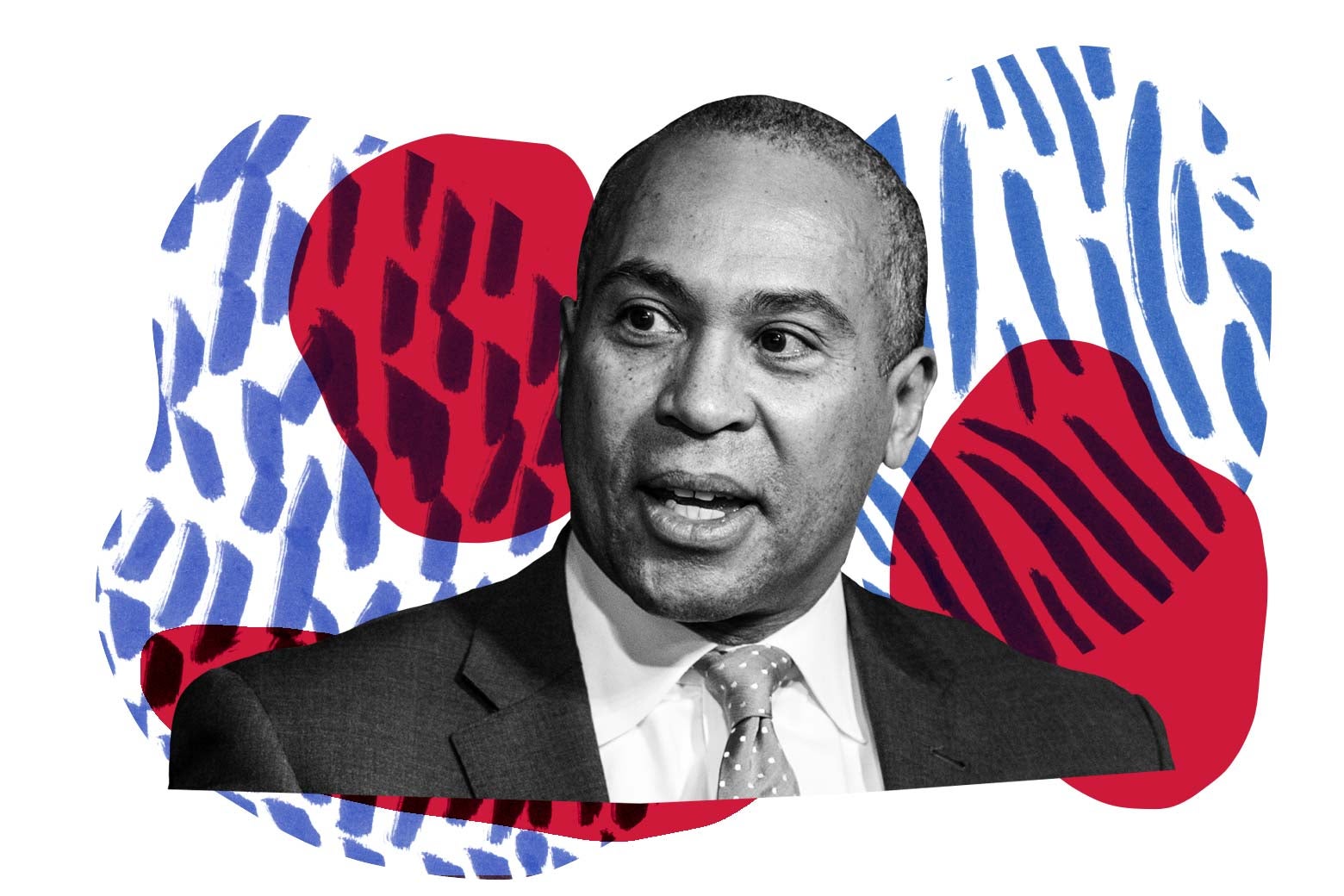 Last Week Unranked
1. Deval Patrick
If only theories mattered.
Unlike certain would-be candidates considering entrances into the race whose names rhyme with Doomberg and Pillory, the former Massachusetts governor can, at least, draw up a plausible theory on paper for his newly launched candidacy. The field still lacks a formidable center-left consensus candidate who can bridge the party from Joe Biden on one end and Elizabeth Warren and Bernie Sanders on the other. Pete Buttigieg is trying to do it, but his base is too lily-white to break out after New Hampshire. Patrick—who, like Buttigieg, is trying to push against both the center and the left in his early messaging—would, in theory, have some purchase in New Hampshire, given his history as governor of the neighboring state to which many Granite Staters commute, and, in theory, translate that into a strong finish in South Carolina, where he could, again in theory, have a relative advantage as a black American. Aren't these neat theories? Can't you see how an unemployed consultant needing a paycheck might excitably pitch it to Patrick? How wealthy donors, in a lather about Elizabeth Warren, might be taken with it? It's so neat, so consultant-driven, and so pitchable to dumb donors that the Surge is comfortable predicting that Patrick is doomed to go absolutely nowhere. To wit.

Last Week #2
2. Pete Buttigieg
His time in the barrel.
Buttigieg's surge in Iowa continued this week, with him leading a poll in the first caucus state for the first time all cycle. It's brought the South Bend, Indiana, mayor into an essential tie with Elizabeth Warren in the state's polling average. We should expect, then, for Buttigieg to be a top target of the night in next week's presidential debate. In fact, the chirping against him has already begun, and—to paraphrase—it's been along the lines of: Who does this little shit think he is? The New York Times last weekend reported on how Buttigieg has "struck a nerve with his Democratic rivals," who "conveyed an annoyance at the McKinsey consultant certitude with which Mr. Buttigieg analyzes and makes pronouncements about the primary." Sen. Amy Klobuchar, whose lunch Buttigieg is currently eating in Iowa, further suggested that the women in the race wouldn't be "standing on that stage if we had the experience that he had." Expect Klobuchar, and others needing an Iowa boost, to give him noogies onstage.

Last Week #1
3. Elizabeth Warren
Just pure billionaire-trolling now.
Let's go out on a limb and presume that Elizabeth Warren's data team does not find it a net negative to be accused by an endless list of CNBC-booked billionaires of being too "punitive" and "vilifying" of "success," given that her campaign messaging right now is orchestrated around continually trolling these billionaires. In a new ad pitching her wealth tax, Warren shows clips of four billionaires expressing their fears and frustrations over Warren—among them Leon Cooperman, who infamously sent Warren a whiny letter a couple of weeks ago. Warren further booked this ad to debut on CNBC during some of its most popular shows. If the goal was to get Cooperman, specifically, to respond in a curse-filled rant, she succeeded instantly. If Cooperman wants to cry, Warren's campaign is selling a receptacle for his tears too.

Last Week #5
4. Joe Biden
A vote of no confidence.
One frame through which to view the Democratic presidential primary so far is that the field expands or contracts depending on the perceived strength of Joe Biden. When 20 million candidates declared their bids earlier this year, it was a sign that the field viewed Biden as a paper tiger, certain to be torn down from weak front-runner status by his decades of baggage. Instead, he spent most of the year leading polls both nationally and in early states. The field began, gradually, to winnow to a reasonable size. But with Biden falling behind in Iowa and New Hampshire, and Warren becoming a true threat to win the nomination, a new crop of center-left (or just centrist) candidates—Patrick, Michael Bloomberg, Eric Holder, Hillary Clinton (yes, of the "Hillary Clinton" Clintons!)—are giving the race a second look. It's a bit of an overreaction to the "failures" of a candidate who's still within striking distance in Iowa and New Hampshire and comfortably leading in Nevada and South Carolina. But when you are a person who thinks of yourself as presidential material, it's probably hard not to jump at any opening.

Last Week #3
5. Donald Trump
His congressional defense takes shape.
With the impeachment inquiry entering the public domain this week, Republicans were forced to move on from complaints about the secretive process under which depositions were taken and onto manipulating the substance. In Wednesday's hearing, we saw how Surge No. 5's Republican allies—chiefly, Ohio Rep. Jim Jordan—aim to defend him: by claiming that since Ukraine got its security assistance without launching an investigation into the Bidens there surely was never any plot, and by dismissing all testimony from witnesses who didn't directly speak to Trump as "hearsay." Basically, the strategy is to deem anyone who got "secondhand" information as dismissible and to block those with firsthand testimony against the president from testifying—or, if necessary, to throw them under the bus. It's not pretty, but it is keeping the Republican Party in lockstep behind Trump for now.

Last Week #4
6. Bernie Sanders
All AOC, all the time.
The Sanders campaign got a fresh wind at its back when it secured the endorsement of superstar Rep. Alexandria Ocasio-Cortez in October. In the past week, it's seemed almost as if the two are running on a joint ticket. Bernie and AOC went on a tour of Iowa last weekend. And in their day jobs this week, the two released their first Green New Deal bill, a $172 billion measure that would transform all U.S. public housing into energy-efficient homes. Sanders has also said that AOC would work in his White House if he won the presidency. AOC AOC AOC! It's almost as if Sanders' chief rival on the left, Elizabeth Warren, is in a modest slump and he is pushing to consolidate the left of the party in the meantime.

Last Week #7
7. Michael Bloomberg
Who needs constituencies and primaries? Not this guy.
It's been one week since news came out that the former New York City Republican mayor was reconsidering joining the Democratic primary, and we … still cannot see any point to it at all! The Surge genuinely cannot come up with a gauzy consultant's pitch for Bloomberg beyond We would like your money. It's not just that he doesn't have any constituency among Democratic primary voters. It's also that his secret plan to win the primary would be to, uh, not run in primaries. His spokesperson, Howard Wolfson, has said that were Bloomberg to run, he would skip the first contests in Iowa, New Hampshire, Nevada, and South Carolina and run from scratch on Super Tuesday the following week. Perhaps the idea is just to spend $50 billion on advertising in Super Tuesday states while the other candidates deplete their resources in the first four. But the other candidates—well, some of them—would be leaving those first four states with momentum, something even Michael Bloomberg can't buy. On the plus side, though, Bloomberg has made it onto our list two weeks in a row, which guarantees him a Cabinet position.
One last thing: The Surge thinks that Surge readers in the New York area should watch the next Democratic debate with Slate! On Nov. 20, join Slate's amazing roster of female journalists for a live and off-the-cuff deep dive into the state of the election, followed by the ultimate debate watch party. Christina Cauterucci, Julia Craven, Ashley Feinberg, Mary Harris, Virginia Heffernan, Dahlia Lithwick, and Nichole Perkins will explain the ups and downs of the primary and shed light on the candidates, their policies, and their media coverage. More information here.