Nov 22, 2019
347 days to Nov 03, 2020


Slate's guide to the presidential candidates everyone's talking about this week.
Welcome to this week's edition of the Surge, in which we rank 2020 presidential candidates according to subjective criteria. There is usually a joke here, but we will not make jokes this week. There is an impeachment trial underway, and the times demand the utmost gravitas from newsletter writers. Let's think about the future of our democracy.
[MSNBC FART NOISE]
In this week's edition, we look back on the relatively relaxed campaign week that we're not sure even happened (?), as it may have been a hallucination of the Surge's impeachment-melted brain. There was a debate. Cory Booker and Kamala Harris are making worthwhile efforts to save their campaigns. There are some worrying signs about impeachment for Democrats in a couple of new polls, and continued worrying signs about Joe Biden after the clock strikes 10:30 p.m. And Elizabeth Warren has some rebooting to do, because The Whites are taking sanctuary with a rival.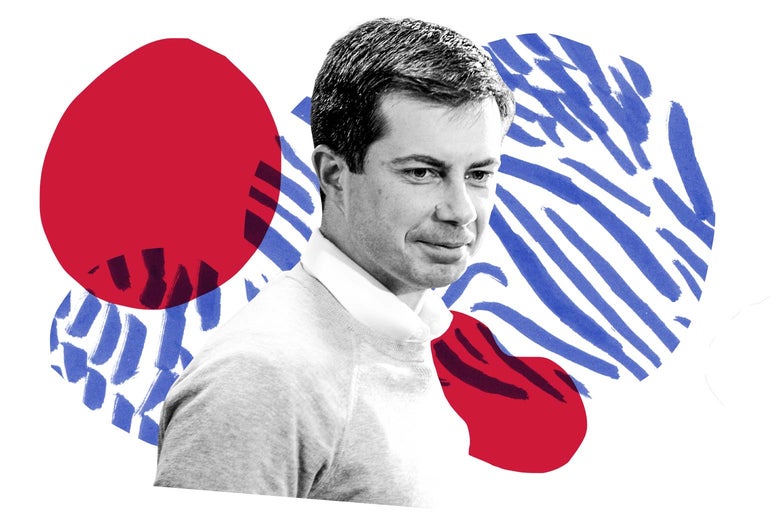 1.

Pete Buttigieg Not attacked.

The thinking going into Wednesday's debate was this: Pete Buttigieg's sharp rise to the top of Iowa and New Hampshire polls in the past week suggested that those chasing him in those states, who find him irritating to begin with, might apply the same sort of relentless scrutiny that they applied to Elizabeth Warren in the October debate. So it was, in the Surge's opinion, kind of weak, and indicative of the disgraceful anti-fun tenor in the primary right now, that they didn't. Both Kamala Harris and Amy Klobuchar, two candidates with a compelling interest in curtailing Buttigieg's Iowa rise, passed on direct opportunities to call him a horrible dweeb who, were it not for white male privilege, would be exiled to outer space work colonies or a college town in Indiana. That Buttigieg was barely touched, though, isn't necessarily a great sign for him: It shows that the field doesn't view him as a significant long-term threat.

2.

Kamala Harris Her best debate in months.

The lack of conflict in the debate—a dynamic closely related to the lack of a front-runner in the field—reminded the Surge more than anything of the first debate in June. That wasn't the only similarity, though: Both debates were Kamala Harris' best efforts. Though she passed on smacking Buttigieg directly, she delivered an important and well-received monologue on the way black voters are taken for granted. And though she didn't attack Joe Biden, she successfully capitalized on one of his … moments. She was able to get revenge on Tulsi Gabbard too, for Gabbard's slashing of her in the second debate in July. There is a gaping space in the field right now for a consensus candidate who can bridge the left and center of the party and establish a diverse-enough coalition to win across the map. Harris, whose campaign seemed on the verge of total collapse in the past few months, reinserted herself back into the running to fill it.

3.

Donald Trump Stay calm. No? PANIC!

The Surge has been preoccupied this week covering the House impeachment inquiry, affording its campaign-coverage duties the "just barely enough to get through the newsletter" level of focus. These hearings have all seemed very bad? For the president? But that might just be the view through the Surge's goat's-milk-latte-and-spinach-kale-snob glasses. A couple of surveys this week have shown that both nationally, and in a critical swing state, support for impeachment has ticked down in the past week as hearings have begun. There's more data to come in, and it's too early to make an assessment of whether the impeachment process is officially helping the president. So let us cautiously say: DONALD TRUMP IS GOING TO WIN. IT'S OVER. ELIMINATE ANY VESTIGE OF HOPE YOU POSSESS. I WANT NOTHING. I WANT NOTHING.

4.

Cory Booker The hold on Cory Booker Surge entries has been lifted.

Following October's debate, the Surge banished Cory Booker for turning in a risk-free performance at a time when he, still mired in the low single digits, needed to take on some serious risk (also because we just haven't had anything to say about him in the past month). But Booker was more game last night, criticizing Elizabeth Warren's wealth tax, jabbing Pete Buttigieg by noting that Booker was the mayor of the "largest" city in his state, and asking Joe Biden if he was high when he said he wouldn't legalize marijuana. Booker is running out of time to make his case, as he has not yet qualified for the December debate under its stricter standards. Though Booker hasn't turned in a poor debate performance yet, this hasn't managed to flip the switch on his campaign. He needs Wednesday's to break that trend. The fundraising numbers since the debate have been promising, but that doesn't necessarily mean that the poll numbers will match.

5.

Joe Biden Is there a Joe Biden body double who could step in for the second half of debates?

Joe Biden is building up a reputation as one of the most consistent debaters in the field: He consistently grinds his way acceptably through the first half of the debate before losing his mind at some moment in the second half. On Wednesday, the mind-losing came during a discussion about black voters, when Joe Biden, while trying to say that he has the most support among black voters in the field, instead said, "I come out of the black community, in terms of my support." He then claimed that he had the support of "the only black woman elected to the U.S. Senate," a claim that the second black woman elected to the Senate, who happened to be onstage with Biden, took note of.

6.

Elizabeth Warren Time for a restart.

When Elizabeth Warren announced a week ago that she had broken up her plan for "Medicare for All" into a two-part legislative strategy—a public option in year one, followed by full single-payer legislation in year three—she was backing off her commitment to the issue that had done her serious damage in the previous month. (A two-part plan to pursue something big in the first year, when you have political capital, and then come back for a bigger thing years later, is also known as a "one-part plan.") It was an acknowledgement that the debacle had raised concerns among center-left voters and ceded some of her ground to Pete Buttigieg. Warren is still in a strong position in the race, but the momentum is long gone.

7.

Michael Bloomberg Apology tours for all!

Though the former New York City mayor still has not decided whether he wants to officially get burned in the Democratic presidential primaries, he has begun the process of eating shit for his past, something we can all appreciate. After Bloomberg had first announced earlier this year that he would not run, he mocked candidates like Biden and Beto O'Rourke for their "apology tours," something he said was not worth doing for himself personally. That's changed, and now Bloomberg is on an apology tour of his own, renouncing his support for stop-and-frisk policing during his mayoralty. What other apologies may be in store? There would need to be a lot. His approval rating among likely Democratic caucusgoers in one Iowa poll this week shows him at 19 percent favorable compared with 58 percent unfavorable, we're sorry to report.