Oct 18, 2019
382 days to Nov 03, 2020

Slate's guide to the presidential candidates everyone's talking about this week.
Welcome to this week's edition of the Surge, our weekly ranking of the presidential candidates according to a "costs" framework instead of "taxes." Does that answer your question, Mayor Pete???
This week, we recap Tuesday night's debate in Ohio, where everyone was mean to Elizabeth Warren. Joe Biden's campaign is in a fugue state. Pete Buttigieg has been stealing books from the library's banned dark-magic collection. Cory Booker's warmth is freezing the Surge's already-cold heart. And one gruff 78-year-old crank who just had a heart attack is, improbably, the comeback kid.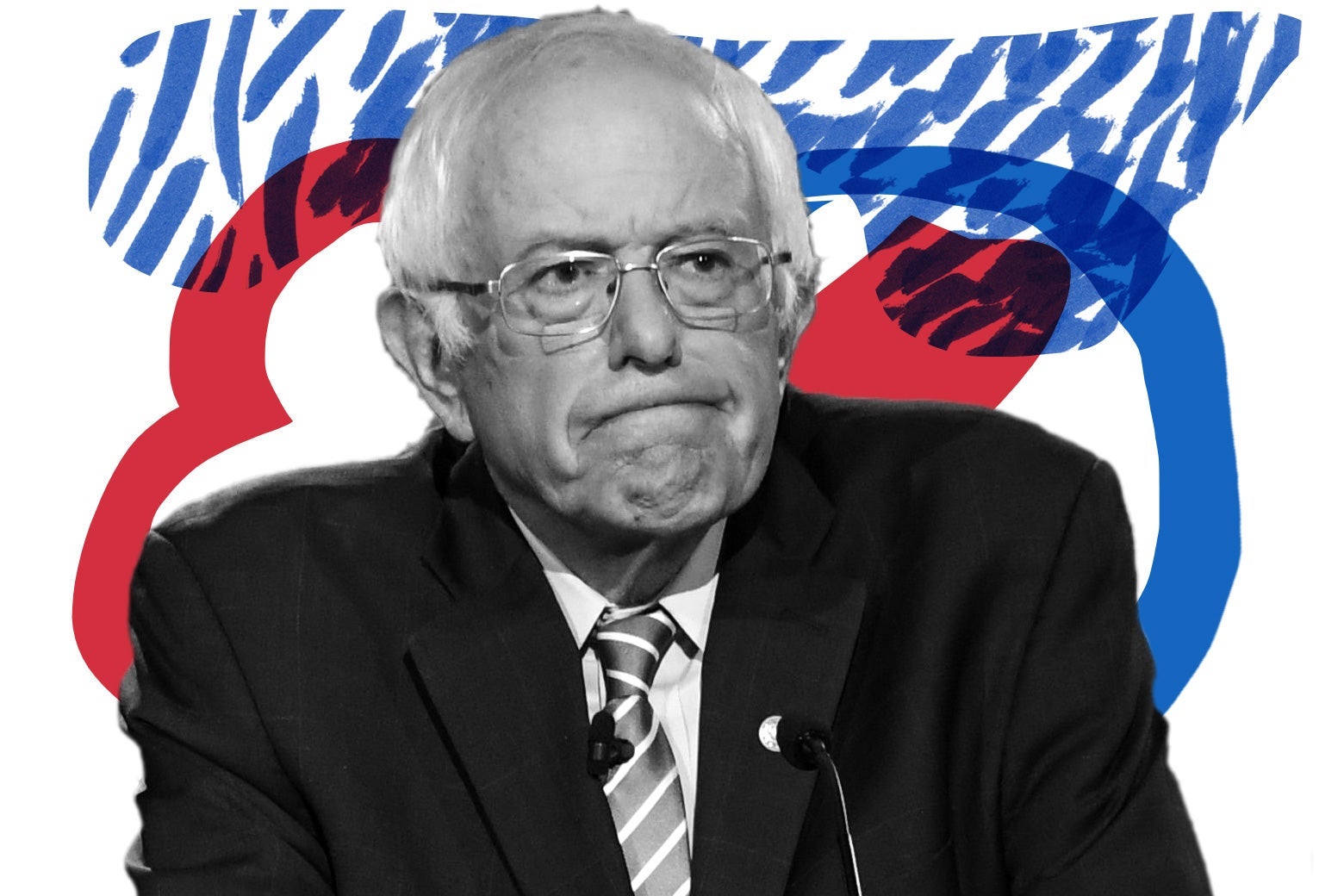 1.

Bernie Sanders He's back.

Last week, the Surge wondered how Sanders would survive three hours of the snap tactical decision-making, and standing, required in Tuesday's debate, his first public event since suffering a heart attack only two weeks earlier. We figured just getting through the debate would have been a job well done. But even without factoring in those lowered expectations, Sanders turned in arguably his best debate performance of the cycle. It was the same aggressively on-message Bernie Sanders, but with less shouting and an extra dose of humor. He came off as the most honest supporter of "Medicare for All" while Elizabeth Warren repeatedly evaded a point-blank question about its financing. He ripped Joe Biden after the former vice president claimed he was the only one onstage who'd "gotten anything really big done," running through a litany of some of Biden's most unsavory achievements. More important than any of this, though, may have been the news that broke in the middle of the debate: New York Rep. Alexandria Ocasio-Cortez, one of the most well-known Democrats in the country, would endorse Sanders at a Queens rally on Saturday. The rollout had the trappings of a long-canned endorsement that Sanders could use at a time when he needs it. With Elizabeth Warren entering a new phase of intense, front-runner scrutiny, now is the time.

2.

Elizabeth Warren Yeah, the "Medicare for All" answer needs work.

Debates months before a single voting contest is held aren't going to dramatically shake up the race, and Elizabeth Warren overall held her own against an onslaught of criticism Tuesday night. Where debates are useful, though, is in exposing vulnerabilities that could hurt candidates down the stretch, when money—in the form of campaign ads—will be spent on highlighting them. Elizabeth Warren's unwillingness to assert, as Sanders does, that taxes will go up even while overall costs for middle-class families will go down under a single-payer health care system means two things: She will only be asked the question more often until she answers it, and the longer she doesn't answer it, the more that refusal will come to define her and tarnish her reputation for being straightforward. It is not a tenable position for her to hold for the next few, or the next 13, months.

3.

Pete Buttigieg Exit Mayor Pete. Enter Sith Lord Pete.

That nice young Midwestern lad who wanted to restore comity to America has transformed into the nice young Midwestern lad who wants to eliminate any biological organism standing in his way to power. During the debate, Buttigieg swatted up at Elizabeth Warren and down at Tulsi Gabbard and Beto O'Rourke. He is dangerously close to becoming a naughty boy, and if he maintains his current trajectory, he will be giving noogies to Bernie Sanders by the next debate. The one issue with his own direct assault on Warren for being unable to answer a yes-or-no question, though, is his own relationship with "Medicare for All." Before he had well-connected donors wiring him their entire bank accounts, Buttigieg was trying to capture the energy of the left, and he indicated strongly that he thought "Medicare for All"—and yeah, he meant single payer—was a swell idea. Now, opposition to it is his central attack line. Could it be that even darling Mayor Pete is squirrelly on this issue, looking for a lane that will get him some traction? No. But Killer Pete is.

4.

Joe Biden Who the hell knows?

What is there to say about this guy now? We don't have much, and apparently his campaign rivals don't, either. It was another debate in which Biden got off to an energetic start and then slid into tangential babbling as the show progressed. In a question about taxes, he said, "I would eliminate the capital gains tax—I would raise the capital gains tax," and something about people "clipping coupons on the stock market." Aside from the one time he stuck his beak out against Bernie Sanders and Elizabeth Warren and was promptly squashed by both of them, most of the candidates let Biden slide and trained their fire on Warren. The Biden campaign has entered a phase of simple existence, about which there aren't any new questions, just old strengths and weaknesses that have been hammered out. He's hardly done, but he is inert. So is his fundraising.

5.

Donald Trump Just another week of everything going exactly according to the master plan.

Just when the foolish Democrats thought they had Trump on the ropes, he foiled them again. The 11-dimensional-chess master and singular public relations impresario defended his abandonment of the Kurds, forcing an overwhelmingly bipartisan vote against him in the House and receiving continued rebukes from some of his closest allies. Shrewd. In the impeachment probe, which enjoys comfortable public support, Democrats had been demanding testimony from Ambassador to the European Union Gordon Sondland so badly that Trump, thinking 50 steps ahead, gave it to them, and … Sondland testified against Trump. Political jiujitsu at its finest. Trump also invited Democratic leaders to the White House and proceeded to call them names, prompting the Democrats to walk out. He owned Nancy Pelosi so badly by releasing an absolutely iconic photo of her standing up to the president at the White House that she made it her Twitter cover photo. A masterful week for our god-genius. At least he's making money.

6.

Amy Klobuchar She speaks for the disgruntled.

The gang-up on Warren wasn't entirely a product of all of the second-tier candidates looking at the polls and knowing whose lead they had to claw back. That may have been a catalyst, but the frustration many candidates have with Warren is real, and sometimes personal, and they seemed eager to vent. Some candidates feel Warren gets it too easy in the press, and that her famous Plans aren't the only plans. She is not the most popular member of the Senate Democratic caucus, either, for the purity of her politics and the indirect—and occasionally direct—judgment she passes on her colleagues, calling them timid and compromised. Amy Klobuchar voiced some of that frustration on Tuesday night. "You know, I think simply because you have different ideas doesn't mean you're fighting for regular people," Klobuchar said in a discussion about Warren's wealth tax proposal, telling her at another point that "your idea is not the only idea." She was speaking for more than one Democratic senator with those lines.

7.

Cory Booker Why … so … HAPPY?

Tuesday was the New Jersey senator's fourth straight error-free, all-around strong debate performance, but the first that has nauseated the Surge. The problem is that the first three iterations of his happy happy HAPPY warrior schtick didn't move him in the polls whatsoever, and he made no adjustment in the fourth. And if he did make an adjustment, it was to stay above the fray and refrain from criticism of his rivals more than ever before, on a night when all the other low-polling candidates trying to save their campaigns felt the need to take on some risks. The Surge has stuck its neck out for Booker in the past, noting the upside potential he has as a well-known, widely acceptable alternative to the first-tier candidates. But his inability to adjust suggests that he's fine serving as a well-known, widely acceptable vice president to the first-tier candidates.