Sept 06, 2019
424 days to Nov 03, 2020

Slate's guide to the presidential candidates everyone's talking about this week.
Welcome to this week's edition of the Surge, your weekly newsletter that ranks 2020 presidential candidates according to the edict of an omnipotent bloody eyeball.
It was a climate-heavy week for the Democratic challengers, as various candidates released their climate change plans (or borrowed Jay Inslee's) and defended them for over 1,000 hours on CNN, while our incumbent president drew a picture on a hurricane map. Also, Beto O'Rourke's transit options were interrogated, Marianne Williamson was canceled, the United Kingdom died, and Joe Biden is not of this Earth. Only one candidate, though, had the guts to tell off a bloviating, loudmouthed baby.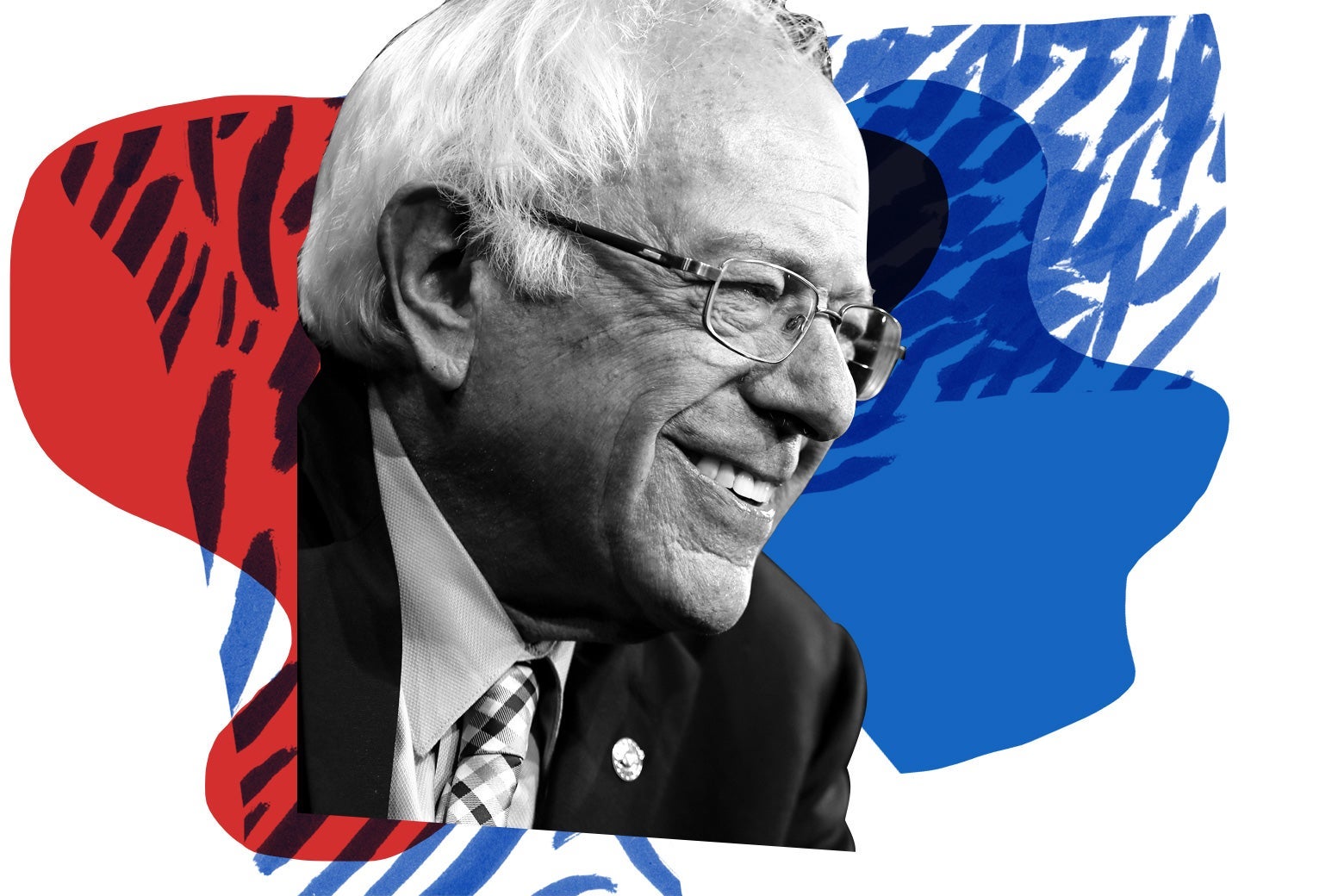 1.

Bernie Sanders Shut your baby up. We're trying to cancel medical debt here.

For the past week, the Sanders campaign has been in a feud with a Washington Post fact-checker who awarded Sanders "three Pinocchios" for his oft-cited claim that medical debt causes 500,000 people to go bankrupt each year. The precise correlation between medical debt and bankruptcy is a much-debated subject among researchers, and the dispute between Sanders and his critics focuses on whether big medical bills need to be the precipitating event of a bankruptcy declaration to count as its "cause," or whether it being a big factor is good enough. (The latter is what Sanders argues.) Either way, having huge debts because you get sick is bad, and Sanders is preparing a plan to eliminate such debt, which is great. But this is not why the Surge has given Sanders the top slot this week. We have given him the top slot because he made us laugh the most (twice) of any candidate in the field: when he reminded The View co-host Meghan McCain that retiring Sen. Johnny Isakson is not dead, and when he told a screaming baby to "keep that down a little bit." Folks: It's not hard to top this list during a slow week. Just pick a fight with a baby.

2.

Elizabeth Warren She has a plan for th—actually, she'll just take Jay Inslee's plan on this one.

In a break from character, Massachusetts Sen. Elizabeth Warren, who has somehow gotten away with marketing herself as the One Candidate With Plans, decided she'd just borrow someone else's plan on one of the major issues of the Democratic primary: climate change. After meeting with ex-candidate Jay Inslee in Seattle, Warren explicitly commandeered several of his climate change proposals, which were considered the strongest in the field. That Sen. Plans has adopted Inslee's climate policy, and that Inslee's constant calls for a climate debate have prompted CNN and MSNBC to spend double-digit hours over the next few weeks hosting climate forums, is a pretty good sign that the likelihood of Inslee serving as the next Democratic president's EPA director or energy secretary is approaching 100 percent. But Warren's on here, not Inslee, because Inslee dropped out (and Warren was smart enough to nab his plan).

3.

Joe Biden What is HAPPENING.

The Surge cannot watch Joe Biden for too long of a time. The terror and anxiety that he will combust on live television is too much. We did, however, watch Biden's climate town hall on CNN Wednesday night. He got tripped up trying to explain how Andrew Goldman, who was scheduled to host a fundraiser for Biden the following night, might be the co-founder of a liquefied natural gas company but isn't really involved in the company. Okey-doke. He was much sharper when it came to weaving climate change with foreign policy as the forum went on, though. Unfortunately, near the end of his time slot, he turned to his right and revealed his eyeball was suddenly full of blood??? Yes, we know that there is a "medical explanation," but that seems insufficient. Something is going on with the former vice president, and we suspect it involves an interdimensional rift centralized in Rehoboth Beach, Delaware. Stay tuned for the bounce this gives him in the polls.

4.

Beto O'Rourke First he takes a bus. Next he'll take your guns.

Because we live in Hell, the move from Beto O'Rourke that got him the most social media "buzz" this week was his decision to take a bus from New York City to Boston. Would he have enough legroom? Would Amtrak have been better? You even precheck, bro? Nothing gets Twitter blue-checks going more than a discussion about Northeast transit. Back on Planet Earth, though, O'Rourke's most noteworthy comments came when a reporter asked, in BuzzFeed's words, "how would he reassure lawful gun owners who were afraid that the government would take away their assault rifles?" O'Rourke chose not to reassure them at all. "So I want to be really clear that that's exactly what we're going to do," he said. "Americans who own AR-15s and AK-47s will have to sell them to the government." O'Rourke's overt support for mandatory gun buybacks—and conservatives are correct about this, it's definitely "confiscation"—is one of the central campaign planks of the new, post–El Paso shooting O'Rourke. He's imbued with purpose again. On a bus.

5.

Donald Trump Speaking of hell …

All we can do is lay out the contrast. This week, numerous Democratic candidates for president released detailed plans for addressing the coming extinction of the planet. They defended their plans before live television audiences and took critical questions from audience members and moderators alike. They discussed how rising sea levels would send insurance markets into turmoil, how to secure international cooperation for lowering carbon emissions, the geopolitical destabilization that changing climates are causing, the role nuclear power has to play in a future national energy policy, and how to deal with the domestic labor displacement that would accompany a transition away from hydrocarbon combustion. On the Republican side, the president doodled over an official NOAA hurricane path to save face over something dumb he tweeted. Libs … owned?

6.

Marianne Williamson Use the power of the mind to visualize Marianne Williamson disappearing.

Much as the release of Oasis' disappointing Be Here Now album twinned with the death of Princess Diana to signal the end of Cool Britannia in 1997, Marianne Williamson's worldview paired with Hurricane Dorian officially closed the curtain on the Summer of Marianne in 2019. With the hurricane having blitzed through the Bahamas and turning up the Florida coast, Williamson tweeted the following: "Millions of us seeing Dorian turn away from land is not a wacky idea; it is a creative use of the power of the mind. Two minutes of prayer, visualization, meditation for those in the way of the storm." Mental visualization is the same tactic that Williamson has used in the past to solve the BP oil spill and AIDS, but people weren't having it this time. She deleted the tweet and called liberals mean. Our innocence, meanwhile? Lost to the ravages of time.

7.

Boris Johnson Thanks for making us look better.

There comes a time each week when the Surge, despondent over United States politics reaching a new rock bottom, googles "Brexit" to enjoy the comfort of knowing how much worse it could be. This week, the new British prime minister, Boris Johnson, had control of his government taken away as he moved aggressively toward a no-deal break from the European Union, and then lost a vote to call for a new general election, because no one trusts him. The speaker of the House of Commons called a senior member of the Tories a little boy, and the leader of the House of Commons became an international symbol of entitlement. There isn't really a "government" over there anymore, and no one knows what will happen. Thanks for the pick-me-up, United Kingdom.