Sept 20, 2019 410 days to Nov 03, 2020

Slate's guide to the presidential candidates everyone's talking about this week.
Welcome to this week's edition of the Surge, our weekly newsletter that ranks 2020 presidential candidates according to secret documents that Jerry Nadler will never, ever get his hands on.
In today's pamphlet, we examine how the ground has shifted since last week's third presidential debate. (It hasn't.) Bernie Sanders broke up with the Working Families Party, Kamala Harris has been sentenced to Iowa for eternity, Beto O'Rourke took your guns and didn't even get a thank-you note, President Donald Trump has a decent chance of winning the Republican presidential nomination, and Julián Castro is done. But first …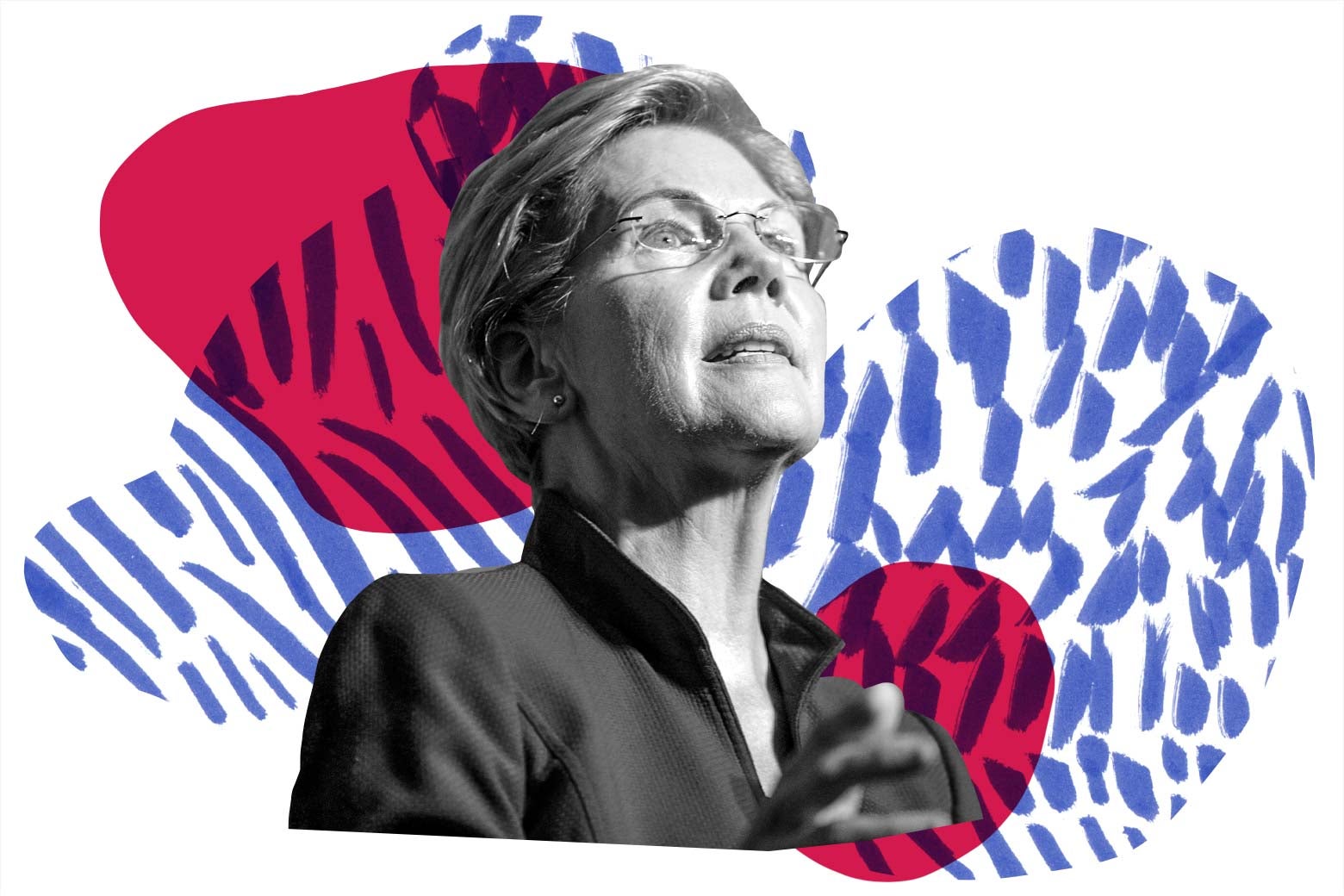 Last Week Unranked
1. Elizabeth Warren
The favorite?
It was another week of Sen. Elizabeth Warren effortlessly moving in the right direction while all of her competitors flailed around like inflatable tube clowns outside a used tire shop. Warren received her best national poll of the cycle this week: NBC and the Wall Street Journal's survey showed her with 25 percent of the vote, only 6 points behind Joe Biden and 11 points ahead of Sen. Bernie Sanders. The most important number within that poll, though, may have been her 13 percent among black voters, putting her in second place to Biden—a distant second place, mind you—among that group. As NBC's Steve Kornacki noted, her newfound "pulse" among black voters may be the most significant development in the race. So, is she the favorite? The only way to know for sure is to see if a resounding early win or two converts that "pulse" among black voters into something more.

Last Week #2
2. Joe Biden
Not giving up the lead just yet.
While Warren may have the momentum, the former vice president still possesses another critically important factor in elections: the lead. He's still up by 10 percentage points over Warren in the current RealClearPolitics national polling average, with the same lead in Iowa. And most importantly, his chief attribute—the most perceived "electability" against Donald Trump—is still comfortably in place. A Fox News poll this week showed Biden leading Trump 52 to 38 percent in a hypothetical poll, with Warren only leading 46 to 40 percent. The Surge would never say that Democratic primary voters should make up their minds based on perceived strength against Donald Trump. But a lot of Democratic primary voters say that Democratic primary voters should make up their minds based on perceived strength against Donald Trump, and that's still benefiting the reigning polling front-runner.

Last Week #5
3. Donald Trump
Let's go out on a limb here and give him the Republican nomination.
It was not a bad week for our glorious leader. His former campaign manager Corey Lewandowski made a joke of Democratic investigators during his appearance before the House Judiciary Committee. His average approval rating ticked up a few points, even bettering President Barack Obama's approval rating at the same stage of his presidency for a couple of days. (This moment in Obama's presidency—the immediate aftermath of the 2011 debt ceiling crisis—was his first-term nadir.) But then there's the biggest news of all: Two polls this week showed Trump in decent shape for renomination within his own party. In one survey, from Fox News, the president was only defeating his nearest rival, former Massachusetts Gov. Bill Weld, by 84 percentage points. But in another, from the Economist/YouGov, he's leading by a much more comfortable 86 points. On the whole, the Surge would say he's the clear front-runner.

Last Week Unranked
4. Bernie Sanders
A painful, and controversial, missed endorsement.
Another bright spot of news for Elizabeth "McEverythingIsGoingSwell" Warren that we omitted in her entry was her securing the endorsement of the Working Families Party. It's more notable, though, that Bernie Sanders did not win the endorsement, as he did in the 2016 cycle. This has enraged Sanders supporters, not a particularly difficult thing to do. But they may have a point: The WFP endorsement vote was split, with 50 percent of the weight given to the party's national committee and another 50 percent given to the broader membership. The party has refused to release the vote shares for each category—statistics it did release in the last cycle. This lack of transparency has led Sanders supporters to believe that he likely won the membership vote, only to be effectively overruled by a party leadership primarily concerned about playing nice with the Democrats.

Last Week Unranked
5. Kamala Harris
R.I.P. to the Iowa Doesn't Matter theory.
A popular preseason theory for Sen. Kamala Harris' strength in the 2020 Democratic primaries went like this: She didn't need to win Iowa or New Hampshire because her advantage among black voters would catapult her to victory in South Carolina, which would in turn vault her to a Super Tuesday romp that would include her delegate-rich home state of California. Here, however, is the problem: Black voters are overwhelmingly lining up behind Biden, and Harris is seeing no home-state advantage in early surveys of California. Harris' bid, in other words, is in dire shape. Her only choice is to go all-in on winning the Iowa caucuses to give her the boost she needs to make it to South Carolina. Her campaign is now planning to spend as many weekends as possible in Iowa—or, as a reporter overheard her saying to a Senate colleague this week, "I'm fucking moving to Iowa." Iowa will always matter, as much as some candidates would like it not to. Iowa is tricksy like that. Think you don't need Iowa? Joke's on you—you're fucking moving there.

Last Week #3
6. Beto O'Rourke
He promised to take your guns, and this is how you say thanks?
The Texan had the most viral moment of his presidential campaign in last week's debate when he said, passionately, "Hell yes, we're going to take your AR-15, your AK-47," to resounding applause. The bold declaration in support of remunerated confiscation brought much criticism to O'Rourke from the right, which is using the sound bite as an excuse not to legislate on background checks, and from his fellow Democrats, who are scared that the clip will confirm gun owners' worst fears about the left. But the more pressing problem for O'Rourke beyond Sen. Chris Coons getting the vapors is that his big viral moment isn't translating into a polling surge(™) in post-debate surveys: He's still parked in the low single digits with the other chuckleheads. If a bold stance on gun control won't work, he'll need a new trick to make his move. Maybe … make some YouTube clips of juggling tricks? Something else?

Last Week #4
7. Julián Castro
Confirmed: Calling the very popular front-runner senile does not work.
The Surge is pro-bitchiness, in all its forms, and entirely enjoyed the moment in last week's debate when Castro, needing to make something happen, insinuated with the subtlety of a sledgehammer that Joe Biden was losing his marbles. But the Surge didn't think this would work for Castro: Democrats love Biden, even those who aren't voting for him, and Democrats, God help them, also love civility. Post-debate surveys have shown that, indeed, Castro's net favorability cratered following the debate. Our only remaining question, like all important questions, is wholly conspiratorial: Which candidate offered Castro a plum administration job to kamikaze himself so they wouldn't have to do the dirty work of introducing concerns about Biden's age on live TV themselves? Whoever that person is, you deserve a slot on the Surge.