Aug 23, 2019
438 days to Nov 03, 2020


Slate's guide to the presidential candidates everyone's talking about this week.
Welcome to this week's edition of the Surge, a newsletter that ranks 2020 presidential candidates by putting candidate nametags on a bunch of cats, putting all of the cats in a big burlap sack, and drawing cats from the bag. We also factor in newsworthiness.
This week, we look at a bumper crop of Republicans whom Bill Kristol is tricking into running for president, Bernie Sanders engaging in some delightful sausage-making, the limits of Elizabeth Warren's appeal, and the LIMITS of Kamala Harris' appeal. But first, we bid farewell to one of the best, truly.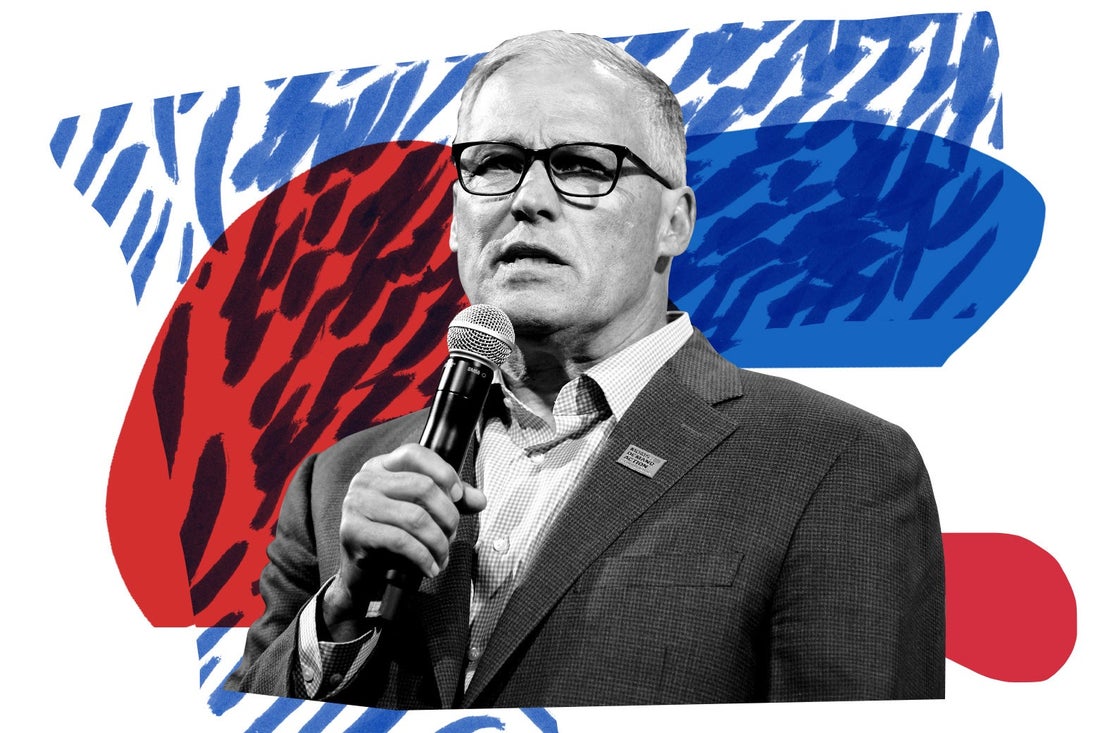 1.

Jay Inslee This departure actually sucks.

A 15-year congressman and successful two-term governor with a record of progressive achievement runs for president with an emphasis on climate change, the most important issue in the world. He releases a detailed climate plan to rave reviews from climate experts. He has no glaring problems with either moderate or liberal flanks of the party. He is likable. He is hot. And yet he is dropping out of the presidential race, in the August before the election year, because he failed to meet the polling threshold for the third Democratic debate in September. Meanwhile, a donor who just got in the race 10 minutes ago is close to successfully buying his way onto the debate stage. The Surge can't help but feel that Jay Inslee deserved better. But the Surge, always out chasing stardom and celebrity, also never wrote about Jay Inslee, it must be noted.

2.

Joe Walsh, Mark Sanford, Jeff Flake, John Kasich Let's get slaughtered and be legends.

Yeah, yeah, yeah, we're cheating by lumping four candidates together. But (a) the greatest trick the Surge ever pulled was convincing you there were rules, and (b) each of these four Republicans considering a primary challenge to President Donald Trump amounts to roughly ¼ of a legitimate presidential contender, so the math checks out. As the Washington Post reported this week, "the anti-Trump movement inside the Republican Party—long a political wasteland—is feeling new urgency to mount a credible opposition to Trump before it's too late." This "movement," which appears to be the usual gang of Bill Kristol and a couple of his interns, has been displeased with the lack of enthusiasm out there for the existing Republican primary challenger, boring patrician Bill Weld, and is working the phones for a new candidate to also elicit zero enthusiasm. The idea is that only one of them should run to unify the anti-Trump conservatives. Much like Weld, though, this idea is boring and makes the primary challenge easier for Trump to ignore. All of them should get in, and there should be televised Republican primary debates, tempting Trump to participate. 

3.

Bernie Sanders A promising special-interest carve-out on "Medicare for All."

There's always been some concern about a single-payer health care system among unions, whose ability to negotiate excellent benefits is one of their key selling points. So the Vermont senator made a rare tweak to his No. 1 issue this week in an effort to appease them, giving organized labor "more negotiating power than other consumers would have under his plan by forcing employers to pay out any money they save to union members in other benefits," as the Washington Post reported. This prompted some sniping from the campaign of Kamala Harris, most notably, who endured endless criticism from Sanders for her more gradual approach toward Medicare for All. The Surge, however, thinks it's a welcome development for Sanders. It shows that he's willing to be flexible in order to build the coalition necessary to pass landmark legislation. More demonstrations of buying off key blocs, please.

4.

Elizabeth Warren Where does she go from here?

The Surge has been very nice to Elizabeth Warren. But since it's a slow week, let's talk about her Big Problem. It's not Iowa, where she's within spitting distance of Joe Biden. It's not New Hampshire, where she could be doing better, but if she wins Iowa, she'll certainly get a boost, and even if she doesn't win New Hampshire, no big deal, she'll have already won Iowa. But what after that, when the primary electorate diversifies? This isn't particularly complicated. If the race becomes essentially one-on-one between Biden and Warren—not that we're predicting that—who has the stronger coalition? The one who can draw heavily from college-educated whites, or the one who can draw heavily from minorities and noncollege whites? The Surge would probably go with the candidate who draws from two pots instead of one. Warren has run a very strong campaign so far, but she has her work cut out for her.

5.

Kamala Harris Where does she go from here?

Though Warren has to show she can grow from her white nerd base, at least she has a base. What Kamala Harris would give for a base! Look at this freaking CNN national poll. Jesus. Harris is at 5 percent, down 12 percentage points from her high-water mark following the first presidential debates in late June, and a tie for fourth place with Pete Buttigieg. Is there a base that we can detect within that group, at least? A specific demographic for whom she's a top choice? She is fifth among men, fourth among women, fifth among whites, fourth among nonwhites, fifth among 18 to 49 year olds, and fourth among those 45 and over. She is fourth among both those making less than $50,000 and those making more. She is fourth among college graduates and fifth among noncollege graduates. She is fourth among liberals and fifth among moderates and conservatives. She has tried to come across as moderate to moderates and liberal to liberals. It has left her with the acceptance of both groups but the support of neither.

6.

Michael Bennet Getting rid of the wrong moderate.

The Colorado senator, much like Jay Inslee, isn't going to make the next presidential debate. He, too, will have to decide whether he wants to live on as a zombie candidate, making increasingly desperate midday MSNBC bookings to no avail, or quit. Just as Inslee's dropout means we're losing some of the best climate policy in the field, though, Bennet's dropout would cost the field some of the best ideas from the party's technocratic wing. Bennet released a detailed economic plan that, in timely fashion, offered a range of ideas for dealing with a recession through fiscal and monetary policy. Not all of Bennet's plans are for everyone—he's one of the few candidates who still thinks a $15 minimum wage should only apply to pricey urban areas—but they represent the most comprehensive center-left blueprint for governing that the field has offered. So the next time you see Joe Biden babbling about how he remembers passing an education bill with Robert E. Lee in the good ol' World War II days of the late 1990s, or what have you, consider that perhaps the wrong moderate made it through the prelims. 

7.

Donald Trump Appealing to his base from now till Election Day.

Hope isn't entirely dead yet, but the president has predictably backed down from his calls for expanded gun background checks after having a chat with the National Rifle Association and some of his political advisers. Even though he hasn't ruled out background checks entirely, his ambitions have been, at the very least, trimmed. It's tempting to say that going against the NRA might be an opportunity for Trump to build up some bipartisan credentials heading into the next election. But we can't help but think, on cold political grounds, that the hard-liners within his administration are right. Among those who have cautioned Trump against background checks, for example, is Office of Management and Budget acting Director Russ Vought. "His concerns, shared by many within the White House," CNN reported this week, "is that a background check expansion would gain him few points politically but actively hurt him among his actual supporters." Trump is never going to be loved broadly. All he has is the enthusiasm of his base. The 2020 election is underway. Expect the politics to win out.