Aug 30, 2019
431 days to Nov 03, 2020

Slate's guide to the presidential candidates everyone's talking about this week.
Welcome to this week's edition of the Surge, our campaign newsletter ranking 2020 presidential candidates according to bribes that the Democratic National Committee pays us.
This week, the field for the third Democratic debate was set and only 10 candidates made it. One candidate who didn't make the cut responded with dignity by quietly exiting the presidential race and pledging to work hard to support the eventual nominee, one complained to Tucker Carlson that the Democratic Party is corrupt, and another would be sad that he spent more than $10 million failing to make a debate except it doesn't matter because he's a billionaire, and this is all a silly game with play-money. Meanwhile, Donald Trump is losing his mind over the economy and Joe Walsh is losing his presidential campaign to Donald Trump. Oh, and for about 10 seconds it looked like the Democratic front-runner might have collapsed, but he didn't.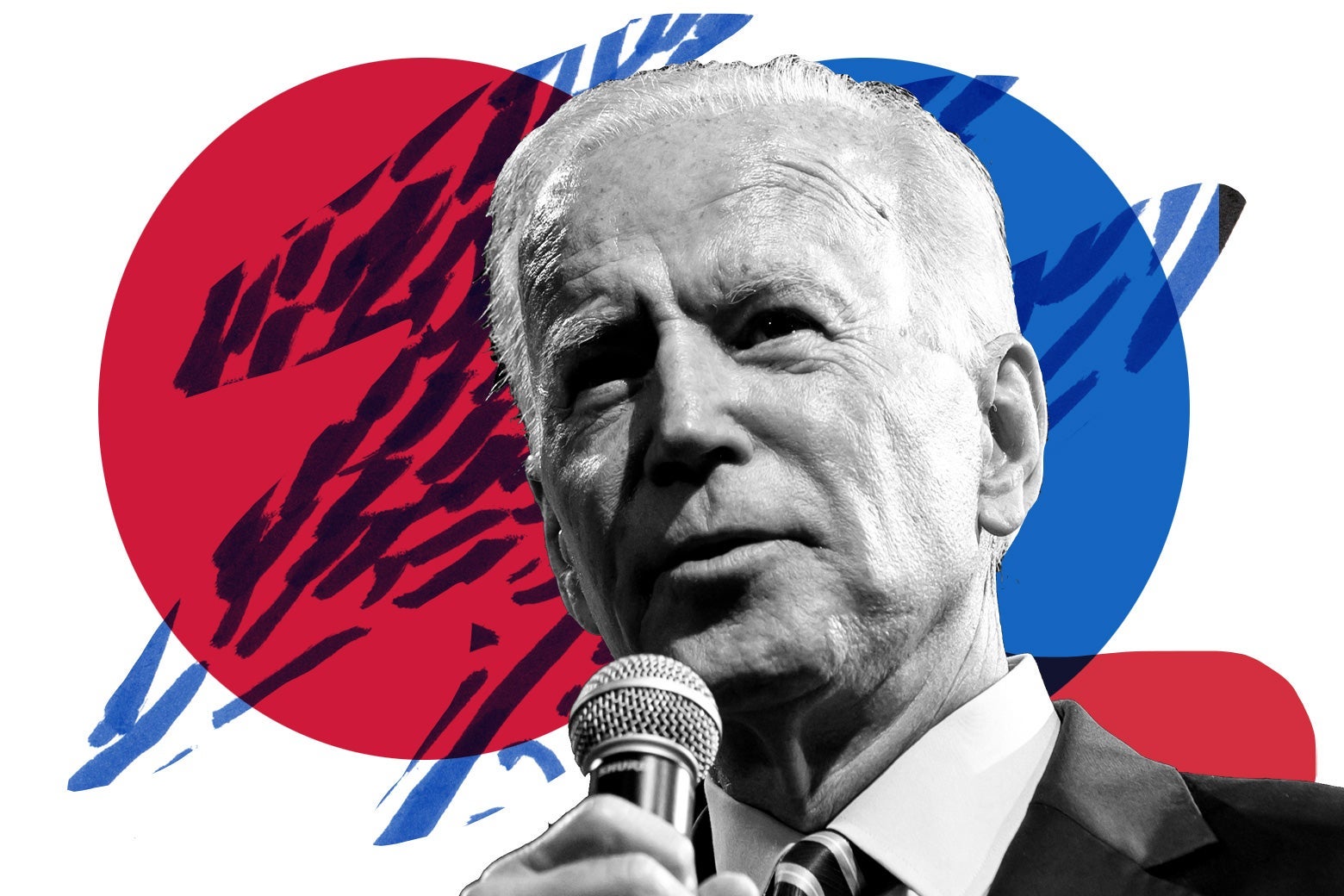 1.

Joe Biden It's been a pretty ugly summer. He still leads.

There was a comical moment earlier this week in which it looked like voters might actually be turning on Joe Biden. A national poll from Monmouth University, a quality pollster, showed Biden falling to 19 percent from his usual perch in the low 30s, trailing Sens. Elizabeth Warren and Bernie Sanders, each at 20 percent. Over the next couple of days, however, a slew of other national polls came out showing Biden still in the low 30s, prompting Monmouth to issue a statement acknowledging that its survey was a foul ball. Those few hours after the Monmouth poll was released, though, were quite a time to be alive. What if a summer of bad debates, stammering, "gaffes," and general questions about Biden's cognitive fitness really were catching up to him? What if the words Biden and electable really had been divorced in the collective mindset of the Democratic primary voter? Was seeing Biden refer to New Hampshire, the very famous and well-known first primary state, as VERMONT the final straw? Nope. Biden's doing just fine in the polls. He's still the leader. One season down, a couple more to go.

2.

Elizabeth Warren This can't be right … she and Biden get to share a debate stage?

As hot girl summer gives way to argyle sweater dad autumn, the most anticipated campaign moment this September will come on the 12th, when Democratic candidates debate in Houston. In what the Surge can only imagine was a catastrophic screw-up by the DNC, only 10 candidates qualified for the debate, instead of the 11 that would have prompted another confusing two-night debate spectacle. That means that the DNC has no excuse but to put two of its front-runners, Biden and Elizabeth Warren, on the same stage for the first time. This will be the next great experiment in gauging Warren's command of a stage, but also Biden's durability. Because, while the Surge can't predict what will happen in the debate, we do believe that a future timeline exists in which Warren, a strong performer in the first two debates, disintegrates Biden on live television.

3.

Kirsten Gillibrand Some are taking their knocks well …

Upon recognizing that she would not make the September debate stage, New York Sen. Kirsten Gillibrand ended her presidential campaign on Wednesday. "I think being able to have a voice on a debate stage, when other candidates have that, is really important," Gillibrand told the New York Times. "And without it, I just didn't see our path." She took the circumstances like a champ and should be recognized for exiting gracefully. Having recognized that though … what a nightmare this candidacy was! She spent all but $800,000 of the $10 million she had from her Senate campaign account in order to register 0.1 percent in the RealClearPolitics national polling average, and didn't even make it to the fall stage of the primary process. This is a prominent United States senator who has been laying the groundwork for a presidential bid for years. And while many Democrats—including many Democratic donors—turned on her for her role in prompting ex-Sen. Al Franken's resignation, none of the Democrats who liked her for that bothered to support her either. She wasn't the only candidate in the field with 0.1 percent: Ex-Rep. John Delaney is there, too. But that's still 0.1 percentage points higher than the expectation for Delaney. It's hard to think of a presidential campaign that fell flatter relative to expectations than Gillibrand's.

4.

Tulsi Gabbard Others are taking their knocks … not so well …

If you don't make the debate stage, one option is to follow Gillibrand's path, take the DNC's hint, and quit the race so the field can winnow to a reasonable size. Another is to go on Tucker Carlson's Fox News show and argue that the DNC is rigging the process, as Hawaii Rep. Tulsi Gabbard did on Wednesday night. "The whole process really lacks transparency," Gabbard told a pleased Carlson. Jeez. Look. The Surge isn't hot about participation in theatrical performances licensed to for-profit entertainment corporations serving as the major early winnower, either. But hitting 2 percent support in four polls and reaching 130,000 unique donors are transparent criteria. These are widely recognized integers. 

5.

Tom Steyer The check must have bounced.

Hmm, this is odd. Excuse us, Mr. Perez? It says here that Tom Steyer, the billionaire donor and activist who entered the presidential campaign late, did not qualify for the debate stage in September. That's … irregular … because Steyer spent $12 million or $16 million in advertising and donor-list acquisitions specifically to purchase a dais on the stage. Did the check not go through? Did anyone call the bank? What, ah … we see … the error appears to be that much of the check was spent on purchasing television ads in Iowa, where there have barely been any qualifying polls conducted in the last month? An allocation error in the official Steyer Money-Burning Algorithm, got it. 

6.

Donald Trump Think this sundowning economy is getting to him much?

Our president Friday'd particularly hard last week. With China announcing new trade measures against the United States and stock prices dipping once again, the president suggested that Federal Reserve Chairman Jay Powell could be a bigger "enemy" than Chinese Chairman Xi Jinping. Once markets closed, Trump escalated tariffs against China once again. Recession fears seem to be taking up much of the president's attention (with a little time left over to tweet about the New York Times and bedbugs). As they should! Approval of Trump's handling of the economy is tipping underwater for the first time in his presidency. 

7.

Joe Walsh You want to beat Trump in a primary, and you're *apologizing*?

Trump picked up a new primary challenger this week in Joe Walsh, who spent the first days of his campaign apologizing for all of the stuff he said when he was a dipshit Tea Party congressman and then a dipshit radio host. Walsh admitted that he'd made some racist comments in the past at which he now winces, such as the 2016 tweet in which he said, "Obama is a Muslim. Happy New Year!" In a BuzzFeed interview, he called that "the tweet I most regret. I let my policy differences with Obama cause me at times to be personal in my attacks against him. No excuse, and all I can say is that I'm sorry." While it's nice to see him recognize his past mistakes—Joe. Joe, Joe, Joe. You don't beat Trump in a Republican primary by apologizing, especially not for saying the very thing that put Trump on the political map. You say, very statesmanlike, "I think President Trump is too unstable to be president. Also, yes, Obama is a Muslim." Happy New Year.