Aug 09, 2019 452 days to Nov 03, 2020

Slate's guide to the presidential candidates everyone's talking about this week.
Welcome to this week's edition of the Surge, your merciless ranking of the many 2020 presidential candidates sent to us by a wisecracking, surly God. In today's pamphlet, we look at the post-debate landscape, and how John Delaney went from polling at 0 percent to polling at hella 0 percent, Elizabeth Warren went from the mid-high teens to the hella mid-high teens, Cory Booker went from 2 percent to hella 2 percent, and Kamala Harris went from the low teens to, uh, roughly 8 percent. Mayhem. Joe Biden remained old, and leading, and pundits somehow avoided the temptation to commend President Donald Trump's savvy cunning in being bad at his job. Amid all this, one candidate stepped up.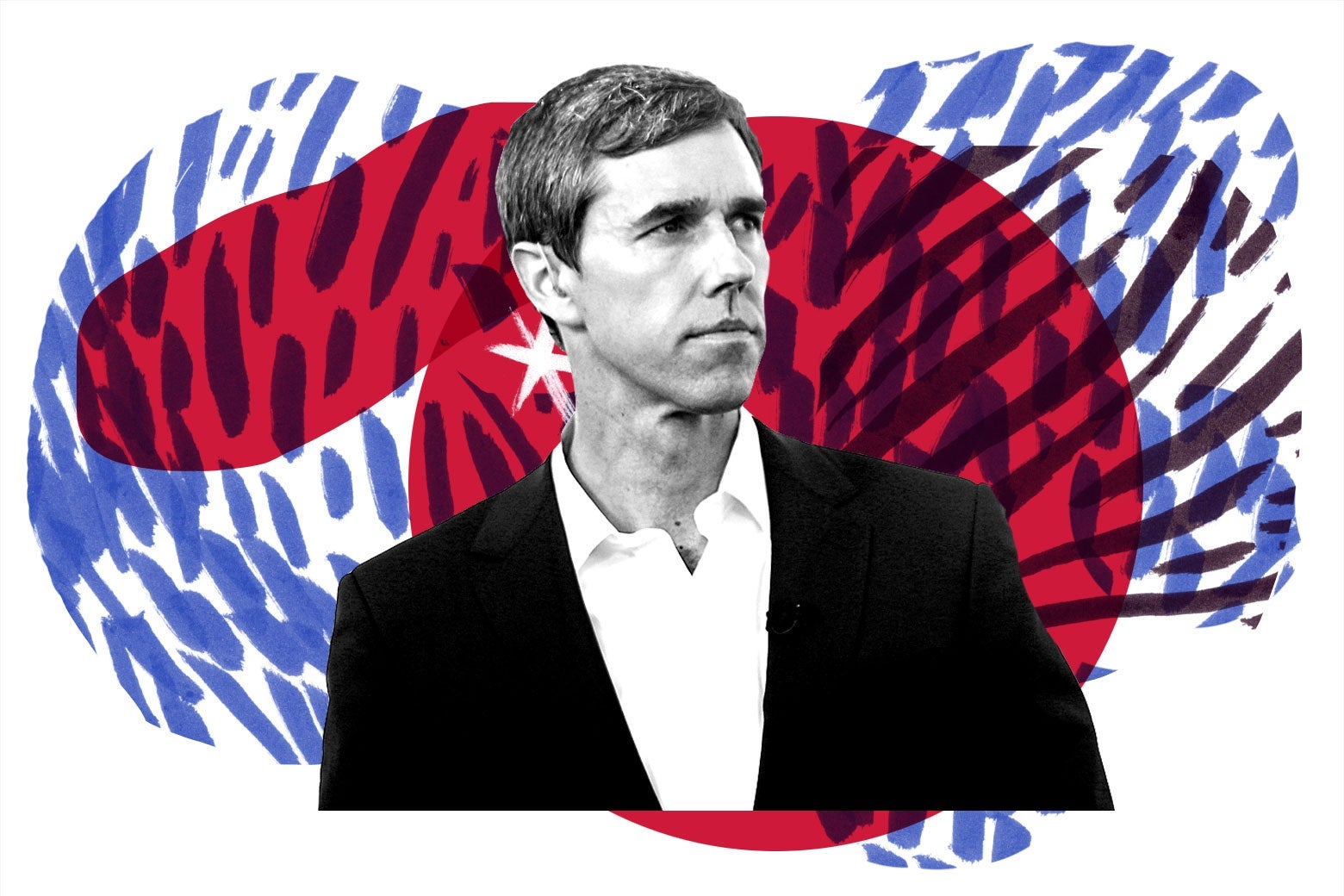 Last Week Unranked
1. Beto O'Rourke
This is more like it.
Until this week, Beto O'Rourke's presidential campaign had verged on being what we might call "historically unmemorable." Since his optimistic and overhyped launch on the cover of Vanity Fair earlier this year, all indicators for O'Rourke had free-fallen: in fundraising, in national polling, in early state polling, in media coverage. He served as a go-to whipping boy during the two debates in which he participated. It wasn't until this week that the candidate we saw energize Democrats nationwide in his Senate race last year showed a glimpse of his former imposing self. And he did it with one line: "Members of the press, what the fuck?" O'Rourke was enraged following last weekend's shooting in his hometown of El Paso, Texas, and a reporter's question about what the president could do differently to help pushed him over the edge. It's been impressive to watch O'Rourke defend his city and target the president with an authentic directness about Trump's incitement of white nationalist acts of violence. The Surge has no idea, and doesn't particularly care, about what this week will mean for O'Rourke's standing in the presidential race. In the absence of incumbent national leadership, though, it was comforting to see O'Rourke fill the void.

Last Week Unranked
2. Elizabeth Warren
Your now-confirmed debate winner.
Yeah yeah yeah, we chuckleheads in the media all write our columns immediately after presidential debates about who "won" and "lost" them, but members of the press, what the fuck? What do we know? What's our deal? After making our grand pronouncements, we all hold our breath for a few days and wait for polling to come back to see if the public's interpretation of events matches ours. And after last week's two CNN debates, it appears that pundits and Democratic primary voters were on the same page: Massachusetts Sen. Elizabeth Warren dominated. In a HuffPost/YouGov poll of Democratic and Democratic-leaning voters, 50 percent said their opinion of Warren improved, while only 6 percent said it worsened. That net change of 44 percentage points was the strongest of the 20 candidates who'd debated over the course of two nights, with South Bend, Indiana, Mayor Pete Buttigieg coming in a distant second with a net change of 24 points. Warren's post-debate national polling average also received a modest bump, and she's now on the precipice of passing Sen. Bernie Sanders for second place in national polling averages. Warren doesn't spike, and she doesn't collapse: She just grows a point or two each month. It's a healthy trajectory to ride.

Last Week #1
3. John Delaney
Your now-confirmed debate loser.
Remember that first debate last week, when CNN moderators devoted an inordinate amount of attention to former Maryland Rep. John Delaney to serve as the substitute moderate foil to Sanders and Warren in Joe Biden's absence? There was a strain of thought afterward that this might have helped Delaney: He got a lot of face time to introduce himself and to argue for a moderate approach to policymaking that still appeals to a large segment of the Democratic electorate. It was a reasonable take! But also wrong. That same HuffPost/YouGov survey mentioned above showed Delaney to be the debates' biggest loser. Only 2 percent of voters' opinions of Delaney improved, while 32 percent of voters' opinions worsened. This is why it's such a risk for candidates, even lower-polling ones, to go negative—especially in service of an incremental policy vision—against beloved, higher-polling candidates in early debates: It can make voters really dislike you! Delaney was polling at nothing before the debates and now will continue to poll at nothing, but with a fresh new net–30 percent of the Democratic primary electorate viewing him as a jerk. Oops.

Last Week #3
4. Joe Biden
Another shaky week survived. Somehow.
The last debates officially changed the Surge's (EXPERT, MUST-CREDIT) opinion of the former vice president's central vulnerability. It's not that he could prove too moderate or out of touch with the trajectory of the Democratic electorate; there's plenty of space within the party for his center-leftism, and there's no major center-left rival to contend with him. The central vulnerability, instead, is his age, which has revealed itself to be a Factor in his ability to campaign and debate in a yearslong race (and in his potential administration—remember, the winner of this contest literally has to be PRESIDENT OF AMERICA for four years). He lost his train of thought throughout the debate, and in the days after, during a fundraiser, he referred to the shootings in El Paso and Dayton as "the tragic events in Houston today and also in Michigan the day before." The Surge does not mock such septuagenarian fogginess; it simply notes that these moments seem to be happening on the regular, or at least during the rare days when Biden is out campaigning. Biden's polling, however, has held relatively steady since the debates. Guess we're doing this, huh?

Last Week #6
5. Cory Booker
What more do you jokers want?
Can a few of you out there tell a dang pollster that you would vote for Cory Booker? Why not? The candidate is generally appealing to a broad swath of the party, is young and energetic despite being quite experienced, and has performed well in the two debates. In the second night of the CNN debates, he was determined to have performed the strongest, by math. So what, pray tell, is this baloney? It's 2 percent, 2 percent, 3 percent, 2 percent, all down the board, in terms of Booker's national polling. Booker is falling in South Carolina, which his team expects to be his best early primary state. Members of the public, what the fuck? It's not that the Surge is in the tank for Booker; we've been committed Lizard People voters since the Lehman Brothers collapse. But Booker deserves to get to, what, 5 in national polling? Like, at least once? Can you just get him to 5 PERCENT? He tries so hard and no one cares :-(. Do the same for Julián Castro.

Last Week #3
6. Kamala Harris
The dreaded Rubio analogy has been introduced.
Following her breakout performance in the first debates in late June, everyone—including us so-called (by no one) geniuses at the Surge—declared Harris an instant top-tier candidate, and front-runner. Following her second, lackluster debate performance last week, though, she's back to where she was before the first one: polling in the high single digits. She's not gaining any support organically, just coasting off, or suffering from, debate performances and ultimately settling into a less-than-ideal equilibrium we call "fourth place." A couple of months ago, before either debate, the Surge was talking with a Democratic consultant who described her candidacy as such: Voters of all stripes are supposed to flock to her; they just can't find a reason to. It instantly reminded me of another much-touted, talented presidential prospect acceptable to various strands of the party but the first choice of very few of them. I'm not the only one to see warning signs of a 2016 Marco Rubio in 2020 Kamala Harris.

Last Week #7
7. Donald Trump
Sometimes a bad week is a bad week.
It's been an unusual one for our president: For some reason, we haven't seen the typical defenses of the president's 11-dimensional tactical "brilliance" during a week in which he's acted like a baby following a white supremacist's mass shooting. Few commended his negotiating savvy as he escalated the trade war against China, China escalated back, and the stock market plunged. There seemed to be an almost eerie consensus that the president had had a bad week because he was a bad person who was bad at his job. Consider the Surge spooked.