July 19, 2019
473 days to Nov 03, 2020

Slate's guide to the presidential candidates everyone's talking about this week.
Welcome to this week's edition of the Surge, in which we rank the 2020 presidential candidates—Democrats and Republicans—according to a Satanic concoction of polls, newsiness, one-liners, retroactively disavowed crowd chants, bagel store outbursts, and our own indefensible prejudices.
The leading Democratic candidates were mostly a sideshow to the big news this week, in which the man they're seeking to replace launched a racist assault against Democratic congresswomen. But the party's health care debate did escalate, Gov. Steve … let's see here … Steve Bullock earned a slot in the next Democratic debate, and Beto O'Rourke continued to lose. We also gained another potential candidate, this time a Republican, and he has zero chance of winning the nomination. But who needs some coastal-elite "presidential nomination" when you can win the Surge?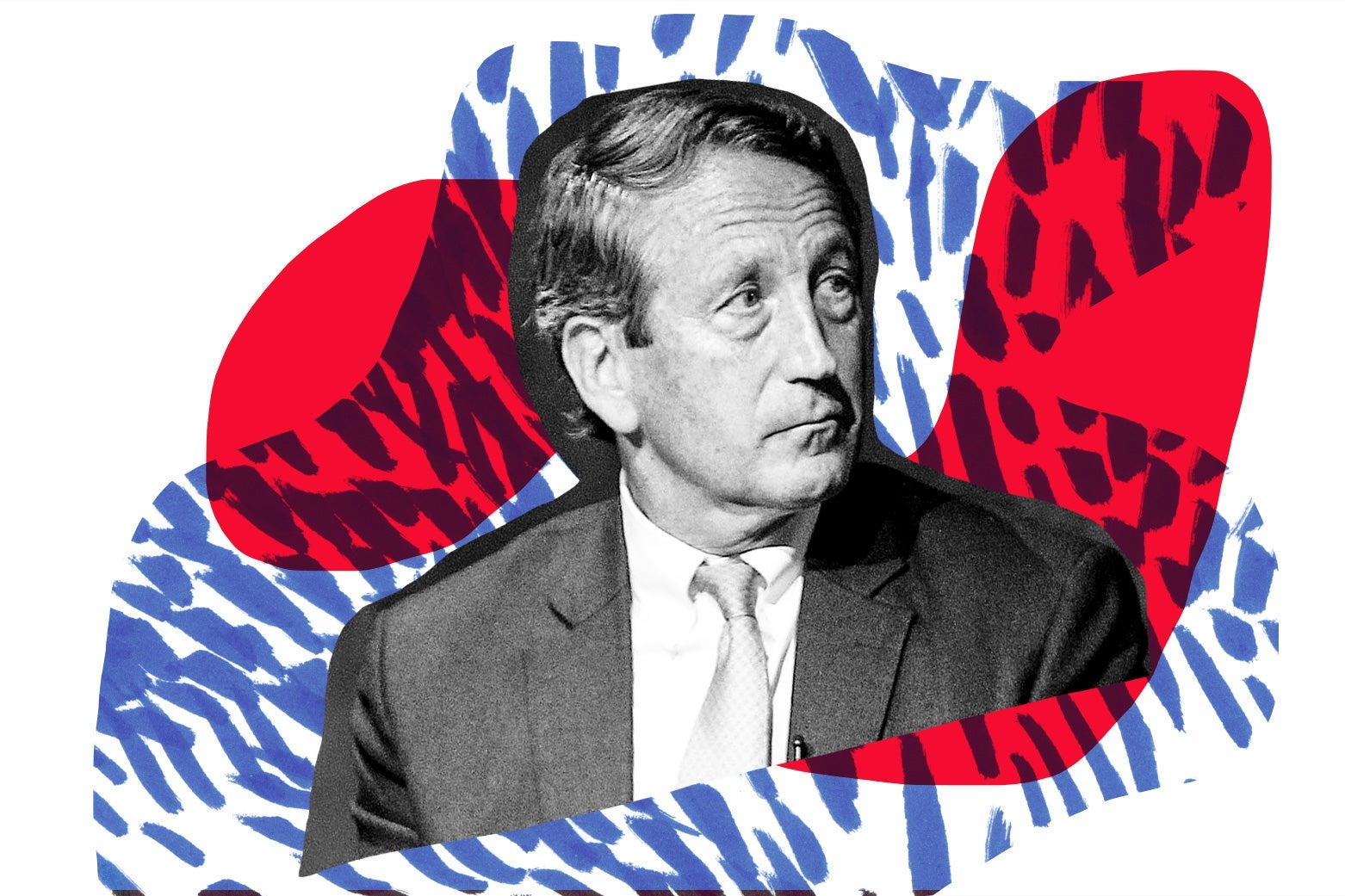 1.

1. Mark Sanford Everyone's a No. 1 to someone.

The former South Carolina congressman, governor, and congressman again announced this week that he was considering running in the Republican presidential primary "as a way of pushing a national debate about America's mounting debt, deficit and government spending." Ha, Republican primary voters don't care about that. They also don't care about Sanford, who lost his congressional primary in 2018 after criticizing Trump. The South Carolina Republican Party knows the score and said in a statement that "the last time Mark Sanford had an idea this dumb, it killed his governorship. That makes about as much sense as that trip up the Appalachian Trail." (This is a reference to the time Sanford went to Argentina for sex.) If Sanford runs, he has a subzero chance of even barely competing in any primary state. That said, the Surge likes Mark Sanford, and Trump had an all-time jerk week, so we will make Sanford No. 1 in what is likely to be his first and last appearance on this list.

2.

2. Donald Trump This was the week he actually launched his campaign.

Trump theoretically "launched" his campaign a month ago in Orlando. But that was just another MAGA rally. This week, however, seemed like more of a true campaign liftoff as he sharpened his reelection message: Let's do racism. Trump began with a tweetstorm telling House Reps. Alexandria Ocasio-Cortez, Ilhan Omar, Rashida Tlaib, and Ayanna Pressley to "go back" to where they came from, namely "countries whose governments are a complete and total catastrophe." And at a rally on Thursday night, his lie-filled assault on Omar prompted the crowd to chant "SEND HER BACK!" The strategy here is to make younger, progressive women of color in Congress the face of the Democratic Party, and to say that this face loves al-Qaida and 9/11. It is an ugly, provocative strategy that some campaign experts and Democratic members of Congress believe could work. The Surge, despite being the savviest of savvy observers, will stop short of calling the shrieking racism tactic "brilliant," however.

3.

3. Kamala Harris Let's stop pretending that there's any chance she would push for single-payer.

Whether you like single-payer health care, don't like it, don't think it's feasible, or whatever, you should understand by now that Kamala Harris would not pursue it as president. No one besides Bernie Sanders would, really, but it's Harris who most theatrically embarrasses herself as she tries to appease the left while winking at the center. She has twice said in high-profile settings that she would eliminate private insurance in favor of a single-payer system—as the Sanders bill she's co-sponsored does—and then walked it back the next day. And in an interview this week, she said that no middle-class tax hike would be necessary to pay for the roughly $30 trillion plan, which is just incorrect. What all of this fumbling around means is that a President Harris would not push for a single-payer health care plan because she either doesn't believe in it or doesn't think it's politically viable. Maybe you like her more for not really being for single-payer! Maybe you like her less. But we should stop pretending that she has any interest in pursuing single-payer—not just being for it, but actively spending the political capital necessary to pursue it—when she can barely feign interest in pretending to herself.

4.

4. Joe Biden Also saying fake stuff about health care.

Well, at least this guy doesn't pretend to support single-payer health care! No, Joe Biden, who released his own incremental health plan this week, is not a fan of overhauling the health care system again, has gone on the attack against those who at least claim to support single-payer systems, and used a line this week that the Surge has never heard. Sure, you get single-payer opponents from both parties frequently claiming that it would mark "the end of Medicare as we know it," or some such. The dystopian image Biden conjured, however, is one of a "hiatus" during which everyone dies. "How many of you out there have had someone you've lost to cancer? Or cancer yourself? No time, man," he said. "We cannot have a hiatus of six months, a year, two, three, to get something done. People desperately need help now." The Surge is not aware of any legislative trigger clause in which health care ceases to exist while single-payer legislation works its way through Congress—though the Surge hasn't read all of the fine print. Instead, the hellscape under which people would live during this Purge-like health care holiday would just be the system of employer-sponsored and ACA exchange plans that we have now, which Joe Biden is seeking to preserve on the theory that people like it so much.

5.

5. Bernie Sanders Have we mentioned health care?

If someone anywhere in the world, but usually in the presidential race, says something wrong about single-payer health care, you can rely on Bernie Sanders or a member of his campaign to make a big to-do over it. Sanders' campaign wasted little time in responding to Biden and Harris' curious comments this week, and the candidate delivered his own "major address" defending his proposal as well. If Sanders has had a single-minded focus on single-payer recently, it may not just be because it's his version of light party conversation. As Nate Silver observed, Sanders came in a tie for second, at 19 percent, in a recent CNN/University of New Hampshire poll. But when asked who the best candidate is to handle health care, Sanders came in at 34 percent, 15 percentage points higher than the second candidate, Elizabeth Warren. Health care is Sanders' strength in this primary. We should expect to see him instantaneously call out any questionable statement about single-payer health care, from any candidate, for the duration.

6.

6. Steve Bullock Meet your new debate entrant!

With California Rep. Eric Swalwell out of the race, this month's second Democratic presidential debates have an open slot that will be filled by … let's see … Montana Gov. Steve Bollocks. Ballock has been complaining that he's not going anywhere despite being a popular two-term governor of a red state, and that's definitely true. But before he makes his national debut, let's give you a little background on the guy. He was born in Montana and raised by a herd of beef cows until he came of age, after which he was released to live among humans in his hometown, Montana Town. Blackball went to college, and after college he got a job doing work. After working some years he got into politics and won a politics job, and then he won another politics job. He is between 40 and 70 years old and wants to win his third politics job: president. Watch out for Steve Babadook.

7.

7. Beto O'Rourke This is where we rank Beto last.

In this week's edition of the Surge, we look at how Beto O'Rourke is losing the presidential race now. This week, in a St. Anselm College poll of New Hampshire Democratic primary voters, O'Rourke came in at 0.0 percent, a poor number. In fact, our sources tell us that 0.0 percent is not just a poor number, but the poorest possible number—every other possible number in polling is higher, and O'Rourke did not get one of those higher numbers. He did earn a better mark in a CNN/University of New Hampshire poll the following day—a hearty 2 percent. In other bad Beto news, he raised $3.6 million in the second quarter, or about 60 percent of what he raised on his first day in the race.