June 21, 2019 501 days to Nov 03, 2020

Slate's guide to the presidential candidates everyone's talking about this week.
Welcome to the very first edition of the Surge, our weekly 2020 newsletter in which we rank the presidential candidates according to their Surge Quotient (and welcome back to loyal readers of the 2018 newsletter, the Hot Seats). What is a Surge Quotient? I'm glad you asked: The Surge Quotient is calculated by taking things like polls, media coverage, gaffes, policy proposals, and "How much stuff do I have to say about these candidates that I really want you to know?" and multiplying it all by some number—the Surge Number—that I cannot reveal. The Surge will always have seven entries, which means that, at least with the current field of 23 Democrats and two Republicans, several candidates won't make the cut each week. And as always in politics, today's No. 1 could fall completely off the list—or de-surge, to use the technical term—tomorrow. We'll be tracking it all.
This week, we look ahead to next week's debates, when none of the candidates we want to see debate each other will be on the same stage because of an ingenious idea from the people who run the Democratic Party. President Donald Trump, meanwhile, is more ready than ever to take on Hillary Clinton, and Cory Booker is looking great because he got into an ol'-fashioned Apology-Off with the front-runner. Bernie Sanders is stuck and getting feisty about it, Pete Buttigieg is starting to expand his support beyond venture capitalists who annually attend the Aspen Ideas Festival, Marianne Williamson hates mandatory vaccination NO SHE DIDN'T MEAN THAT, and Elizabeth Warren, well …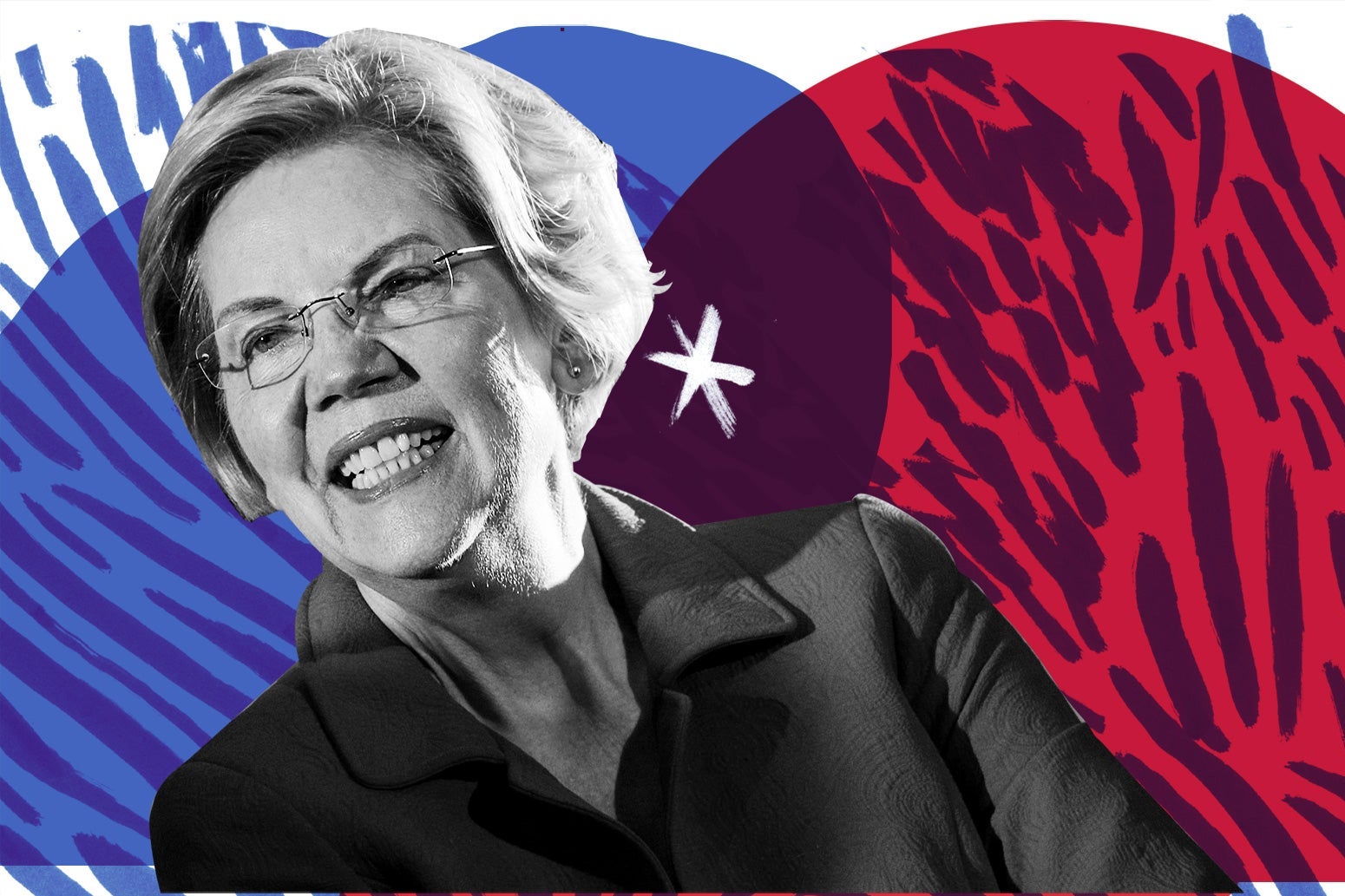 1. Elizabeth Warren
She has achieved liftoff. The next step is debating a bunch of schlubs.
The Massachusetts senator, who just a few months ago saw senior staffers quitting in frustration that their candidate wasn't raising any money, has climbed her way into a near-second-place tie with Vermont Sen. Bernie Sanders. She has branded herself as the Candidate of Plans, and somehow this has managed to capture the imagination of a significant share of the Democratic electorate. More importantly, she appears to have plenty of room for growth: She's maneuvering in the progressive lane but, according to moderates at a conference for moderates this week, doesn't terrify moderates quite like Sanders does. Everything, it seems, is coming up Liz. And her reward, thanks to the weird brainchild of DNC chair Tom Perez, will be occupying center stage at a kid's-table debate while all the other candidates who matter will debate the next night. Unless …

2. Cory Booker
Congrats on fighting Joe Biden!
… New Jersey Sen. Cory Booker might matter now? In a rapid series of events Wednesday afternoon and evening, Booker demanded Joe Biden fight him and Biden—bless his heart—said "OK." More or less. This was smart, Cory Booker! If there's a tried-and-true way for a candidate polling at just-above-nothing to get attention, it's to pick a fight with the front-runner and have the front-runner say no, Cory, you, a black candidate, should apologize to me for saying that it's bad to reminisce about the good old days of Senate civility with white supremacists. Booker could not get to a television studio fast enough last night after Biden engaged with him, and now look: He's No. 2 on the Surge! If the news holds for a little while—and it doesn't seem that this Biden outrage cycle is going anywhere soon—Booker could find the spark he needs to get things going just in time for the debate (where, once again, let's observe that the genius Democratic Party devised a system in which Booker and Biden will be debating on separate nights next week).

3. Joe Biden
He said something he shouldn't have, again.
The front-runner is currently experiencing his worst crisis since announcing his campaign in April (and second-worst since the inappropriate touching accusations that came out just before). At a fundraiser in New York earlier this week, Biden harkened back to his early years in the '70s when the Senate still had unreconstructed segregationist senators, but "at least there was some civility. We got things done." Progressives, along with aforementioned lower-polling candidates looking to catch a break, hammered Biden for the walk down memory lane, suggesting he shouldn't be touting his interpersonal relationships with some of history's greatest monsters. Biden has refused to apologize, saying that his point was merely that it's important to forge consensus where possible even with the worst sorts of people. Though this is an ongoing media mess for Biden that he'd do well to put behind him, we're not sure yet it will make any difference in his polling. Older Democrats, his strongest demographic, have previously dismissed what younger progressives and the media viewed as five-alarm outrages, and a lot of voters enjoy happy talk about the good old days of "gettin' stuff done," even with white supremacists. In the long run, though, if Biden's mouth keeps running loosely—a very good bet—it could accumulate into a serious dent in his chief asset as a candidate: perceived electability. If that perception dissipates, then so does Joe Biden.

4. Donald Trump
Our president is so pumped to crush … Hillary Clinton?
This week, the president held what his team described as a campaign kickoff event, which was just another MAGA rally in Florida. Proud Boys and QAnon nuts from all around the Orlando metropolitan area flocked to the arena to hear our president make the case for how he plans to defeat Hillary Clinton in 2020. Trump hit Clinton from all sorts of angles—the missing emails, her defiance of subpoenas (!), you name it. The crowd dutifully chanted, "Lock her up," and the president's allies were gushing. "He absolutely blistered Hillary Clinton," conservative media creature Dan Bongino opined afterward. It's unclear whether Clinton can stay in 2020 contention after this. (Hillary Clinton, a retired hiker in the New York City suburbs, is not running for president.)

5. Pete Buttigieg
The beginning of the start of a glimpse of inroads among black voters?
In a mid-May Post and Courier poll of South Carolina voters, South Bend, Indiana, Mayor Pete Buttigieg earned 8 percent of the vote. On its face, 8 percent, or fourth place, wasn't particularly notable one way or another for Buttigieg. But the breakdown sure was: Buttigieg won 18 percent of white voters in the poll, compared with a whopping 0 percent of black voters, in a state where the Democratic primary electorate is roughly 60 percent black. Buttigieg issued a plea for help. And that plea might be working, ever so slightly: In this month's Post and Courier poll, Buttigieg came in third overall with 11 percent, this time earning 6 percent support among black voters. That's still not … good? But if my calculations are correct, it is more than seven-infinity times better than zero percent. (It's also a really great sign for the Surge: We told Pete Buttigieg he needed to start diversifying his support beyond white management consultants, and he listened. We need to start charging for such hot tips.)

6. Bernie Sanders
Not great, Bern!
Speaking of "hot tips," we're putting Sanders low in these rankings to make a point: Bernie Sanders needs to start doing better, in the election. Time is passing and his support isn't quite collapsing, but it isn't growing, either. It's just sort of hugging 15 percent and saying, This is fine, 15 percent. We can settle for this, maybe set roots here. We can decorate 15 percent however we like to make it our own. Why go up? Why go down? Fifteen percent is our home. Hovering in place at 15 percent, though, is not a good place to be when everyone knows who you are and what you want to do and has plenty of opportunities to hear you. Worse yet, it's not really clear how Sanders can change this. The only move that's in front of him is to try to take down Elizabeth Warren and occupy the progressive lane by himself, a move he clumsily teased this week by highlighting how the corrupt establishment would be fine with her but not him. Would be cool to see those two go at it in the debate, but alas. Tom Perez, folks!

7. Marianne Williamson
God, yes, we are ready for the Summer of Marianne.
A prediction ahead of the first debates: The Summer of Marianne is a vibe, and it is upon us. The bestselling self-help author is going to be on a debate stage with Joe Biden, and she's a compelling personality whom many will be seeing for the first time. She can take it straight to Biden, because why not, and then he'll call her a "tough dame" and we'll be off to the races. The Summer of Marianne may not last too long. Even now, in these quiet final days before the debate, she's gotten into major trouble by describing mandatory vaccinations as "draconian" and "Orwellian." She described the "debate" over mandatory vaccinations as "no different than the abortion debate," because "the U.S. government doesn't tell any citizen, in my book, what they have to do with their body or their child." Bad stuff there, which she then tried to walk back. But even if the Summer of Marianne only lasts a week or two, we'll be glad. We need someone to shake up the race and give us a little break from all the coverage of Joe Biden.