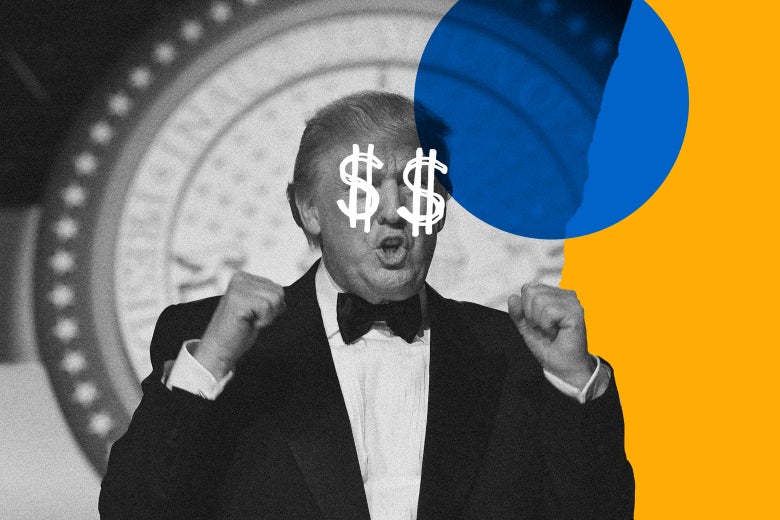 The following article is a written adaptation of a recent episode of What Next, Slate's new daily news podcast. Listen to What Next via Apple Podcasts, Spotify, TuneIn, Stitcher, Overcast, Google Play, or wherever you get your podcasts.
Most inaugurations are one line in the history book, but two years later, we're still talking about Donald Trump's. Why? Because this week it was revealed that the president's inaugural committee is now under investigation.
Inaugurations are always a little unseemly, and the Presidential Inaugural Committee pays for everything you don't see on TV. The U.S. government pays for the ceremony where the president is actually sworn in and gives his inaugural speech, but everything else—things like balls, concerts, and parties—is paid for by the inaugural committee.
When looking back to 2017, it's clear that Donald Trump's inaugural crew seemed unbothered by the appearance of influence peddling. And now prosecutors want receipts.
It's a topic Ilya Marritz knows well. He's the co-host of the Trump, Inc. podcast, and for the past year, he's been trying to figure out what happened at this inauguration, especially after he heard how much the committee raised for the event: $107 million.
"I started talking with some earlier inauguration planners, and they were like, Yeah, this is double what the next-most-expensive inauguration cost. They couldn't even figure out how you could get to that number," Ilya says. I spoke to him earlier this week for What Next, the new daily news podcast I host for Slate.
Back in 2009, Barack Obama's inaugural committee raised about $53 million, which was the highest figure seen until Donald Trump more than doubled the price tag. The latest royal wedding between Prince Harry and Meghan Markle cost about $42 million—way less than Trump's inauguration. The number is shocking, so I asked Ilya: Do we even know where all that money went?
"Not really," he says.
To understand what went down during President Trump's inauguration, you first have to understand how events like this work in the first place. Inaugurations are this window of opportunity—a way to access someone who's about to have enormous power before checks and balances fully go into effect.
This has always been true; it's just that previous administrations felt a little self-conscious about it.
"Greg Jenkins, who was George W. Bush's inaugural planner, told me the Bushes are very precise and punctilious about money," Ilya says. "So, George W. Bush gave him an exact figure, and he was to raise not a dime more than that amount, because he wanted to avoid potential conflicts of interest. He wanted to avoid a situation where there's so much money from so many people who want to buy access, you just have to find a place to spend it. He wanted to really raise just exactly what it would cost to pay for the balls, to celebrate the peaceful transfer of power, and no more. And that's just a big philosophical difference from Donald Trump's inaugural chairman, from the tone that he set."
Even though all this money was coming in, Donald Trump's inauguration was actually less extravagant that previous administrations'.
"They didn't get a lot of major entertainers," Ilya says. "There were three balls, which is actually a relatively small number. At the time, a lot of people commented that it was a pretty modest event by the standards of recent inaugurations. I think Obama may have had nine balls in 2009." [According to the New York Times, Obama attended 10 official inaugural balls in 2009.]
All of this raises some key questions: Where did all that money go? Who was buying access? And what were they getting? Ilya says that another thing that makes this inauguration different is that the president actually had real estate interests in Washington: The Trump International Hotel, located at 1100 Pennsylvania Avenue, just a short walk from the White House
"That hotel had just opened for business at the time of the inauguration," Ilya says. "A question that I had was, Did the inaugural committee, the non-profit inaugural committee, which does not pay taxes, did they spend donor money at the hotel? And what I and my co-reporter Justin Elliott found, going through documents that were shared with us, is: Yeah, they did spend money at the Trump International Hotel."
Ilya continues, "There was a leadership luncheon there, there was also an after-party on inaugural night, and we unearthed these emails that showed that the inaugural committee was looking to book the ballroom at the Trump International Hotel for four solid days. And what's more, in these emails we see that the hotel was quoting a price to the inaugural planners that one of those planners thought was way, way high. On top of all that, Ivanka Trump was also CC'd on those emails, and she was specifically warned that the price being quoted looked really high."
And it's not just that the price was high—it was like a jaw-dropper for me. About $175,000 a day.
"We can't say yet for sure where the price settled, but the quoted price was $700,000 for four days for a ballroom and some adjacent rooms," Ilya says. "That doesn't include catering, and by the way catering is typically one of the biggest expenses with these kinds of deals. But everyone I've talked to thinks that $175,000 a day is very much on the high side of things."
It's not just the price tag that is catching everyone's attention. It's where it was spent, and who benefits from this deal.
"It's never happened before—that an American president has made money from his own swearing-in," Ilya says. "I mean, if you think about it, it's like a groom charging people to attend his wedding or something."
This piece of information was not easy to figure out. It took Ilya and Justin about two years of reporting to learn that the Trump family made money from the president's inauguration. And the U.S. government wants details.
"One of the things prosecutors are looking at is the possibility of illegal foreign contributions to the inaugural committee," Ilya says. "Foreigners are barred from giving to inaugural committees. We already know of one such illegal contribution. We potentially have a situation where the president is being paid with the proceeds of that illegal activity."
When it comes to the question of foreign donations, there's a great deal of talk about Tom Barrack, the chairman of President Trump's inaugural committee. He's known Trump since the 1980s and even helped him sell the Plaza Hotel. But that's not what he's primarily known for.
"He founded a company called Colony Capital. It's a private equity group," Ilya says. "Tom Barrack is particularly involved in the Middle East. He's of Lebanese descent, he speaks Arabic, he knows all of the key people in the Persian Gulf. When you add that all up, you see this really interesting figure being chosen to plan Donald Trump's party. And in many ways, he's an unusual choice. Previous inaugural leaders have been kind of Washington-striver types. And if they were gonna benefit from the inauguration, you know, it was maybe because they could eventually get a job on K Street and buy a bigger house in the D.C. suburbs, or get a good job in the White House and enhance their prestige."
Ilya continues, "When Tom Barrack gets chosen, I ask the same question: What does he have to gain from this? He's helping his friend, and I'm sure that that gave him satisfaction. But this is a busy guy with access to a private jet. He's taking three months out of his busy private equity business career and managing tens of billions of dollars to plan this party. What is he doing to make it worth his while?"
During the week of the inauguration, the very first event was one that had never taken place before. It was a "global dinner" that Tom Barrack himself hosted.
"It really put Tom Barrack front and center," Ilya says. "It's called the 'Chairman's Global Dinner,' Tom Barrack was the host, the entire diplomatic corps—all the ambassadors were invited. And we figured out, WNYC and ProPublica, we got access to a guest list there, and we saw that Tom Barrack had over 100 guests of his own on his list—people from the worlds of business, international business, an Emirati property developer, ambassadors from Saudi Arabia and the United Arab Emirates. I see the event as a moment when the spotlight really shined on Tom Barrack for a small group of people who make big investments, people who make big decisions, and their eyes were on Tom, and they were seeing how close Tom Barrack is to Donald Trump and the incoming administration."
Though the guest list offers some clues, we still don't know where this $107 million really went. We don't know who was providing inauguration donations. We don't know if foreign interests were paying to get policy favors. And in many ways, the inauguration is a little bit of a microcosm of how the business of Trump and the politics of Trump intersect.
"Remember, Trump's win was unexpected," Ilya says. "What we see when we look at this snapshot at this moment in time, we see a key Trump ally—Tom Barrack. We see key Trump donors who thought, This is the moment for me to do this thing right now. I want to support this guy, maybe I want to get his attention, maybe I want to engender a feeling of gratitude, maybe I just want to celebrate the fact that he won, and I have the money to do it. It's a really interesting snapshot of a moment in time, but we're continuing to fill in a lot of information."
Since I spoke to Ilya for What Next earlier this week, he and his Trump, Inc. co-host Justin Elliott published an update to this story—they have identified evidence of potential tax-law violations by the committee.
"A spokesman confirmed that the nonprofit 58th Presidential Inaugural Committee paid the Trump International Hotel a rate of $175,000 per day for event space—in spite of internal objections at the time that the rate was far too high. If the committee is deemed by auditors or prosecutors to have paid an above-market rate, that could violate tax laws prohibiting self-dealing, according to experts," they report.
Get the full update from Trump, Inc. here, and subscribe to What Next via Apple Podcasts, Spotify, TuneIn, Stitcher, Overcast, Google Play, or wherever you get your podcasts.
---